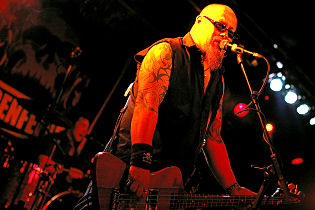 Colos-Saal, Aschaffenburg, Germany
24th July 2009
Ohrenfeindt

The Aschaffenburg Colos-Saal has always been known for a variegated Alternative music programme. Every week, its stage attracts hundreds of people from the Lower Main area. Last Friday, the Colos-Saal responsible were proud to present a real institution of German Rock coming from the as famous as notorious Hamburg red light district St. Pauli: OHRENFEINDT, consisting of Stefan Lehmann (drums), Dennis Henning (guitar) and Chris Laut (harp, vocals, bass). Founded in 1994, the band has released the three albums 'Schmutzige Liebe' (2003), `Rock'n'Roll Sexgott´ (2005) and `Mit Vollgas und Blaulicht´ (2007) up to now. Due to its frequent appearances at biker events, OHRENFEINDT is regarded to be deeply-routed with that scene.
http://www.ohrenfeindt.de
/
http://www.myspace.com/ohrenfeindt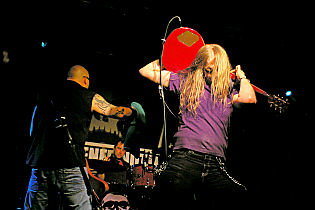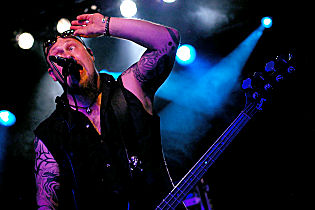 "Full Throttle Rock" is the motto the band created concerning its musical style. Therefore, it wasn't a big surprise that many biker outfits-wearing people arrived at the Colos-Saal. Soon, the beer flew like water and a merry evening seemed to be guaranteed even before OHRENFEINDT had started to perform. Still completely darkened, the stage was decorated with a backdrop displaying the OHRENFEINDT logo. It was about 15 minutes after 9 pm, when guitarist Dennis Lehmann walked on stage, followed up by his colleagues Stefan Lehmann and Chris Laut.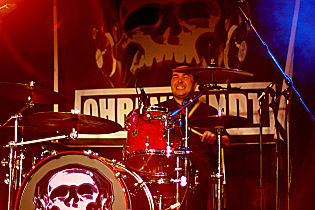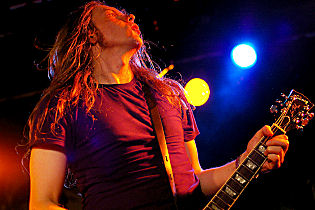 Music & Performance

Firstly, I noticed how different the band members are. Wearing sunglasses, a goatee, a woollen hat on his bald head and clothes in proper biker style, lead singer Chris Laut totally represents a tough fellow. That impression was reinforced due to his raspy voice which is similar to the one of the AC/DC singer Brian Johnson. Always smiling and normally dressed, Stefan Lehmann beat the drum while the long-haired guitarist Dennis Henning was banging his head and striking big poses. The opener `Energie´ coined the motto of a lusty and energetic sound combined with German lyrics telling about the usual St. Pauli everyday madness: Rock'n'Roll, girls, vehicles, sex, relationships and tough guys. Every now and then, Chris Laut contributed some typical pieces of lads´ humour that raised more than one laugh.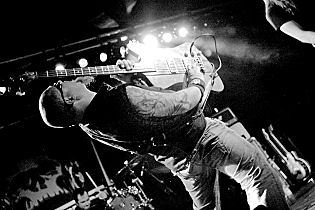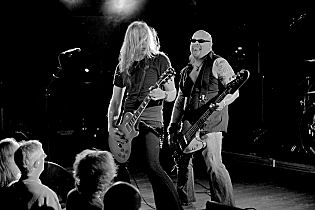 There was a great interaction between the audience and the band culminating in a hearty and genuine concert atmosphere. Besides the blasts `Fluchtwagenfahrer´, `Motormädchen´ or `Komm schon und hol's dir´, the formation also played rather melancholic stuff such as `Es wird Tag auf St. Pauli´. The additional songs including `Ohrenfeindt´, the biker anthem `Harley-Luja´ and the final `Sternenstaub´ turned the Colos-Saal into a boiling pot whereas the meanwhile beer soaked floor had become slippery as hell. There was a gathering of English listeners in the front rows who attracted the singer's attention and made him smile confusedly as the group was shouting its battle call "Manchester!" the entire time. After OHRENFEINDT had finished its set of all in all 20 songs, the front man thanked the Colos-Saal staff as well as his own crew and the great audience. While I was sliding outside, I arrived at the conclusion that I enjoyed the show and felt well-entertained.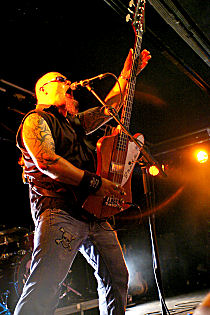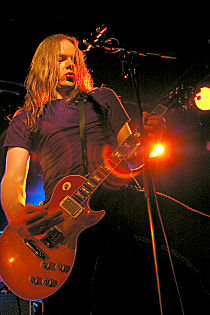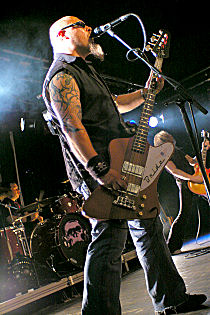 Setlist

01. Energie
02. Immer Rock´n´Roll
03. Komm schon und hol´s dir
04. Mit Vollgas und Blaulicht
05. Rock´n´Roll Mädchen
06. Fluchtwagenfahrer
07. Motormädchen
08. Nicht die Nerven verlieren
09. Kalter Kaffee
10. Spiel mit dem Feuer
11. Heul den Mond an
12. Papas Liebling
13. Rock'n'Roll Sexgott
14. ´n Job in ´ner Bank
15. Es wird Tag auf St. Pauli
16. Parasit
17. Zum Rocken geboren
---
18. Ohrenfeindt
19. Harley-Luja
---
20. Sternenstaub
Rating

Music: 8
Performance: 8
Sound: 8
Light: 7
Total: 7.9 / 10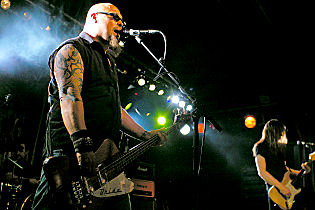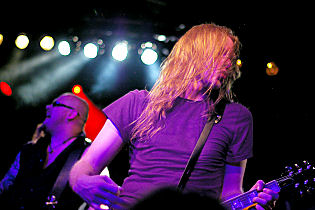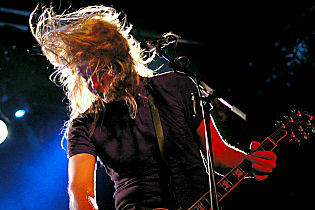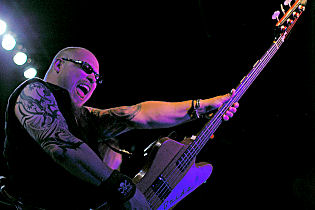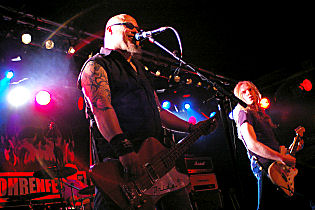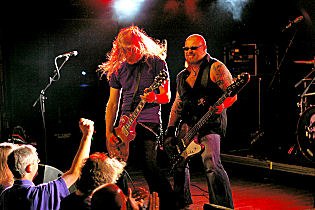 All pictures by Katrin Renner (
http://www.creavision-webdesign.de/
)
{jos_sb_discuss:17}
See also (all categories):