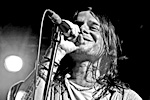 Backstage, Munich, Germany
18th August 2009
Life of Agony, Hassliebe

It was a hot Tuesday evening in Munich and it should still become much hotter, because the rock band LIFE OF AGONY with famous front man Keith Caputo came to the Backstage...
Hassliebe

The band HASSLIEBE, founded in 2006 close to Augsburg, has now published their first album 'Niemandsland'. Up to now we can buy it, however, merely at the Merchandise stand on concerts or at their Online-Shop. Another highlight in the history of this young band was definitely their appearance as Support of DIE TOTEN HOSEN on the Wiley Open Air in Neu-Ulm this year.
http://www.hassliebe.de/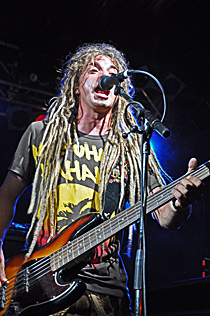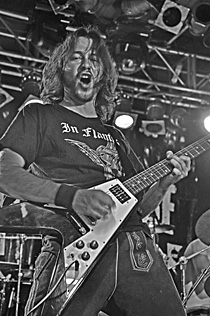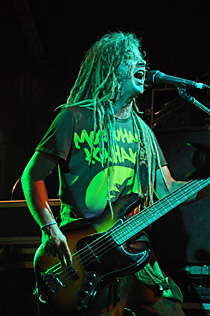 Music & Performance

Support for LIFE OF AGONY at this evening were the three guys of HASSLIEBE, Daniel Frisch (voice/bass), Manuel "Kurt" Gläser (guitar) and Klaus Müller (drums) which we could experience in summer already on the Backstage Open. The rock band was convincing with current hard rock with punk elements in German and Bavarian. Also this time they had a trombone with them for one song. Unfortunately, the audience was once more typically for Munich: The whole front area of the hall was empty - the till then few listeners rather crowded in the rear area! The band, nevertheless, was in good mood and I'm sure that we still get to hear something from them in future.
Setlist

01. Schöne neue Welt
02. Hört ihr mich
03. Märchen
04. Loamsiader
05. Niemandsland
06. Licht
07. Schwarzer Engel
Rating

Music: 6
Performance: 7
Sound: 6
Light: 4
Total: 5.75/10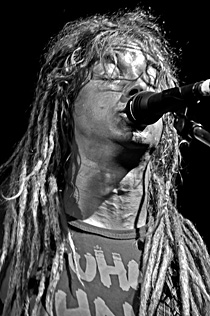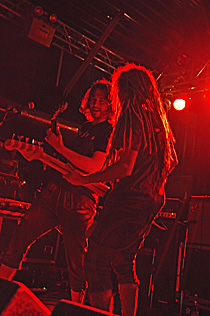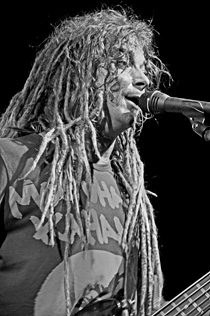 Life of Agony

The New Yorker rock band LIFE OF AGONY around Keith Caputo was founded in 1989 and dissolved in 1999. It later has reunited in 2003 in with the old line-up. In 2005 they published their current album 'Broken Valley'. This year they're on tour to their 20-year-old existence.
http://www.lifeofagony.com/
Music & Performance

After about 30 minutes rebuilding break, LIFE OF AGONY entered the stage. The band consists of singer Keith Caputo, Joey Z. (guitar), Alan Robert (bass) and Sal Abruscato (drums). In the meantime, the Backstage was filled exceedingly well and the mood boiling high. Keith Caputo writhed on stage and gave everything.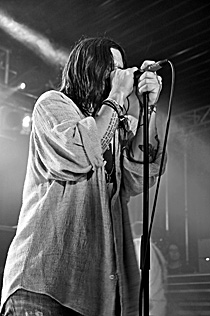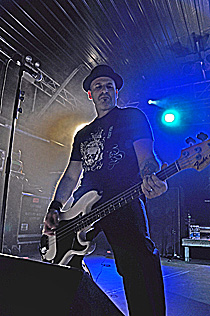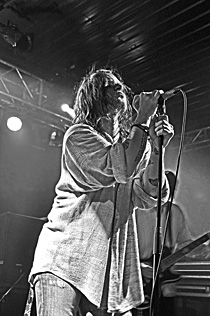 Their music broke loose like a sound thunderstorm over the listeners and carried them away. Several times fans "surfed" on the hands of the others through the hall and kept the security very busy. After approx. 85 minutes, Keith Caputo thanked again with a "Dankeschön", took his towel and left the stage without any addition. Still it was an exceedingly successful, sudorific rock-evening and who doesn't have enough yet, can experience Keith Caputo this year also solo.
Setlist

01. River
02. This Time
03. Method
04. Love to Let You Down
05. Otherside
06. Weeds
07. Lost At 22
08. I Regret
09. My Eyes
10. Day He Died
11. Bad Seed
12. Justified
13. Respect
14. Through & Through
15. Underground
Rating

Music: 7
Performance: 7
Sound: 7
Light: 5
Total: 6.7 / 10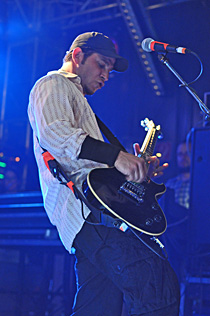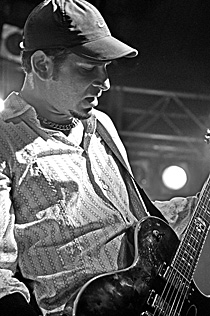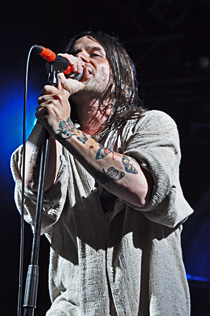 All pictures by Erika Knepper (
This email address is being protected from spambots. You need JavaScript enabled to view it.
/
http://www.myspace.com/antecanis
)
{jos_sb_discuss:17}
See also (all categories):