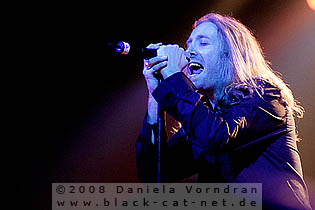 Flugplatz Drispenstedt, Hildesheim, Germany
9th to 10th August 2008
M'era Luna Festival Day 1 Hangar Stage: Reflexion, Legendary Pink Dots, Cinema Strange, Christian Death, Klimt 1918, Frank the Baptist, Epica, Samael, Moonspell, Paradise Lost

The first day in the hangar was standing under the banner of good old Gothic Rock, Goth Metal and Wave. So, you could enjoy such bands as CHRISTIAN DEATH or FRANK THE BAPTIST belonging more to the old-school Gothic style as well as Goth Metal bands such as EPICA, MOONSPELL or PARADISE LOST headlining the hangar stage.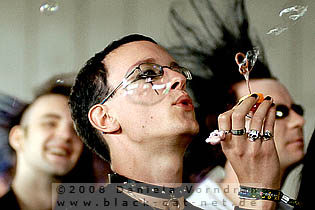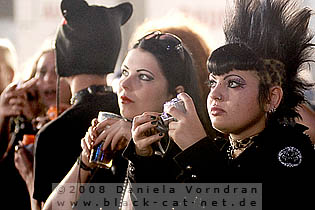 Reflexion [TV]

Founded in 1996 with the name 'BabaruanZ' Juha Kylmänen soon joined the line-up of the former instrumental band as singer and the band started to work on first material. Until 200, they had released many demos and meanwhile changed their name to REFLEXION. In 2005 the band signed a deal with the label A1 Music and released the debut 'Out of the Dark' in 2006 and in 2008 the second album 'Dead to the Past, Blind for Tomorrow' was released preceded by a digital only single 'Weak & Tired' and the CD single 'Twilight Child'. REFLEXION are Juha Kylmänen (vocals), Ilkka Jolma (guitar), Juhani Heikka (guitar), Mikko Uusimaa (bass) and Raymond Pohjola (drums). http://www.reflexionmusic.com/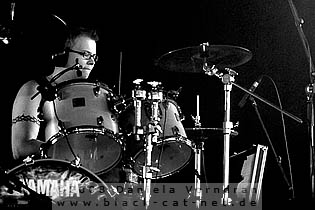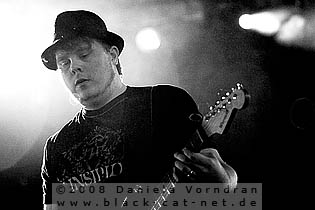 Music & Performance
Until I found my place, the guys already played the single 'Weak and Tired' from their current album 'Dead to the past, blind for tomorrow' to which singer Juha head-banged a lot with his red thatch. The quintet had to come up with a new drummer, as the regular drummer Reiska broke his hand. It went on with solid dark rock, comparable to HIM and therefore a yearning ballad like 'Undying Dreams' from the first album 'Out of the dark' can't be missed out in a set that held mostly pretty driving songs 'The thousand nails in my heart' closed the set with enough tempo and the reliable Finnish plain fare was quite well received by the audience.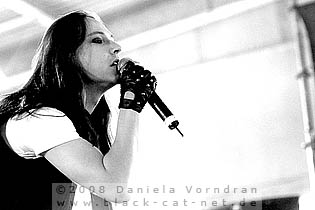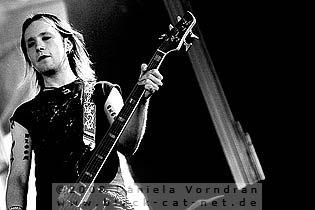 Setlist
01. ?
02. Weak and tired
03. Feeble Soul
04. Dead without you
05. Undying dreams
06. Rainheart
07. The one with no name
08. The thousand nails in my heart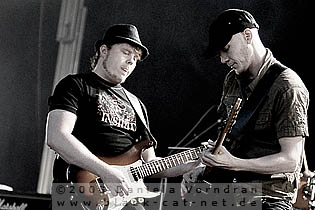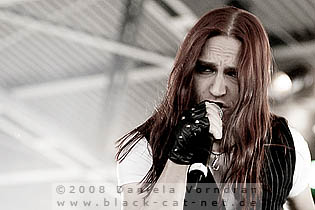 Legendary Pink Dots [JU]

The Legendary Pink Dots formed in August 1980 in London. In 1984 the band transplanted itself to Amsterdam which led to a shift in the original line-up, the original bassist Roland Callaway leaving at this time. There exist a lot of explanations about the origin of the band's name. The most common seems to be the one explaining that the name derives from the mysterious pink dots on certain keys of the bands main recording studio piano named "Osbert". Characteristic for the band's sound is the voice of singer Edward Ka-Spell mostly appearing overacted and stretched. The sound of the band remains distinctive touching on genres as neo-psychedelia, ambient music, electronic music, tape music always with a touch of experimental and avant-garde making it difficult if not impossible to put this band into any genre drawers. Their discography meanwhile includes far more than 40 albums all of which 'Plutonium Blonde' is the latest. THE LEGENDARY PINK DOTS are: Edward Ka-Spel (vocals, keyboards, song writing), Phil Knight(a.k.a. The Silverman: keyboards, electronics), Martijn de Kleer (guitars), Niels van Hoorn (a.k.a. Niels Van Hoornblower: saxophones, clarinets, flutes, MIDI wind controller) and Raymond Steeg (live sound engineer). http://cloud-zero.org/ / http://www.myspace.com/thelegendarypinkdots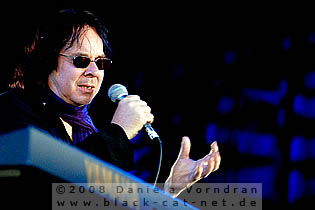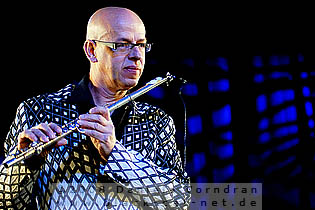 Music & Performance
It's great that the M'era Luna team did not just book the obvious bands from the obvious genres but also bands which can't be pigeonholed so easily - or which can't be pigeonholed at all, like the LEGENDARY PINK DOTS! What kind of gig was this? Psychedelic Wave Rock? Dark Ambient? Gothic Jazz? LEGENDARY PINK DOTS don't give you a chance to label them; as soon as you make up a fancy label for their music they do something different. They cannot be labelled. And their performance at the M'era Luna this year was like a trip through numerous worlds, from calm and introspective soundscapes to fulminating extrovert energy. Above all is the voice and presence of Edward Ka-Spel, the connector of all elements of the LEGENDARY PINK DOTS universe. Ka-Spel, who looks a bit like the last hippie on earth *g*, conducts the performance with a lot of confidence and charisma until the climax, a blasting end to a show like a narration. A pretty challenging and experimental show but I'm more than glad that a band like this was invited to perform at the M'era Luna.

Rating
Music: 8
Performance: 9
Sound: 8
Light: 7
Total: 8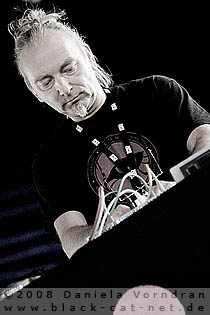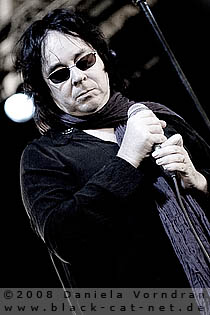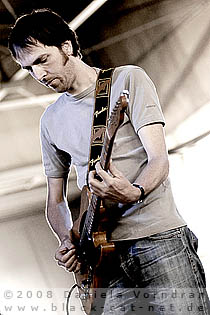 Cinema Strange [SH]

This extraordinary band was founded by the brothers Daniel and Michael Ribiat in 1994, influenced by the traditional Gothic Rock of the 80s with bands such as the VIRGIN PRUNES or SEX GANG CHILDREN. The year 2000 should change everything, when they got signed by German label Trisol Music and henceforth could at least release their albums in whole Europe and the first two albums for the label went by the names of  'Cinema Strange' and 'The Astonished Eyes of Evening'. After an anniversary release and a DVD in 2004 and 2205, they've released their third album with the flamboyant title 'Quatorze Examples Authentiques du Triomphe de la Musique Décorative' CINEMA STRANGE is Lukas Lanthier (vocals, libretto), Michael Ribiat (guitar, programming), Daniel Ribiat (E-bass, keys) and Danny Walker (drums). http://www.nightmarezone.de/cinemastrange / www.myspace.com/cinemastrange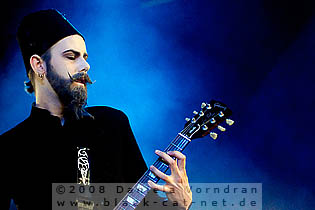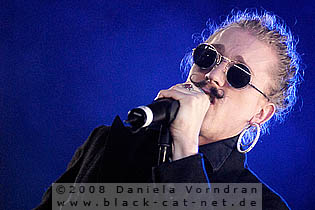 Music & Performance
CINEMA STRANGE never was a usual band. This was already clear to me when I listened to some songs of the band, but if there's any award for the most freaky stage performance you can bet that Lucas Lanthier and the Ribiat brothers would at least get into the Top 3 if not win the contest. Dressed up in antique theatre costumes with a little nod to the grotesque, but always with some tongue-in-cheek, the show had more of a theatre play than of an actual performance. I have to admit though that it was refreshing and sometimes even hilarious to see such a trio among the M'era Luna bands. They were just like the well-known paradise bird and Lucas' histrionic, high voice is something you either like or not, there seems to be nothing in between. Especially I had a big grin on my face when Lucas did a cheeky dance with his black jacket. Great to see that there's still some bands, willing to cross borders.
Rating

Music: 6
Performance: 9
Sound: 7
Light: 7
Total: 7.2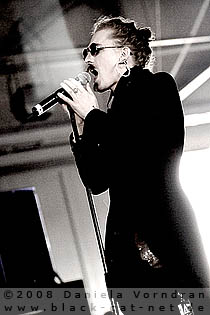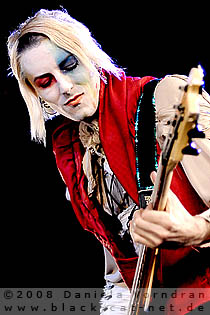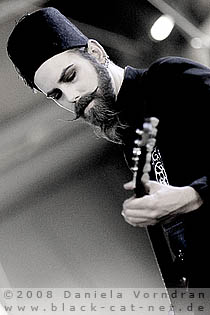 Christian Death [JU]
The band in its original constellation was founded almost 30 years ago in 1979 by Rozz Williams. The band name was a satirical play on words derived from the designer brand Christian Dior. After only 2 years the band split up just to come back together a short while later with some new members. With that line-up they recorded 'Only Theatre of Pain' which would become a strong influence on many bands. From there on that band went through countless line-up changes and at one point during the 1990s there were two bands with the name CHRISTIAN DEATH all of a sudden, one with Williams and one fronted by Valor Kand, who is the lead guitarist of the band since the second album 'Catastrophe Ballet' and later he also became lead singer of the band. Under Kand's moniker, the band released about 11 albums since 1986 with 'American Inquisition' being the latest one from 2007. CHRISTIAN DEATH are Valor Kand, Maitri, Nate Hassan and Matthew Reed.
http://www.christiandeath.com/
/
Http://www.myspace.com/christiandeth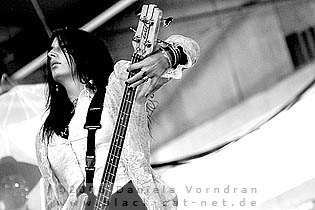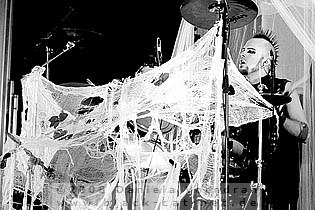 Music & Performance

All the confusing turmoil in the band's past, some people wondered which CHRISTIAN DEATH (sic!) would perform at the M'era Luna just before the American Death Rock outlet entered the stage at the hangar of the festival. Well, of course Valor's CHRISTIAN DEATH - as band founder Rozz Williams sadly died in 1998. But this just shows how much confusion and chaos is still left today as a result of all the arguments and the puzzle around the name CHRISTIAN DEATH. The fans surely did know better what (and who) to expect at the M'era Luna than those who haven't followed the band's history that closely. On the other hand the fans might have expected to hear a few CHRISTIAN DEATH classics - but the band around front man Valor decided to perform exclusively songs from their most recent album 'American Inquisition' (released 2007).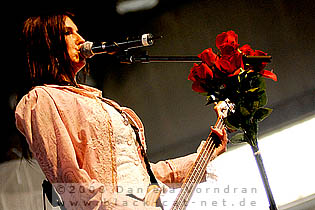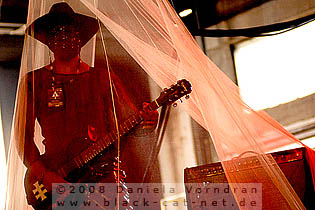 The gig had all ingredients you would expect from a Death Rock gig - from blasphemy to questionable vulgarity to fancy stage décor - but after all the performance was not too convincing. The sound was muddy (a general problem of the venue, admittedly), the vocals somewhat out of key - although the hangar was pretty packed I soon decided to leave to watch RED LORRY YELLOW LORRY at the main stage, which were much more down-to-earth and in my humble opinion simply better.
Rating

Music: 6
Performance: 6
Sound: 6
Light: 7
Total: 6.2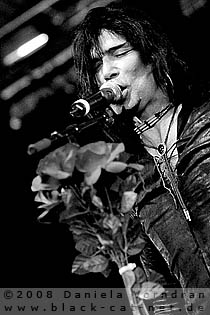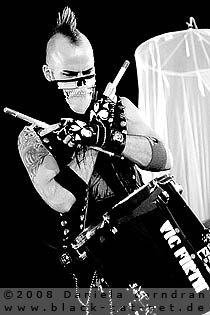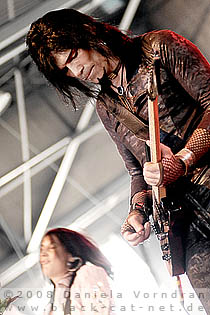 Klimt 1918 [JU]
Marco Soellner and his brother Paolo formed KLIMT 1918 out of the ashes of their former band 'Another Day'. The name derives from the painter Gustav Klimt and his year of death. Influenced by his old idols of BAUHAUS, THE CURE and JOY DIVISION Marco began writing songs all coming to prominence on the self-produced demo 'Secession Makes Post-Modern Music' arousing the attention of Italian label 'My Kingdom Music'. The sound back then was quite harsh and resembled Metal in marked contrast to the second strike 'Undressed Momento' from 2003 being much more emotional and melodic in its direction. In 2004 the band switched to German Prophecy Production label on which they release their albums ever since. Their newest album carries the title 'Just in case we'll never meet again' and was released in June 2008. KLIMT 1918 are Marco Soellner (vocals, guitar), Francesco Conte (guitar), Daide Pesola (bass) and  Paolo Soellner (drums).
http://www.myspace.com/klimt1918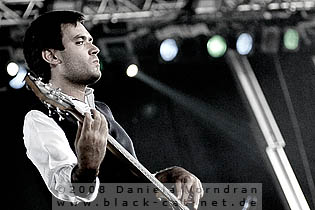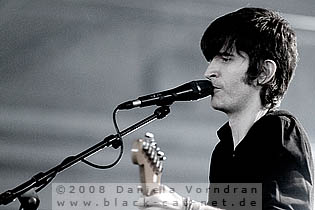 Music & Performance

Whohoo, Indie Rock at a Gothic festival! It just shows the variety of this scene, and its open-mindedness, that a band like KLIMT 1918 is welcome and well-received at a festival like M'era Luna. Often compared to bands like EDITORS or INTERPOL, they surely have similar influences like these bands but do sound differently. Also thanks to singer Marco Soellner's voice which sounds softer and more emotional than the mentioned bands. KLIMT 1918 appear like a students' band who know who JOY DIVISION or THE CURE are - but before I risk to sound a little dismissive it has to be said that KLIMT 1918 also know absolutely what they are doing!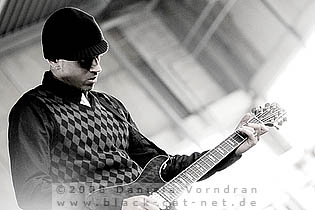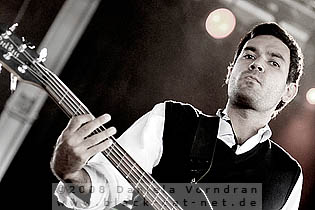 Mastering their instruments perfectly, they surely didn't fail to impress with breathtaking guitar licks, great build-ups and clever arranged songs - although "Pop" seems always lurk around the corner. Not a typical band for a festival like the M'era Luna but untypical acts spice up the line-up of any festival. And with musical qualities like this it has to be hoped that it wasn't KLIMT 1918's last appearance at the M'era Luna.
Setlist

01. Intro
02. The Breathtaking Day
03. Skygazer
04. Snow of '85 (Dopoguerra)
05. Ghost of a Tape Listener
06. The Graduate
07. Because of You, Tonight
08. Parade of Adolescence (Undressed Momento)
Rating

Music: 8
Performance: 9
Sound: 9
Light: 7
Total: 8.5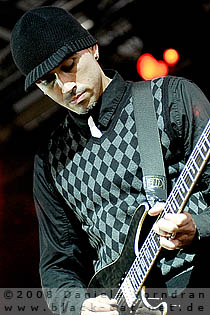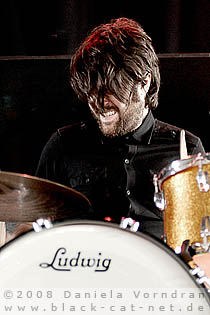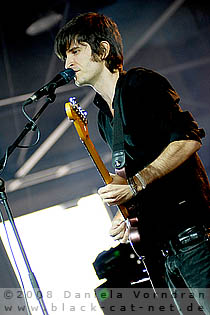 Frank the Baptist [JU]
The band was founded out of the urge for music that didn't exist in the San Diego Underground. Initially it was only Frank, writing the songs but he recruited one member after the other who eventually contributed to the songs with their own talents. Their first live performances became a bigger success than expected and the fans demanded that they release some material. Said, done; in 2003 they finally debuted with 'Different Degrees of Empty' released on Strobelight Records. Subsequent to the release of the second album 'Beggars Would Ride' in 2004, the band toured Europe for the first time. When Frank relocated to Berlin in 2006 he had to assemble a complete new line-up which debuted at the Wave Gotik Treffen 2006, they were headlining. In November they went to the studio to record the next album 'The New Colossus' released in March 2007. FRANK THE BAPTIST is Frank the Baptist (vocals & guitars), Benn Ra (bass), Fez Wrecker (guitars) and Phantomas (drums).
http://www.frankthebaptist.de/
/
http://www.myspace.com/frankthebaptist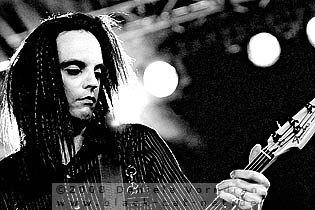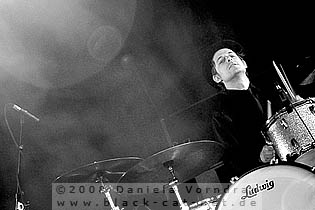 Music & Performance

FRANK THE BAPTIST surely still rank among the newer bands of the scene but when you hear (and see) them one could easily think the band would be old stagers. While many newer bands either still sound too much alike their big heroes and influence or follow too much the scene's clichés (or both), FRANK THE BAPTIST impress with substance, originality and charisma. And the band displayed it's qualities from the start! After a short sound check vocalist and band founder Frank Vollmann began an impromptu a capella performance while the hangar began to fill up more and more. A short break and the "proper" FRANK THE BAPTIST show began. And the band started brilliantly, and then it even got better and better! The band really took delight in what they are doing on stage, and it translated perfectly onto the crowd. From eruptive Gothic Rock anthems to melancholic and intense moments, FRANK THE BAPTIST simply delivered all you could hope for.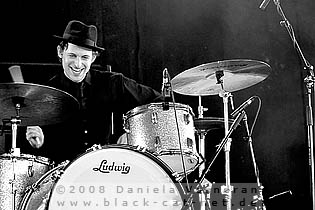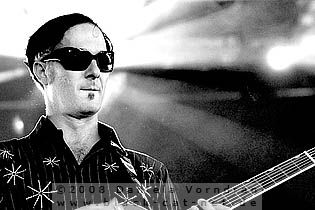 Singer Frank Vollmann, who has an awe-inspiring voice, didn't even try to conceal the fun he had up there, and joked around with his band mates and the audience - a very communicative guy as it seems, and a pretty charismatic front man. The fans and those who came because of word-of-mouth loved the performance, and after songs like 'Signing Off' or 'Falling Stars' the show climaxed with the hymn 'If I Speak' - with the band members of CINEMA STRANGE joining FRANK THE BAPTIST on stage to deliver backing vocals (and to fool around with the FTB members *g*). A perfect and most amazing end to a great gig!

Setlist

01. Sea legs on a train
02. Falling stars
03. Ever
04. Beg steal and borrow
05. Signing off
06. Silver is her colour
07. Nautical miles
08. Mary Magdalene of Kettner Blvd
09. When the sky
10. Bleeding in my arms
11. If I speak
Rating

Music: 9
Performance: 10
Sound: 9
Light: 7
Total: 9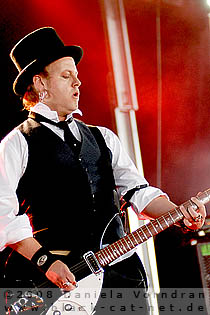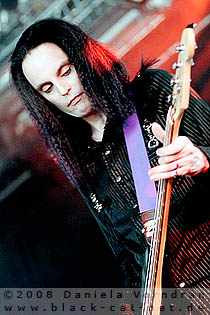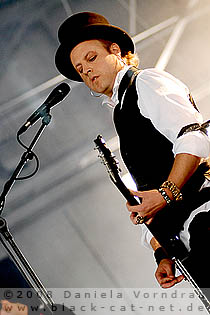 Epica [SH]
Now let's go on with a band from the wide genre of Symphonic Metal. EPICA emerged from the band SAHARA DUST, founded mid of 2002. After some members left the band soon afterwards and got replaced by new ones, they changed the name to EPICA after the same-titled album of the band KAMELOT they're all big fans of. The debut 'The Phantom Agony' then was released in 2003. The song "Façade of Reality" on the album was written about the September 11, 2001 attacks and includes fragments from speeches by Tony Blair.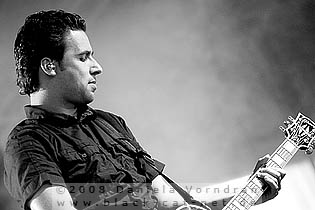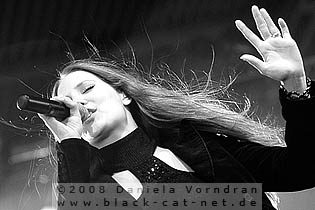 The follow-up 'Consign to Oblivion' was composed with film scores as a basis, with Hans Zimmer and Danny Elfman being cited as major inspirations. In September 2007, the band embarked on their first headliner tour through North America and released their latest album, The Divine Conspiracy, this time on a new label, Nuclear Blast. EPICA are Simone Simons (vocals), Mark Jansen (guitar), Ad Sluijter (guitar), Yves Huts (bass), Coen Janssen (keys) and Ariën van Weesenbeek (drums).
http://www.epica.nl/
/
http://www.myspace.com/epica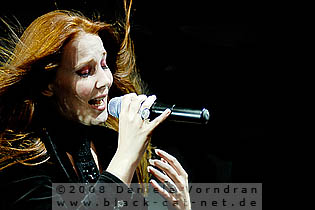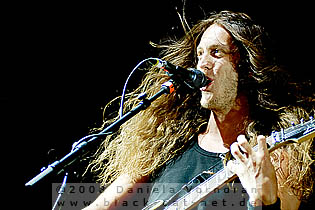 Music & Performance

The Dutch band is no newbie to the M'era Luna, in fact it was their third appearance at the festival; and obviously were celebrated every time, but I hardly knew more than the name EPICA and a bit of what style of music they're dedicated to, before I headed towards the hangar where already plenty of people waited for the show to start. When it was about time for the band to enter the stage, the audience was bursting into enthusiasm and celebrated every song, whether it was from a newer or an older release of the band and you have to admit that the music has some drawing power.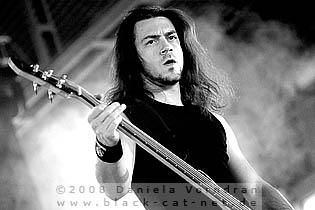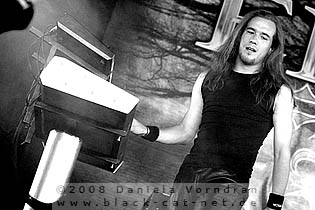 There's Simone whose voice climbs up to undreamt heights, contrasted by Mark's deep grunts and screams. Simone's hairs breezed around her head like tiny shimmering threats, caused by a ventilator bent on her; and she's very good at head-banging and what's even better than one woman doing it, right, two. At one point of the show Simone announced a special guest that many of the people already seemed to know; Amanda Somerville with whom the band performed the next song together. I for one really enjoyed the show and consider seeing them again some time.
Rating

Music: 8
Performance: 8
Sound: 7
Light: 7
Total: 7.7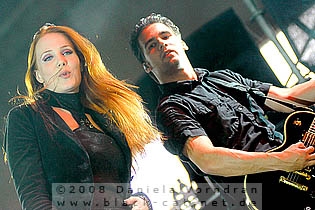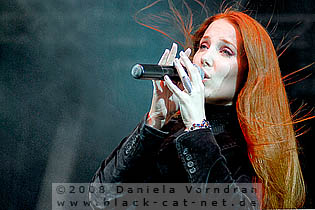 Samael [SH]
This Heavy Metal band from Switzerland is considered an innovator in post black metal styles. Their early demos and also the debut album 'Worship Him' presented a low, doomy style of thrash/Black metal with raw vocals, contrary to what was played by other bands of the genre at the time. After that the band switched to the renowned Century Media label and released 'Blood Ritual' (1992) and 'Ceremony of Opposites' (1994). By the time of the album 'Passage' (1996) was recorded the band started using industrial elements, employed by the use of keyboards, 'Passage' was the first album to be completely recorded with a drum computer, with it they gathered a much larger audience In June 2007 they released the eighth album 'Solar Soul', which summed up and combined many of the styles of their previous albums since 'Passage'. SAMAEL are Vorphalack (vocals, guitar), Makro (guitar), Masmiseim (bass) and Xytraguptor (drums, keys).
http://www.samael.info/
/
http://www.myspace.com/samaelofficial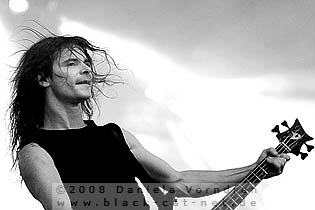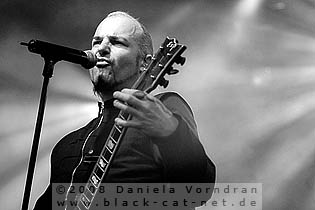 Music & Performance

First I have to say; and I hope SAMAEL fans won't hold it against me that, even though I have absolute respect for their musical achievements and consider them to be very good musicians, the music doesn't exactly match up to my personal tastes, or in other words, I don't have much sympathies for those grunted, half-screamed vocals of Vorph, though I'm digging the music itself. The hangar wasn't exactly full, but a lot of people gathered in front of the stage. After every band member took on its position and Vorph, dressed in a frock-coat, planted himself in front of the microphone, the show could start with some tracks of the current album 'Solar Soul'. First I was wondering why there were flying hairs again, but it seemed like SAMAEL borrowed the ventilator from EPICA. ;-) Besides all band members being a paragon for joy of playing, it was especially Xy who called for my attention, alternating between the keys and the drums and speaking of the drums; I think I've never seen someone maltreating a drum kit like he did and for that performance, I can only give him kudos.
Rating

Music: 6
Performance: 8
Sound: 7
Light: 7
Total: 6.9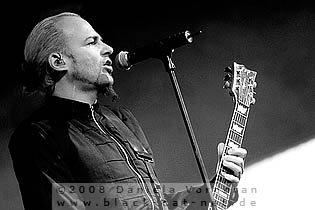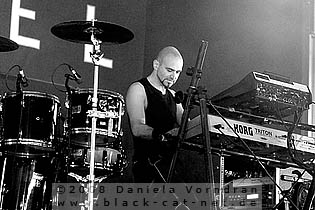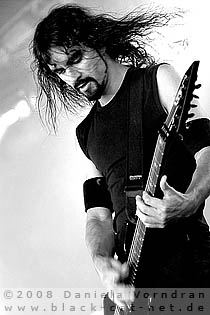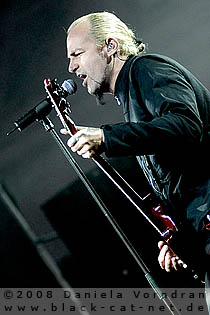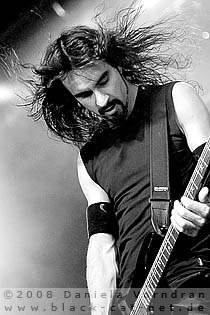 Moonspell [TV]
…were founded as MORBID GOD in 1989 by Fernando Ribeiro. Until 1992 they recorded some demo and then decided to change the name to MOONSPELL. After the release of mini-album 'Under the Moonspell', the band signed with Century Media for six albums. Their debut 'Wolfheart' initially received only sparse attention but later it was to be considered as a milestone in the history of Portuguese Metal. Simultaneously it was the springboard for an emergent career. The second album 'Irreligous' came out in 1996 and sold over 10,000 copies and that only in Portugal.. The band entered a rather experimental path with their following albums 'Sin/Pecado' (1998) and 'The Butterfly Effect' (1999) to return into more confided but matured territory after that period. 'Memorial' (2006) is their most recent album and once again managed to crack the mark of 10,000 sold copies. MOONSPELL are Fernando Ribeiro (vocals), Riccardo Amorin (guitar), Pedro Paixão (guitar, keys) and Miguel Gaspar (drums).
http://www.moonspell.com/
/
http://www.myspace.com/moonspell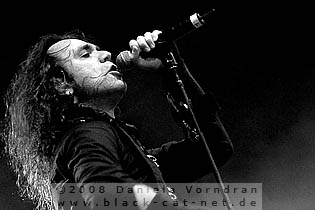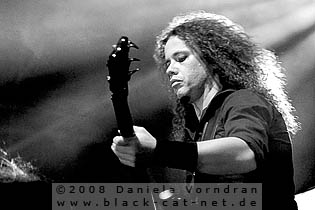 Music & Performance

From the Switzerland, our metal journey led us directly onto Portuguese territory, where one name stands for class and musical flamboyancy for many, many years: MOONSPELL around mastermind Fernando Ribeiro covered quite a few genres from Black to Gothic Metal. Currently, after the re-recording of 'Under the Moonspell' and the 2008 release 'Night Eternal', they returned to much harder sounds, which also had a live effect very soon.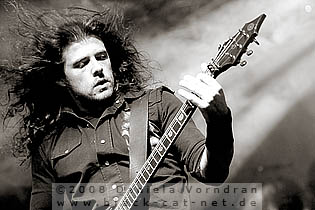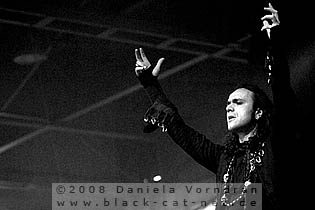 In front of a wonderful backdrop, the four-piece started aggressive and tight with the opening double of the before mentioned release ('At Tragic Heights' and the title song) to which Fernando exercised some histrionic poses and more than once, he took the microphone stand in both hands. The years haven't passed him by without a trace, but who can say that? Therefore his outfit gleamed with some 'evil' accessories and also his fellow band members never got tired of showing us the well-known devil's horn. With 'Wolfshade' it was already time for a classic and in this sense, the whole set was presented very experienced and professional, but in the end they lost narrowly against SAMAEL.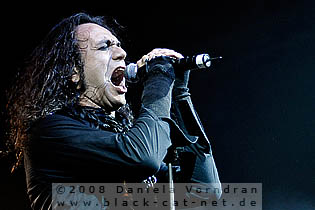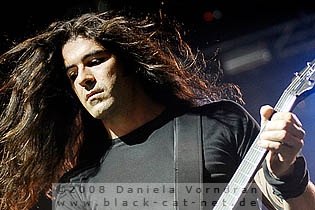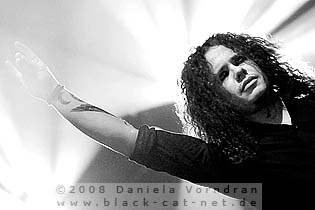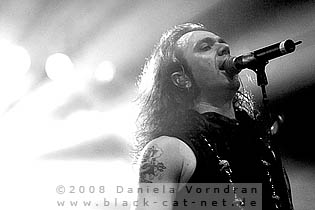 Paradise Lost [SH]
No one would have thought at that time when  a couple of friends formed a band called PARADISE LOST, that it would be the birth of what would one day become one of the most influential  in their area and the founder of a complete new genre. But first things first. As the first songs, amongst others, included on the legendary 'Frozen Illusions' demo were more Death Metal with some Doom influences than anything else, a style they also celebrated on the debut 'Lost Paradise'(1990). The following 'Gothic' then was the album eternalizing their name in the annals of musical history as the inventors of 'Gothic Metal' However, the Death Metal influences on the album still were quite strong. They significantly decreased though, starting with 'Shades of God', especially Nick Holmes' chant made through a remarkable change. The preliminary peak of their popularity was reached around 1995 with the release of 'Draconian Times'. From there on the style changed with almost every new album and more and more electronic elements found their way into the sound of PARADISE LOST, much to the discontent of the old fans, and culminated in the still controversial 'Host' album. Fast forward to 2007. The band releases 'In Requiem' and gets celebrated just like in the old times. It unites influences from every chapter of the band's history and therefore is their most mature work to date. PARADISE LOST are Nick Holmes (vocals), Greg Mackintosh (lead guitar), Aaron Aedy (rhythm guitar), Steve Edmonson (bass) and Jeff Singer (drums).
http://www.paradiselost.co.uk/
/
http://www.myspace.com/paradiselostuk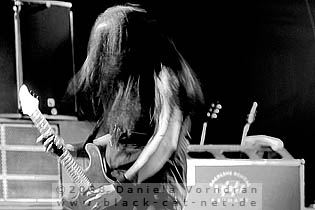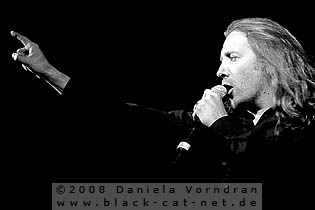 Music & Performance

I'm still not too fond with the decision of putting a band like PARADISE LOST into the hangar but anyway I was glad to have the chance to see this band live (For the first time, I may add, if you're not counting in the Live DVD). Quite punctual, the show started on a stage, drenched in dark lights and with the band appearing on stage one by one with Aaron Aedy as the first one who was directly welcomed with a loud applause and scream. Soon, the line-up was complete and after the instrumental intro, it was time for the breaker and single 'The Enemy' and Nick started to command the audience as soon as the track started, even if he's not a man of big gestures as you could see, but he didn't have to as the audience responded very well to every encouragement he made. For the rest he was focussing on singing and casually moved a bit into the back and forwards; mostly with the complete microphone stand. Aaron Aedy and Steve Edmondson on the other hand moved a lot on the respective positions and most notably Aaron got completely carried away into another world. Even Greg interacted with the audience sometimes, but for me he doesn't have to, he just has to play his guitar, you know what I mean.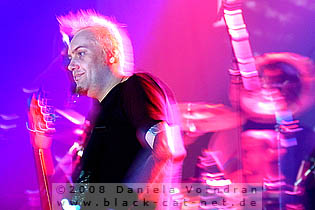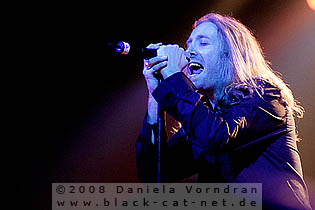 I especially adore the guitar solo in 'Never for the Damned' the band played a bit later and the introduction with 'Requiem'; this is just brilliant work. Jeff could rather be heard than seen behind his huge drum kit but kudos to him as well. In the course of the show PARADISE LOST played back and forth through their discography, but with many tracks coming from 'In Requiem' with 'Ash & Debris' or 'Unreachable', but also tracks like 'Erased' from 'Symbol of Life' or a personal favourite of mine 'No Celebration' announced as "..a song about Christmas". For the fans of classics, the band had something up their sleeves as well with the hit 'As I die' or 'Embers Fire'. With a celebrated performance of 'Say Just Words' a show, that held something for everyone ended and I saw happy faces all around.
Setlist

01. The Enemy
02. Ash and Debris
03. No Celebration
04. Erased
05. As I Die
06. Enchantment
07. Requiem
08. Unreachable
09. Never for the damned
10. One Second
11. Embers Fire
12. Say just Words
Rating

Music: 9
Performance: 9
Sound: 7
Light: 7
Total: 8.4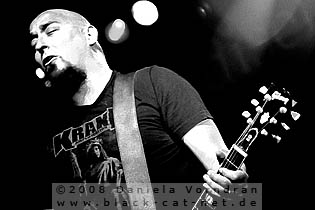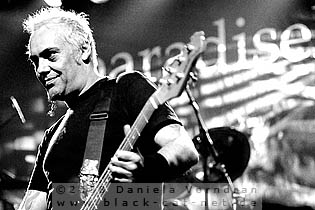 Written by: overall editor Daniela Vorndran [DV], all band intros Sebastian Huhn [SH] and J. "Niggels" Uhlenbruch [JU]. Translations by Sebastian Huhn [SH] for Reflexion and Moonspell with friendly approval from the articles published at
http://www.musik.terrorverlag.de
[TV]
All pictures by Daniela Vorndran (
http://www.vorndranphotography.com/
/
http://www.black-cat-net.de/
/
ww

w.myspace.com/vorndranphotography
)
{jos_sb_discuss:18}
See also (all categories):