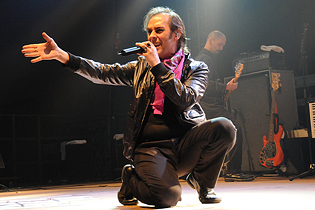 Leipzig, Germany
29th to 1st June May 2009
Wave Gotik Treffen Day 3: Minerve, Akanoid, Fading Colours, Fetisch:Mensch, Frozen Plasma, Frank the Baptist, Psyche, Solitary Experiments, Umbra et Imago, Client, Melotron, ASP, Peter Murphy


On WGT Sunday, the sun was shining bright again. Typical for a day we wanted to spend completely indoors at the Kohlrabizirkus. Right in time for the doors to open we arrived at the pleasant, huge hall, situated South East of the centre. The day would be all under the sign of Electro and Synth Pop for us. It was the third day of the Wave Gotik Treffen 2009 and we were excited to see great bands like FETISCH:MENSCH and ASP. Just like the day before, we got up pretty early due to sounds around the camping ground. And then, like it wasn't enough, the line in front of the showers was way too long but we stood there and waited for about 45minutes. After getting refreshed and well-fed, we got ready for our third day and our first band with the great Oswald Henke.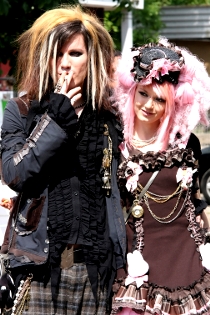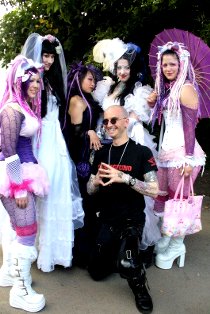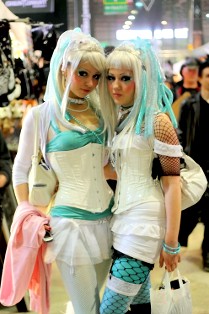 Minerve - Kohlrabizirkus (Cathie Niemann)

In the year 2002, Mathias Thürk and Daniel Wollatz founded MINERVE and already with their first album 'Breathing Avenue', released in 2004 after two yeas of hard work, they've made their breakthrough and the album received lots of positive resonance, causing the band to bring MINERVE on stage for several concerts and festivals. With the new single 'My Universe' the band returned and had their first time appearance at the German Alternative Chart where it peaked at 16. Soon after, the second album 'Sensefiction' come out showing, the band's progression and more matured sound, bestowing them a lot of new fans. In 2007, the remix album 'Love Traces' was released on a Russian label and in December 2007, it was time for the next single 'Take me Higher', the first harbinger from a new album that is currently in production. MINERVE is Daniel Wollatz (lyrics, vocals), Matthias Thürk (composing, programming, live keys) and Andreas Wollatz (live keys, backing vocals).
http://www.minerve.de/
/
http://www.myspace.com/minerveband
Music & Performance

I was already looking forward to the opener MINERVE for on a show a few years ago the sympathetic Electro Pop band already enthralled me. From 2002 on, they released several singles, 2 albums, and a remix album altogether meeting with positive reception. On stage we saw singer Daniel Wollatz and keyboardist Mathias Thürk. Besides well-known hits like 'Tale me higher' or 'High pitched emotions' the band presented three new and unreleased songs, altogether sounding very harmonic and catchy. MINERVE style! Actually there was going to be a surprise coming up, a certain Darrin Huss (PSYCHE), performing the wonderful song 'My Universe' together with Daniel, however Mr. Huss missed his guest appearance. The audience had their fun anyway!
Setlist

01. Intro
02. Read in my memories
03. Forbidden Love
04. Take me higher
05. Hold me tight
06. High pitched emotions
07. My Universe
Akanoid - Kohlrabizirkus (Cathie Niemann)

AKANOID have released already three albums and a compilation. Several records with different solo and side projects in the genres Dance, Electro and Rock can be added to their discography. Their new stuff proves once again that the Germans have multilateral talents: already known for their hypnotic grooves they now enrich their electronic sound much more with atmospheric melodies, emotional voices and accentuated guitars. Their current album 'Cocktail Pop' has been released in April 2007; an EP called '100 Burning Guitars' has been released simultaneously with their tour with THE CRÜXSHADOWS. The EP serves as an appetizer for the second AKANOID full-length 'Civil Demon' released in spring 2009. AKANOID are Hilton Theissen (vocals, guitar, FX), Phil Weyer (guitar, vocals), Gregor Matlok (synth, vocals) and Dirk M. Berhorn (drums).
http://www.myspace.com/akanoid
/
http://www.akanoid.de/
Music & Performance

A stylistic wild shot came with this day's second band AKANOID, rather calling their direction "Electro-Wave-Alternative-Rock-Pop" and definitely delivering the most guitar-laden sound of the day. The line-up comprises Hilton Theissen, Phil Weyer, Gregor Matlok and Dirk M. Berhorn. The intro faded into the song 'Usual Freak' from the eponymous EP. The mix of Electro and Rock made fun. But the crowd still seemed to be a bit idle or did expect something else. Also on the following songs i.e. from the current album 'Civil Demon', the guitars dominated. The songs contained a portion of 80s feeling and lots of emotionality due to Holton's fascinating voice. Sadly, the band couldn't really score how hard they tried, because they're just scheduled for the wrong location.
Setlist

01. Intro
02. Usual Freak
03. 100 Burning Guitars
04. Nexx
05. Jump into the Hive
06. Headless
07. ++%
08. All the Noise
09. Hand over Head
10. Pain
11. No Matter
Fading Colours - Kohlrabizirkus (Cathie Niemann)

Ever since 'The Beginning' from 2002, Polish band FADING COLOURS gaining massive public exposure with their collaboration with ex SISTERS OF MERCY guitarist Bruhn and ANNE CLARK, pretty much flew under the radar regarding new releases and live activity except for their performance at Castle Party in 2003. Now in 2009, specifically on 13th March they've released their newest album called 'Come'.
http://fadingcolours.com/
/
http://www.myspace.com/fadingcolours
Music & Performance

Never before I had heard of FADING COLOURS; a Dark Wave band from Poland, who had reached a cult status over there already. The trio consists of Singer De Coy, Daniel Klecynski and Leszek Rakowski. But on this afternoon, only the singer and one of her accomplices were on stage both looking a bit lost. With stony face and huge sunglasses, De Coy went to the microphone and started with her chant. A repelling attitude went through the entire show. She looked bored and held on to her water bottle. For the most time the songs from the fourth album 'Come' were played meeting with bored faces in the crowd. Actually, we're just trying to bear and if you were not looking at the sad scenery on stage, the unique sound was good for background listening. Definitely my flop on this year's WGT what I'm blaming mostly on the singer, because she could have rescued a lot with more enthusiasm and fun on stage.
Fetisch:Mensch - Agra (Anne Kuhfuß)

This project a brainchild of Oswald Henke, mastermind of GOETHES ERBEN. The centre of the lyrical content is the human being with all its facets, its weaknesses and strengths; in its beauty and scum. The credo of FETISCH:MENSCH is to deny themselves the mechanisms of the industry as far as possible. Music should be something special; and shouldn't just be consumed, that's why they don't release any albums and put their main focus on live performances. The line-up is as follows: Oswald Henke (lyrics), Tim Hoffmann (guitar, programming), Jochen Schoberth (guitar & guitar synth) and Dirk Törppe (drums).
http://www.fetisch-mensch.de/
/
http://www.myspace.com/fetischmensch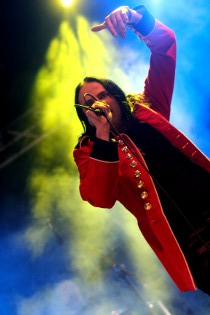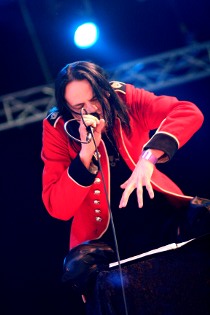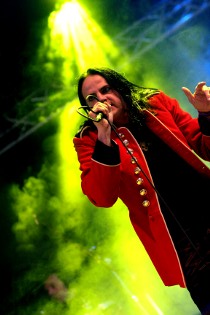 Music & Performances

Oswald Henke (vocals) is one of the best songwriters I know and I had high expectations to his project FETISCH:MENSCH. The band entered the stage and Oswald was the last one. He wore his red jacket like he usually does. His facial expressions were kind of scary but at the same time really passionate. With "hits" like 'Fetisch Mensch' and 'Zwischenseelenträume' they showed themselves from their best site. Also 'Narbengarten' was really good. The sound was great and so was Oswald's voice. Like always, their performance was outstanding. The band showed a lot of passion and was enthusiastic. The audience seemed to highly understand what Oswald was singing on stage but that wasn't very hard since he had a clear voice. At the same time, he ran around the stage, perched himself on the stool that was build up on stage. It was really a great concert with an outstanding musical performance.
Rating

Music: 10
Performance: 10
Sound: 8
Light: 7
Total: 9.3 / 10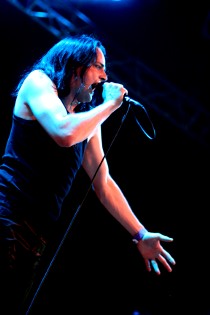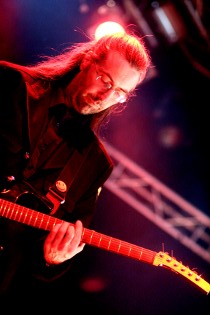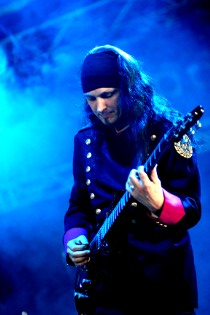 Frozen Plasma - Kohlrabizirkus (Cathie Niemann)

After the split of his very successful band NamNamBulu, Vasi Vallis founded FROZEN PLASMA in 2005 together with Felix Marc. The Debut Single 'Hypocrite' was released in November 2005, the first album 'Artificial' followed in April 2006. Both founded the fresh duo top reviews in the press. But FROZEN PLASMA had another load of music up their sleeves for the fans and press in 2006, pressed onto an EP with the name 'Emphasize'. After a phase in which both band members pursued their respective projects work on the second album whose title was recently revealed as being 'Momentum' started. The first harbinger came with the single 'Tanz die Revolution' and the latest effort exploring the other spectrum of FROZEN PLASNMA is called 'Earthling' and was the last stop before the album 'Monumentum' hit stores in summer. FROZEN PLASMA is Vasi Vallis (music, lyrics) and Felix Marc (vocals).
http://www.myspace.com/frozenplasma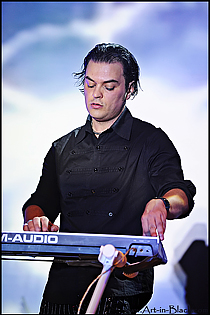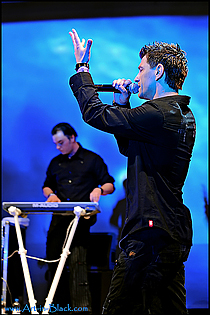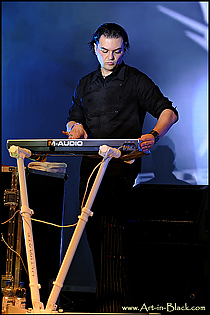 Music & Performance

One of my personal highlights I was anxiously waiting for already was coming up now. The Synth Pop band FROZEN PLASMA whose members Vasi Vallis and Felix Marc met on the VNV NATION tour in 2005. Every single one of their releases met with success and an ever growing fan base. So they thought of a little surprise for this year's WGT and in the course of their second album release 'Monumentum'. Two huge Plasma displays were built-up on stage. The intro sounded and in the background, projected on a big video screen, a review of the band's history could be watched. Important live shows and all the CD covers were shown one by one and then Felix and Vasi entered the stage, who took his place behind the keys in the middle of the stage and Felix started right away with the hit 'Irony'. We sang the chorus "An ironic twist of fate…" together and danced, while Felix dashed from one end of the stage to the other and intrigued everyone with his voice. Accompanied in the background by carefully crafted videos and pictures, so beautiful, you didn't know where to look first.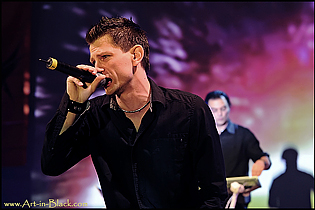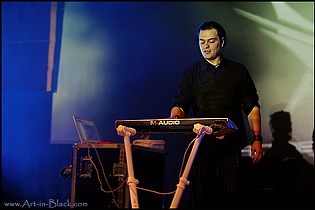 Fitting to this year's single release 'Earthling', Felix put an alien mask over the microphone stand. Two new songs from the current album followed and which, regardless of it being juts released for two days, were going down very well with the audience. These two songs were 'Murderous Trap', and 'Speed of Life', where especially the video caught my attention with pictures in high-speed fitting to the lyrics. Felix briefly disappeared from the stage and came back stripped to the waist and welcomed by loud cheers. On his back he had the FROZEN PLASMA logo. Just a painting, proven by the blurred edges! Still a cool gag and nice to look at! Following this was 'Hypocrite', the first single from 2005. Vasi and Felix slowly unbent and enjoyed the positive reactions. After every song, Felix said a thank you and smiled all over his face. With the club stomper 'Warmongers' it went on swiftly. Dressed again, Felix announced this evening's surprise and two dancers appeared on stage to dance in front of the two TVs to the closing song 'Tanz die Revolution'. An incredible show ended much too soon but whetted the appetite for all the upcoming festival shows and the tour with VNV NATION.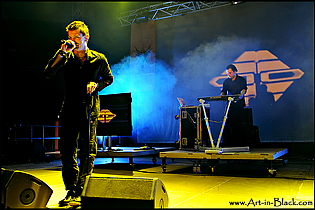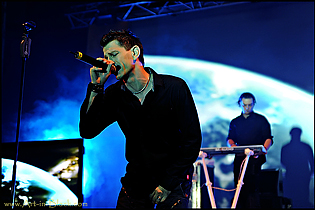 Setlist

01. Intro
02. Irony
03. Earthling
04. Murderous Trap
05. Speed of life
06. Hypocrite
07. Phoenix
08. Warmongers
09. Tanz die Revolution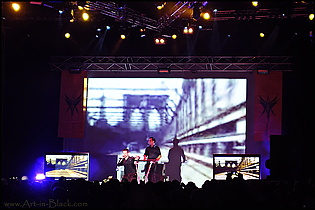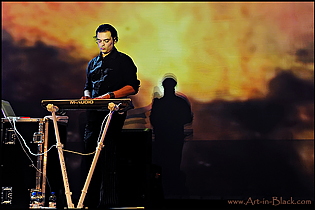 Frank the Baptist - Agra (Anne Kuhfuß)

FRANK THE BAPTIST is an American gothic rock / death rock band founded in San Diego, California by front man Frank Vollmann. Strobelight Records was founded to release their first album, 'Different Degrees of Empty', in 2003, and all of the band's following albums have been released by the record label. In 2004, the band toured Europe for the first time to support their second album, 'Beggars Would Ride'. Frank Vollmann relocated to Berlin in 2006, joining long-time comrades Fez Wrecker and Benn Ra , both of whom had coincidentally played in early incarnations of FRANK THE BAPTIST in San Diego in 1997-1998. East Berliner Phantomas joined on drums, and the new line-up debuted at The Villa in Leipzig on Friday 13, 2006. In November 2006, the band went into Studio Wong in Berlin-Kreuzberg and recorded the band's latest album, 'The New Colossus'.
http://www.frankthebaptist.com/
/
http://www.myspace.com/frankthebaptistmusic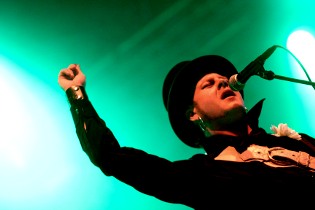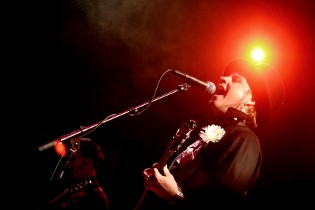 Music & Performance

FRANK THE BAPTIST is known for his great voice combined with unique music. And so, we had high expectations when we went to the Agra. Friends from us went to his other show TELEGRAM FRANK the day before and told us he was drunk like hell. So, we hoped his condition got better. And it did. He showed a nice performance but I was a little disappointed by his choices of the songs. Although he played his "hits" like 'When the Sky' and 'Ever', I waited for 'If I speak' which is probably his most known song but unfortunately, it didn't come. All in all, he showed a good performance although some of the songs sounded the same and kind of boring. His voice was outstanding which outweighed for some of the boring songs. And then, something unexpected happened. There was a couple in the audience who drew all the attention on them. He proposed to her telling everyone they met at another FRANK THE BAPTIST concert. The audience was thrilled and applauded but the only comment from Frank was "So, now kiss that bitch, so we can go on with the show!" Quite a nice reaction!
Rating

Music: 8
Performance: 8
Sound: 7
Light: 7
Total: 7.7 / 10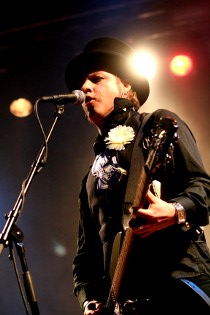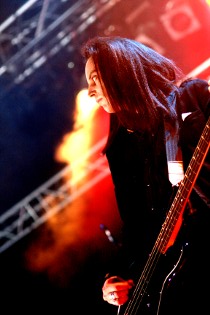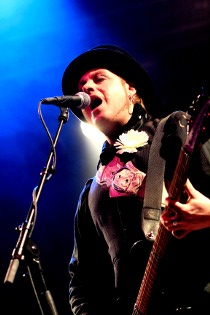 Psyche - Kohlrabizirkus (Cathie Niemann)

PSYCHE is one of those bands that hold a cult status even beyond the borders of independent music. Like all big names they also started very small with the brothers Darrin & Stephen Huss founding the band in 1982. However, first material wasn't released until 1985 with the now legendary self-produced debut 'Insomnia Theatre' only marking the start of a remarkable career that lasts for a quarter century now; a career that brought forth such evergreens as 'Unveiling The Secret' from the same-titled second album with which they achieved their European breakthrough and the unforgettable 'Misery' from the 1989 output 'The Influence' as well as countless other hits raising their popularity to remarkable heights. Darrin who is the only constant member since the foundation always was eager to experiment and so the sound was subjected to an unhesitant change, so the fans never could be sure what would follow next yet they knew that the essence of PSYCHE would never change and it hasn't until today.
http://www.psyche-hq.de/
/
http://www.myspace.com/psyche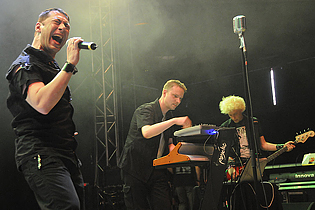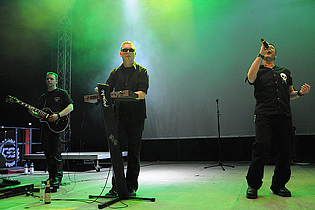 Music & Performance

For over 20 years, the band PSYCHE, founded by the Huss brothers in the 80s in Canada is around already. Nowadays only Darrin Huss is the only constant member. The job as keyboarder was done by different musicians throughout the band's history. But on this evening Darrin came o stage with two keyboardists and presented a set of old, but re-arranged songs. Besides 'The Quickening' that were the hit 'Unveiling the Secret' and an acoustically presented 'Eternal'. Most of all the shows I've seen of them so far I liked the charisma and sympathy of the singer, where good mood literally jumps across to the audience. After so many years of stage experience it's clear that Darrin's an expert and knows exactly what his audience wants to hear. Jumping, dancing, and singing, they made us happy with electro pop gems such as '15 Minutes' or 'Sanctuary'. Darrin's unique dancing style was funny to look at and rousing. Screams were coming off the crowd to the first tones of 'Goodbye Horses' (Originally by Q LAZZARUS for the movie "The Silence of the Lambs"). The vocals were crawling under your skin and mesmerized we watched what happened on stage to break out in raptures one last time. The set closed with 'The Outsider' for some more party atmosphere encroaching on the audience.
Setlist

01. The Quickening (Club Mix)
02. Snow Garden
03. Unveiling the Secret
04. Eternal (acoustic)
05. Disorder
06. Sanctuary
07. 15 Minutes
08. Goodbye Horses (21st Century Mix)
09. The Outsider 2001
Solitary Experiments - Kohlrabizirkus (Cathie Niemann)

The group which would eventually re-name themselves to SOLITARY EXPERIMENTS later, made its first musical steps under the name PLAGUE, subsequently emerging in the aforementioned project in 1994, at that time with the support of a female background singer. The first mentioned release was a tape, namely 'Risque De Choc Electrique' coming hand in hand with the first live gigs with the likes of BLIND PASSENGERS or TERMINAL CHOICE. Constant good reception by the press promoted the development of new material. Following their first festival gig in 1999 was the signing to Maschinenwelt Records and the eventual release of the first full-length 'Final Approach'. Ever since, the career god meant very well for them. All of the following albums became unquestionable successes in the electro scene. Their last album 'Mind over Matter' already dates back to 2005, but a new one called 'In the Eye of the Beholder' is going to be released in fall 2009 and a harbinger in the form of the single 'Immortal' has been released already.. SOLITARY EXPERIMENTS are Michael Thielemann (sampling, programming, engineering, recording), Dennis Schober (lyrics, vocals, effects, performance) and Steve Graeber (programming, sampling).
http://www.solitaryexperiments.de/
/
http://www.myspace.com/solitaryexperiments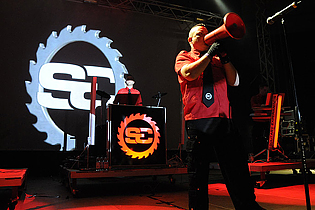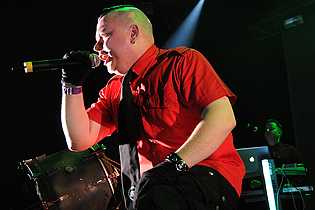 Music & Performance

Lots of fans of Berlin's Electro formation SOLITARY EXPERIMENTS now took their places right in front of the stage to celebrate the band, founded in 1994. Dressed in red shirts with black ties with the band logo, the band members Michael Thielemann (keyboard), Steve Graeber (keyboard), Dennis Schober (vocals), and a live drummer entered the stage and started with 'Road to Horizon'. The melodic Electro sound coupled with hard EBM tones went straight to the legs. Despite problems to a missing sound check, the band delivered crackers like 'The Dark inside me' or 'Homesick' and a grandiose show. Especially Dennis' deep and memorable voice pleased my ears. The catchy melodies and massive beats of the new single 'Immortal' were going down surprisingly well with the audience. A future club hit par excellence! Singer Dennis kept heating us up and animated to dance along. The announced surprise followed at the end of the show with the song 'Seele bricht' and FEINDFLUG entering the stage under blusterous applause. You couldn't have given more pleasure to the audience.
Setlist

01. Road to Horizon
02. Pale Candle Light
03. The Dark inside me
04. Delight
05. Homesick
06. Immortal
07. Rise and Fall
08. Seele bricht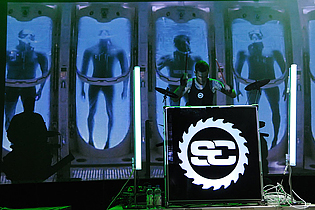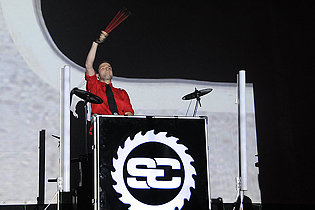 Umbra et Imago - Agra (Anne Kuhfuß)

UMBRA ET IMAGO was founded in the fall of 1991 by Mozart. From the first show on they presented their music with an erotic act which made the band hard to deal with. The band was feared, cheered and at all times charismatic. The media reacted very hard and didn't understand this band at all. This automatically lifted the band to the cult status. When their line up changed in 1995 so did their sound. Where first electronics ruled the guitar now took the lead. After a few more changes in their line up UMBRA ET IMAGO came to its present members, hardened by hard times and still going strong.
http://www.umbraetimago.de/
/
http://www.myspace.com/machinamundi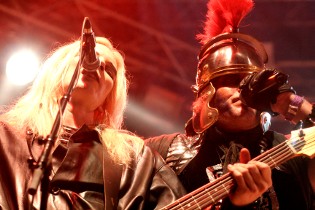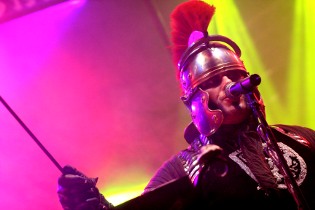 Music & Performance

Well, the first thing people think about when they hear the name UMBRA ET IMAGO is probably a great show with some S/M-performances. And of course, those people didn't get disappointed. The band entered the stage except Mozart (vocals). He stood in the photo pit and wanted to get up the stage from this point but you have to put the accent on "wanted to". He didn't make it and asked some of the photographers to help him. So they did and he finally entered - more or less gracile - the stage. So, the show started with great and strong music. Mozart had a great voice although his physical condition seemed to be a little bad. His girlfriend contributed to the show like she always does. She brought a girl on stage, tied her to a pole and poured hot wax over her naked body. All in all, great band with an eye-catching show, maybe a little cliché but nice to see. The music showed a great variety of their past albums and of course, the concert ended with their well-known cover of 'Amadeus'. The sound was too quiet, like before, which was sad since they showed a nice musical performance.
Rating

Music: 8
Performance: 9
Sound: 7
Light: 7
Total: 8 / 10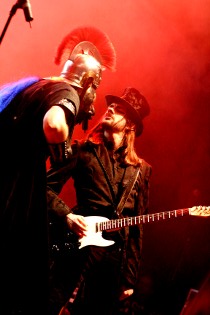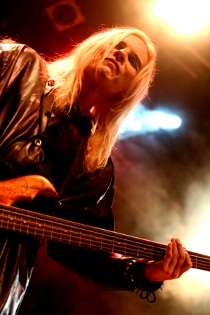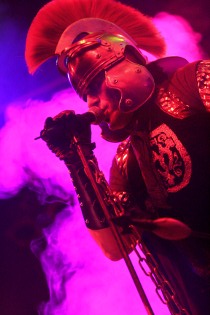 Client - Kohlrabizirkus (Cathie Niemann)

CLIENT is a futurist British musical group from Rotherham, England who have toured extensively throughout Europe and Asia. They are most popular in Germany where they have had most commercial success. They combine Scandinavian airline hostess uniforms with glamour-girl aesthetics and harsh electronics to create a sound reminiscent of early forays into electronic sound manipulation and New Wave. Their uniforms have become their trademark. The original band members Kate Holmes (keyboard) and Sarah Blackwood (vocals) were formerly known only anonymously as Client A and Client B. Over the years different musicians had supported CLIENT on stage, at the current tour they were attended by Client E (bass).
http://www.client-online.eu/
/
http://myspace.com/client
Music & Performance

Short time later it was time for the girl trio CLIENT from British Rotherham. Founded in 2001, members Kate Holmes aka Client A and Sarah Blackwood aka Client B gained high popularity due to their support shows for DEPECHE MODE. Luckily, Any Fletcher liked the duo so much he signed them for his own label Toast Hawaii. In 2005 the duo became a trio with alternating line-up and also on this evening, three good-looking ladies in retro stewardess costumes stood on stage. No wonder so many male fans gathered in front of the stage for the mixture of cool elegance and sweet innocence was incredibly sexy. A sound cocktail of dark synth and disco beats, minimal analogue sounds and cool New Wave drifted through the venue. This year already the fourth album 'Command' has been released and of course some songs off the album were presented live, amongst them the current single 'Can you feel?' a rather poppy track. But Sarah's wonderful voice particularly enthralled me on the 'older' songs like 'Radio', 'Lights go out' or 'Down to the Underground' with a very responsive audience.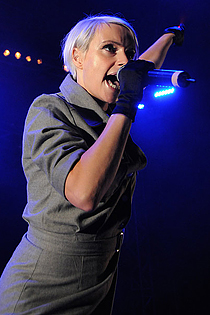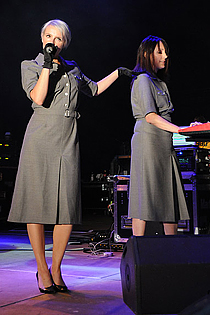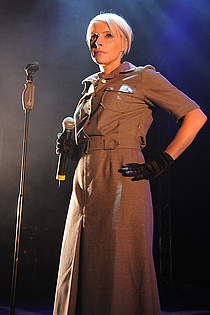 Melotron - Kohlrabizirkus (Cathie Niemann)

MELOTRON is a renowned Synth Pop trio from Germany which was formed in 1996 and is known for their beautiful catchy songs with German lyrics regardless of which they've a still growing international following. Over the years they released six albums; the current album called 'Propaganda' and was out in February 2007.A new yet untitled album is currently in the works. MELOTRON are Andy Krüger (vocals, composition), Edgar Slatnow (keyboard, lyrics) and Kai 'Hilde' Hildebrand (keyboard, programming).
http://www.melotron.com/
/
http://www.myspace.com/melotronmusic
Music & Performance

For much too long, the headliner MELOTRON wasn't seen on a German stage and so with 1.500 other fans I was looking forward to the exclusive live comeback of the synth pop trio from Brandenburg. Already since 1995 Andy Krüger (vocals / composition), Edgar Slatnow (synth / lyrics) und Kay Hildebrandt (synth / production) are making music together and despite German lyrics have a big international fan base. In red-white outfits and Edgar wearing a Cowboy hat, the trio entered the stage and started a hit firework with 'Das Herz'. Sadly, that song couldn't score at the Bundesvision Song Contest in 2007, but it was different today. Edgar played the portable keyboard, Hilde stood in the back behind his keys and Andy was singing and dancing with passion as he always does. Old songs like 'Gib mir alles', 'Tanz mit dem Teufel' or 'Wohin?' were sung by the audience in unison. The Kohlrabizirkus wasn't full but so everyone had enough space to dance and in front of the stage the masses jumped euphorically and with risen arms.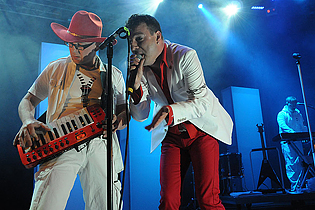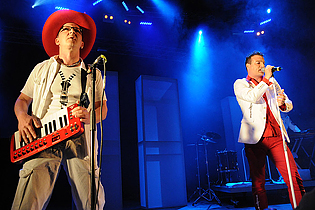 The mood remained on that high level during songs from the last album 'Propaganda' like 'Menschenfresser (RIO REISER Cover) or 'Liebe ist Notwehr'. A new, English song called 'Stucked in the Mirror' was presented as well. The mood ran on high and Mr. Krüger without white jacket danced over the stage all in red. Some songs had been lyrically altered for the evening like 'Nur Leben' or 'Kein Problem'. Of course the classic 'Brüder' couldn't be missed in this show. Those who didn't dance thus far did it now. At the end of the show, the trio bowed down before their audience and wished lots of fun on this year's WGT. So now we're even more looking forward the new album, the band is currently working on.
Setlist

01. Auferstehung
02. Das Herz
03. Gib mir alles
04. Arroganz der Liebe
05. Stucked in the Mirror
06. Menschenfresser
07. Maschinen aus Stahl
08. Der Anfang
09. Tanz mit dem Teufel
10. Nur Leben
11. Liebe ist Notwehr
12. Wohin
13. Kein Problem
14. Brüder
15. Wünsch mich nicht zurück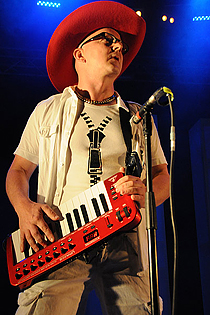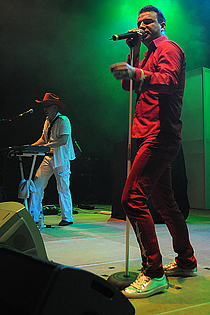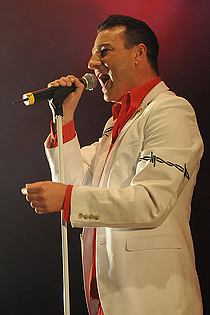 ASP - Agra (Anne Kuhfuß)

ASP is a German Gothic band from Frankfurt / Main. The band was formed in 1999 and named after its lead singer Asp (short for Alexander Spreng). ASP on stage are Asp (mastermind, songwriter and singer), Matthias Ambré (producer, guitar player, backing vocal), Tossi (bass, backing vocal) and Oliver Himmighoffen (live drummer). In the last years ASP evolved into a shooting star of German gothic scene and they were one of the headliners at several big festivals like the WGT.
http://www.thetalesofasp.com/
/
www.myspace.com/thetalesofasp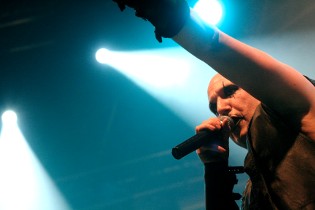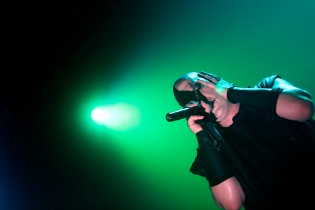 Music & Performance

Alexander Spreng (vocals) came on stage with his make-up and was starting a huge party right away but unfortunately we, the photographers, couldn't see it. There were flames during the first song and that's why ASP played their first three songs until we were allowed to get in the pit. As soon as he entered the stage, the crowd just freaked out. He used the fans to sing some parts of the songs and they did. With songs like 'Ich bin ein wahrer Satan', 'Krabat', 'Der schwarze Schmetterling' and 'Werben' they showed a great range of their fantastic albums. He joked around and talked to the fans all the time. You could really see that he had a lot of fun being on stage. And of course, their hymn 'Ich will brennen' wasn't missing. The sound was pretty good and so his great deep voice came out really good. Basically, ASP was just as great as they always are. For me, it was definitely one of the highlights of this Wave Gotik Treffen. I hope to see this great band again very soon!
Rating

Music: 10
Performance: 9
Sound: 8
Lights: 7
Total: 9 / 10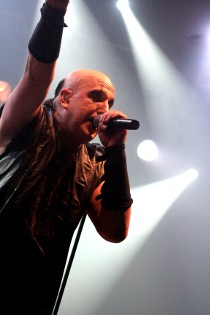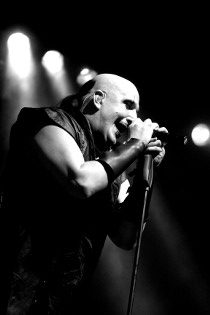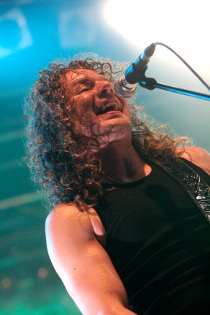 Peter Murphy - Agra Midnight Special (Cathie Niemann)

After a day, packed with concerts at the Kohlrabizirkus we were heading towards the Agra Halle after the MELOTRON gig to get to the midnight special with PETER MURPHY right in time. The Englishman is most prominent for being the front man and singer of Goth Rock legend BAUHAUS (1978-1983). One year later, he started his solo career and with 'Cuts you up' had his first hit in 1990, including US chart entry. Ever since he's releasing more or less successful albums at irregular intervals and in-between embarks on solo tours. In 1998, a reunion tour with BAUHAUS took place and in 2001 he was special guest on the NINE INCH NAILS tour.
http://www.petermurphy.info/
/
http://www.myspace.com/officialpetermurphyspace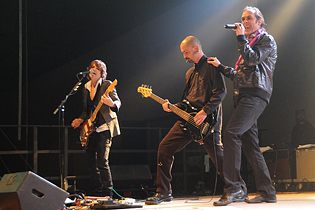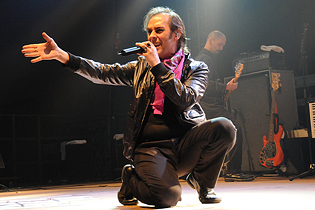 Music & Performance

The 'Godfather of Goth' entered the stage under loud cheers around 1:00am, additionally supported by live drummer Nick Lucero, guitarist Mark Thwaite, and bassist Jeff Schartoff. He was dressed in a black suit with a pink, fashionable bandana and regardless of his meanwhile higher age looked juvenile and agile. An impression that was confirmed during the entire show! The impressing setlist comprised own songs like the touching and mellow 'Strange Kind of Love' or 'I'll fall with your Knife'. For most of the attendees, the old BAUHAUS classics were the obvious highlights, seamlessly blending with the rest of the songs. Jumping, dancing, and with a grandiose melodic solo, he surprised us during 'She's in Parties'. A sonorous and expressive voice also made 'Passions of Lovers' a real treat for all attendees. The absolute classic followed with the BAUHAUS track 'Bela Lugosi's Dead' presented as an acoustic version with Peter himself playing the guitar. Not less impressing but much more poignant was the NINE INCH NAILS cover 'Hurt', where Peter, whilst sitting in the background, sang the song with whispering and sombre vocals which catered for goose bumps everywhere.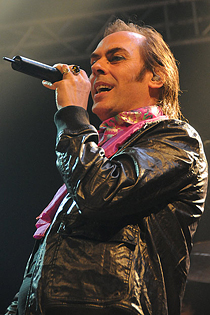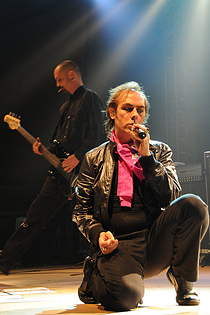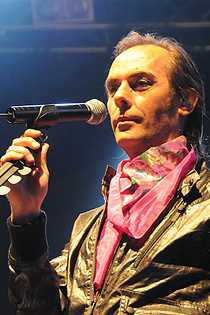 Another beautiful cover version followed afterwards with the DAVID BOWIE song 'Space Oddity' with a Peter winding a black feather boa around his neck. He stood there on stage all by himself and impressed the audience with matchless mimics and gestures. So, an intense and punchy live performance of the Goth legend ended with thundering applause. The WGT Monday had long started and we kept celebrating a little at the café and the Agra disco.
Written by:
Anne Kuhfuß (Fetisch:Mensch, Frank the Baptist, Umbra et Imago and ASP)
Cathie Niemann (Minerve, Akanoid, Fading Colours, Frozen Plasma, Psyche, Solitary Experiments, Client, Melotron, Peter Murphy)
Translations by Sebastian Huhn
Pictures by:
Anne Kuhfuß (Fetisch:Mensch, Frank the Baptist, Umbra et Imago and ASP)
Heiko Meyer (Psyche, Solitary Experiments, Client, Melotron, Peter Murphy -
http://www.pagandance.de/
)
Martin Black (Frozen Plasma - www.art-in-black.de)
{jos_sb_discuss:18}
See also (all categories):