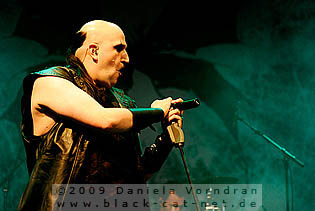 Amphitheater, Gelsenkirchen, Germany
21st June 2009
Blackfield Festival 2009 Day 2: ASP, Apoptygma Berzerk, Mesh, Suicide Commando, IAMX, Letzte Instanz, Frozen Plasma, Faun, Santa Hates You, Dope Stars Inc.
The second festival day started not as wet as the first one. Only a few slight showers, mostly dry, but quite cold in the evening. Again we got a lot of fantastic bands to listen to. German ASP was headlining the festival, but my personal favourite was Chris Corner's IAMX. Simply amazing! All bands during the day delivered fantastic performances starting with Italian DOPE STARS INC. at 12 o'clock.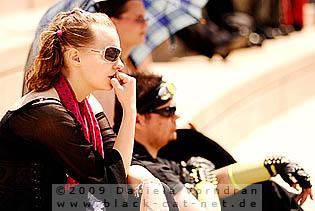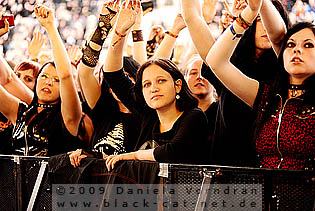 Dope Stars Inc. (Sebastian Huhn)

Founded in spring 2003, this band has a rather short but nevertheless successful history. When they released their first EP '10.000 Watts of artificial pleasures', they attracted much attention from scene magazines even though it was initially published as a digital download only via Internet. In 2005 they signed a record deal with the German label Trisol. Short after that happened, the band entered the studio together with Thomas Rainer from L'AME IMMORTELLE and John Fryer who already worked for acts like NINE INCH NAILS or DEPECHE MODE, to produce their first full-length album 'Neuromance' which hit the stores at the end of August 2005. An EP called 'Make a Star' was the next musical sign of life released in august 2006 followed by the second album 'Gigahearts' at the end of 2006.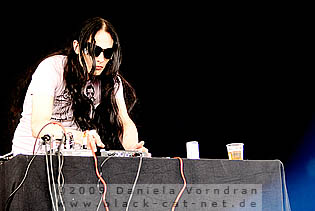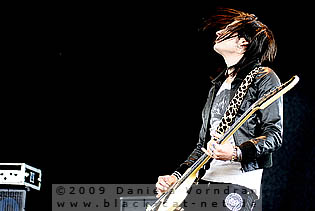 The third one, entitled 'Neuromance' followed just a year later and the next but limited assault 'Criminal Intents/Morning Star' just hit stores at the end of April. DOPE STARS INC. is Victor Love: (vocals, guitar, synths, programming), La Nuit (guitar, live backing vocals), Darin Yevonde (bass, live backing vocals) and during live performances Ash Rexy (live keyboards, live backing vocals).
http://www.dopestarsinc.com/
/
http://www.myspace.com/dopestarsinc
Music & Performance

The sun was shining bright from the sky at 12 PM sharp when the feisty Italians DOPE STARS INC. hit the stage to spare those, who decided to get up early to see them the morning coffee. After they entered the stage with the 'Darth Vader' theme, they started right away with the upbeat 'Theta Titanium' and rocked the stage. The performance was much less static than when I've seen them for the first time end of 2007 and everybody did their best to deliver a nice show including posing. But the vocal performance of Victor Love this time was underwhelming.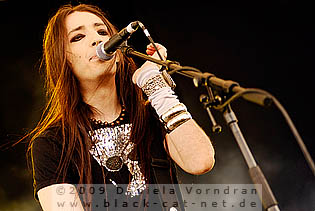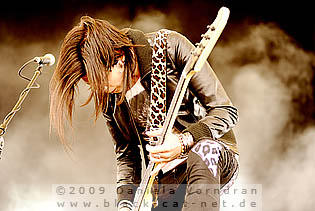 That definitely sounded better the last time. Next song was 'Criminal Intents' coming from the brand new EP that just has been released. 'Digital Warriors' from the same EP ended a set of seven highly energetic songs.
Setlist

01. Theta Titanium
02. Criminal Intents
03. Bang Your Head
04. Make a Star
05. 10.000 Watts + Infection 13
06. Vyperpunk + Beatcrusher
07. Digital Warriors
Rating

Music: 5
Performance: 7
Sound: 6
Light: (daylight)
Total: 5.9 / 10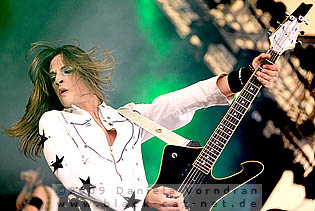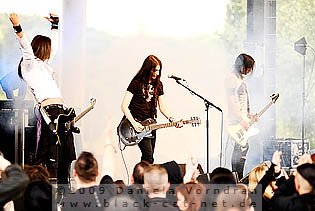 Santa Hates You (Sebastian Huhn)

As strange as the name sounds as strange is their appearance if one takes a look at the photos on their MySpace profile. The mastermind of this project should be fairly familiar to the creatures of the dark music scene. Peter Spilles (Project Pitchfork) created this project in 2007 with a woman called Jinxy. The debut release goes by the name of 'You're on the Naughty List' and was released by the end of October 2007. On the WGT the project celebrated its live debut. During the Blackfield show, SANTA HATES YOU got some additional live support from REAPER keyboard player Gregsen.
http://www.myspace.com/santahatesyou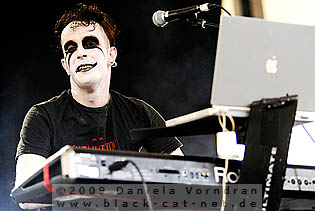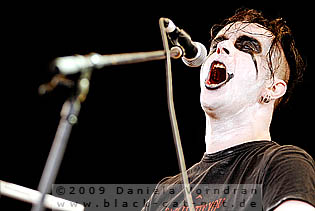 Music & Performance

The mere fact that Peter Spilles, who had laid down a remarkable performance with PROJECT PITCHFORK the other day, would perform something on stage was enough for many to gather before the stage. With SANTA HATES YOU, Peter's presenting much more beat-driven material; highly danceable and with a little quirky kind of lyrics. No one bothered about that, really and rather enjoyed the show a lot with such tracks as 'Sugar and Spice' , 'Feuerball' that seemed to me like a twisted Christmas song, and 'Pantheon', where supposedly every god mankind knows is numerated.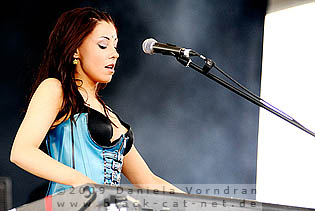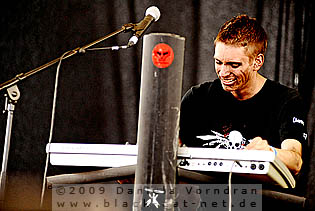 Even though Peter's not roaming the stage that much on a SANTA HATES YOU but rather rocks and moves behind his keys just like sexy dressed Jinxy and a third guy whose name I didn't get. A short but very entertaining performance was over way too soon after only a few songs
Setlist
01. Karoshi
02. Ego Inc.
03. Sugar & Spice
04. Rocket Heart
05. Feuerball
06. Pantheon
07. U'r Fucking it up
Rating

Music: 7
Performance: 7
Sound: 7
Light: (daylight)
Total: 7 / 10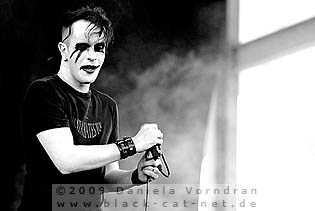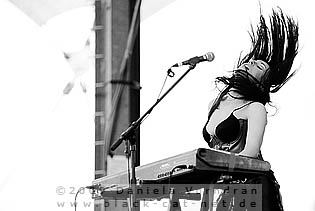 Faun (Carsten Leopold)

FAUN is a German pagan folk / darkwave band formed in 2002. The originality of their music style is that they fall back to "old" instruments, and the singing is always the centre of attention. The vocals are performed in a variety of languages, including German, Latin, and Scandinavian speeches. Their instruments include Celtic harp, Swedish nyckelharpa, hurdy gurdy, bagpipes, cittern, flutes and many others. The band was founded in 2002 by Oliver "SaTyr" Pade, Elisabeth Pawelke, Fiona Rüggeberg and Birgit Muggenthaler. Two years later, Rüdiger Maul got into the band as percussionist. At the same time, Birgit left the band, to continue her musical life with the folk-rock band SCHANDMAUL.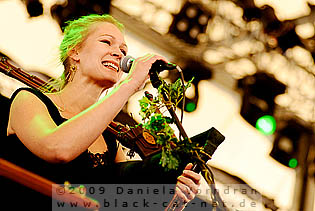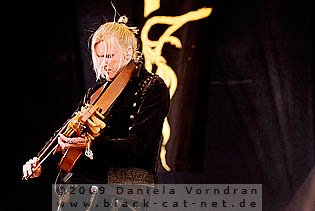 In 2002, they released their first album "Zaubersprüche". Niel Mitra was a guest musician on this album, and he later became a full-time member of the band, the only one playing only electronic instruments. Elisabeth Pawelke left Faun in 2008 to focus on her studies in classical song in Basel, Switzerland. She was succeeded by Sandra Elflein. Current members are: Oliver Sa Tyr (vocals, bouzouki, nyckelharpa, Celtic harp, Jews harp), Sandra Elflein (vocals, violin), Fiona Rüggeberg (vocals, recorders, whistles, bagpipes, seljefloit), Rüdiger Maul (tar, riq, davul, panriqello, darabukka, timba, gaxixi and many other percussion instruments) and Niel Mitra (sequencer, sampler, synthesizer).
http://www.faune.de/
/
http://www.myspace.com/paganfolk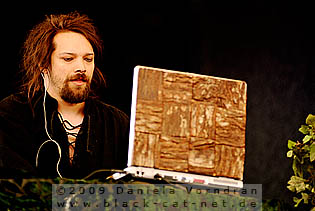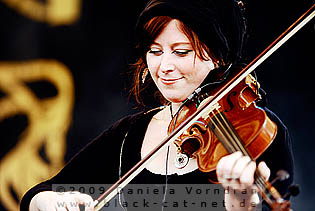 Music & Performance

Now was the right time for the fans of acoustic performance and medieval music; FAUN entered the stage which was decorated with plants and did their show. FAUN combined electronic synth sounds with classical and medieval instruments like violin or bagpipes. The acoustic performed songs mostly dealt with plants, living and nature. The set ran about 35 minutes and included seven songs. This kind of music is not mine, but I think the fans of medieval music were pleased by the show.
Setlist
01. Rosmarin
02. Wind & Geige
03. Egil Saga
04. Iyansa
05. Zeitgeist
06. Rhiannon
07. Tagelied
Rating

Music: 5
Performance: 7
Sound: 8
Light: - (daylight)
Total: 6.7 / 10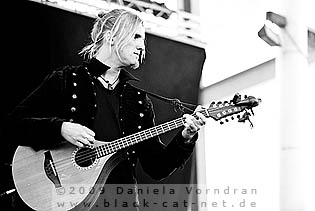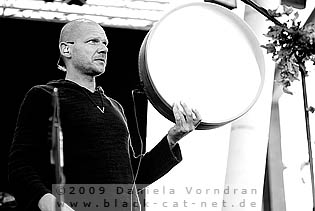 Frozen Plasma (Carsten Leopold)

After the split of his very successful band NamNamBulu, Vasi Vallis founded FROZEN PLASMA in 2005 together with Felix Marc. The Debut Single 'Hypocrite' was released in November 2005, the first album 'Artificial' followed in April 2006. The EP 'Emphasize' was released later in 2006. The current album called 'Monumentum' and was released just some weeks ago. Vasi Vallis is also known for his band REAPER as well as a member of the live crew (keyboards) of VNV NATION, Felix Marc by the way is member of DIORAMA and runs a solo project under his own name too.
http://www.frozenplasma.com/
/
http://www.myspace.com/frozenplasma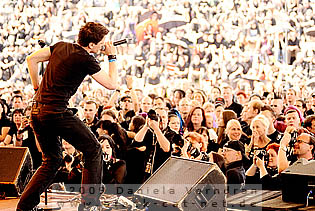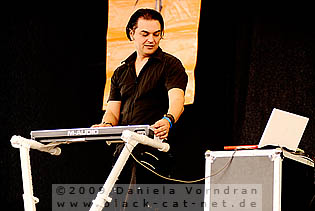 Music & Performance

With FROZEN PLASMA, the synth pop came back to the stage and Vasi and Felix performed a powerful and strong, danceable set of eight tracks in the afternoon. The setlist consisted of four songs from the current, just released album combined with older songs like 'Irony' or 'Hypocrite' which forced the legs to move. Vasi operated his keyboard in the background and Felix was jumping and running across the stage the whole time. Unfortunately they had only 40 minutes playing time and the show was finished just when the crowd was warmed up. Highlight of the show was the last song 'Earthling', a single release from the current album, which was performed as a nice duet with Lis van den Akker who also delivered vocals on the CD release.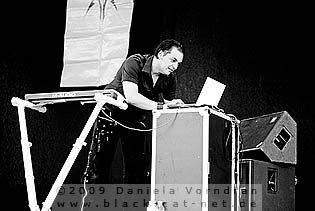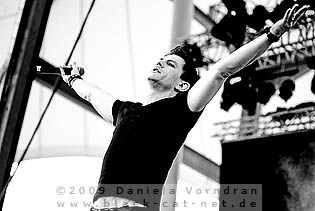 Setlist

01. Intro
02. Speed Of Life
03. Murderous Trap
04. Tanz die Revolution
05. Hypocrite
06. Warmongers
07. Irony
08. Earthling (special Blackfield version feat. Lis van den Akker)
Rating

Music: 8
Performance: 8
Sound: 9
Light: - (daylight)
Total: 8.2 / 10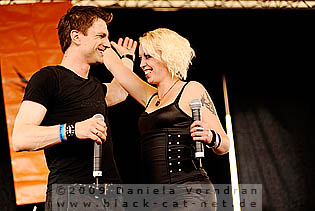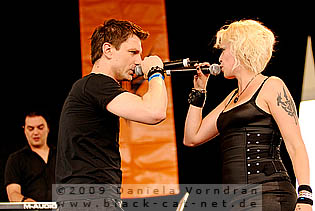 Letzte Instanz (Sebastian Huhn)

LETZTE INSTANZ arose from the band RESISTANCE and was founded in 1996 in Dresden. After they approached some labels under the name RESISTANCE they signed a record deal with the label Costbar and recorded their first songs which are included on the first album. Later the band then changed their name to LETRZTE INSTANZ to distinguish themselves from other bands that got the name RESISTANCE. Before they even released their second album, the singer Hörbi and bas player Kaspar left the band. Sebastian Lohse aka Robin Sohn and Rasta F. took over as singer and bass player.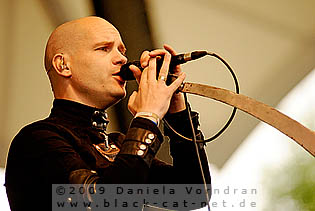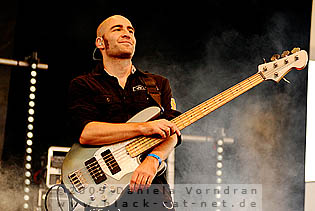 After the release of their fourth album 'Götter auf Abruf', again three members of the band (incl. the singer) left the band. After a long search they found a new singer with Holly and meanwhile recorded two other albums with 'Wir sind Gold' as the latest regular studio album. In December 2007, the acoustic album 'Das Weisse Lied' was released presenting newer and older songs with different orchestration followed by the live CD 'Die Weisse Reise. In February 2009, the band returned with their latest studio album 'Schuldig'.
http://www.letzte-instanz.de/
/
http://www.myspace.com/letzteinstanz
Music & Performance

LETZTE INSTANZ always is a guarantor for a good mood whether they play in a smaller club or a big festival like the Blackfield and people knew that of course so many of them were gathering up already to see the sympathetic band and then they came warmly welcomed by everyone and began their set with the first two tracks from their latest and very successful album 'Schuldig' and then went on with 'Tanz'. Here it was confirmed what I said earlier. The band, with Holly at the front, animated at their best to get even those ones in the boat sitting up there on the steps of the amphitheatre and succeeded.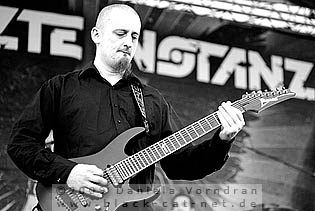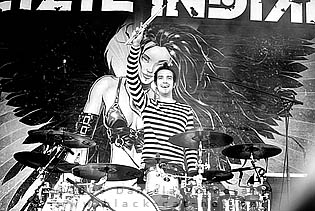 Something that wasn't given to every band on the festival! The two songs that were to close the set have been played at every show I've attended of the band thus far. 'Das Stimmlein' and 'Wir sind allein' both of which have choruses leading to the audience singing them in unison every time and the Blackfield Festival made no exception. For some that might have been a quite short set with 40 minutes but they were entertaining, those 40 minutes, that's what you'll have to remember.
Setlist

01. Mea Culpa & Engel
02. Flucht ins Glück
03. Tanz
04. Ohne Dich
05. Mein Todestag
06. Finsternis
07. Das Stimmlein
08. Wir sind allein
Rating

Music: 7
Performance: 8
Sound: 7
Light: (daylight)
Total: 7.4 / 10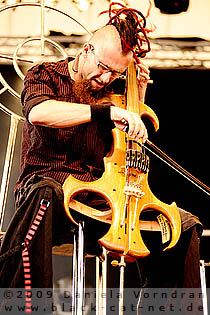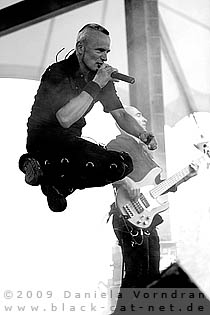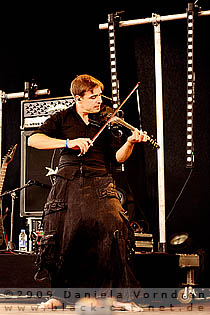 IAMX (Sebastian Huhn)
After a series of albums with SNEAKER PIMPS, Chris Corner started IAMX as his solo project in 2003. Corner produced the IAMX debut 'Kiss + Swallow' (Recall records, 2004) in his home studio and the follow-up 'The Alternative' (Major Records, 2006) in his new domicile in Berlin, Germany and now after a seemingly endless time span IAMX returns with the third album 'Kingdom of Welcome Addiction' in May 2009. IAMX live is Chris Corner (vocals), Janine Gezang (keyboard, guitar, backing vocals), Tom Marsh (drums) and Dean Rosenzweig (guitar).
http://iamx.eu/
/
http://www.myspace.com/iamx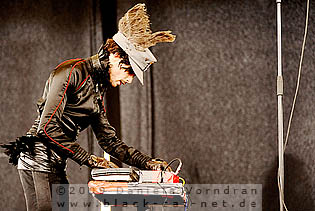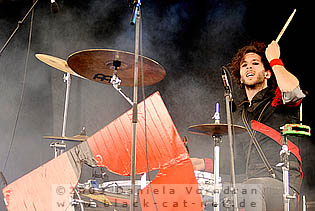 Music & Performance

I became a fan of Chris Corner's project after hearing his latest full-length output 'Kingdom of Welcome Addiction' and as an IAMX gig in the past always was a pleasure as I read I was expecting to see something really big today and it indeed became one of the biggest highlights the Blackfield Festival had to offer for me. After all live members in their extraordinary-like dresses had taken all positions; the drum kit was built up a little sideways to the audience, Tom started pounding on the drums with a remarkable passion and with that announced 'Bring Me Back a Dog' and the appearance of main character Mr. Chris Corner who stood further back so far turning one or another know to create wired sounds coming out off the speakers already while the band was announced by moderator Jens. Chris wore quite an outrageous hat and started right away blessing the audience with his exemplary vocal range and using the full width of the stage latest with the kicking 'The Alternative' following up on the recent album opener 'The Nature of Inviting' with cold and stripped rhythmic structures and a somewhat luring appeal.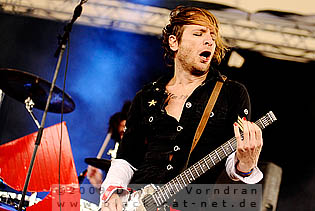 Corner was supported on the stage action by his guitarist Dean and especially the keyboard player Janine dressed up completely in white including skirt often left the keys to dance wildly over the stage with our without guitar. Meanwhile the crowd had turned into a billowing mass and as the first glimpses of the set closer 'Kiss & Swallow' turned up all the hands went up to clap along and people danced wherever you looked and loud applause was their company as they went off stage. Actually they would need to come back next year with a little more playing time than 45 minutes. Just the sound of the show was not perfect; basses were too loud in parts and the vocals sometimes too thin.
Setlist

01. Bring Me Back a Dog
02. Nature of Inviting
03. The Alternative
04. Sailor
05. An I for an I
06. My Secret Friend
07. Spit it out
08. Nightlife
09. Kiss + Swallow
Rating

Music: 9
Performance: 9
Sound: 6
Light: (daylight)
Total: 8.5 / 10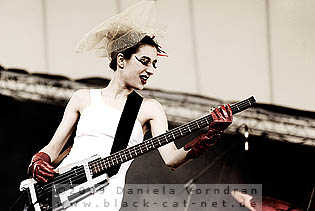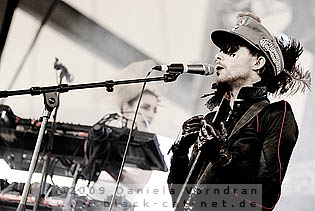 Suicide Commando (Sebastian Huhn)

One of the veteran projects in the electronic music scene is SUICIDE COMMANDO! A lot of years have passed since Belgian native Johan van Roy founded this project as a mere studio project in 1986. Three years later, he released his first tape under that moniker and made an appearance on the vinyl compilation, 'Electronic'. Following years brought more self-released tapes and compilation appearances until in 1994 the first SUICIDE COMMANDO CD 'Critical Stage' got released on now defunct German label Off Beat followed by 'Stored Images' shortly thereafter in 1995.Those two included two of the project's biggest club hits 'Where do we go from here' and even more 'See you in Hell'. Only the start of a strong of other club hits that was top follow in the years to come as van Roy continuously unleashed new material on an ever growing fan base all over the world. In 2006 followed his still most recent album 'Bind, Torture, Kill'. In May 2009, Van Roy announced that he's now signed to the Out of Line label and would release a new single and album very soon. SUICIDE COMMANDO live is Johan van Roy (vocals), Torben Schmidt (keyboards), Mario Vaerewijck (drums) and Jan L. (keyboards).
http://www.suicdecommando.be/
/
http://www.myspace.com/suicidecommando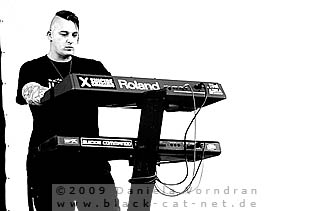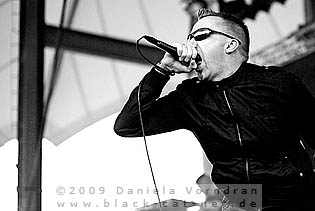 Music & Performance

If you're attending a SUICIDE COMMANDO gig you know exactly what you get, except for flying microphone stands but that's another story. Whatever, a SUICIDE COMMANDO gig is like an order to dance and shake the tired bones a little and that could start right away with the set opener 'Bind, Torture, Kill' from the last album. Fitting to the serial killer theme, profiles of some 'Famous' killers were projected on a screen in the back which would show alternating footage to each song on the list. The second track 'Menschenfresser' had not less of a shocking subject matter but it's safe to assume that I was probably the only one thinking about textual content while dancing. But to this track there were also lots of clapping hands after being commanded to do so by stage devil van Roy who kept running and jumping back and forth over the stage here.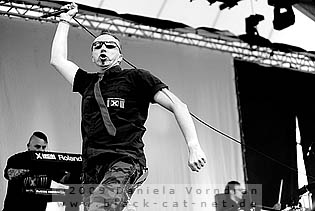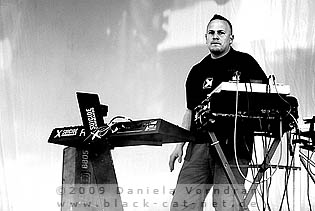 I guess you're aware that a new single is finally coming up in September called 'Die Motherfucker, Die' and that beat monster was thrown onto the audience without too much announcement and what can you stay. Johan stayed true to his style. Opinions vary if that is good or bad. Johan kept the best thing, the 'evergreen 'Hellraiser' for the end and an incredible cheer ran through the masses, dancing their souls out now. On word of critic at the end though. If I see live drums on stage I want to hear live drums but most of the time I just didn't and electronics covered everything up. Otherwise it was a damn good and sweat-driving show for me and many others.
Setlist

01. Bind Torture, Kill
02. Menschenfresser
03. Conspiracy with the Devil
04. Dein Herz Meine Gier
05. Hate Me
06. Love Breeds Suicide
07. Die, Motherfucker, Die (Upcoming New Single)
08. Cause of Death: Suicide
09. Hellraiser
Rating

Music: 8
Performance: 8
Sound: 7
Light: (daylight)
Total: 7.8 / 10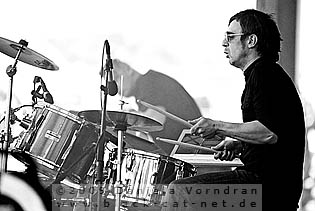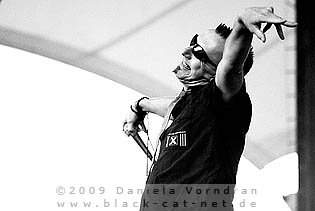 Mesh (Carsten Leopold)

The band from Bristol was founded in 1991 and consists of Mark Hockings and Richard Silverthorn nowadays. Neil Taylor, the third original member left the band in summer 2006 and was compensated by Geoff Pinckney. Live on stage MESH is usually supported by Sean Suleman as live drummer. The sound of MESH is Synth pop with beautiful melodies, catchy refrains and significant lyrics. The last album called 'We Collide' and was released in 2006. The upcoming album is in progress and will be released possibly end of this year.
http://www.mesh.co.uk/
/
http://www.myspace.com/meshwecollide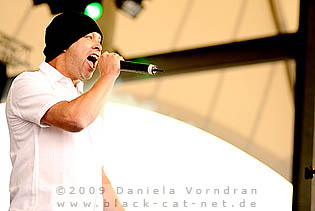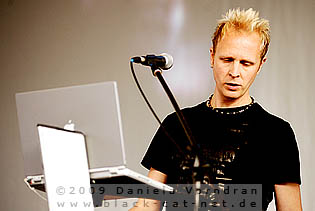 Music & Performance

MESH is still one of my favourite bands but this was probably the worst concert of them I've experienced, the show started 10 or 15 minutes delayed because they had technical problems during the change over. They started the set with 'Firefly' and the rain stopped, this was the good thing, the bad thing was the sound; the mix was really poor, the keyboards and the micro of Richard were too low, the guitar of Richard and partly the drums were too loud. In spite of these circumstances Marc sang his lyrics soulful and charismatic as usual and the other musicians did a committed performance too. The set list mostly consisted of experienced songs like 'It scares me', 'People Like Me' or 'Crash', completed with one new song from the upcoming album. Unfortunately the background video projections didn't take effect because of the daylight. Altogether I was quite disappointed because of the bad sound.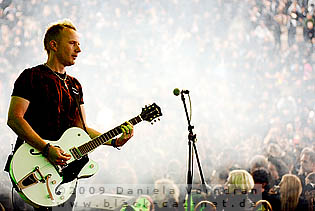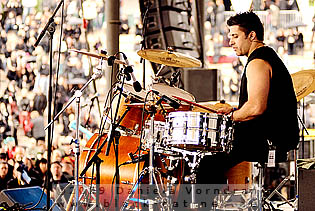 Setlist

01. Firefly
02. People Like Me
03. What are you scared of?
04. Everything I Made (unreleased)
05. Leave You Nothing
06. Not Prepared
07. Can You Mend Hearts
08. It Scares Me
09- Petrified
10. Friends Like These
11. Crash
12. From This Hight
Rating

Music: 9
Performance: 7
Sound: 5
Light: - (daylight)
Total: 7.6 / 10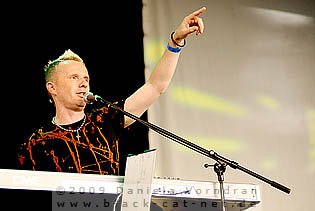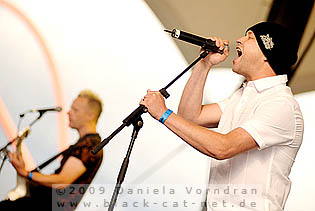 Apoptygma Berzerk (Sebastian Huhn)

The Norwegian music project APOPTYGMA BERZERK began in 1989 founded by Stephan Groth and Jon Erik Martinsen. Jon left the project some time later and so Stephan continued as solo artist. Already with the first album 'Soli Deo Gloria' (1993) he's able to chalk up more than remarkable successes, he could extend even more with the follow-up '7' (1996). The people just couldn't get enough of his way of combining dense atmospherics with danceable beats but they had to wait until 2000 for the new album 'Welcome to Earth' (Due to Groth having to fulfil his alternative service). The album took a dancier direction then the previous releases, yet also included a few tracks that sound experimental, getting away from the band's roots slightly. Spring 2002 saw the band's return with 'Harmonizer' combining all strengths but despite it having a bunch of potential hits it never got that successful, also receiving a lot of bad critics. The latest album 'You and Me Against the World' represents an almost complete change in style for the band.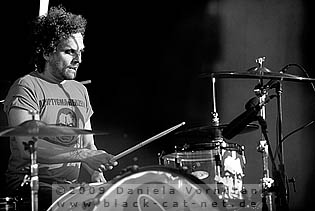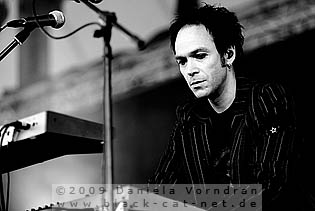 It features a more mainstream, rock-oriented sound, and the complete departure from the band's traditional electric synth pop and EBM roots that started with 7. The new album called 'Rocket Science' released in October 2008 continued on that path and alienated not just a little amount of fans APOPTYGMA BERZERK is Stephan Groth (vocals), Audun Stengel (guitar), Geir Bratland (keys) and Fredrik Brarud (drums).
http://www.theapboffice.com/
/
http://www.myspace.com/apoptygmaberzerk
Music & Performance

Before the gig started, I expressed my hopes for getting to hear a few older cuts on the upcoming show but a friend said "Don't hang your hopes too high" and I had to admit that he was probably right. Chances for that were pretty low but sometimes things turn out different than you'd expect. Close to the show's start, the place in front of the stage and even the "ranks" of the amphitheatre were pretty crowded with people. The audience catered for a warm and loud welcome of the band on stage and the first track 'Weight of the World' indeed was one of those new melodic rock tracks from the most recent album 'Rocket Science', I couldn't come to like.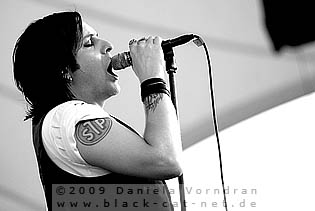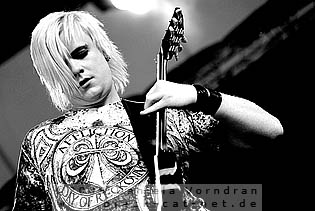 But already the next song was an old acquaintance 'Love Never Dies'. That caused smiles but still was no reason to break out in raptures. That reason we had when after another old-school tune 'Deep Red', a distinct beat sequence announced 'Starsign' and we just looked at each other and were like "Wow, what's just happening here?" With that they could get even the last one of us on their feet and dancing to the songs like others around us already did, while the huge crowd down there sang the chorus additionally. Here I liked the rocking styling and especially the live drums if I may add that. Then, with 'Shadow' and the current single 'Apollo, Live on your TV' followed some songs of the band's new phase. All melodic, and catchy, but far from memorable! What you can't say about all the songs you can tell about the performance which was all the way good and especially Stephan was a little whirlwind on stage.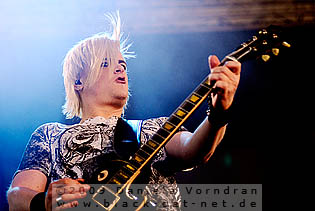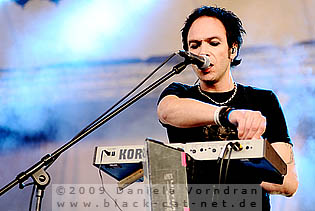 The last two songs were a real contrast program, starting with the band's cover version of the HOUSE OF LOVE cut 'Shine On'. "Shi, Shi, Shi, Shine on!" That's annoying to say the least. However, we could get over it with the last song; the super hit 'Non Stop Violence' and there really no one around me was sitting anymore. The mixture of this show was just how I liked it. Many, many songs I loved had been played. Some even said it was the best APOPTYGMA BERZERK show in a long time. Can't really judge that, was my first one.
Setlist

01. Weight of the World
02. Love Never Dies
03. You Keep Me From Breaking Apart
04. In This Together
05. Deep Red
06. Starsign
07. Shadow
08. Apollo, Live on your TV
09. Until the End of the World
10. Shine On
11. Non-Stop Violence
Rating

Music: 8
Performance: 7
Sound: 8
Light: 7
Total: 7.6 / 10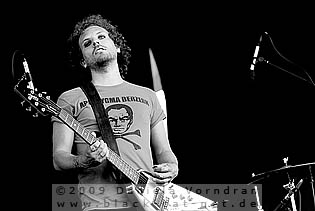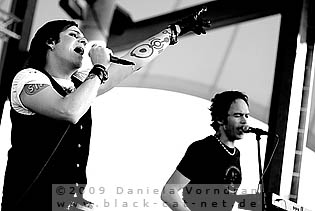 ASP (Sebastian Huhn)

ASP are undoubtedly one of the shooting stars in the German Goth scene and maybe even beyond its borders. With the cycle of the black butterfly they've established, what you can call a brand, settled in the heads of the people, a true master stroke that you have to give him credit for, even if you don't like what he or should I say the band creates musically. One of the band's most famous hits is 'Und wir tanzten', still a crowd pleaser at every concert. While the early works were electronically driven, the subsequent releases enforced a gradual change to more rocking sounds. That style has meanwhile received the label 'Gothic Novel Rock. ASP's latest album 'Zaubererbruder' was released end of August 2008. ASP is Alexander "Asp" Spreng (vocals), Matthias Ambré (guitar), Andreas Gross (bass) and Oliver Himmighoffen (drums).
http://www.thetalesofasp.com/
/
http://www.myspace.com/thetalesofasp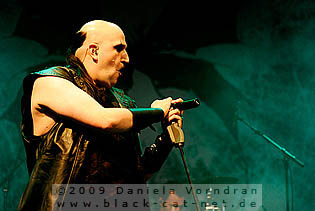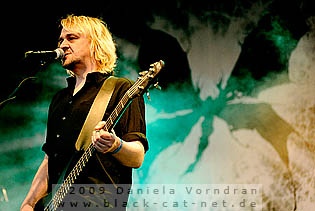 Music & Performance

This is me watching an ASP show. Actually I didn't think this would happen in a million years because I'm not what you'd call an admirer of the dark bard, however now I was here and waited for the things to come. It's known that ASP has a huge following which could also be seen already on the long queue during the autograph session earlier that day: And all of them and more were waiting now to celebrate with him and the band the crowning end of the Blackfield Festival 2009 and then he came wearing a somewhat medieval looking costume to start the final show with 'Ich bin ein wahrer Satan' accompanied with some pyros, directly following the intro and what am I supposed to say?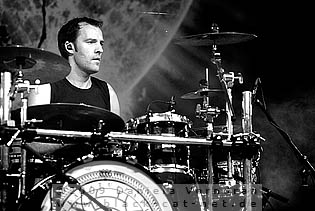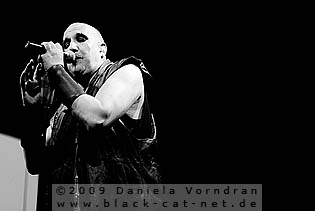 The audience loved it. Many, if not all, knew the lyrics inside-out. As the sun had set completely by now the immense light show was all the more effective and bathed the protagonists in colourful lights, while the main character gave his all to come up with a good show worthy of a headlining slot. Following songs like 'Duett', 'Kokon' or 'Wer sonst?' caused real storms of excitement within the dark sea of people that evening with a "few" humoristic insets here and there. But that all was nothing compared to what happened when one of ASPs greatest hits and evergreens 'Und wir Tanzten' sounded. Sparklers lit up everywhere and of course people insisted on singing along followed by the darkly driving 'Denn ich bin der Meister' from the most recent album and 'Schwarzes Blut'.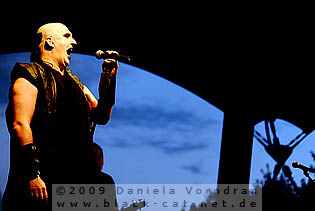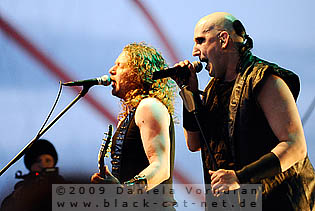 That the masses wanted much more after that song had ended the main set was obvious and the band had to return to the stage two times before 'Biotopia' sounded the bells for the grand finale coming with some additional fireworks and the band once more gave everything to satisfy their followers and they were satisfied to say the least. Well, this was it but I'm still no bigger fan than before but I admit the performance was not as bad as I thought and the pyro show had something either.
Setlist

01. Intro + Ich bin ein wahrer Satan
02. Duett
03. Kokon
04. Wer Sonst?
05. Werben
06. Sanctus
07. How far would you go?
08. Und wir Tanzten
09. Denn ich bin der Meister
10. Schwarzes Blut
---
11. Sing Child
12. Krabat
---
13. Ich will brennen
14. Biotopia
Rating

Music: 4
Performance: 7
Sound: 7
Light: 8
Total: 6 / 10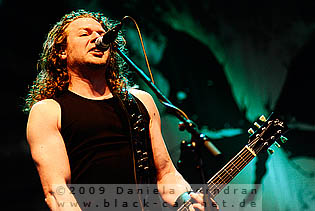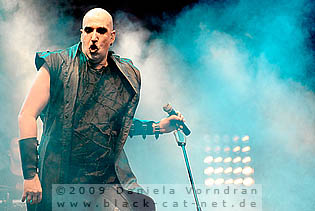 With ASP, the second edition of Blackfield festival came to an end. Before the band started, chief promoter Dirk Zimmer climbed onto stage for a short speech thanking all the fans making this festival another success and announcing already the date - 12th and 13th June 2010 - and one headliner - OOMPH! - for the next edition. And we'll surely be back because this festival was again a great experience: you got a wonderful location, anything was pretty relaxed and friendly, especially the festival and security staff who did a very good job. There we no bigger organisational problems (besides the toiled situation how I heard from several people) and anything went very smooth. Besides an extended food and merchandising mall, again several autograph sessions took place where people had the chance to chat with their favourite bands. Just left to say: See you next year!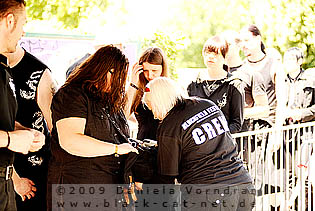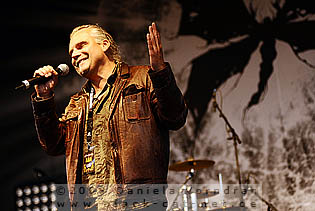 All pictures by Daniela Vorndran (
http://www.vorndranphotography.com/
/
http://www.black-cat-net.de/
/
www.myspace.com/vorndranphotography
)
Written by Daniela Vorndran (common parts and overall editorial), Sebastian Huhn, Carsten Leopold
{jos_sb_discuss:18}
See also (all categories):