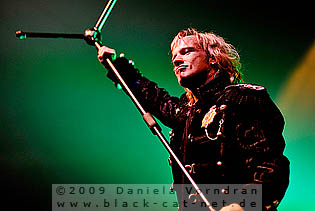 Halle Gartlage, Osnabrück, Germany
30th January 2009
Edguy, All Ends, H.E.A.T


German band EDGUY has a pretty high standing for many Metal/Rock fans, and not only in Germany. As for me, I was one of those not so familiar with the works of this band and I was sincerely hoping all this praise was justified, when we're setting out to Osnabrück…



H.E.A.T

H.E.A.T was born in January 2007, when two bands with actually the same singer (Kenny Leckremo) became one with the vision "…to create something unique that would move people and help them understand what it's all about". The self-titled debut came out in 2008 and caused quite stir on the part of music critics and rock music fans. H.E.A.T are: Kenny Leckremo (vocals), Dave Dalone (guitar), Eric Rivers (guitar), Jona Tee (keys), Jimmy Jay (bass), and Crash (drums).
http://www.heatsweden.com/
/
http://www.myspace.com/heatsweden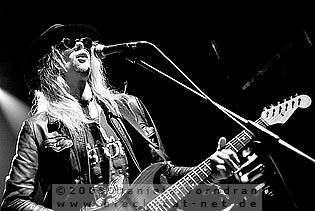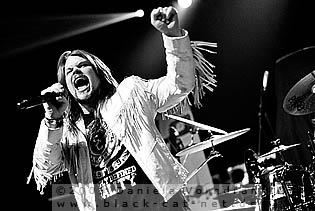 Music & Performance

H.E.A.T, what an adequate name for a band, ,especially, when they've got the opening slot of a triple concert evening like this one; and they not only brought the heat on stage, they turned it over to the audience as well, at least to some parts of the yet quite small audience, as some of the attending people couldn't seem to get at least their head moving for this support band who started their set with the opening track of their debut album 'Be There For you'; a super-melodic rock number, remarkably sung by Kenny Leckermo, dressed up in Jeans and a heavy 80s revival jacket. Most of the band seemed pretty much styled through anyway. Whether one likes that or not what you can't deny is the strong musicianship of these lads up there.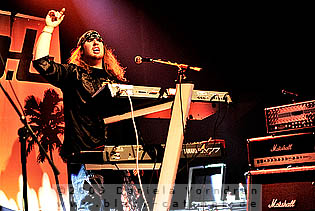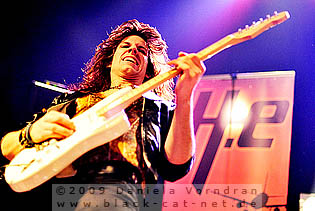 Guitarist Dave Dalone for instance who would do some pretty impressing long solos at certain points throughout their performance, and most impressing of all the singer's talent of Leckermo who could especially bring it to prominence on 'Cry', a ballad, starting out with keys and vocals only, drummer Crash took a short break on the ranks, only until the full instrumental set was required again. A power ballad in the best sense! I thought it was a real cool performance for an opener, and I was not the only one as you could hear encore shouts after the band had left the stage.
Rating

Music: 7
Performance: 7
Sound: 8
Light: 6
Total: 7 / 10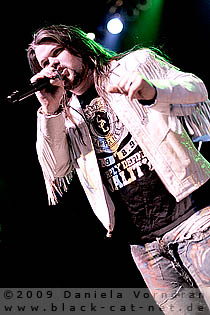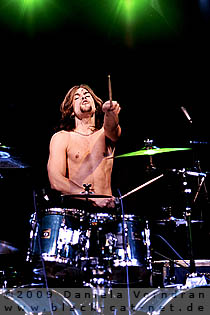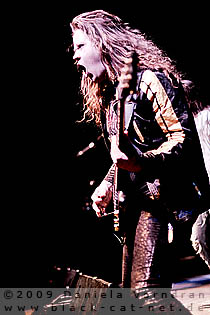 All Ends


Somewhere in Göteborg in the year 2003, IN FLAMES guitarists Björn Gelotte and Jesper Strömblad founded ALL ENDS as a side project. After the line-up was completed with three additional members, they recorded a demo. In 2006, after some line-up changes took place in 2005, they signed a record deal with German label Gun Records and one year later, in May 2007, they released their first EP 'Wasting Life' with re-recorded versions of the demo songs with the new line-up. The title track hit the Top 10 of Sweden's singles charts, followed by the self-titled debut in November of that same year. In 2008, the ONEREPUBLIC cover 'Apologize' was lifted as a single. ALL ENDS are Emma Gelotte (vocals), Tinna Karlsdotter (vocals), Fredrik Johansson (guitar), Peter Mårdklint (guitar), Anders Janfalk (bass) and Joseph Skansås (drums).
http://www.allends.com/
/
http://www.myspace.com/allends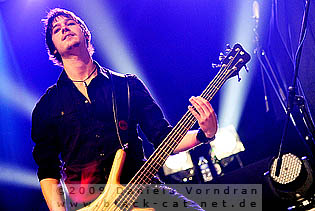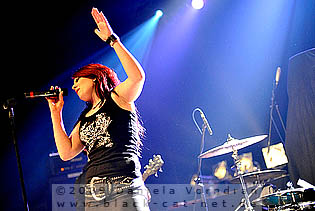 Music & Performance

Swedish rock outfit ALL ENDS have quite some media presence, I mean I even heard one or two tracks on a TV channel, but despite this and some Myspace pre-listens that's pretty much it with my musical knowledge about ALL ENDS, which I intended to expand as it didn't sound bad at all; and as they're having a reputation of being an amazing live act I was simply looking forward a freak show and wouldn't be disappointed. The march-in of the young band got accompanied by an elegiac intro, not stinting with strings, blending into the first proper track 'Still Believe', also the moment for the eye-candy of the evening (male perspective), the singers Emma and Tinna, to invade the stage and rock straight-forward, and it's not an exaggeration if I say, these are huge voices coming out of such two delicate persons, who're stealing the show form everyone else.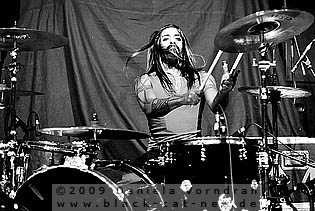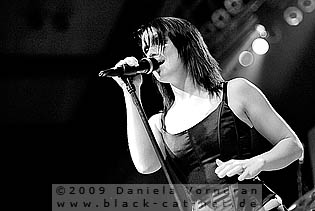 The crowd appreciated their efforts up on stage by letting themselves getting involved into the performance willingly with mutual clapping and shouting, while the ladies and gentleman of the band gave their best, whereas I think many were just too impressed by their performance to songs like the slow-brooding and heavy 'Apologize', 'Just a Friend' carried by piano and vocals initially to burst later, or a jackhammer like 'Close my Eyes' and the bouncer 'Wasting Life' closing the set.
Setlist

01. Still Believe
02. Walk Away
03. Alone
04. Apologize
05. We are through
06. Just a Friend
07. Close my Eyes
08. What do you want
09. Pretty Words
10. Wasting Life
Rating

Music: 8
Performance: 8
Sound: 7
Light: 6
Total: 7.5 / 10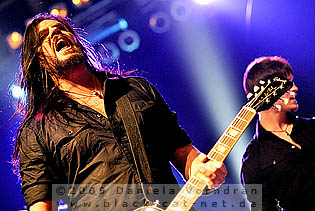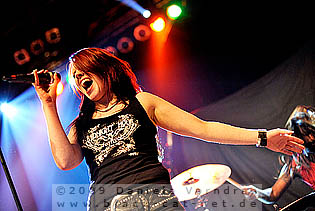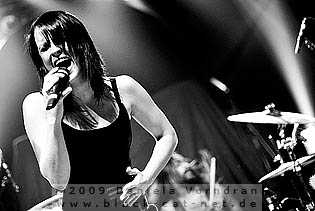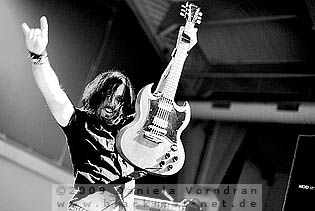 Edguy

EDGUY was formed in 1992 by four school kids as cover band. The name was intended as opus on one of their teachers. After two demos and a not commercially released debut 'Savage Poetry' the signed a deal with AFM RECORDS in 1995. 'Kingdom of Madness', the first official debut wasn't that successful. The breakthrough came with 'Vain Glory Opera' in 1998. After another two albums, 'Theatre of Salvation' (1999) and 'Mandrake' (20001), they received a contract with the German label Nuclear Blast in 2004. Since signing with Nuclear Blast, EDGUY has released two full-length albums, followed by their latest, 'Tinnitus Sanctus' and has extended their contract for three more albums. EDGUY are Tobias Sammett (vocals), Jens Ludwig (guitars), Dirk Sauer (guitar), Tobias Exxel (bass) and Felix Bohnke (drums).
http://www.edguy.net/
/
http://www.myspace.com/edguy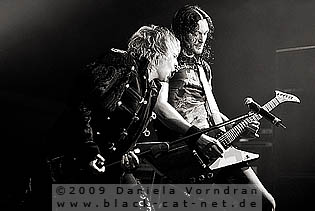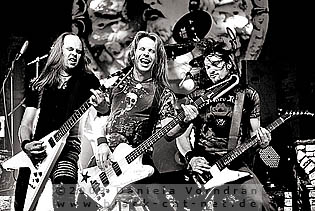 Music & Performance

First of all we had to have a little patience for the EDGUY's to appear. Just look on the bright side some just entered the venue at this time to only see the main act and so they didn't miss anything. The most overt optical difference to the last two shows were the large-than-life backdrop showing a castle and a construction looking like antique coin with little spotlights mounted on its edges. As soon as it became dark in the hall it was pretty clear for whom most of the attending had come here and loud cheers filled the venue when we saw the band members one by one coming on stage to waste no time and starting right away with speedy spot one rock with an epic note as soon as singer Tobias Sammett came on stage, and simultaneously the most impressive light show of the night began. Multi-coloured lights, fog, you name it.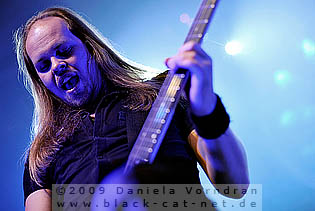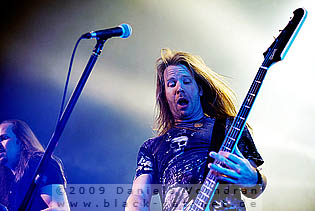 Starting with the first song, the audience unbent as well and sang along to songs such as 'Tears of a Mandrake' starting with electronics intertwined with playful organ keys to grow to a head banging order. The mere announcement of a track, called 'Until we rise again' from the album 'Vain Glory Opera', caused stormy cheers amongst the fans, a track that was to break the speed limits of the previous ones with well-built thrashing blast beats to continue with what I'd call the never-ending song and I mean that in a positive way to avoid any misunderstanding right from the start. A monster of a track with multiplied rhythmic shifts and both guitarists had more than enough time to show their skills in epic, long-lasting, engaging riffs all of which compel only the utmost respect from you. After this song you couldn't have the slightest doubt anymore, why they've such a standing in the Metal/Rock scene. Brilliant performance, brilliant musicians; was a great pleasure to watch!!!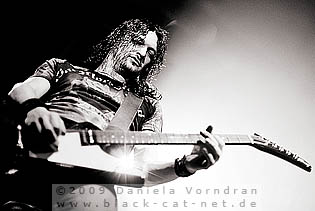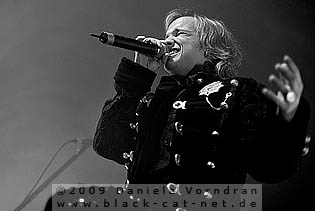 Setlist
01. Intro
02. Dead or Rock
03. Speedhoven
04. Tears of a Mandrake
05. Until we rise again
06. The Pharao
07. Ministry of Saints
08. Drumsolo
09. Pride of Creation
10. The headless Game
11. Save me
12. Superheroes
---
13. Nine Lives
14. Lavatory Lovemachine
15. King of Fools
Rating

Music: 8
Performance: 9
Sound: 7
Light: 8
Total: 8.2 / 10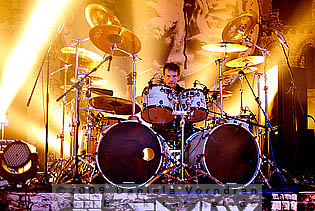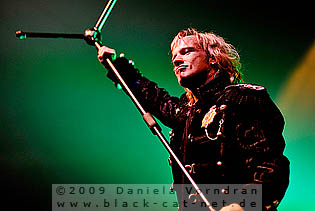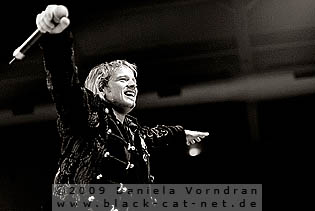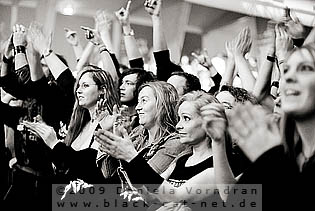 See also (all categories):