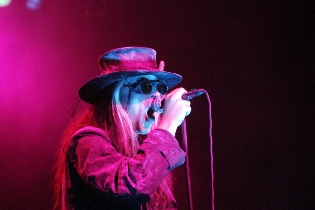 NEC, Birmingham, UK
7th and 8th November 2009
Hellfire Festival Day 2 - Main Stage: Serotonal, October File, Katatonia, Anathema, My Dying Bride, Fields of the Nephilim
Day two of the Hellfire Festival promised to be even better than the first with a plethora of bands that I like, particularly KATATONIA, FIELDS OF THE NEPHILIM and MY DYING BRIDE. It should probably be mentioned here that HELLFIRE had joined forces with MUSIC LIVE and that if you had a HELLFIRE ticket you were allowed into one of the biggest trade exhibitions of musical instruments and recording/ gigging equipment in Europe as well. Sweet! Aside from MUSIC LIVE there were good trade stalls selling clothing etc in the main hall and the scene was set well the first band, being more people here today and a better general atmosphere.
Serotonal 17:30 - 17:50

I'd never seen SEROTONAL live but had heard good things and since Darren White used to be the vocalist for ANATHEMA I was very hopeful that they'd pull something extraordinary out of the bag and surprise us all. To some extent they did, I really like the dark, somewhat Gothic influence that runs through their music but despite being very good musically they really don't quite have the spark live that I'd have hoped for, which I think boils down to them not being interesting or theatrical enough to look at. 'Wasteland' was a great effort however and far and away the best track of the whole set and the overall impression that they left me with was actually of a very strong, very capable band that I largely enjoyed.
http://www.serotonal.co.uk/
/
http://www.myspace.com/serotonal
Rating

Music: 8
Performance: 8
Sound: 8
Light: 8
Total: 8 / 10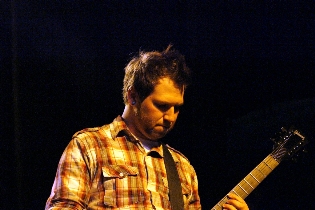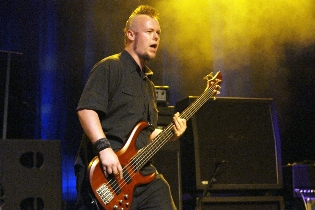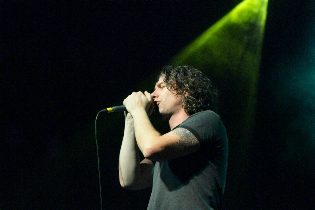 October File 18:05 - 18:30

OCTOBER FILE has quite a heavy punk sound going on which either escaped the audience or went down a storm with them depending on where you were standing and observing. Little pockets of die hard fans were having a real riot and lapping it up, but the majority of metal heads and Goths that graced the audience just looked a tad surprised. That being said they did a very solid set and I didn't really dislike them, I just felt that they were slightly misplaced, but very watchable and listenable none the less.
http://www.myspace.com/octoberfile
/
http://www.octoberfile.com/
Rating

Music: 8
Performance: 8
Sound: 8
Light: 8
Total: 8 / 10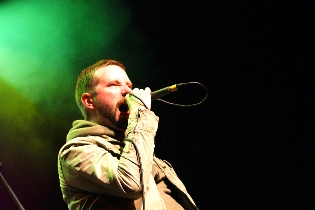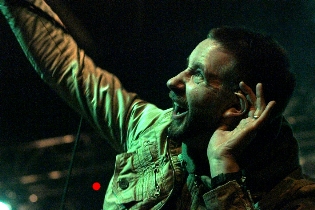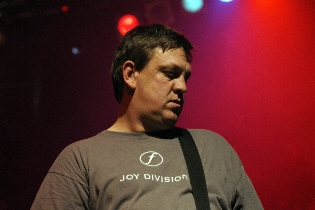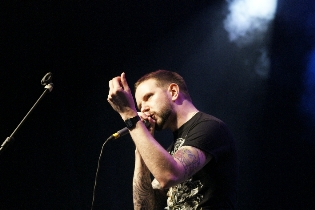 Katatonia 18:45 - 19:25

And then it was KATATONIA. I've seen them a few times and several things are noticeable. The first is it's very difficult to get a photograph of Jonas' face because of the way he wears his hair, the second is they really seem to enjoy themselves more and more each time they play and the third is they simply just get better and better. This was the best I've ever seen them. 'Forsaker' was the high spot of the set and coupled with the likes of 'Leaders' they gave the audience exactly what they were craving and received a riotous reception. Lighting was nice and the sound was great, since Hall 8 at the NEC is a notoriously loathsome venue sound-wise. From hereon in all of the bands were just excellent and any of them from KATATONIA onwards were worthy of being the top bill, but for me these doom laden guys from Sweden were really close to eclipsing the rest. Excellent set all round.
http://www.myspace.com/katatonia
/
http://www.katatonia.com/
Rating

Music: 9
Performance: 9
Sound: 8
Light: 8
Total: 8.7 / 10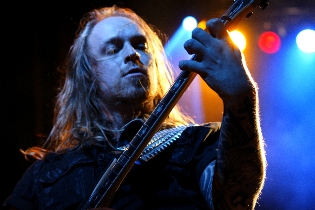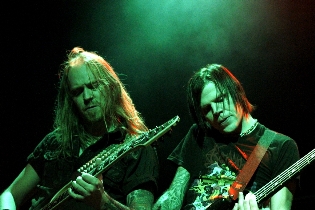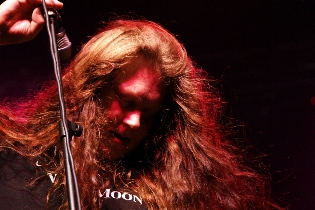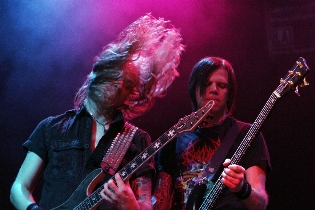 Anathema 19:40- 20:20

ANATHEMA just keep winning and grinning and today was no exception for they were really on best form. The gorgeous keyboard to 'Shroud of false' started up and you could almost cut the air with a knife the audience were so expectant. 'Fragile dreams' followed that, a track of epic proportion, whilst 'Empty' and 'Lost control' did them all the favours in the world with the audience, who were totally with them from the time the first note rang out. The gorgeous duet 'A natural Disaster' only added to everything and finally to surprise us all Darren White reprised his role as vocalist to guest on the final song. ANATHEMA, it's no secret are one of my favourite bands live, but that's because they're just so damned good and at Hellfire they were especially so even coming out afterwards for an hour or so to mingle and chat with fans in the bar. Brilliant set, lovely people, deserving of all the accolades they have achieved.
http://www.anathema.ws/
/
http://www.myspace.com/weareanathema
Rating

Music: 9
Performance: 9
Sound: 8
Light: 8
Total: 8.7 / 10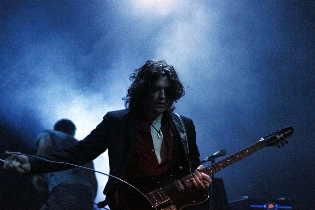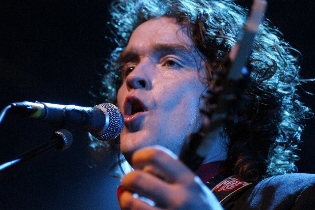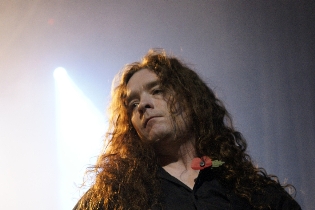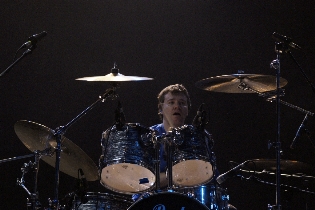 My Dying Bride 20:40 - 21:40

I love a bit of spectacle in a band. Give me Dero from OOMPH! in his straightjacket, DIE APOKALYPTISCHEN REITER and their dinghy, ALICE COOPER and his guillotine, or just a band like MY DYING BRIDE who bother to put a bit of atmosphere into things. Like others who had gone before them, MY DYING BRIDE was absolutely on top of their game, giving the audience a performance to truly remember. 'Vast Choirs' was epic as was 'My Body a Funeral', Aaron's vocals being breathtaking throughout their whole set and the band being something I was really glad to have seen again. Solid visceral riffs tore through the place and thundering bass lines played with them. This band has gone from strength to strength in its 19 years of existence and it's nice to see them playing a major venue in their home country to such great appreciation.
http://www.mydyingbride.org/
/
http://www.myspace.com/officialmydyingbride
Rating

Music: 9
Performance: 9
Sound: 8
Light: 8
Total: 8.7 / 10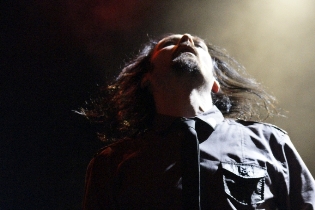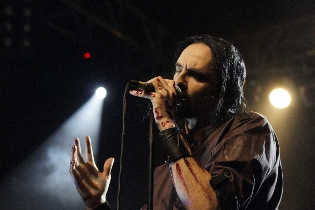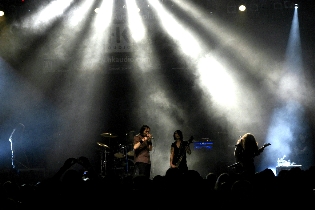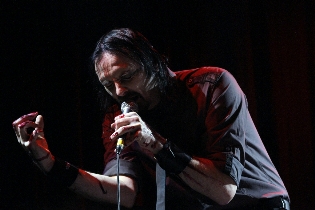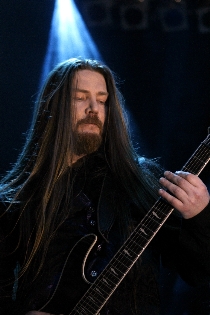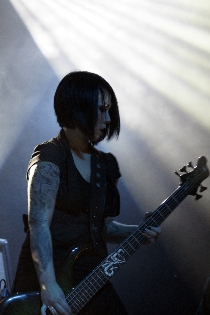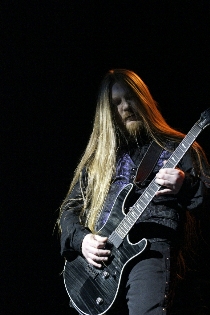 Fields of the Nephilim 22:10 - 23:30

An overdose of great lighting, probably the biggest smoke machine known to man and 'Shroud' kicked off the set by the main billers FIELDS OF THE NEPHALIM. 'Straight to the light' followed with Carl McCoy giving one hell of a performance, so much so that you genuinely got the impression that he had forgotten he was on stage, so into his singing was he. 'Dawnrazor' set an undeniably high standard for the rest of the set but they followed it with track after track right on the mark. From the dark anthem 'Moonchild' to the end of show 'Psychonaut' and 'Last exit for the lost' nothing was flawed in any way and they were truly worthy of finishing off what had been one of the most consistently good set of bands I've seen at a festival in some time.
http://www.fields-of-the-nephilim.com/
/
http://www.myspace.com/fieldsofthenephilim
Rating

Music: 9
Performance: 9
Sound: 8
Light: 8
Total: 8.7 / 10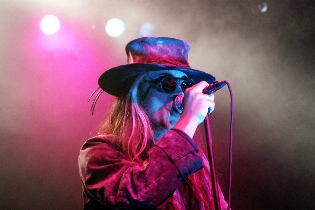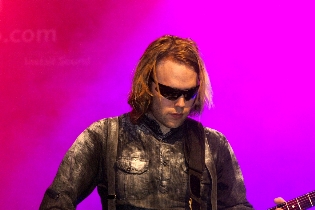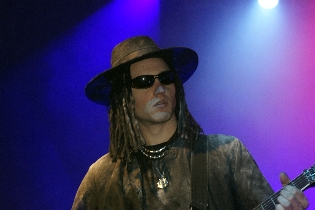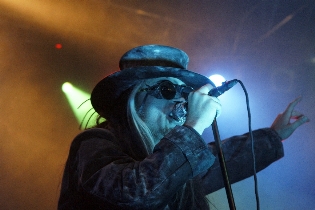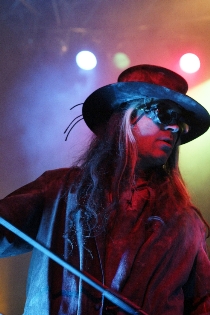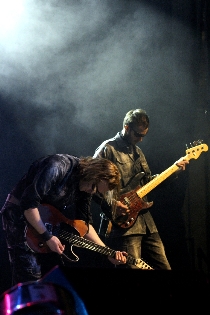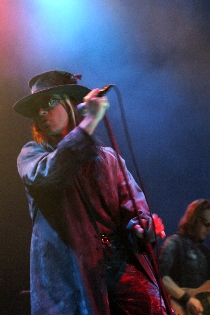 It really can't be argued that this was a great festival. For me it was a pity it was at the NEC, which is always a like a soulless cattle shed no matter how many people it has in it, but no-one can argue with the facilities and the sheer scale of excellent bands that were on both days, Sunday's line up being particularly strong. I hope to see Hellfire / Transcend build on this and go from strength to strength in the future, as they surely deserve it. If this year is anything to go by HELLFIRE III should be something to really remember.
All pictures by Maddi Isaacs
{jos_sb_discuss:18}
See also (all categories):