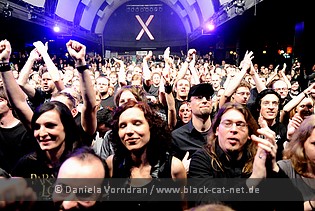 X, Herford, Germany
6th November 2013
Paradise Lost, Lacuna Coil & Katatonia

PARADISE LOST are extended their 25th anniversary "Tragic Illusion" tour in November 2013 with a number of European dates! As with the UK shows, the band is supported by both LACUNA COIL, and KATATONIA (who are playing the entire 'Viva Emptiness' album at the shows). We were more than happy to be part of this anniversary tour!



Katatonia

KATATONIA is a Swedish metal band formed in Stockholm in 1991 by Jonas Renkse and Anders Nyström. The early KATATONIA releases are noted for the overall bleak melancholy and despair of their sound, often giving them the classification of doom metal or death/doom. The band has expressed that their music has been influenced by bands such as THE CURE, FIELDS OF THE NEPHILIM and JOY DIVISION. The group's second album, 'Brave Murder Day', featured OPETH vocalist Mikael Akerfeldt and was their first to be released internationally; Century Media paired it with an out-of-print EP, 'For Funerals to Come'. They consistently released albums throughout the 1990s. Since Jonas wanted the focus to be strictly on vocals permanently, KATATONIA enlisted the help of Dan Swanö again to drum for the 1999 album 'Tonight's Decision'. The band's most recent release, 2009's 'Night Is the New Day', has received widespread critical acclaim. KATATONIA is currently playing shows in celebration of their 20th anniversary and released their latest studio album, 'Dead End Kings', in 2012, followed by a re-release of their classic 'Viva Emptiness' and a live album, 'Dethroned & Uncrowned'. KATATONIA is Jonas Renkse (vocals), Anders Nyström (guitar), Daniel Liljekvist (drums), Per Eriksson (live guitar) and Niklas Sandin (live bass). http://www.katatonia.com / http://www.myspace.com/katatonia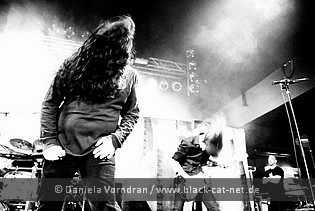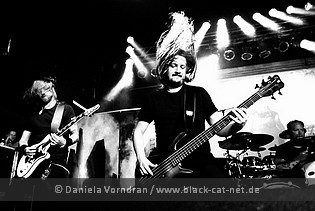 Music & Performance
KATATONIA opened the evening at 19:30, celebrating ten years of 'Viva Emptiness'. For the anniversary, the album has been released as a special edition and on their current tour, the band is presenting the album in full live on stage, not from beginning to the end but from the end to the beginning. When Jonas and his crew started with 'Inside the City of Glass' I firstly was not too much impressed… and this had nothing to do with the music of KATATONIA or the performance, but again with the sound that was quite unbalanced with drums sounding a bit like plastic. During the one hour show it became a bit better, but far not as good as the band and their complex music deserves. Some of the favourites of the audience were surely 'One Year From Now' or final song 'Ghost Of The Sun', dedicatedly presented and with Jonas as always having his face hidden most of the show behind is long hair and giving the songs a special mood with his warm voice, standing always in contrast to the heavier, progressive Metal sounds. With one hour playing time, they nearly had as much time as the headliner later to present their songs. Despite of the not really perfect sound at the beginning, this was a good show.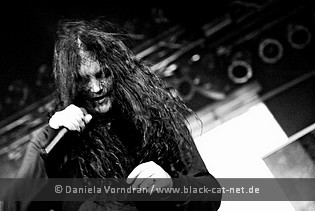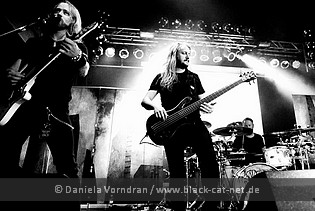 Setlist
01. Inside the City of Glass
02. Wait Outside
03. Omerta
04. Evidence
05. Complicity
06. Walking by a Wire
07. One Year From Now
08. Wealth
09. Burn the Remembrance
10. Will I Arrive
11. A Premonition
12. Criminals
13. Sleeper
14. Ghost of the Sun

Rating
Music: 8
Performance: 8
Sound: 5
Light: 7
Total: 7.3 / 10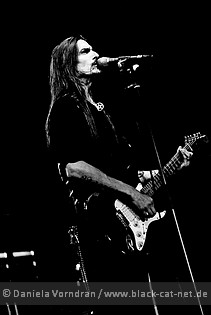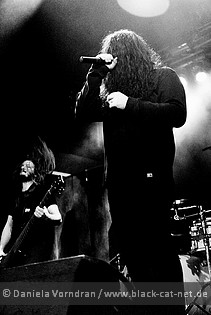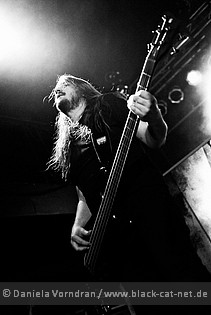 Lacuna Coil

On currently five full-length records LACUNA COIL from Milan developed an individual sound between Death Metal, menacing Gothic, modern Nu Metal and just the right pinch of pop music that even makes their music appealing to people outside the scene. Their fifth studio album 'Shallow Life', which has been released in spring 2009, is proof again they still haven't lost their creativity and fun in the music. The band's 2012 release, 'Dark Adrenaline', peaked at number 15 on the Billboard 200. As of March 2012, LACUNA COIL has sold over 2 million records. LACUNA COIL is Cristina Scabbia (female vocals), Andrea Ferro (male vocals), Marco Coti Zelati (bass), Cristiano Migliore (lead guitars), Marco Emanuele Biazzi (lead guitars) and Cristiano Mozzati (drums & percussions). www.lacunacoil.it / https://www.facebook.com/lacunacoil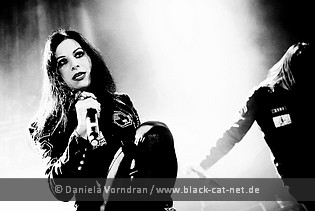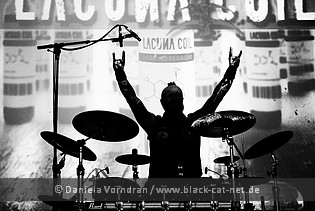 Music & Performance
Italian band LACUNA COIL with the front duo Cristina Scabbia and Andrea Ferro entered the stage for nearly another hour of powerful, guitar driven sounds. Over the last years, the band became quite famous and thus, they were warmly welcomed in Herford where they started the show with 'I Don't Believe in Tomorrow' from their latest album 'Dark Adrenaline'. This was not the only songs from this records, there were of course others presented, like 'Kill The Light' or heavy 'Upsidedown'. But it is not a secret the fans were longing for some old stuff like 'Heaven's A Lie', one of the songs bringing more attention for the band. During the whole set, both vocalists and the four musician accompanying them made a playful impression, interacting with the audience and making people to have a good time. Surely not all fans loved the band for the steady diverge from metal genre to a more alternative direction. And so, there were also quite a few attendees just waiting for PARADISE LOST. But anyway, the rest of the crowd seemed to have a good time and LACUNA COIL surely succeeded with their set.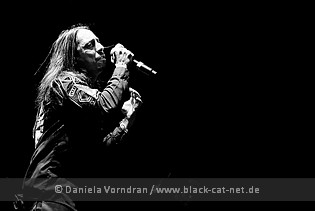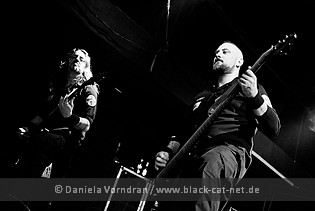 Setlist
01. I Don't Believe in Tomorrow
02. Kill the Light
03. Fragments of Faith
04. Heaven's a Lie
05. The Game
06. Our Truth
07. Upsidedown
08. Without Fear
09. Swamped
10. Intoxicated
11. Trip the Darkness
12. Spellbound

Rating
Music: 7
Performance: 8
Sound: 7
Light: 7
Total: 7.3 / 10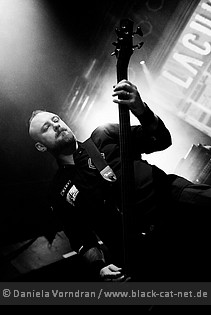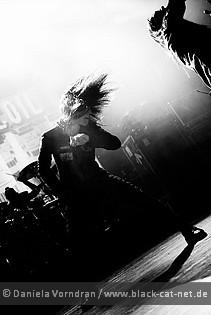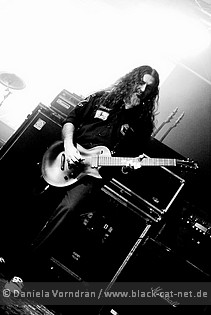 Paradise Lost

With a career dating back to 1988, and their official recording debut in 1990, the band has been riding a rollercoaster of highs and lows. Over their following career, PARADISE LOST have not only created and defined genres and styles, but almost immediately transcended them. From the crawling, harrowing doom of their 1990 debut 'Lost Paradise', to the electronic flourishes prevalent in 1997's 'One Second', 1999's 'Host' and 2007's comeback to the heavier side of metal 'In Requiem' and the latest opus 'Tragic Idol' in 2012, their sound has continued to evolve vastly, but haunting melody and dark rock power has remained at the very core of their identity. In 1991 the band released 'Gothic', not so much an album title as the definition for an entire genre, while the influential 1995's huge-selling masterpiece 'Draconian Times' - the missing link between Metallica and the Sisters of Mercy - echoes loudly in today's scene, with the likes of Cradle of Filth, Nightwish and HIM owing a huge debt to their knack for injecting heavy rock with their trademark dark sheen. A true Inspiration that was worth the Golden Gods Award and needs to be celebrated this year! PARADISE LOST is Nick Holmes (vocals), Greg Mackintosh (lead guitar), Aaron Aedy (rhythm guitar), Steve Edmondson (bass guitar) and Adrian Erlandsson (drums). http://www.paradiselost.co.uk / https://www.facebook.com/paradiselostofficial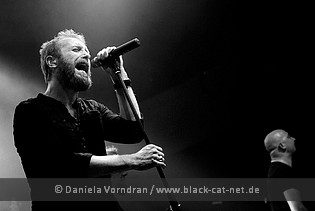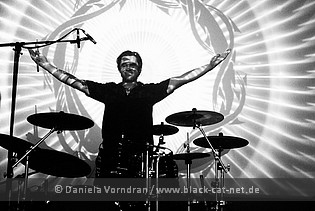 Music & Performance
At was short past ten when Nick Holmes and the rest of the birthday boys entered the stage to open their show with 'Mortals Watch The Day'. The area in front of stage was very well filled in the meantime and people were with the band from the first moment. And also the band was in a very good mood. It is rare to see Holmes to talkative like on this evening. Different to many shows in the past where the band rather was hiding in the dark, they brought a fine light show and videos with them to make the performance visually attractive. The videos were fitting perfectly to the songs presented, linking audio and video to the era they were emerging from. Celebrating 25 years of existence during this tour, the band of course presented songs through their whole history, from very old stuff like 'Gothic' to very new pieces like 'Tragic Idol', the title track of the band's latest album. Even 'So Much Is Lost' from the 'Host' album (which was disliked by many fans to its nearly poppy tunes) made it into the set. And I must say it fitted perfectly in the context of the evening.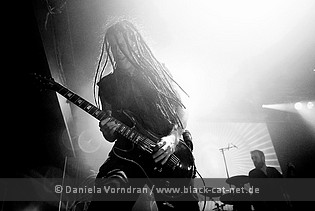 Piano driven and beloved 'Say Just Words' was the last song after not much more than 50 minutes. Needless to say this was not enough for the headlining act. Just little time later the band returned for four more songs. 'Rotting Misery' from the 'Lost Paradise' album was opening the encore bloc and Nick impressed a lot with his intense vocals. But as mostly it was next song, 'One Second', I lived most for its intensity. With 'Over The Madness', PARADISE LOST left the stage after only seventy minutes. Not really long for a headliner, but with three bands, and any of them playing about one hour, the evening was very long anyway. The audience was satisfied with what they got and only the bad sound at the beginning was decreasing the level of enjoyment.

Setlist
01. Mortals Watch the Day
02. So Much Is Lost
03. Remembrance
04. Gothic
05. Enchantment
06. Faith Divides Us - Death Unites Us
07. Tragic Idol
08. Never for the Damned
09. Isolate
10. Say Just Words
---
11. Rotting Misery
12. One Second
13. True Belief
14. Over the Madness

Rating
Music: 9
Performance: 9
Sound: 7
Light: 8
Total: 8.5 / 10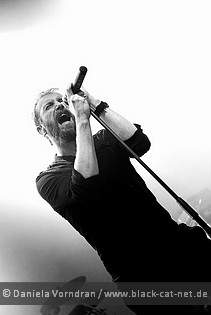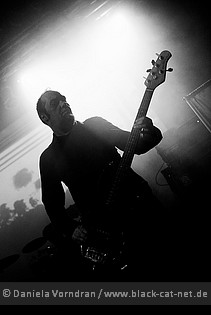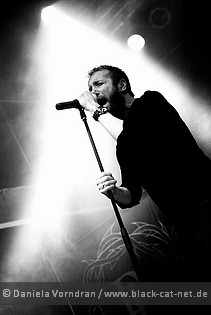 All pictures by Daniela Vorndran (http://www.vorndranphotography.com / http://www.black-cat-net.de/ / http://www.facebook.com/blackcatnet)



See also (all categories):