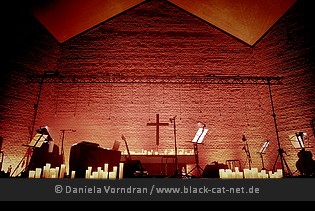 Christuskirche, Bochum, Germany
10th May 2014
Katatonia & Messenger

With the most recent album 'Dethroned & Uncrowned', Swedish KATATONIA were winning over much more people than usual with the songs of the last album being presented as stripped-down acoustic versions, which from where the idea was born presenting those and some more live in selected venues as an unplugged performance which we were lucky enough to be a part of...
Messenger

MESSENGER is the rather fresh musical outlet of five British guys who are aiming to celebrate their love for prog music in various facets, which have found their preliminary pinnacle on their debut album 'Illusory Blues'. MESSENGER live is Khaled Lowe (guitars / vocals), Barnaby Maddick (guitars / vocals), Jaime Gomez Arellano (drums / percussion), Dan Knight (guitars / keyboards) and James Leach (bass).
http://www.messengerbanduk.com/
/
https://www.facebook.com/messengerbanduk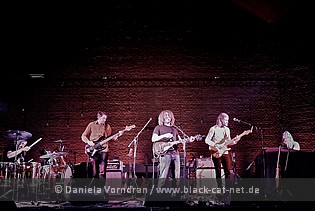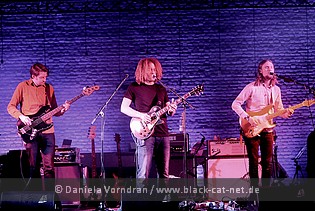 Music & Performance

Actually, I wasn't expecting a support at this kind of occasion, but I'm always in on having a listen to something fresh or new. MESSENGER from the UK were playing prog rock in the broadest sense. Going into the details some more reveals a certain affinity for bluesy atmospheres and sudden bursts of virtuosity, which, if coming, were completely moving against the already established foundation of the song. Imagine taking a little detour which ultimately takes you back to the main road. That was happening all the time throughout the little set, including song off their debut album. The audience, even though calm first, embraced the music and gave the band a heart-warming welcome
Rating

Music: 7
Performance: 8
Sound: 8
Light: 7
Total: 7.5 / 10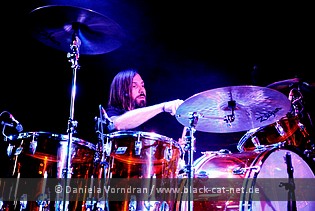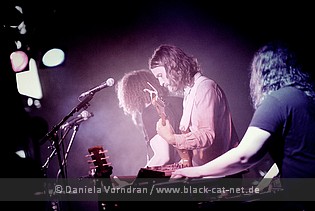 Katatonia

The Swedish band was founded 1991 and since that time the band is an inherent part of the Metal scene. After several line-up changes, the band also constantly developed musically. At the beginning, Doom and Black Metal influences dominated. From album to album, the band developed into a more progressive direction and got knows where the road is taking the guys around front man Jonas Renkse next. KATATONIA in 2014 on their unplugged tour is Jonas Renkse (vocals), Anders Nyström (guitar), Niklas Sandin (bass) and live members Bruce Soord on guitar and JP Asplund on percussions.
http://www.katatonia.com
/
https://www.facebook.com/katatonia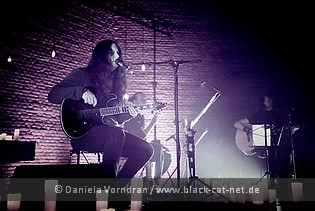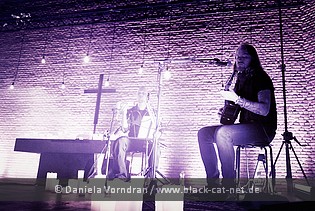 Music & Performance

The stage got virtually stripped from every dead weight. Not even a drum kit left after MESSENGER had taken their stuff away, so we were waiting until KATATONIA took their places, surrounded by numerous candles. Actually, the term semi-acoustic would be more suitable to describe the set all in all, since it was mote in the vein of things, already heard on 'Dethroned & Uncrowned'. The acoustics were backed by layered electronics to enhance the mood, and that did work out very well. The sound was nearly flawless it weren't for the very prominent bass drones sucking in the melody now and then. Nothing to tell you about anything happening on stage. Shrouded in gloom, the guys were performing off of their stools mostly, focusing on their instruments and vocals respectively. I expected the set to include many of the recent tracks from 'Dethroned...' that with the acoustic characteristics of the church we were sitting in made an intriguing performance and building an intense mood.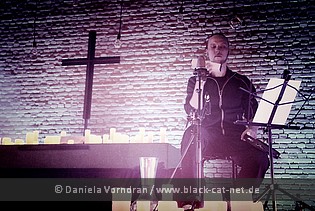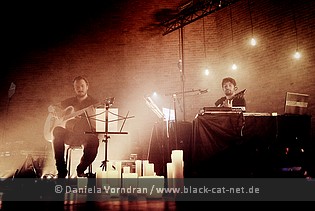 The band, however, also played a couple tracks never having seen a live treatment before and to be frank, I didn't know before like 'Tonight's Music' for instance. The band didn't do much conversation with the audience through the show and thus the set was played down quick, or so it felt. 'The One You Are Looking For Is Not Here' ended a special occasion that those who were part of it wouldn't forget and be envied by those who missed it.
Setlist
01. In the White
02. Ambitions
03. Teargas
04. Gone
05. A Darkness Coming
06. One Year From Now
07. The Racing Heart
08. Tonight's Music
09. Sleeper
10. Undo You
11. Lethean
12. Day
13. Idle Blood
14. Unfurl
---
15. The One You Are Looking for Is Not Here
Rating

Music: 9
Performance: 8
Sound: 8
Light: 6
Total: 8 / 10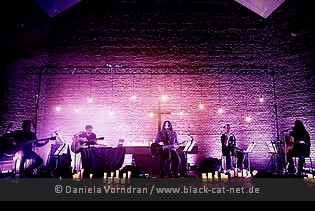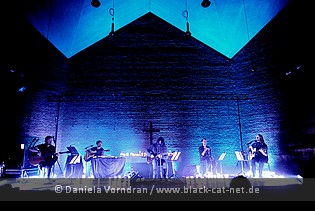 All pictures by Daniela Vorndran (
http://www.vorndranphotography.com
/
http://www.facebook.com/blackcatnet
)
See also (all categories):