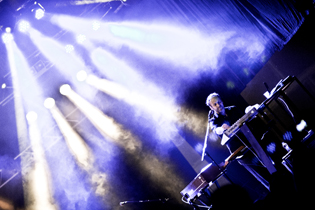 Leipzig, Germany
9th to 13th June 2011
Wave Gotik Treffen Day 4: Mark Benecke, The Twins, October Tide, Helevorn, Assemblage 23, Katatonia, Camouflage

WGT Sunday had a lot of different offerings for us. We were visiting the lecturing of forensic biologist DR. MARK BENECKE, seen some Synth-Pop and some Metal concerts what was quite a difference…



Dr. Mark Benecke - Centraltheater [Anne Kuhfuß]

DR. MARK BENECKE is a forensic biologist. Benecke was born in Germany in 1970. After receiving a Ph.D. at Cologne University in 1997, he worked in the Chief Medical Examiner's Office in Manhattan, New York from 1997-1999. As of 2008, he works internationally on forensic cases as a freelance expert witness. He also teaches at various police academies and acts as a visiting professor to universities in Germany, England, Vietnam, Colombia and the Philippines. Benecke has published several popular science books about the biology of aging, criminal cases and forensic biology. He is a member of the editorial board of the "Annals of Improbable Research" (Cambridge, USA), guest editor for "Forensic Science International", and scientific advisor to the German sceptic organization GWUP, where he publishes sceptical articles on various topics, including his attempt to explain alleged signs of vampirism. http://www.benecke.com/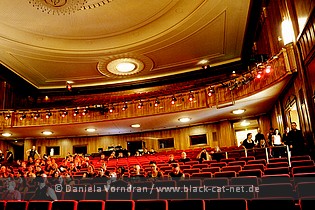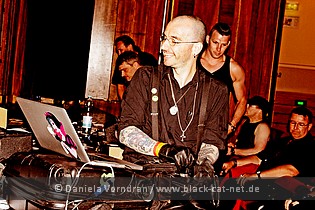 Arriving at the Centraltheater, we almost wanted to go back because the line was so long that we couldn't even see the end of it. Some people told us that 800 people were sent away the day before but this didn't hold us back and we waited to see what would happen. After some time, lucky us, we were allowed to go an (due to some cheating by lining up at the other side of the line) and quickly found a seat in the really crowded hall. After listening to some nice music including AND ONE and other gothic bands, Dr. Benecke showed the obligatory 'Wir werden alle sterben' ('We will all die') video by KNORKATOR and soon started his dissertation. Usually, the audience gets to pick a topic but this time it was a little different. Due to the amount of "shows" during WGT (one each day), Benecke decided to pick a topic himself and so, we soon began to listen to a report on EHEC. This didn't really surprise me because this topic was on everybody's lips. Benecke showed us some pictures of different bacteria including, of course, pictures showing corpses. As always, the report was highly interesting and everybody was hanging on his lips. Just like last year, it was a great alternation to the "normal" festival day. I feel sorry for the people who waited in line for some time and didn't manage to come it because DR. MARK BENECKE is really worth seeing, year after year.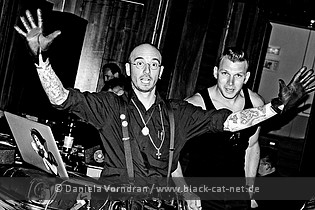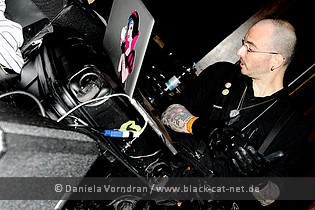 The Twins - Alte Messe Halle 15 [Daniela Vorndran]

THE TWINS began their career in 1980, founded by Sven Dohrow and Ronny Schreinzer who are not even remotely related to each other. The band's name means these are two like-minded people. The guys released a first single with 'Runaway' in their foundation year, followed by the debut album 'Passion Factory' in 1981. In the years to come they were releasing quite a string of those and partly received incredible success with them. 2011 will has seen re-release of 1993s 'The Impossible Dream', including a second CD holding updated versions of the originals. http://www.the-twins.de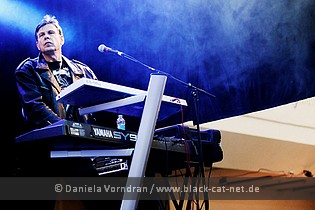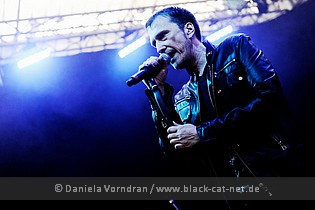 Music & Performance
Usually a duo, for the WGT performance the band was extended by Matze on a second keyboard and by two backing singers / dancers wearing black-red dresses and butterfly wings at the beginning. The back of stage was covered with a huge "The Twins" backdrop. Ronny opened the show with the information that there was no sound check and so they had to play a little louder. Luckily, it was not too loud, but there were the typical sound issues for that exhibition hall, sadly. Ronny also pointed to the long existence of the band and so, we got "30 years of THE TWINS packed into 45 minutes." The 45 minutes lasting set contained the probably best known hits of the band. Of course, 'Love System', 'Ballet Dancer' or 'Not The Loving Kind' could not be missed. 'Touch of Heaven' and 'Tonight' were presented in a remix version. This show was really enjoyable!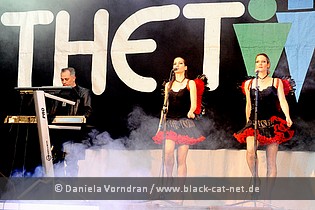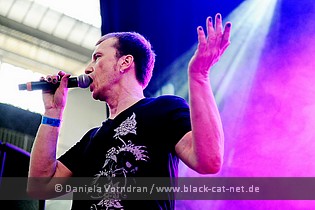 Setlist
01. Can't Get Out
02. The Game Of Chance
03. Time Will Tell
04. The Golden Ring
05. Touch of Heaven (Remix Version)
06. Tonight (Remix Version)
07. Love System
08. Ballet Dancer
09. Not The Loving Kind

Rating
Music: 8
Performance: 8
Sound: 6
Light: 8
Total: 7.6 / 10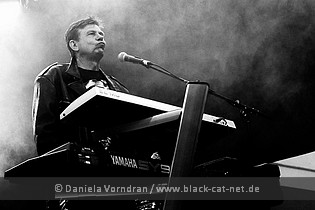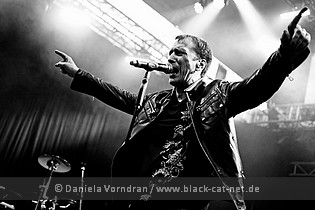 October Tide - Pantheon [Florian Schürmann]

OCTOBER TIDE is a death / doom metal side project, which was created in 1995 by KATATONIA vocalist Jonas Renkse and guitarist Fred Norrman. Their debut album, 'Rain Without End', was recorded in 1995 and released on Vic Records in 1997. For their second album, 'Grey Dawn' (released in 1999 by Avantgarde Music) they enlisted Mårten Hansen of A Canorous Quintet to replace Renkse on vocals. After the release of 'Grey Dawn', OCTOBER TIDE disbanded. After leaving KATATONIA, Fred Norrman reformed OCTOBER TIDE in early 2010. The new line-up didn't include founding member Jonas Renkse but consisted of Fred Norrman on guitars, Tobias Netzell on vocals, Robin Bergh on drums and Jonas Kjellgren as a session bassist. Johan Jansson replaced Jonas Kjellgren for the recording of the new album A Thin Shell. It was released in September 2010, the same month that Pierre Stam replaced Jonas Kjellgren on bass. http://octobertide.net / http://www.myspace.com/octobertideband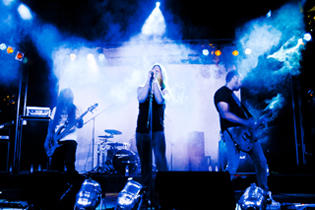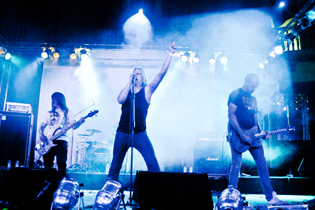 Music & Performance
The first real band for us that day was OCTOBER TIDE, which started out quite loud and heavy. I cannot tell if that was because of the fact we sat through the last two hours of lecture, but I assume they just were that loud. Nonetheless the sound was good, meaning the guitar sound was pleasant and distinguishable, as well as the other instruments and the vocals. Latter were mastered intriguingly by Tobias Netzell, who showed that he possesses an organ of power to do so. Anyhow I found it rather demanding to sit (or stand) through the whole performance, since the music per se is also somehow challenging in terms of complexity - easy listening this is not. As if they knew all along, they decided not to distract the audience's attention by performing a lot. With addition of the quite bad stage lighting, there was nothing much to see anyway, so you were well-advised to grab a chair and enjoy the music from the sides. I would have expected the setlist to be built around the recently released 'A Thin Shell' album, since the band's other two records were released more than a decade earlier with almost a complete different line-up, but they managed to balance these tracks into their set properly beside the new ones. So there is just to say that OCTOBER TIDE played a visually unspectacular show, but with a great amount of good music in it.

Setlist
01. A Custodian of Science
02. Blackness Devours
03. Sweetness Dies
04. Heart of the Dead
05. Infinite Submission
06. Blue Gallery
07. October Insight
08. Grey Dawn
09. Fragile
10. 12 Days of Rain
11. The Dividing Line

Rating
Music: 8.5
Performance: 6
Sound: 8
Light: 5
Total: 6.9 / 10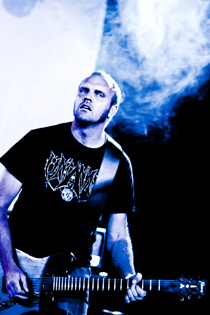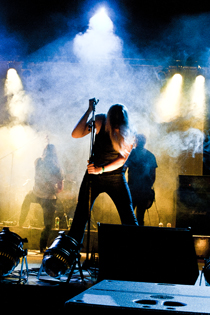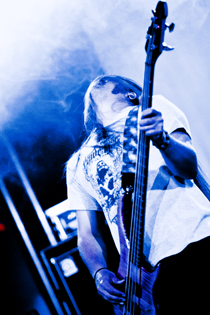 Helevorn - Pantheon Kantine [Florian Schürmann]

HELEVORN is a Spanish Doom / Death Metal Band. They started in 1999 in Palma de Mallorca, with Samuel (guitars), Josep (vocals) giving the first steps and completed the actual line-up afterwards. With the first finished songs they recorded a promo CD called 'Prelude' in winter of 2000. After a few years of intense work, the band worked with new songs, and they decided to record it at Ona Digital Studios (Mallorca), and mastered at Finnvox Studios by Mika Jussila. The final result was 'Fragments', self-released in October 2005, sounding more solid, and get also transmit a dark, heavy and melancholic sound. In November 2007 HELEVORN toured with Swallow the Sun in their first Spanish tour. In 2009 they recorded their second studio album 'Forthcoming Displeasures' at Urban Studios in Palma de Mallorca, produced by Jens Bogren and Johan Ornborg. The record was released February 8th, 2010. http://www.helevorn.com / http://www.myspace.com/helevorn

Music & Performance
For me HELEVORN are the discovery of this year's WGT. Not that I've not listened to them in preparation for their performance, but if they were not assigned to the festival line-up I wouldn't have done so. When I first did I was instantly reminded of Sweden's DRACONIAN in their approach to the genre of doom/gothic metal. The overall guitar sound is very similar and even Josep's vocals resemble those of Anders Jacobsson in their voluminous way. In compensation for the lack of female vocals, Josep has a great singing voice as well, which enriches the overly good compositions. With that in mind I was looking forward to seeing them. Unfortunately they were not allowed to play in the Pantheon's dome hall, but in the adjacent canteen. That is understandable, since they definitely don't have as much fan base as the previous and the following band, but that venue turned out to be very ungrateful.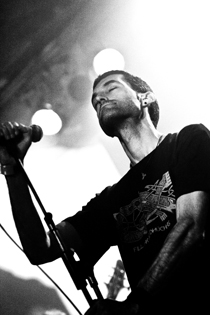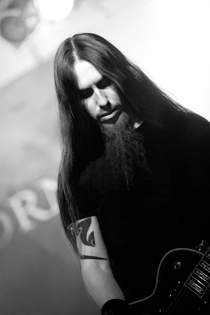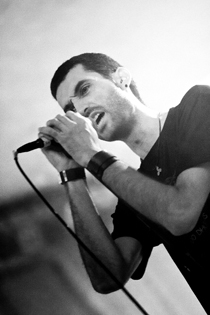 First of all, the lighting was really bad: There were only four spots positioned directly in front of the musicians, but the stage was so small, that these were barely illuminated by them - and when they were, the colour was all over the place. In addition to that, the stage had a considerable height of 1.50 meter, but since the venue was that small, standing in the first rows was kind of awkward. Anyway, the sound was decent and the band wasn't discouraged by the circumstances, while they played a very solid gig. However, during the first few songs, the auditorium remained sparsely populated - maybe the people didn't find it or they were already securing their places for KATATONIA. The band however did good business on stage, with a solid performance by every member. Especially the clean vocal performance was in no way inferior to the one on the record. The focus of the set of course was their recent album 'Forthcoming Displeasures', but even some old songs were performed and showed that they could have even turned out to be a good Goth rock band. However, I enjoyed seeing HELEVORN very much and I hope I will be able to do so again in the future.

Rating
Music: 8.5
Performance: 7.5
Sound: 8.5
Light: 3.5
Total: 7 / 10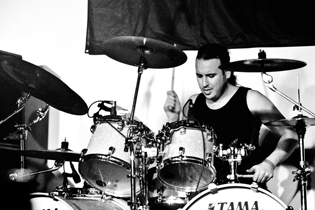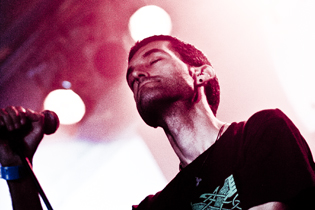 Assemblage 23 - Alte Messe Halle 15 [Daniela Vorndran]

Tom Shear officially founded ASSEMBLAGE 23 in 1988 but no release was made until 1999 with the album 'Contempt' which should only be the first in a long row of albums in which Tom Shear constantly refined his style and shifted into different stylistic regions as demonstrated with the 2007 release 'Meta', destroying any preconceived notions about the project. The latest release of Assemblage 23 is called 'Compass' and came out in 2009'. The next one already is in the works. http://www.assemblage23.com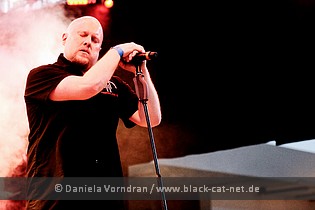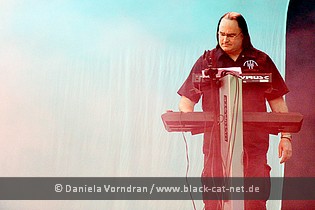 Music & Performance
As mentioned, ASSEMBLAGE 23 is working on new material. A new single is set to be released in autumn and as Tom told at WGT, the new album will be out in January. Even though new material is in the making, there were no new songs presented at WGT. Instead, supported by Paul Seegers on key, Tom presented a lot of old and well-known songs. The set contained among others gems like 'Smoke' from the latest album, 'Collapse', 'Document' or the fan fave 'Naked'. Sadly, Tom Shear could not really convince this time. On one hand side, I had the feeling he was acting like Ronan Harris of VNV NATION at times, on the other hand side, the sound was really bad during the show, muffled, in parts too low, some sounds were missing totally on one side. This fact really limited the concert pleasure. Let's hope, next show will be better again.

Setlist
01. Smoke
02. Naked
03. Collapse
04. Opened
05. Damaged
06. Impermanence
07. Ground
08. Document
09. Let the Wind Erase Me
10. Disappoint

Rating
Music: 8
Performance: 6
Sound: 5
Light: 8
Total: 7 / 10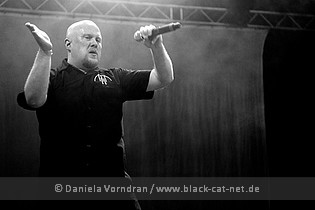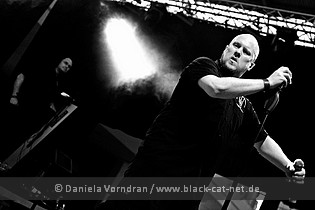 Katatonia - Pantheon [Florian Schürmann]

KATATONIA is a Swedish metal band formed in Stockholm in 1991 by Jonas Renkse and Anders Nyström. The early KATATONIA releases are noted for the overall bleak melancholy and despair of their sound, often giving them the classification of doom metal or death/doom. The band has expressed that their music has been influenced by bands such as THE CURE, FIELDS OF THE NEPHILIM and JOY DIVISION. The group's second album, 'Brave Murder Day', featured OPETH vocalist Mikael Akerfeldt and was their first to be released internationally; Century Media paired it with an out-of-print EP, 'For Funerals to Come'. They consistently released albums throughout the 1990s. Since Jonas wanted the focus to be strictly on vocals permanently, KATATONIA enlisted the help of Dan Swanö again to drum for the 1999 album 'Tonight's Decision'. The band's most recent release, 2009's 'Night Is the New Day', has received widespread critical acclaim. KATATONIA is currently playing shows in celebration of their 20th anniversary. http://www.katatonia.com / http://www.myspace.com/katatonia

Music & Performance
I have to admit I am not a long term KATATONIA fan, but the last two records slowly grew onto me with the time I've been exposed to them. So I was kind of excited as I read the band's name on the festival's confirmed list - but with enjoying the abovementioned discovery I was somehow disenchanted. However, that is not the band's fault entirely. KATATONIA took a lot of time for changeover regarding the fact that they almost had an hour time for that planned in the first place. That was not enough apparently, since it took them more than ten additional minutes beyond their starting time trying to find a way to fix some crackling issues with their vocal system. Unfortunately they didn't manage to solve it, so they simply started in spite of that.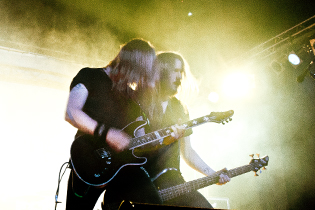 After the first song the audience learned the reason for the reason for the trouble: the airline which they were using, managed to lose their luggage - meaning the band's whole instrumental equipment. Therefore the entire sound setup turned out to be somewhat less than perfect. While the guitars in their first song sounded very dull, the vocals were also off somehow effect and mixing wise, but fortunately these problems were reduced as the concert proceeded. Eventually the intended atmosphere developed and the audience went along with the music and cheered for the new tracks and of course for the old ones even more. I don't know how far the setlist was changed due to the circumstances of borrowed equipment and therefore the lack of pre-tuned guitars, since we had to leave the venue half way in to reach the destination for the day's last concert. Anyhow, from what I experienced I am sure KATATONIA played a great second half for the great amount of people who came for them that day.

Setlist
01. Leaders
02. Liberation
03. Chrome
04. Clean Today
05. My Twin
06. Longest Year
07. Ghost Of The Sun
08. Right Into The Bliss
09. I Break
10. Sweet Nurse
11. Nephilim
12. July
13. New Night
14. Day And Then The Shade
15. Forsaker

Rating
Music: 8.5
Performance: 7.5
Sound: 7
Light: 5
Total: 7 / 10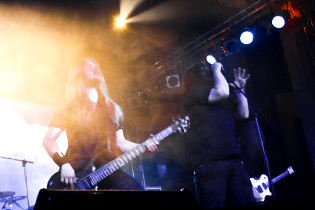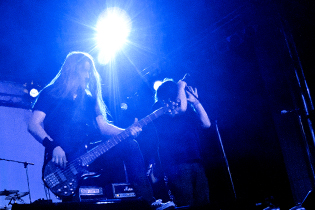 Camouflage - Alte Messe Halle 15 [Anne Kuhfuß & Florian Schürmann]

In 1983, Heiko Maile, Marcus Meyn, Martin Kahling and Oliver Kreyssig, four friends from Bietigheim-Bissingen, Germany, formed the band LICENCED TECHNOLOGY. It was short lived, as Martin Kahling left in 1984. Soon after, the remaining three members renamed themselves CAMOUFLAGE, inspired by a Yellow Magic Orchestra song of the same name. The three young musicians set up their first studio in the basement of Heiko's parents' house, calling it "Boy's Factory". Their first live gigs at local music clubs soon followed. In 1985, CAMOUFLAGE recorded two demo tapes at their studio, and the following year, the group won a local radio music contest, after a friend of theirs handed one of the demos in. A small Frankfurt music label, Westside, showed interest in taking CAMOUFLAGE on. There, the song 'The Great Commandment' was recorded to be presented to bigger music companies. After considering offers from several record companies, CAMOUFLAGE decided to sign a contract with Metronome. At the beginning of 1990, Oliver Kreyssig left the band for personal reasons. In October, Heiko and Marcus began work on the third album 'Meanwhile' at the Black Barn Studio in England with producer Colin Thursten. Taking a different path, this album included real drums and conventional musical instruments played by guest musicians In 1997, Sony Music and Polydor released a remix album of past hits called 'We Stroke The Flames' and a limited edition maxi single with previously released mixes of 'Suspicious Love', 'Handsome' and 'Love is a Shield', albeit without input from Heiko and Marcus.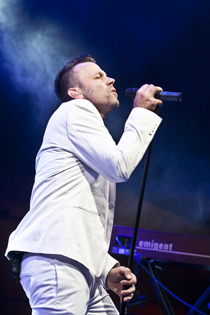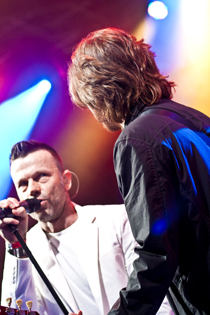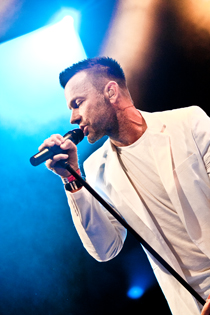 In 2004, CAMOUFLAGE signed a new contract with SPV and Heiko moved to Berlin to begin working on a new album with Oli and Marcus with Heiko taking on production responsibilities. The result was 2006's 'Relocated'. In 2007, Polydor released 'Archive#1 (Rare Tracks)', a new CAMOUFLAGE compilation of rare tracks and remixes on 2 discs. http://www.camouflage-music.com/ / http://www.myspace.com/camouflagemusic

Music & Performance
When it came out that CAMOUFLAGE will be playing at this year's WGT, everybody got so excited because the band was such a big one in the 80s and hits like 'The Great Commandment' are still being played at parties all over the country - and I think everybody is able to sing along. Well, the show started and quickly the mood began to rise and everybody was dancing along to the - mostly unknown - music. Marcus (vocals) told us about the broken leg he had a couple of weeks ago and how happy he was to be able to dance around the stage again and so he did. The band had so much fun on stage; it was just great to watch. I guess, it was quite some time they hadn't played live and at the WGT, it is always special. After songs like 'Dreaming', 'I can't feel you' and 'Confusion', everybody was waiting for the hits 'The Great Commandment' and 'Love is a Shield' - and of course, the band did play the songs and the whole audience was singing along, doesn't matter if they were fans of the band in the 80s or just 20 years old knowing the songs from their parents. All in all, it was a great experience to see that big band live. The show was great, so was the music and the mood in the Alte Messe, Halle 15. Of course, there is nothing that can go seriously wrong with electronic music but it was still a good sound, just as expected. Thanks, CAMOUFLAGE, for this awesome and powerful show that night!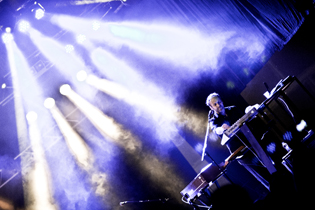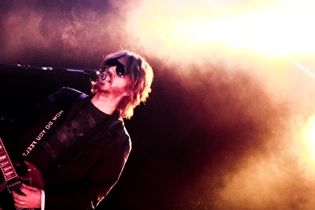 Setlist
01. Suspicious Love
02. We Are Lovers
03. Dreaming
04. Perfect
05. Neighbors
06. I'll Follow Behind
07. That Smiling Face
08. I Can't Feel You
09. Confusion
10. Conversation
11. The Great Commandment
12. Harmful
13. Love Is A Shield
14. Cold
15. Me And You

Rating
Music: 9
Performance: 9
Sound: 9
Light: 9
Total: 9 / 10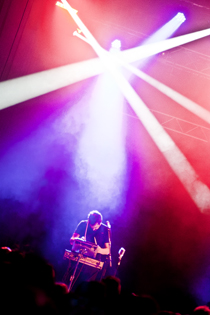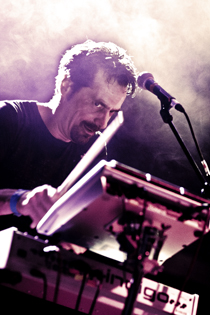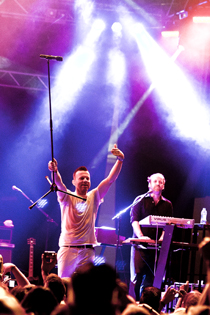 Pictures by Daniela Vorndran (Mark Benecke, The Twins, Assemblage 23 - http://www.vorndranphotography.com / http://www.black-cat-net.de/ / www.myspace.com/vorndranphotography / www.facebook.com/blackcatnet) and Anne Kuhfuß (October Tide, Helevorn, Katatonia, Camouflage)



See also (all categories):