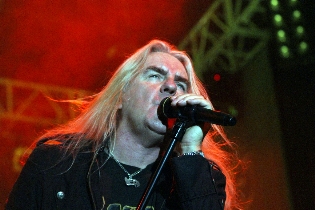 NEC, Birmingham, UK
7th and 8th November 2009
Hellfire Festival Day 1 - Main Stage: Beholder, Sacred Mother Tongue, Blaze Bayley, Benediction, Anvil, Saxon

We arrived at the NEC, to the usual traffic chaos that any event there brings and the extortionate parking charges they levy, which is why it's one of my pet hate venues in the whole of the UK. However in its defence it's very central to the motorway network and their car parks are reasonably secure, so your car is likely to still be there when you get back. Amenities are good, with pubs, food outlets, cash machines etc all available within eyeshot, and best of all the loos are great! Originally this was supposed to be a 3 day festival, but was changed, quite late on to a two day, starting on the Saturday. It was a masterpiece of engineering that they only lost a couple of bands (CANCER BATS being one of them) and the organisation actually looked second to none. Well done Transcend!
Beholder (17.30-17.50)

I like BEHOLDER a lot, Simon's fast and furious frontmanship never fails to get the audience in the mood and this was no exception. The audience was respectable for the first slot band, but then these guys have a really strong following that like authentic English metal. We were treated to both old and new tracks and it's probably worth mentioning here that they have a new album due out December 1st, which from the sound of what I heard is going to be very good indeed. A tragically short set from the perfect warm up band surely destined for far bigger things, as the sound was very well balanced and the lights really very good and the performance really at one with the audience. Great stuff!
http://www.beholder-uk.com/
/
http://www.myspace.com/beholderuk
Rating

Music: 8
Performance: 9
Sound: 8
Light: 8
Total: 8.3 / 10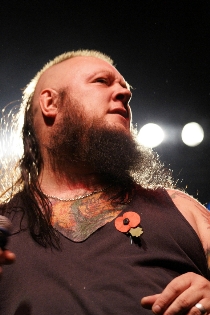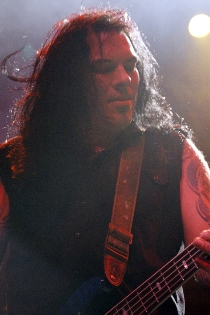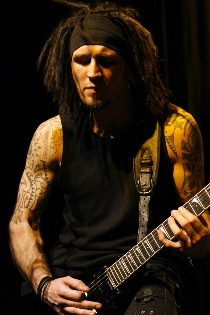 Sacred Mother Tongue (18.05- 18.30)

Hold on whilst I get a little bit excited about exactly how good these guys from Northamptonshire, UK really are. I'd personally never seen them before, but had heard good things from everybody who had, so it was a great pleasure but no real surprise when I found that they were fantastic. Deep gorging riffs ripped through the place, whilst their lead singer Darrin South hurricanes around the stage giving a performance that left this early in the day crowd howling for more. They're technically good and performance wise you really couldn't much fault it, they had the audience exactly where they wanted them, which was having a really good time. These guys are great ambassadors for other good emerging metal bands as they've got everything dead right and I'm pleased for their continuing success, they deserve it.
http://www.myspace.com/sacredmothertongue
Rating

Music: 8
Performance: 8
Sound: 8
Light: 8
Total: 8 / 10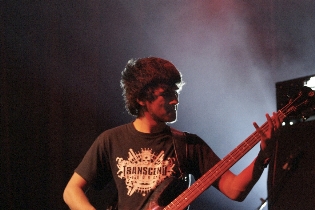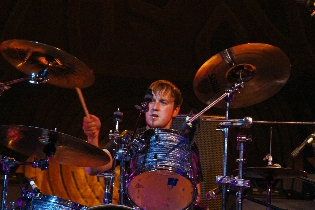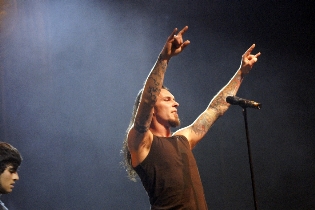 Blaze Bayley (19.40-20.20)

BLAZE BAYLEY is always awesome live. Different, difficult, dark, brooding, psycho, strange, heavy... pick a word - you can honestly apply it to them live, and since this gig was in his back yard (he was born in Birmingham in 1963) lead man Bayley Cooke ( ex lead singer of Iron Maiden for a period in the 90's) had a real riot. So what of their set? It was brilliant! 'Alive' really grabbed the audience and 'Futureal' hit the mark, as did for me ' Past voices' dedicated to Mike Alexander, recently passed over bassist with EVILE. Blaze has a long and illustrious pedigree of bands he's been involved with, not least IRON MAIDEN and WOLFSBANE, and this wealth of experience clearly shows in his performance, as he engaged the audience at every level and put on a show which I could have happily watched over again.
http://www.blazebayley.net/
/
http://www.myspace.com/blazebayley
Rating

Music: 9
Performance: 9
Sound: 8
Light: 8
Total: 8.7 / 10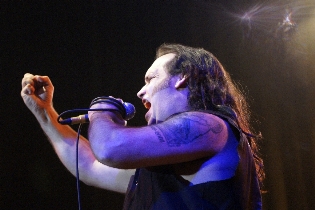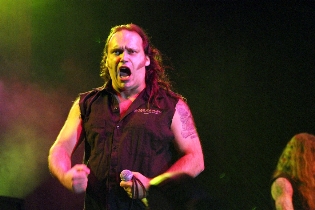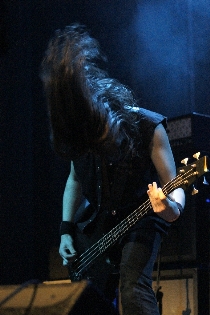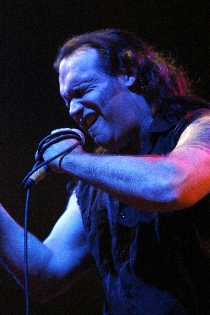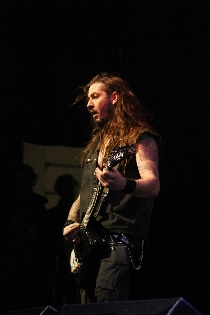 Benediction (19.40-20.20)

I should like these native Birmingham Death Metallers, with the legendary (or should that be infamous) Dave Hunt- ex MISTRESS lead singer, as their front man, but for some reason they seemed really lukewarm. I tried to enjoy them, I listened subjectively, and they didn't do a lot wrong, but they were just really uninteresting. They tried hard and they were musically okay, their performance attempted to engage the audience but for me they just never quite made it, which was a shame, although one track that shone through was 'The Grey Man' - that was nothing short of superb. If only they could have mustered the same level of intensity for the rest of their set they'd have scored a coup. Maybe it was just an off night for them, let's hope so.
http://www.myspace.com/benedictionuk
/
http://www.myspace.com/benedictionuk
Rating

Music: 7
Performance: 7
Sound: 8
Light: 8
Total: 7.3 / 10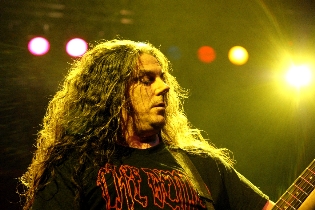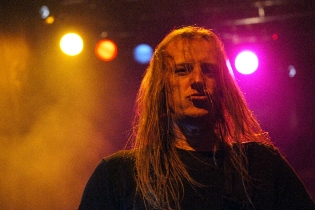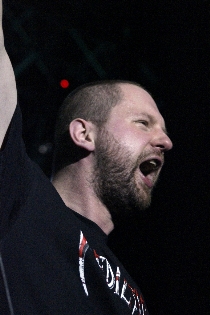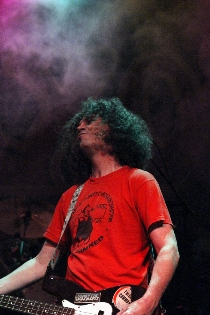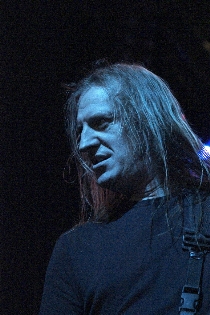 Anvil (20.40- 21.40)

Up next were veteran Canadian rockers ANVIL. They've been together for 28 years and never stop smiling. That's official- I asked Steve Kudlow (lead singer) after his set of an hour if his face ached with all the smiling and he cheerily said "We always smile- we're happy!" And it might be this boundless energy and enthusiasm that has made them as successful as they are. METALLICA and SLAYER cite them as an influence, but really I've heard better bands technically than these three cheerful souls, but the over all things is, that for some reason that doesn't matter. They're not technical geniuses for sure, but they know how to put on a great show and please a crowd like no other band. We were regaled with a good variety of songs, notably for me '666', which got the audience going crazy as did ' Winged Assassins'. A slight low point for me was ' School Love' but that's because it doesn't personally appeal, not because it was in any way lacklustre. I can see these guys still playing into their nineties and still smiling, because they reminded everyone why they were there; to have a good time, and we did.
http://my.tbaytel.net/~This email address is being protected from spambots. You need JavaScript enabled to view it./anvil/
/
http://www.myspace.com/anvilmetal
Rating

Music: 8
Performance: 9
Sound: 8
Light: 8
Total: 8.3 / 10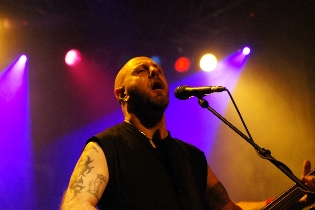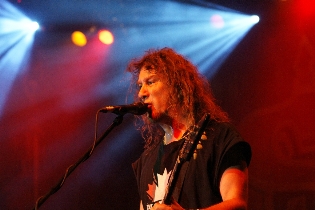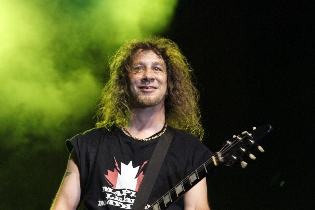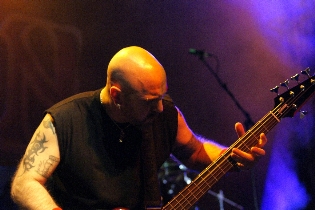 Saxon (22.10 - 23.30)

Even if you don't really like SAXON, you can't help but be awed by them live. I do like SAXON, and I was thoroughly entranced throughout their lengthy set. Biff is a consummate front man, knowing always exactly what to do to maximise his hold over the audience, and tonight was no exception- from directing their responses to ripping up the set list, he knew precisely how to play them. In return the audience got an hour and twenty minutes worth of the veteran rockers at their best. He's fifty eight now but you'd never know it as he struts about in utter confidence, and strangely doesn't look at all bizarre. 'Heavy Metal Thunder' went down a storm as did' Denim and Leather' and it seemed as though the show would go on and on as they reeled out' Crusader' and ' Hellcat' and everything else you'd expect of them. By the finale the audience were frenzied and these arcane metal icons had barely broken a sweat. A thunderously good show, proving that experience sometimes triumphs over fresh blood.
http://www.saxon747.com
/
http://www.myspace.com/planetsaxo
Rating

Music: 8
Performance: 9
Sound: 8
Light: 8
Total: 8.3 / 10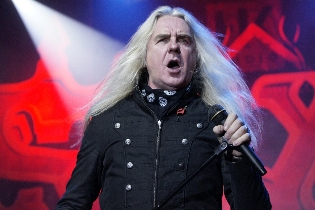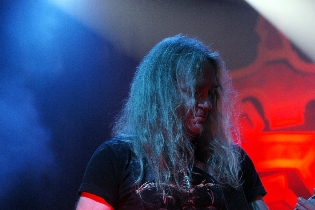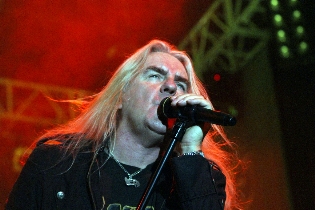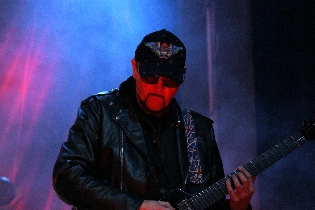 And so we made our weary way home via "Scruffy's" where a great after show party was in full swing, having had a great time and full of anticipation for the following days line up.
All pictures by Maddi Isaacs
{jos_sb_discuss:18}
See also (all categories):