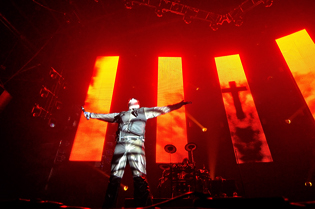 Ethias Arena, Hasselt, Belgium
1st November 2009
Sinner's Day 2009: Front 242, The Human League, Gary Numan, Gang of Four, Anne Clark, The Bollock Brothers, Lydia Lunch, The Neon Judgement

It is Sunday, 1st November 2009. At noon, the weather is still nice, not exactly what you expect this time of year, but we'll soon forget all about the weather as we make our way to the Ethias Arena in Hasselt for the first edition of Sinners Day, an indoor New Wave festival. "Sinners Day on All Saints Day"! There's no doubt a lot of thought had been put into that association. The Ethias arena is a convenient venue located on the outer ring road with a big parking lot and a good infrastructure. The arena itself is contained within the Grenslandhallen, which made for an all in-door concept which included a Camden market and a Sinner's Café. The arena has one stage but provides space for both people who prefer to stand and those who like to enjoy the show while sitting.
Technically, everything seemed to go very smoothly. Sound and light were of a very high standard and the strict time schedule was respected from the first to the last second. But outside the arena, it was a different story. There were long queues everywhere, waiting to get in, to get a ticket, or to go to the toilet. At a certain point, the waiting time to get some food was more than 1 hour. Fortunately, the crowd was very patient and disciplined; otherwise it would've easily become mayhem. The "if you go outside, you pay again" policy was not only inconvenient for those going on a shopping stroll to the Camden Market, it's only purpose seemed to be preventing people from going outside and buying their food at the food stalls located at the parking lot.
You even saw people smoking everywhere, although that is against Belgian legislation and despite a dedicated smoking area. There's certainly a lot of room for improvement when it comes to organisation, but let's focus on the music for now. On a side note, the organizers have already sent out an e-mail apologizing for the inconveniences and promised to improve things by next year.
The Neon Judgement

TB Frank and Dirk Da Davo are the creative forces behind THE NEON JUDGEMENT, a Belgian EBM band from the 80s. Always light years ahead of their time, they first gained appreciation outside Belgium with their warm and yet alienating sound. Although evolving over the years, they remain true to their original strive to continuously invent new ways to marry noise and beauty, machine and magic, creating a sound referred to as art terrorism. After a retrospective double CD called Box in the fall of 2005, they just released a new album 'Smack' in 2009.
http://www.theneonjudgement.com/
Music & Performance

At 2PM sharp, the first notes of 'Chinese Black' marked the start of Sinners Day 2009. The arena was already full of people, a bit atypical for festivals like this. THE NEON JUDGEMENT knew what they were doing and used everything they had to please the crowd. One of the advantages of playing indoors is the fact that you can exploit the lights from the very first moment on, and the band grabbed this opportunity with both hands. Video clips visualising the contents of the songs were shown on the big screens above the scene, while they gave a convincing, unrestrained performance.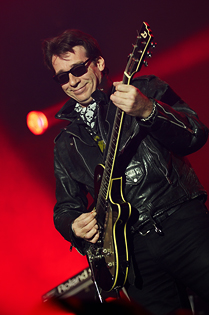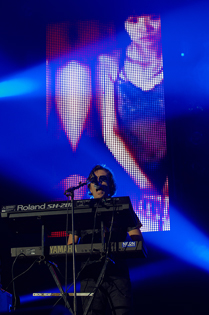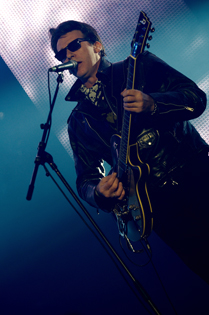 They gave the crowd what they expected and even introduced the new album 'Smack'. After 30 minutes they were gone, having conquered the arena, leaving the audience with one question: Why did they only get to play 30 minutes (especially since a gap needed to be filled after THE PSYCHEDELIC FURS' cancellation). Not a bad start and certainly no awful day...
Setlist

01. Chinese Black
02. Miss Brown
03. Tomorrow in the Papers
04. The Fashion Parts
05. Concrete
06. Leash
07. TV Treated
Rating

Music: 8
Performance: 8.5
Sound: 9
Light: 8.5
Total: 8.5 / 10
Lydia Lunch and The Big Sexy Noise

"I'm nihilistic, antagonistic, violent, horrible, but not obliterated, yet." Lydia Lunch (née Koch) is not your average American singer. She's also a musician, a poet, a writer and an actress. She's famous for her provoking presentations with a lot of sex and violence, and is very anti-establishment. Starting her career in the 70s in New York, she became very active in the No Wave scene and started a band called TEENAGE JESUS & THE JERKS, released a split EP with THE BIRTHDAY PARTY (Nick Cave) and single-handedly played the support set for THE CURE's UK Pornography tour. Hereafter, she turned to spoken word performances, sometimes accompanied by Howard S. Roland on guitar.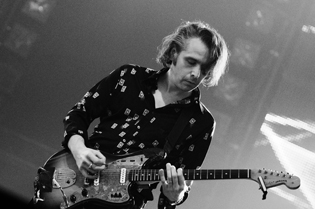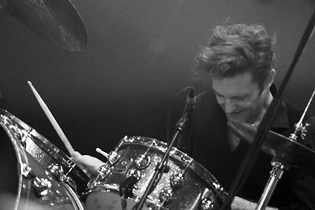 She even hired an actor to pretend to murder her on stage during some performances in New York (something the audience was not aware of). To complete the picture, she acted in some explicitly violent and pornographic roles in movies by Richard Kern e.g. 'Fingered'. In 2005, she left the US for Barcelona and started to work with the French DJ Philippe Petit.
http://www.lydia-lunch.org/
Music & Performance

I must admit that I've never heard of LYDIA LUNCH before this gig. She reminded me a bit of SIOUXIE but was unable to convince me. It just sounded old. The music only got interesting in the second part of the set, where guitar and drums were more prominent. Lydia's voice proved not to be loud enough to catch the audience and it all became some kind of musical blur. The whole performance lacked soul and if I'm not mistaken, Lydia was singing from a textbook. Since she detests anything that is commercial and successful, I guess she was very pleased with this performance.
Setlist

01. Gospel Singer
02. Kill Your Sons
03. Slydell
04. Digging the Hole
05. Baby Faced Killer
06. Bad for Bobby
07. Dark Eyes
08. God is a Bullet
09. Another Man Coming
10. Your Love Don't Pay My Rent
11. Douch Boy
Rating

Music: 7.5
Performance: 6.5
Sound: 7.5
Light: 6.5
Total: 7 / 10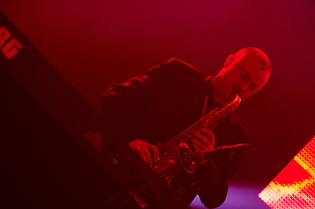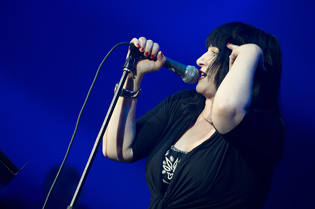 The Bollock Brothers

THE BOLLOCK BROTHERS are the real proof that new wave was punk's successor. Founded in 1983 by Scotsman Jock McDonald, they immediately rose to fame by covering an entire SEX PISTOLS album (guess which one, actually) in an electro style. It became an overnight success and mockery, irony and gay cynicism became their trademark. The inspiration for their songs could easily be referred to as quite unusual: The Bunker (Albert Speer), Serge Gainsbourg's Harley David and horror movies to name but a few. With the beginning of the 90s, the group went into some kind of hibernation until its revival in 1996. Mark Humphrey on keyboards and Pat Pattyn (ex-NACHT UND NEBEL) on drums completed the band.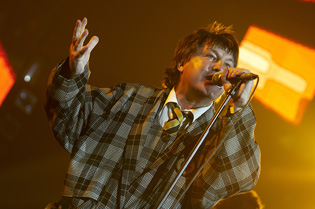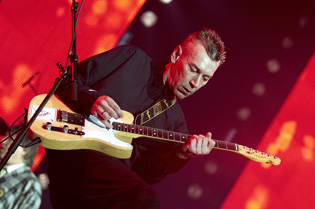 Belgium is important to the band (Pat Pattyn was not the only Belgian member, in the 80s TC MATIC's Serge Feys and even Bart Peeters were part of the club) and they performed a lot in the surroundings of Ostend. They developed a penchant for horror pulp and were not afraid to tackle religious themes; even French lyrics are part of the concept. They distinguished themselves from others by playing original music with a lot of punk, wave and gothic influences. In March 2009, they released a new album called 'Last Will and Testament'.
http://www.bollock-brothers.com/
Music & Performance

The set opened with a very long and emotional guitar intro which slightly resembled THE SIMPLE MINDS and even brought the intro to 'Welcome To The Pleasuredome' by FRANKIE GOES TO HOLLYWOOD to mind. Singer Jock MacDonald entered the stage in some kind of old fashioned and worn down, oversized tweed suite like those associated with homeless people. He immediately grasped the audience's attention and never lost his grip. The lyrics were funny and the music exactly what we expected. After linking Jesus to Kurt Cobain, the focus now was placed on Serge Gainsbourg. Everybody knows the phrase "Harley David, Son of a Bitch". Or you should if you're in your 30s or 40s.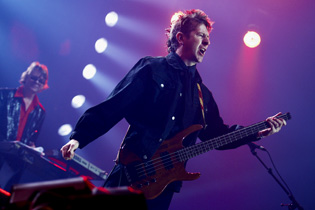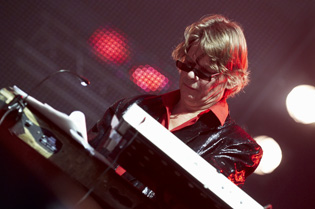 In-between songs, Jock dragged his son onto the stage, just to say hello to the people and then continued with more fun and anarchy, and talk about football. Considering the band's origins, a SEX PISTOLS cover was unavoidable and that the band's drummer Patrick Pattyn used to be with NACHT UND NEBEL, a Belgian wave and synth band from the 80s, a cover of 'Beats of Love' was played and set the crowd on fire. In Belgium, you never can go wrong with this song. A lot of the old cult hits were played and Jock maintained a good interaction with his audience, making this gig a great experience. It was fun, it was good and it was what the crowd wanted. Perfect!
Setlist

01. Faith Healer
02. Jesus Lived Six Years Longer than Kurt Cobain
03. Harley David (Son of a Bitch)
04. Henry VIII
05. The Bunker
06. Beats of Love
07. Horror Movies
08. King Rat
09. Pretty Vacant
10. 4 Horsemen of the Apocalypse
Rating

Music: 8
Performance: 8.5
Sound: 8
Light: 7.5
Total: 8 / 10
Anne Clark

Anne Clark, born in 1960 in Croydon, UK, started to work in mental institutions at the age of sixteen. She ended up being responsible for the gigs at the Warehouse Theatre and scheduled a lot of punk rock bands, e.g. PAUL WELLER. She became a co-editor at Weller's publishing house and was involved in the production of several BBC series. Her first performance was with DEPECHE MODE and she released her first album in 1982. She collaborated with a lot of musicians and ended up in Norway in 1987 together with Charlie Morgan with whom she recorded 'Unstill Life'. Unfortunately, Charlie died a few years later. In 1993, Anne focused completely on an all-acoustic set, of which the record 'Psychometry', recorded at the Passionskirche in Berlin, bears witness.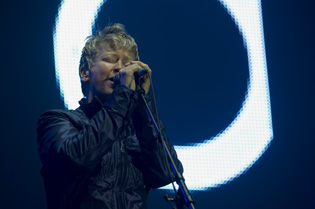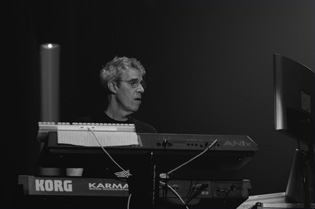 Afterwards, she changed her style again and started experimenting with remixes and dance music during the 'Wordprocessing' years. In 2008, she released her first studio album in 13 years, called 'The Smallest Acts of Kindness' and returned to her former style melding dark poems full of fear and desolation with electronic music.
http://www.anneclark.com/
Music & Performance

Personally, I had high expectations for this performance. I was really looking forward to it as I'm a fan of Anne since the beginning and never had the chance to see her live. I hoped it would be something like RSVP, or even the unplugged 'Psychometry', but it wasn't meant to be. The performance kicked off with a huge electronic built up, accompanied by ticking clocks on the video screens. Anne's voice could not be heard even though she was clearly singing. The set was very minimalist with Anne hardly moving away from her microphone and a manned computer set. 'Virtuality' was the opening song which almost carried you into a trance (the getting harder, makes it easier). 'Killing Time' was only recognizable towards the end of the song (And I should have known / We were only killing time / Now you have chosen your killing time / Let's hope you make the kill in time).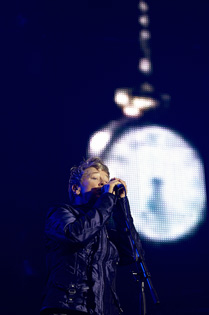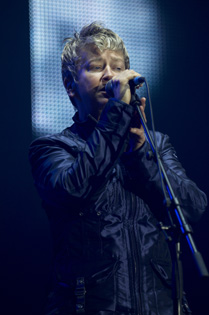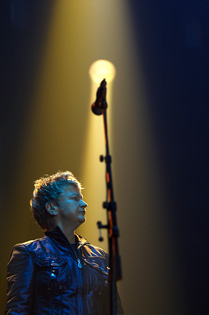 I got the impression that the audience was losing interest just as me. 'Full Moon', the single from her first studio album in 13 years, revived the set towards the end, only to be followed by her two major hits. But again, they were presented in such a distorted and remixed version that could at best be labelled "very interesting" but completely out of place on a festival like this. The heavy, dark and depressing arrangements were just too much. I would call this a missed opportunity and I guess I'm not the only one.
Setlist

01. Virtuality
02. Killing Time
03. The Healing
04. Leaving
05. Echoes Remain Forever
06. Seize the Vivid Sky
07. The Haunted Road
08. Full Moon
09. Sleeper in Metropolis
---
10. Our Darkness
Rating

Music: 7.5
Performance: 7
Sound: 8.5
Light: 8
Total: 7.8 / 10
Gang of Four

Since I cannot put it better, here are some fragments from their website: "Four young men in their early twenties who convened in the late '70s in Leeds. They were the first white rock group to come up with the idea that using contemporary funk and reggae rhythms might be an interesting way forward for Rock'n'Roll, a way out of punk's cul de sac. With Andy Gill slashing away on guitar over the Dave Allen/Hugo Burnham rhythm section, while Jon King declaimed over the top about love as disease or the torture of prisoners in Northern Ireland like a deranged demagogue. GANG OF FOUR was like Wilko Johnson of DR FEELGOOD jamming with PARLIAMENT-FUNKADELIC produced by Lee Perry as a Radio 4 newsreader intoned balefully in the background.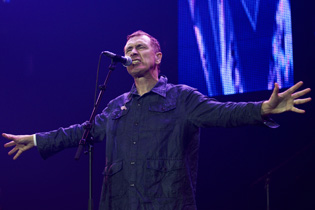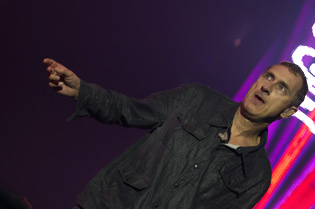 In 2005, GANG OF FOUR re-recorded a selection of their favourite tunes on 'Return The Gift' featuring Mark Heaney on drums while Hugo Burnham played live shows with the band until late 2006, when he left to focus on his successful academic career in the US. Mark then took over as drummer for live appearances and has played across Europe with the band ever since. In April 2008, Dave Allen left to be replaced by Thomas McNiece.
http://www.gangoffour.co.uk/
Music & Performance

Andy Rourke (THE SMITHS) just managed to clear the arena with the first part of his DJ set which, according to the images from the DJ booth, seemed to consist of clicking on his Mac every now and then. Also the next band 'The Gang of Four', filling in for THE PSYCHEDELIC FURS who recently cancelled their European tour, were not able to bring back the audience. They played something best labelled as Post Punk with long guitar introductions, heavy drums, sharp riffs and spoken lyrics which can be fun, but not on a festival like this (I seem to be repeating myself), although they provided instant reanimation for the remaining audience who had probably fallen asleep in the meantime. I had the impression that the singer was a little absent-minded and the part where he drummed with a baseball bat on a microwave oven was completely redundant. As was the whole performance one might add, despite the one song everybody knew 'I love a man in uniform'.
Setlist

01. Return the Gift
02. Ether
03. Great Men
04. At Home He's a Tourist
05. What We All Want
06. Anthrax
07. Paralysed
08. I Love a Man in Uniform
09. He'd send in the Army
10. Damaged Good
11. To Hell with Poverty
Rating

Music: 7.5
Performance: 7.5
Sound: 7.5
Light: 6
Total: 7.1 / 10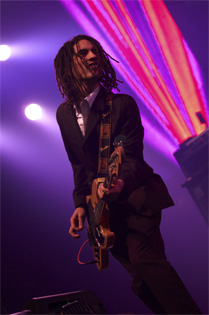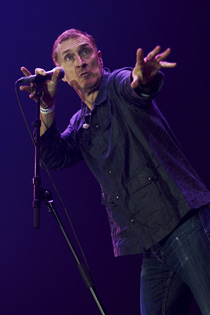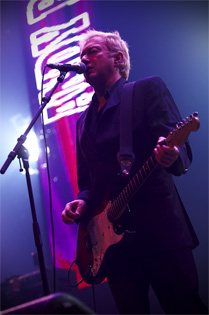 Gary Numan

GARY NUMAN (born Gary Anthony James Web) became famous in the 1980s as a new wave artist. His career started with TUBEWAY ARMY and he scored huge hits with 'Are Friends Electric?' and Cars. He seems to have influenced a lot of contemporary bands both new wave and others (more electro/gothic/metal). It all started when Gary found a Moog-keyboard in the corner of the recording studio and decided to use this newly-found instrument in his recordings and thus, drifted away from the originally intended punk sound. 'Are Friends Electric?' was born and so was a huge story of success. On the successor 'The Pleasure Principle', he made one step forward by replacing all guitars with Moog-keyboard sounds. And it proved to be very successful as the record climbed to number one in the UK charts.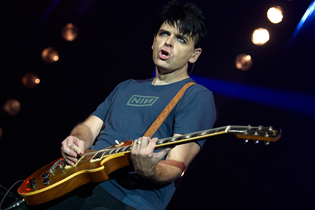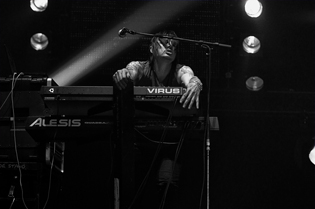 Success became too much and Gary decided that he needed a break from it all. Still, he kept on releasing new records, but never regained the same success until 1997 when 'Exile' saw the light of day. It started a new era in GARY NUMAN's musical career, influencing a lot of famous artists like NINE INCH NAILS, MOLOKO, FOO FIGHTERS, FEAR FACTORY, MARILYN MANSON and THE SUGABABES.
http://www.numan.co.uk/
Music & Performance

2 DJ sets by Andy Rourke and an hour of GANG OF FOUR were not long enough to clear away the queues at the food stalls and so we had to try our luck during GARY NUMAN's show. After an overwhelming intro, Gary came on stage, wearing a NINE INCH NAILS T-shirt and I must admit that, according to the song he performed, I assumed he had been listening to Trent Reznor quite carefully. Of course, I was wrong. Since I only knew Gary from his new wave period and hits like 'Cars' and 'Are Friends Electric', I was completely ignorant about the fact that it was actually Gary who influenced bands like NINE INCH NAILS. I like that kind of music, but on this day I was in a new wave only mindset and thus, not open to something like "Nine Inch Numan".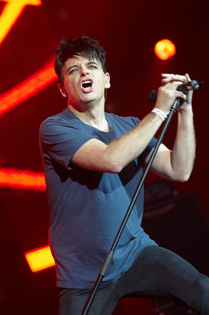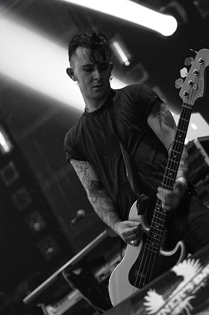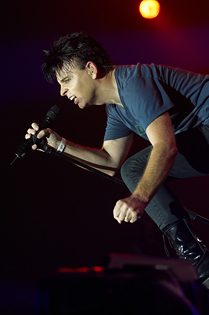 Once again, I felt a disappointment going through the audience, as they expected some kind of greatest hits festival and instead were confronted with a band they hardly could recognize (Of course there were exceptions, which raises the question whether or not the right expectations were created. I was expecting some kind of 80s nostalgia). To make things worse, I even got the impression that Gary would've been grateful if he could've omitted his previous successes and bury them deep in the past.
Setlist

01. The Fall
02. Pure
03. Haunted
04. Metal
05. Jagged
06. Hallo
07. Bleed
08. In a Dark Place
09. Blind
10. Are Friends Electric
11. A Prayer for the Unborn
Rating

Music: 7.5
Performance: 7
Sound: 7.5
Light: 7
Total: 7.3 / 10
The Human League

How to sum up the history of a group that was founded in 1977 by 2 people who since long have left the group? It's nearly impossible, so I suggest you to look at their website instead (
http://www.thehumanleague.net/history.html
) because it reads like a soap opera. It would take me too long to write all relevant facts down. But maybe I should try to tickle your curiosity by telling you that the band changed members quite frequently. They also had to release 'Being Boiled' more than once before it became a success (remember A-HA's 'Take on Me'?). The band that used several names before ending up with THE HUMAN LEAGUE, which is a name coming from a Sci-Fi board game.
http://www.thehumanleague.net/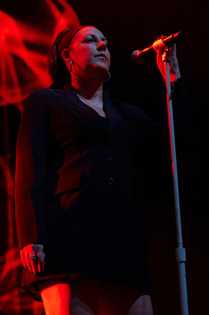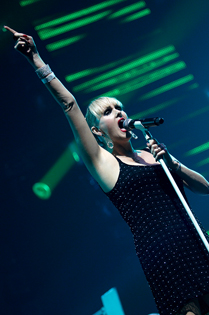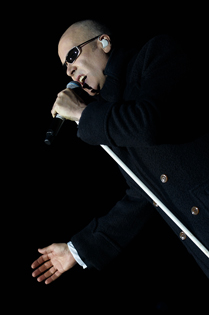 Music & Performance

Peter Hook (NEW ORDER) had taken over the DJ set and showed us that the old JOY DIVISION hits 'Love Will Tear Us Apart' and 'She's Lost Control' were more than enough to fill the 20 minute gap between GARY NUMAN and THE HUMAN LEAGUE, especially if you used some additional material from NEW ORDER. An all white stage, including instruments and microphones looked very promising. The first notes of 'Seconds' sounded and it was, as expected, a mixture of new wave and synth pop. Finally, Philip Oakey entered the scene dressed in a long raincoat with glasses, and with a very serious look on his face. 'Seconds' became 'The Lebanon'. Eventually, he took off the raincoat and the glasses and suddenly he had a big smile on his face.
The real show was about to begin now. No need for high tech video footage in the background, just a stage full of musicians enjoying themselves and entertaining the audience. The background singers entered the stage and Susan Ann Sulley could not be more different from the woman I met the other day at the hotel's check-in counter where she was complaining about her room not being cleaned, whilst putting on a bit of a sour face. Now, she wore a big, warm smile and happiness was all around. They even changed their outfit only for the last encore. The band carefully picked their best known songs and mixed in their greatest hits, interacted with the audience and overwhelmed them. A success!
Setlist

01. Seconds
02. The Lebanon
03. Sound of the Crowd
04. Love Action
05. Open Your Heart
06. Heart Like a Wheel
07. Empire State Human
08. (Keep Feeling) Fascination
09. Tell Me When
10. The Mirror Man
11. Don't You Want Me
---
12. Being Boiled
13. Electric Dreams
Rating

Music: 9
Performance: 9.5
Sound: 9
Light: 8.5
Total: 9 / 10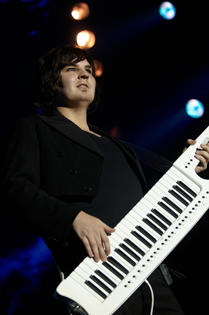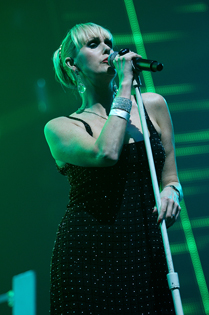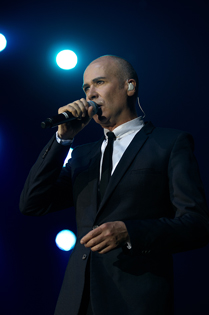 Front 242

FRONT 242 are an innovative and quite influential Belgian electro-band from the 80s. During their most active period up to the albums '06:21:03:11 UP EVIL' & '05:22:09:12 OFF' from 1993, they paved the way for other industrial and electro bands by giving birth to the Electronic Body Music (EBM) genre. They're also are considered being the predecessors of Techno and New Beat. Founded in 1981 by Daniel Bresanutti and Dirk Bergen, they released their first single 'Principles' in the same year. Patrick Codenys and Jean-Luc De Meyer joined in 1982 and the second single 'U-Men' saw the light of day, together with the first album 'Geography'.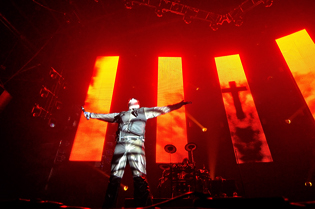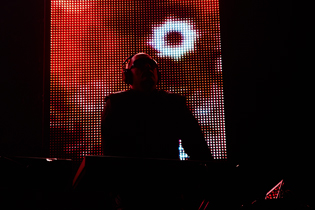 Dirk Bergen was replaced by Richard 23 (Richard Jonckheere) one year later. Their biggest success was 'Headhunter' not least because of the unforgettable video directed by Anton Corbijn. In 1995, FRONT 242 decided to re-invent themselves and turned towards techno (but with their own touch). They focused on live performances and released remix albums from time to time. 'Pulse', released in 2003, was the first album in years to contain new material.
http://www.front242.com/
Music & Performance

There they were, FRONT 242, today's final band on stage. A band with a history! A history of trend setting and a history of creating controversy, not only with the general public by means of their sometimes eccentric and politically loaded topics, but also amongst their own fans by re-inventing themselves continuously and bringing new versions of their old hits in styles not always fully appreciated by their supporters from the start. It started with the monumental intro to 'Happiness'. At one point I suddenly feared the show would've ended for me but then they played 'Moldavia' and 'Tragedy', both from the 'Tyranny (For You)' album and all was forgotten.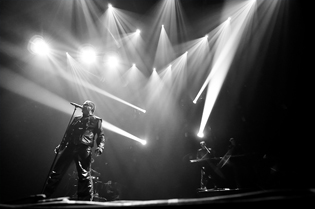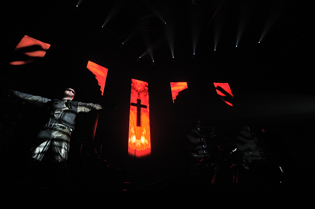 The show was supported by corresponding video clips (it just comes with the territory) and the crowd seemed to love it. 'No Shuffle' started building up palpable pressure which was continued during 'Im Rhythmus Bleiben' and culminated in the eruption during 'Headhunter'. No complaints from me or from the rest of the audience. It was a worthy ending for an overall worthy festival! They locked the target, laid out the bait, three, they slowly spread the net and eventually caught the men. See you next year at Sinners Day 2010 on 31st October.
Setlist

01. Happiness (More Angels)
02. Together
03. Moldavia
04. Tragedy > For You <
05. Circling Overland
06. Religion
07. Welcome To Paradise
08. Funkhadafi
09. Commando
10. Triple X Girlfriend
11. Quite Unusual
12. No Shuffle
13. Take One
14. Im Rhythmus Bleiben
---
15. Headhunter
16. Punish Your Machine
Rating

Music: 8.5
Performance: 8.5
Sound: 8
Light: 9
Total: 8.5 / 10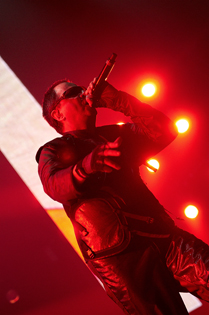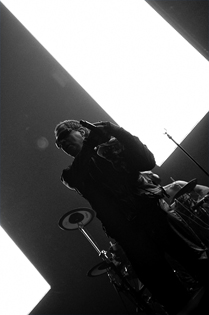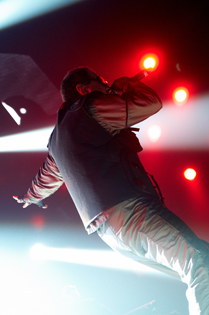 All pictures by Olivier César (
http://www.olliec.be/
)
{jos_sb_discuss:18}
See also (all categories):