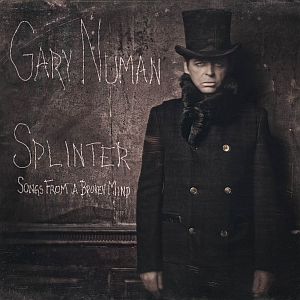 Artist: Gary Numan
Title: Splinter (Songs of a broken mind)
Genre: Electro Pop / Industrial
Release Date: 11th October 2013
Label: Cooking Vinyl (Indigo)
Album Review

The man that was born as Gary Anthony James Webb, in that sanguine city of London some 56 years ago, is a strange phenomenon within the landscape of popular music. He's copiously stamped as "godfather of electronic music", but his sound is too special and edgy for playing a relevant part in any chart rankings for decades, his biggest (and only nameable) commercial success dates 35 years back ('Are Friends electric?', 'Cars'), but musicians like Trent Reznor and Dave Grohl proclaiming his work as main influence, he called himself tired and riven by fame and commercial pressure in the early eighties (a decade he failed to survive artistically unscathed), but has released about 15 albums since then. Somehow it is distinctive for his career that everybody is calling his 20th album a "Comeback", although he never really left the pitch (his previous release no more than two years old to be precise!).
'Splinter (Songs from a broken mind)', as it is named, has an extensive prehistory, spanning more than the usual lapse of time until it came into the world in October 2013, cause the first time Gary Numan (the name is borrowed from an advert in the Yellow Pages) spoke about working on it was in 2007, with a release planned for 2010. But the following six years were filled with private tragedies, mental low points and resulting depressions, blocking muses and shifting priorities. Viewed in this light, 'Splinter' is not a coming back, but a going back, because it contains the first new material since 2006´s 'Jagged', an obvious product of a musical and emotional healing process. So going through that bad patch, as unfortunate it may have been for the protagonist, as beneficial it was for the art then it seems that it served as a creative trigger, making the album become one of his best since his dark landmark 'Sacrifice'. It was the variety that lacked former releases, the range of atmosphere and mood that cemented his sonic fingerprint indeed, but also solidified it. A crust that 'Splinter' is breaking again.
Of course there's still essential Numan on it; just take the opener 'I am Dust', with its pervert melange of epic pathos and scratched sonic surfaces, rusty layers of electronic and distortion and Numan´s voice, which is oscillating between emotional fragility and synthetically generated vibrations of the air. Or the mighty title track with its audible absorption, spread like a veil over oriental pattern, velvet pianos and rusty strings, leaving the nucleus like a reversed injection. You can go on with 'Here In The Black', that´s convulsing with a disturbing elation and whose spoken word fragments, embedded in an acoustic electromyostimulation made of rhythm and semitones, conjures up memories of 'Antichrist'-era Manson or, consistently, Mr. Reznor´s NIN, (what leads us to the fact that no one else but NIN´s Robin Finck is playing guitars on 'Splinter' prominently!), the ferrous 'Love Hurt Bleed', with its filthy anti-pop attitude, penetrating the air with stomping techno rhythms and tattered guitars attacks, shifting Numan´s timbre from fragile to sarcastic, from vulnerable to violating, or the uneasily epileptic 'We´re The Unforgiven', that feels like writhing in pain, spastically on the floor.
So up to now all these are great songs, Numan in his best but predictable way. Somehow all of them would fit on 'Jagged' too or 'Pure' (minus some distortions maybe), what imparts them a certain kind of density caused by recurring patterns, a familiarity of the essentials. Don´t get me wrong, they don´t fail to entertain but they´re not really astonishing! But then there are the other songs, the moments of breathing, which let 'Splinter' become the musical blueprint of a progress of disease, the well-balanced ups and downs of a broken mind.
The hypnotizing 'The Calling', which starts a void of pure noises, making the way for the strangely clean and unaffected vocals before it gets filled with rhythm and vast, turning finally into a bittersweet orchestral melancholy, like an evolutionary process. 'A Shadow Falls On Me' with its synthetic fragility and emotiveness, whose melodic rays pierce through a curtain of artificial interferences, leading carefully the vocals along the cultrate edge (a song that bears some similarities to Bowie´s late nineties oeuvre, especially to songs like 'The Dreamers' or 'New Angels Of Promise', but I deny myself to rake up the chewed away Bowie-Numan story here). 'My Last Day' is a sad gem, sparkling from below the surface of opaque waters, dainty and infecting, tempting and devouring, like a siren´s song, or 'Where I Can Never Be', which moves like a viscous liquid through the ether, seemingly gentle but thrusting, guided by electronic layers and heartbeat rhythms (a song, that would have been praised for its depth caused by clearness and simplicity if DEPECHE MODE would have made it).
Lyrically the album is a mirror of all the fears and hopes Numan went through in those bad times. You are faced with a sober, reflecting mind, loss of illusions and naivety, which seems to be healed from glorifications and spiritual invulnerability. "I believe in the cruelty of life, I believe in all of the hopeless and lost.." as the song 'Splinter' goes, continuing: "Do you believe in the beauty of love? Or that heaven is vengeance disguised? Do you believe we will pay for our sins? And I believe everything's learned from the scars of man... I believe everything bleeds from the fear of man..."
So 'Splinter' is a sonic catharsis, a scouring walk through the fire and in that light 'Lost' is the sun of the album´s heliocentric cosmos. A stripped down unveiling of a scarred soul, dressed in gentle piano tunes and clean vocals, feathery and frail, free from the coldness and asperity you can find elsewhere in the landscape around. It is the album´s emotional peak (so maybe not unwittingly placed in the middle of the album´s run), the climax of density, despite or better because of its plainness. "So are we over? Is this our 'end of days'? Are we so broken that you can walk away? And yet here we are, and I'm lost. If we're over, then you're far away. If we're over, then I'm lost." A condition unmasked, facing the verses last words: "...So it's over, you are far from home. So it's over and I stand alone. So it's over and I'm lost..." Nothing to add....
Final words: 'Splinter' is an album that captures you, that ensnares and lures you for disarming you with its bleak beauty. It catches you and drops you down, comforts and cuts your soul. Musically it´s one of the best Numan has done so far, filled with variety and contrasts, from oriental ornaments to harsh industrial, from a gentle fragility to an aggressive unsubduedness. It is a dense and strong piece of words and music and contemplating it´s content and sources probably not too far away from being his Magnus Opus.
Tracklist
01. I am Dust
02. Here In The Black
03. Everything Comes Down To This
04. The Calling
05. Splinter
06. Lost
07. A Love Hurt Bleed
08. A Shadow Falls On Me
09. Where I Can Never Be
10. We´re The Unforgiven
11. Who Are You
12. My Last Day
Line-up

Gary Numan – vocals, keyboards
Nathan Boddy – mixing
Matt Colton – mastering
Ade Fenton – keyboards, mixing, production, programming
Robin Finck – guitar
and further…
Website

http://www.numan.co.uk/
Cover Picture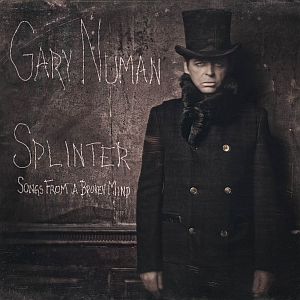 Rating

Music: 8
Sound: 8
Total: 8 / 10
See also (all categories):