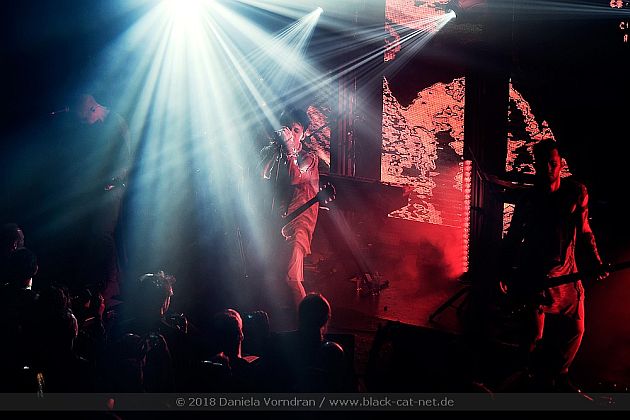 Kulttempel, Oberhausen, Germany
10th March 2018
Gary Numan & Nightmare Air

A jam-packed and sold-out Kulttempel welcomed Mr. GARY NUMAN to Oberhausen, Germany, on 10th March. Under the banner of "Savage" the unaging electro pop pioneer, who celebrated his 60th birthday two days ago, and his pals wander around Europe bringing the widely celebrated 'Songs of the Broken World' to the stage. Live, loud, and wild. About 700 Numanoids and nomads came together for a captivating and electrifying Numan show full of passion, which seemed nostalgic and futuristic at the same time. His work is indeed timeless, and what's more, the legendary artist is currently back at his best. As the wickedly good show in Oberhausen showed us, desert storm Numan easily sweeps people off their feet not only on his latest record, but also live. What a blast - hats off!
Nightmare Air

NIGHTMARE AIR
are Swaan Miller (vocals, bass), Dave Dupuis (guitar, vocals), and Jimmy Lucido (drums). They hail from Los Angeles and their band name refers to a skateboard move from an 80's skate film. The band shared stages with SMASHING PUMPKINS, THE KILLS, THE CLASH, THE DANDY WARHOLS, just to name a few, and are now on the road with GARY NUMAN. http://www.nightmareair.com / https://www.facebook.com/nightmareairmusic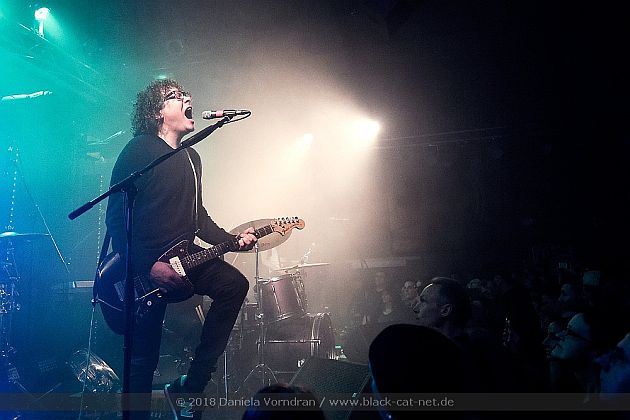 Music & Performance

The trio kicked off their set with the sweet tune 'Way We Fall', the last song of their brand new record titled 'Fade Out' (out 2nd March). The dreamy single 'Who's Your Lover' followed. The instruments sounded superb, loud and clear, and Dave addressed the fans standing in the front row witnessing Jimmy's heavy hitting drumming from up close: "Your faces must be melting away..." After the first two songs Swaan's high and dreamy vocals also appeared more prominent. The upbeat 'Sweet Arrows' is an amazing tune and the effective interplay between Dave's raw and Swaan's ethereal vocals earned much applause. Next to their new pieces and the catchy title track 'Fade Out,' NIGHTMARE AIR also presented two songs from their debut album 'High in the Lasers' (2013): '18 Days' and the powerful 'Icy Daggers'. The crowd enjoyed NIGHTMARE AIR's forty-minute-long dreamy, yet sharp and energetic noise pop show. The rocking trio is a fun act, particularly live, if you like to get lost in sweet and melodic vocals woven into crushing walls of sound and propulsive beats.
Setlist

01. Way We Fall
02. Who's Your Lover
03. Sweet Arrows
04. 18 Days
05. Fade Out
06. Strange Things
07. Sign of the Times
08. Icy Daggers
Rating

Music: 7
Performance: 8
Sound: 8
Light: 7
Total: 7.5 / 10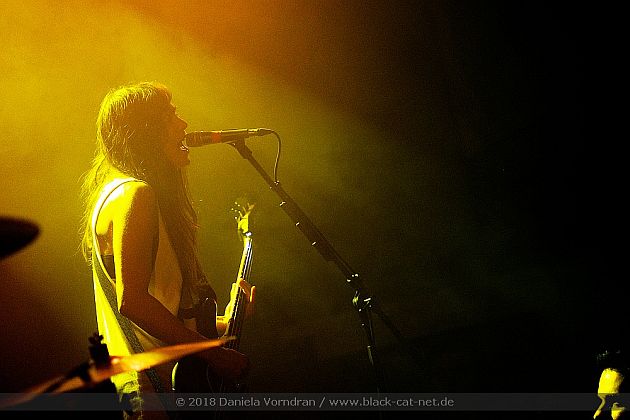 Gary Numan

In the late 70s, Gary was fronting a three-piece punk/ new wave band
TUBEWAY ARMY
. They got signed to Beggars Banquet and released the 'Tubeway Army' album in 1978. It was by accident that Gary stumbled across a Minimoog synthesizer left behind by another artist in the recording studio. Being blown away by the powerful sounds he could create with it, he made his first electronic album titled 'Replicas' in 1979. The hit single 'Are Friends Electric?', probably the very first song about a robot prostitute, was and still is widely celebrated. In the same year, Numan released his first solo album, the chart-toping 'The Pleasure Principle' with the number-one single 'Cars'. Since the 90s Numan has started to move towards a darker, more industrial sound influencing and being influenced by acts such as NINE INCH NAILS. Last September, the outstanding concept album 'Savage: Songs from a Broken World' came out charting at number two in the UK - the highest entry since his 1980's No. 1 album 'Telekon'.
GARY NUMAN
is back! http://www.garynuman.com / https://www.facebook.com/GaryNumanOfficial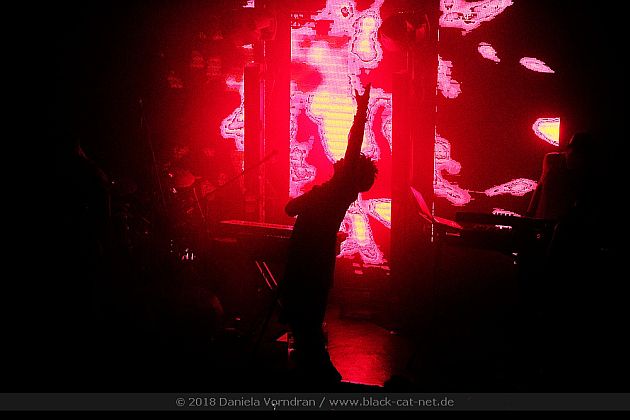 Music & Performance

GARY NUMAN sort of always reminded me of a DAVID BOWIE figure as if created by Tim Burton. Now he and his band mates hit the stage in post-apocalyptic nomad gear as the masterpiece 'Savage' is set in a world decertified due to global warming. The lyrics, the instrumentation, the cover artwork, font, and also stage clothes of the 'Savage' world mirror a blending of Eastern and Western cultures that comes with the threatening environment of a not too distant dystopian future as Numan sonically paints it. After a volcanic intro, the throbbing and threatening 'Ghost Nation' made for a perfect, atmospheric opener introducing the enthusiastic Kulttempel crowd to Numan's vision of a broken world and tonight's highly anticipated show. The sound was absolutely top-notch from the start, loud, clear and powerful, and 700 souls were blissfully happy to hear the legend's unique vocals that complete the beloved old and new compositions as if being one of the instruments.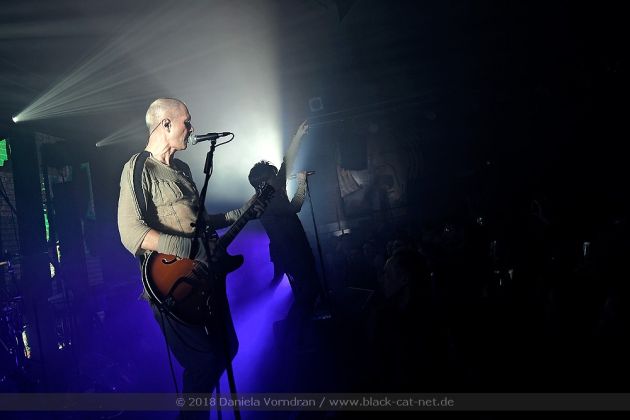 Long gone is the rigid android as Numan contorted his body being possessed by the music, crouched forward or jumped around, spread or waved his arms, and let his fingers dance. Also relentless guitarist Steve Harris lived every single distorted note and crushing chord that he coaxed out of his instrument. In addition to the opener, five further songs from 'Savage' raised the venue's roof: the mysterious and mesmerizing mid-tempo tune 'Mercy', the Oriental electro smasher 'Pray for the Pain You Serve', the beautiful 'Bed of Thorns', the mighty single 'My Name is Ruin', and the epic 'When the World Comes Apart'. Three songs from the previous record 'Splinter: Songs from a Broken Mind' (2013) also found their spot. 'Everything comes down to this' fits the 'Savage' set just perfectly and I was looking forward to hearing the dramatic tune 'Here in the Black' with its whispered verse and cinematic chorus.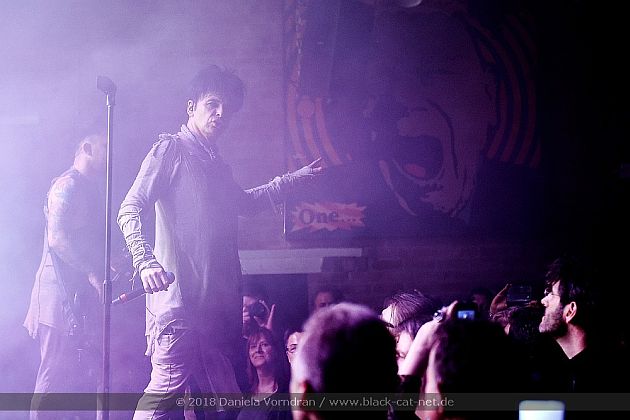 Needless to say 'Love Hurt Bleed' called for a loud round of applause as well. With its almost identical synth hook Numan & Co played it right before its sibling tune 'My Name is Ruin.' Both songs were just thrilling and the fans were all smiles. During 'My Name is Ruin' the corresponding video clip was shown on three longish screens that were placed between the vertical light pillars. Everyone agrees that his daughter Persia, who's by now 12 years old, contributed greatly to the Middle Eastern vibes with her stunning backing vocals. Unfortunately, she couldn't join the band on stage here in Germany. In between we got some older tracks: 'Metal' from 'The Pleasure Principle' (1979) that was famously covered by NIN in 2000, TUBEWAY ARMY's calm and spacey song 'Down in the Park' from 'Replicas' (1979) which FOO FIGHTERS and MARYLIN MANSON covered, 'Halo' from 'Jagged' (2006), and the ear-worm stomper 'The Fall' taken from 'Dead Son Rising' (2011).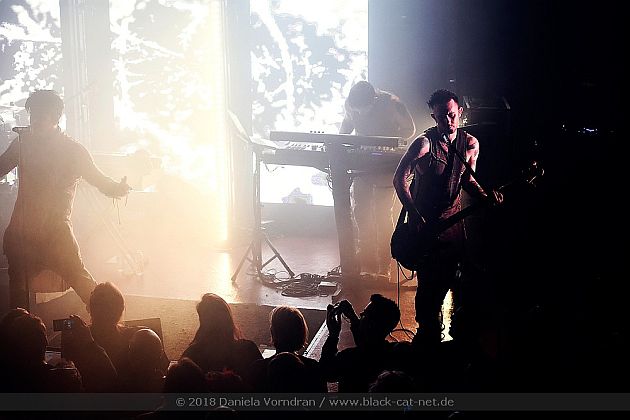 The iconic 'Cars' and the sing-along classic 'Are Friends Electric?' were celebrated towards the end of the set before Gary and the band were called back for a two-song-encore. After 'Me! I Disconnect From You' from 'Replicas' the wonderfully melancholic, soothing, yet also growing tune 'A Prayer for the Unborn' from the 'Pure' album (2000) closed the show on a calmer note with one last epic chorus. What a stellar set of one and a half hours. Without any introductions or speeches GARY NUMAN let his evocative and timeless music speak for itself with one song bleeding into the next creating a sonic landscape one didn't wish to leave. The vibrant band delivered a fantastic and compelling industrial rock show supported by a colourful blizzard of a light show. It was yet another truly memorable concert at Oberhausen's cult-y venue. Hypnotic. Dazzling. Numan!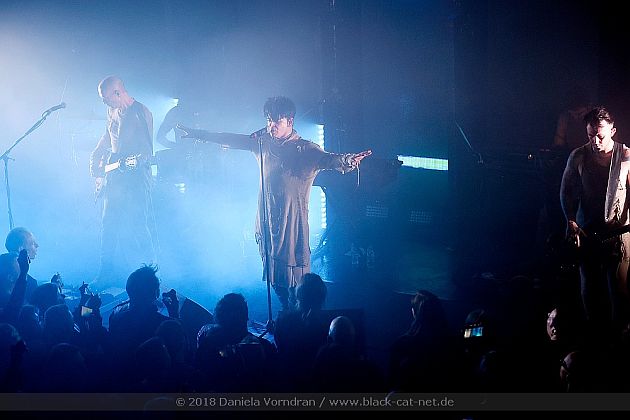 Setlist
01. Intro
02. Ghost Nation
03. Halo
04. Metal
05. Everything Comes Down to This
06. Down in the Park
07. Mercy
08. Pray for the Pain You Serve
09. Here in the Black
10. The Fall
11. Bed of Thorns
12. Love Hurt Bleed
13. My Name is Ruin
14. Cars
15. When the World Comes Apart
16. Are Friends Electric?
---
17. Me! I Disconnect From You
18. A Prayer for the Unborn
Rating

Music: 9
Performance: 10
Sound: 9.5
Light: 9.5
Total: 9.5 / 10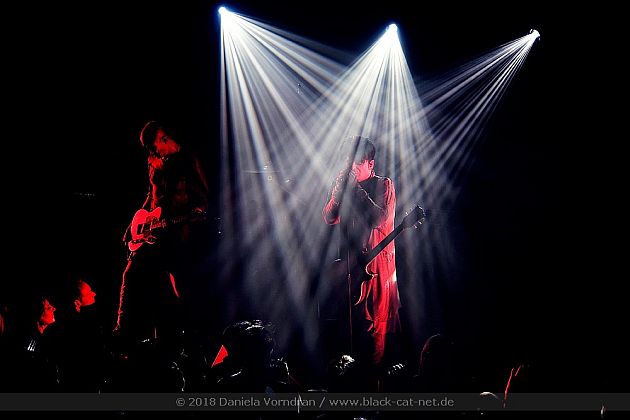 All pictures by Daniela Vorndran (
http://www.vorndranphotography.com
/
http://www.facebook.com/blackcatnet
)
See also (all categories):