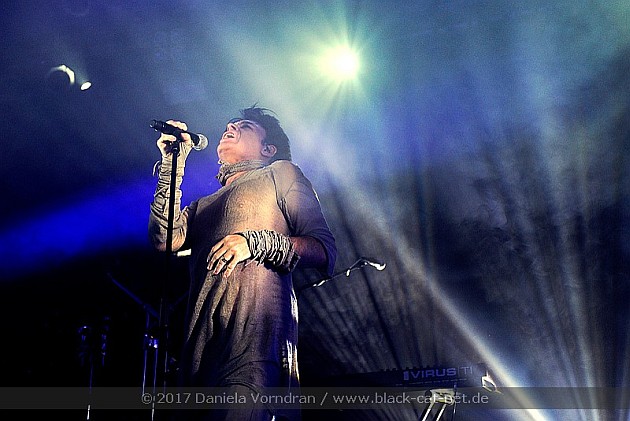 Essigfabrik, Cologne, Germany
25th October 2017
Gary Numan & Jayce Lewis

Last Wednesday night, Numanoids invaded the Essigfabrik in Cologne. They came to see the legendary GARY NUMAN. The lonely androgynous android is back! His pal and favourite support act JAYCE LEWIS opened a night of industrial-alternative music.
Jayce Lewis

Jayce Lewis (33) is a singer, songwriter and producer from South Wales. In 2009 he released a self-produced single titled 'Icon', achieving top 10 chart position and MTV Asia features. In 2010 BBC released a 40-minute documentary, titled 'Big in India' covering
JAYCE LEWIS
' journey to fame featuring him and EMI working towards the release of his debut album plus live performances in Dubai, India and Germany. LEWIS followed an unusual career path with some interesting crossovers. Since 2011 he's one of GARY NUMAN favourite supporting acts who also collaborated in his second studio album, so as QUEEN's Roger Taylor, and Lars Henriksen. Steve Strange's admiration for Jayce was commonly known following the 'Big In India' star BBC 1 documentary, Strange gave relentless support and later recorded his final ever recordings with Jayce shortly before his death. LEWIS dealt with Strange's funeral arrangements. The singer, songwriter and producer has just released his third studio album, 'Million Part 1', with collaborators like QUEEN's Brian May. www.jaycelewis.com / https://www.facebook.com/jaycelewisofficial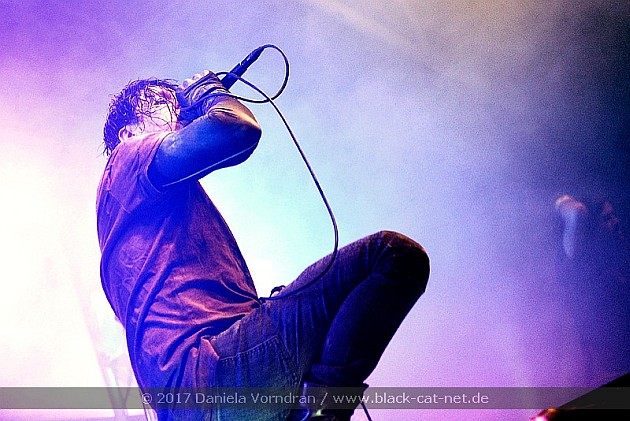 Music & Performance

The Essigfabrik gates opened about 20 minutes late. While waiting we could hear the support band's sound check. Lewis and his fellows (guitarist, drummer and bassist) came on stage at 20:00 for a 40 minute show which was enthusiastically supported by the hungry Numanoids. Their music sounds indeed, as described by LEWIS, like alternative rock fused with dance electronica and tribal percussion. Unfortunately the sound mix wasn't really good. One of the reasons could have been that the acoustic energy from the drums wasn't properly contained with plexi-glass shields or something. The result was the predominance of the drums over all other instruments. Jayce's voice sounded powerful and his performance so as that of three glamorous musicians was convincing.
Setlist

01. Shields
02. Severe sever
03. Wrath
04. Million
05. Make believe
06. Solitaire
07. Electric medicine
Rating

Music: 6
Performance: 7
Sound: 6
Light: 7
Total: 6.5 / 10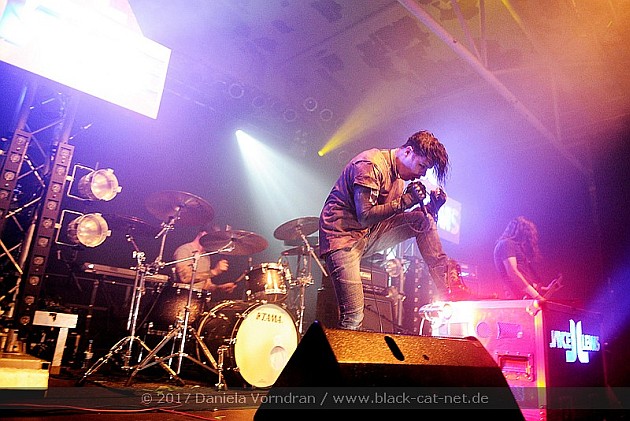 Gary Numan

The legendary
GARY NUMAN
(59) comes from West London, England. His career started in the mid-seventies as guitarist of a handful of different punk rock bands. He first entered the music industry as lead singer of the new wave band
TUBEWAY ARMY
. After releasing two albums with the TUBEWAY, NUMAN released his debut solo album 'The Pleasure Principle' in 1979. With number-one singles 'Are Friends Electric?' and 'Cars', NUMAN achieved his peak of mainstream popularity in the late 1970s and early 1980s, but maintains a cult following. His signature sound consists of heavy synthesizer hooks fed through guitar effects pedals, and he is considered a pioneer of commercial electronic music. NUMAN is also known for his distinctive voice and androgynous android like persona. But his mainstream success wouldn't last long. In 1980 he released 'Telekon', his second solo album and he embarked on the ambitious "Teletour". He announced his retirement from touring with a series of sell-out concerts at Wembley Arena, a decision that obviously wouldn't last long. After his return with 1981 with a new sound NUMAN's career begun to experience a gradual decline and he was eclipsed initially by acts such as ADAM ANT, and later by the HUMAN LEAGUE, DURAN DURAN, and DEPECHE MODE.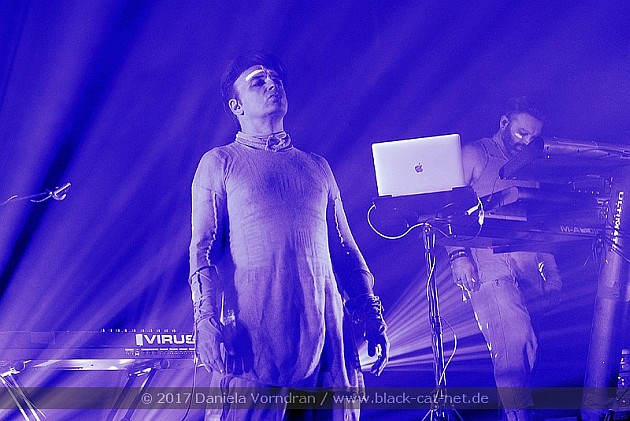 Each album also saw a new "image", none of which captured the public's imagination to nearly the same extent as the lonely android of 1979. It wasn't until the mid-nineties when NUMAN re-evaluated his career and veered toward a harsher, more industrial direction with his songwriting on the album 'Sacrifice'. The move was critically well-received, as NUMAN's harder and darker sound emerged just as NUMAN-influenced bands like NINE INCH NAILS were enjoying their first rush of fame. In the 2000s NUMAN became acknowledged and respected by his peers, with such musicians as Dave Grohl (of FOO FIGHTERS and NIRVANA), Trent Reznor (of NINE INCH NAILS), and MARILYN MANSON proclaiming his work an influence and recording cover versions of old NUMAN hits. In 2010 NUMAN embarked on the "Pleasure Principle 30th Anniversary Tour" at worldwide scale. In September 2017 NUMAN's new album, 'Savage (Songs from a Broken World)', was released. It was preceded by the single 'My Name Is Ruin' with a European tour scheduled to commence in late September. On 22 September, the album debuted on the UK Album Chart at no.2 - NUMAN's highest chart placing since 1980. http://www.garynuman.com / https://www.facebook.com/GaryNumanOfficial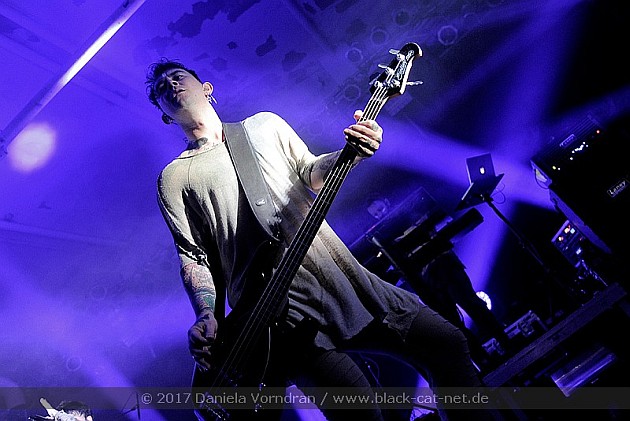 Music & Performance

At 21:00 the lights dipped and the smoke billowed from the stage; the familiar crowd chants of "Numan, Numan" provided a lyric to the darkly ambient intro which welcomed NUMAN and his band onto the stage before launching into 'Ghost nation', the first track of the brand new 'Savage' album, the stage was washed in blue, NUMAN so as the band in cyberpunk-Mad Max brownish looks contorts himself around his microphone stand as the machine textures build around him, that distinct vocal expression that can only come from NUMAN, before he explodes across the stage expanding its dark industrial rhythm around the venue – NUMAN is contorted on the stage, back arched reaching upwards before dropping to the floor crouching as if ready to pounce, and continued to reference his past offering up a glacial 'Metal' from 'The Pleasure Principal' transformed into an immense mechanized wave of sound which as it faded NUMAN stepped to the front of the stage. 'The fall' brought us back to 2011 'Dead son rising' album. The sound is thankfully magnificent and allows the full layering of NUMAN's material to shine.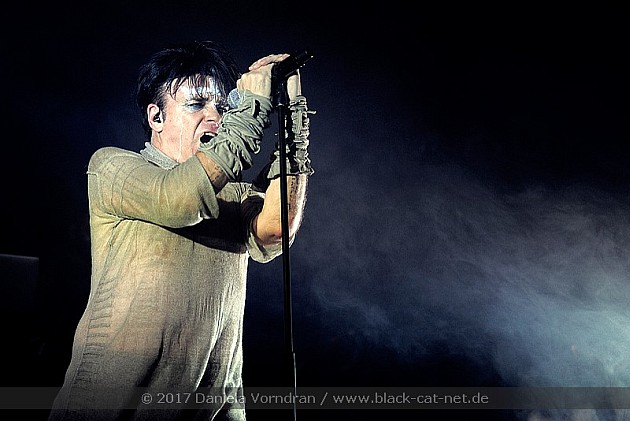 'Here In The Black' hit hard, its ominously dark, the vocal barely a whisper, trampled over by a rubbery synth, and monolithic slabs of guitar driven by a metronomic drum beat that saw NUMAN pin-balling the stage, his arms above his head as if drawing on other forces. Unlike the previous shows of the tour we couldn't enjoy having his 12 year old daughter Persia onto stage providing the mystic tinged backing vocals on 'My Name Is Ruin' the lead single from 'Savage'. Not unexpected came 'Cars' which over the (many) years NUMAN has re-modelled from the perfect pop that gave him his first solo No. 1 hit into a menacing noir behemoth that whilst being some 38yrs old still sounds like the future. The set closed with 'Are Friends Electric?' and this Numanoid's favourite robot prostitute song. After returning to the stage to encore with a spine tingling 'I die, you die' there was only one big song NUMAN could fully close the set with, the mystic and dark 'A prayer for the unborn' filled in the space with futuristic lighting. NUMAN triumphed and effortlessly showed why he remains as vital now as he was when he first emerged.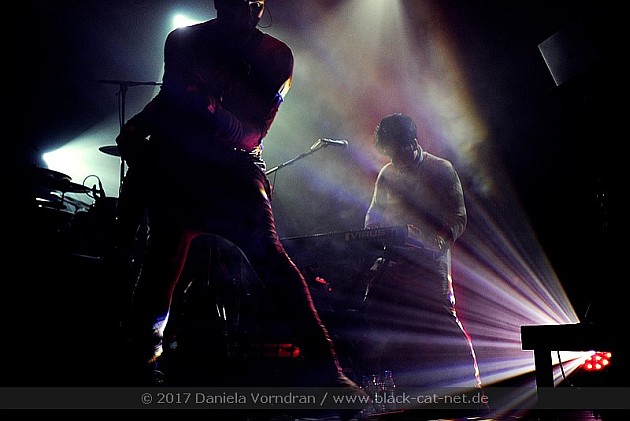 Setlist

01. Ghost nation
02. Metal
03. The fall
04. Remind me to smile
05. Bed of thorns
06. Down in the park
07. Pray for the pain you serve
08. Here in the back
09. Mercy
10. Love hurt bleed
11. My name is ruin
12. Cars
13. When the world comes apart
14. Are friends electric?
---
15. I die you die
16. A prayer for the unborn
Rating

Music: 8
Performance: 9
Sound: 8
Light: 9
Total: 8 / 10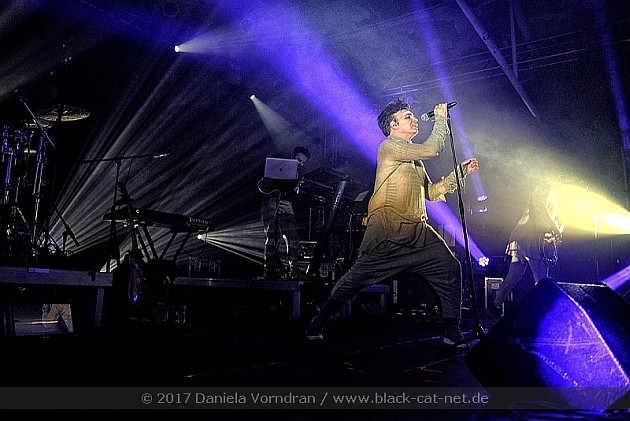 All pictures by Daniela Vorndran (
http://www.vorndranphotography.com
/
http://www.facebook.com/blackcatnet
)
See also (all categories):