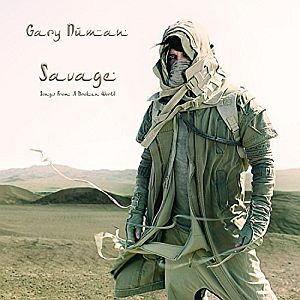 Artist: Gary Numan
Album: Savage (Songs from a Broken World)
Genre: Electronic / Industrial
Release Date: 15th September 2017
Label: BMG Rights Management (UK) Limited
Album Review

The English singer, songwriter, composer, musician and record producer started his musical career in the late 70's/ early 80's with his New Wave band
TUBEWAY ARMY
. The song 'Are Friends Electric?', released in 1979, became a N° 1 hit worldwide. The following single, 'Down in the Park', didn't chart but is still an often covered song. With the third studio album, 'The Pleasure Principle', GARY NUMAN debuted under his moniker. 'Cars' became a big hit and the album itself went to number 1 in the UK. The following album, 'Telekon', tied on the success. Sold out tours followed. With his face painted with white make up and black kohl on his eyes and his stiff stage appearance he looked like an android which created his style at that period. He also generated a loyal fan base which called itself the "Numanoids". These fans stuck to him even then when his fortunes declined at the end of the 80's. The following albums couldn't live up the success of the early albums and as he later explained it was due to his insecurity after the early success that he listened to the wrong people and ignoring his own intuition. It was then his later second wife who encouraged him in the 90's to ignore all the other influence and follow his own path. His music then became harsher and Industrial influenced. With his approach creating Electronic music GARY NUMAN inspired a lot of musicians and bands. During his career that spans now 40 years he released, including this one, 21 studio albums, 8 further studio albums where he mainly worked in collaborations, 15 live albums, 17 compilations, 61 singles/ EPs, 11 videos and 9 non- music albums.
While his former album 'Splinter' had the sub title 'Songs from a broken mind' and dealt with the inner struggles of depression, this album comes along with the sub title 'Songs from a broken world'. And here the leitmotif is a post apocalyptical scenery of living in a world destroyed by the man-made climate change that dried out our world and diminished the precious source of all life - water. The cover gives you already an impression what the album is about with GARY NUMAN standing in a desert, mantled in an outfit that reminds you of the post-apocalyptic Mad Max movie. The letters printed on the cover are in faux Arabian letters, probably as one connects deserts with Arabian countries but also as there are Arabian musical elements used as stylistic device in some of the songs. GARY NUMAN told in interviews that he was inspired by the already noticeable signs of climate change and even more by the politics of the current President of the USA Donald Trump who is a climate change denier and his withdrawal from the Paris Accord. Being a fan of dystopian novels this was a great reference to paint a sombre musical landscape of a life of despair where you try to survive somehow.
The first song is a strong opener with a mixture of Synth Pop and Industrial elements underlined by the plaintively and melancholic singing. The next song starts with the female voice that reminds you of
OFRA HAZA
and draws through this slower song as a chorus. The third song is the one that was lifted from the album as first single. Here his daughter Persia sings the chorus. You might have seen already the amazing video - a collaboration with Chris Corner from
IAMX
. Definitely very catchy, powerful with the guitar accords and with the potency to be an ear worm. After the more up-tempo song the next one is again a more contemplative one with some string elements but a strong chorus that brings some diversity of tempo into this song. The following song could be seen as a kind of love song describing a close relationship and the fear of losing this person. Though 'When the World Comes Apart' starts quiet, soon it speeds up that you could even dance to. Nevertheless Gary's voice indicates that this is not a happy song. A strong beat, a reverberating electric guitar and a landscape of noises might remind you of some of
NIN
songs if there was not the characteristic voice of GARY NUMAN.
The following song is a kind of ballad but full of noisy sounds and therefor there is nothing bitter-sweet in it but a real Industrial song underlined with a melancholic voice full of despair. With marching feet the second to last song starts, before the up tempo drums set in. Every here and now some Arabian music elements and chorus are built in here which makes the song diverse. This is definitely another favourite song of me. The last song is a kind of epilogue. A sad ballad with strings and Arabian music involved but also Industrial elements which paints a desert landscape in your imagination - underlined by the sad voice of GARY NUMAN, full of despair and pain. In my eyes this is a fantastic album. GARY NUMAN created skilfully an album that could also be a soundtrack for a dystopian film. Not an album just to consume but to carefully listen to the lyrics. And the more you listen to it the more you discover the different sound effects.
The album is available as standard version, deluxe version, vinyl, audio cassette, MP3 download but you can also buy single tracks as download version.
Tracklist

01. Ghost Nation
02. Bed of Thorns
03. My Name Is Ruin
04. The End of Things
05. And It All Began With You
06. When The World Comes Apart
07. Mercy
08. What God Intended
09. Pray For The Pain You Serve
10. Broken
Line-up

Gary Numan
Website

https://garynuman.com / https://www.facebook.com/GaryNumanOfficial
Cover Picture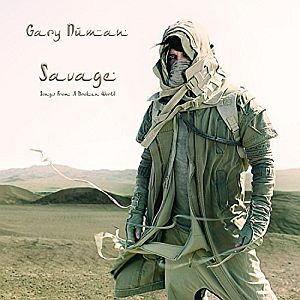 Rating

Music: 10
Sound: 10
Total: 10 / 10
See also (all categories):