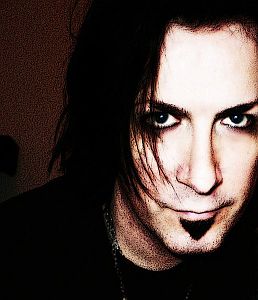 Interview with
Mark Gemini Thwaite (ex-guitarist with Peter Murphy, Gary Numan, The Mission and several more) from New Disease

Mark Gemini Thwaite is nothing if not prolific. His career thus far has seen him as a member of THE MISSION, touring guitarist with Peter Murphy and Gary Numan and as a songwriter in his own right. We caught up with him from his home in the USA to discuss the release of new album 'Patent Life' by his band NEW DISEASE.
Reflections of Darkness [RoD]
: Hello Mark! Describe for us where you are and what you're doing right now?
Mark
:
Right now I'm in Santa Monica California. been living here since 2005. Right now I'm talking to press about the 'Patent Life' release, which came out yesterday! It's great to finally see it out there.
RoD
: Your band NEW DISEASE has an album out, 'Patent Life'. It's been a long time coming. Was it a relief to finally complete the project? And what took you so long?!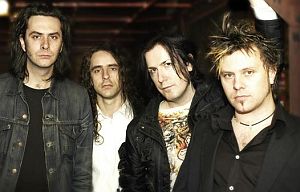 Mark
:
Yes certainly a relief to finally see it mixed, mastered and out there… basically NEW DISEASE were in the middle of writing and recording our debut album with producer David Bottrill (Tool, Muse, Peter Gabriel) back in 2004, when we signed to Universal records. We released the 'Like Rain' single on UMG and then things went FUBAR, with the label dropping us and loads of other bands during a label shakeup, and also our producer David Bottrill didn't renew his contract with them. Our singer Lee moved from London (where the band was based) back to Wolverhampton and seemed to lose interest in the band, so I moved to Los Angeles in 2005 and the band – and unfinished album – was placed on indefinite hiatus… until now.
RoD
: The opening song 'Hold On (here comes the sun)' is a real statement of intent. Would you say it defines the sound and direction you wanted for NEW DISEASE?
Mark
:
David our producer – and also previous producer John Fryer (NIN, H.I.M) also singled out 'Hold On' as a potential hit single, and David got us to re-record the song for the album. We had included a version of it on our 'Axiomatic' EP back in 2003… it certainly distils the vibe and sound of the band, and has a great positive emotion to it. It's hard to name just one song as the 'sound of New Disease', although personally I would suggest 'Used' as a real contender.
RoD
: With the songs being written over such a long time, was there a danger the overall sound would lack cohesion? There certainly doesn't seem to be any hint of that when hearing the album as a whole.
Mark
:
You have to remember the majority of the album was written at the same time back during 2002-2004 so there is a cohesion and focus to the songs, written within a two year period. We also left off 5-6 songs also written at the time as the album was already pretty long at 15 tracks. We did include a brand new song 'Plainfield' written and recorded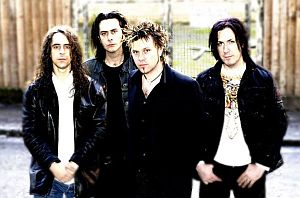 this year and that was the one for me that would most likely stick out, as it's a much mellower and introspective song, people usually associate NEW DISEASE with up-tempo anthemic songs, but 'Plainfield' was the first song that Lee and I completed after not writing together for nearly ten years and it was ready just in time to include on the album. We also have another new song completed and Lee is working on more, so I guess we'll save them for the next album in 2024!
RoD
: Was there one song in particular that was the most difficult to pin down and complete?
Mark
:
Hmmm… well it's hard to recall now, as most of the album was written and recorded over ten years ago… most of it came together pretty quickly, Lee's voice was a good fit for my musical compositions and vision for the band. It was hard to mix some of the songs this year though, I recall 'Patent Life' being difficult to get the right mix together... and I struggled a bit mixing the new song 'Plainfield' it was recorded at a different time to the rest of the album and also in a different studio with a more electronic vibe. Hopefully we pulled it off.
RoD
: As a songwriter, do you work best when surrounded by others, allowing yourself to be influenced by what's happening around you, or do you work best in a musical vacuum?
Mark
:
I've always worked best when demoing my riffs and chord arrangements myself on my guitar and then in my home studio, fleshing out the ideas with drum patterns, bass lines and keyboards. I usually present my demos to the singer fully formed – even with intros, verse/ chorus and middle & arrangements in many cases. Sometimes this can be a hindrance as I fill up the demos with melodies on guitars and keys, making up for the lack of a vocal. I've never been a singer, I like to leave the vocal melodies and lyrics to whichever singer I'm working with, whether its Lee Bane or Peter Murphy or Wayne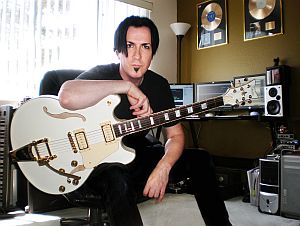 Hussey. So I guess my most prolific work is in a sort of musical vacuum in my studio where I develop the ideas. But you also can't beat a band getting together in a room and allowing each member to inject their musical imprint on a song.
RoD
: If you had to state your influences, who would they be? And for the band as a whole?
Mark
:
My personal influences are varied and depends if you are talking about guitarists who have influenced me over the course of my career or artists that have influenced me as a songwriter... guitarists that have had an enduring effect on my playing include Geordie Walker from Killing Joke, also Jimmy Page, Dave Gilmour from Pink Floyd. I should also acknowledge Wayne Hussey, as I was in The Mission with Wayne on and off over a period of 20 years, and during recording many albums with him I think I learned a lot as a player from him. Artists and genres that influenced me on the whole include Prince, Radiohead/ Johnny Greenwood, lots of punk and post punk – Stuart Adamson from the Skids was a huge inspiration back in 1979 and inspired me to get a Yamaha SG guitar. Also Alex Lifeson from Rush was a huge inspiration to me as a 15 year old just learning guitar. Of the more recent guitarists, I think Stephen Carpenter from Deftones is great.
RoD
: Is there a song on 'Patent Life' that you are particularly proud of? Or one that is most personal to you? 'Black and Blue' is definitely a favourite of mine.
Mark
:
'Black and Blue' is really cool, very introspective, and one of the earlier songs we recorded back when we formed in 2002… my personal favourite has to be 'Used', which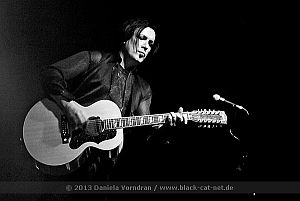 still sounds as great to me now as it did when we wrote and recorded it ten years ago. In fact the riff stemmed from a demo I wrote and submitted to The Mission way back when, it never got used, so I gave it to Lee to sing on. John Fryer did an excellent job on production and mixing on this particular track, along with Ritch Battersby's excellent drum programming and live percussion.
RoD
: Are lazy comparisons to bands such as Pearl Jam irritating? As a reviewer myself, I know how tempting it is to always compare one group or singer with another, although I maintain this is often to give potential new fans a reference point.
Mark
:
Lee does get the Vedder comparison sometimes, he was an influence on Lee so it's understandable to hear the comparisons, however I don't think we sound musically much like Pearl Jam at all, due to my industrial/ Post punk/ gothic and electronic influences so I think it's the juxtaposition of Lee's grunge vocals and my post punk electronic tinged rock that makes it a different animal.

RoD
: You have worked with some very big names in the industry, from The Mission and Gary Numan, to Peter Murphy and Al Jourgensen to name a few. Who else would you like to work with? And do you have a particular hero or heroine you would most like to collaborate with or perform alongside?
Mark
:
I always had this weird desire to do a tour with Duran Duran. Sounds unlikely but half of the band hailed from my hometown of Birmingham, and I lived just down the road from where bassist John Taylor used to live. I saw Duran on the Rio tour in 1982 and they were really good, much heavier than on record and a great live band. I heard a few years ago that guitarist Andy Taylor left (once again) and I would have totally loved that gig for nostalgia, but I think they ended up getting a session guitarist in… shame as I could have totally nailed Andy's riffs! I was also once asked to audition for Led Zeppelin singer Robert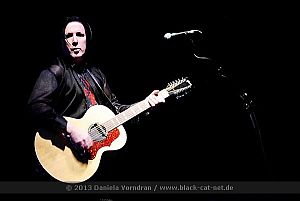 Plants band, back in the 90's. I was in the Mission at the time so I decided to decline the audition – partly out of fear of rejection as Plant was famously in a band with Jimmy Page - who is a giant amongst guitarists to me – but shortly after I heard the The Cure guitarist Porl Thompson got the gig and I realized maybe I would have stood a chance of passing the audition after all! So Percy – if you still need a guitarist give me a call mate!
RoD
: Could you share any stand-out tour memories you have from your time with The Mission?
Mark
:
Probably my first tour with the Mission way back in 1993. Was my first big tour with a world renowned band and was incredibly exciting to me. I got to travel all over mainland Europe for the first time. Also to book end that memory, The Mission farewell shows at Shepherds Bush Empire in London back in 2008 were also monumental, we played four nights - each night playing the first four albums of the band in their entirety. The shows were brilliant and the atmosphere was electric. Many long-time fans confirmed it was the best they had ever seen and heard the band.
RoD
: Where is the strangest place you have played a gig?
Mark
:
There's two that spring to mind… played a bar with a bowling alley in Omaha Nebraska with The Mission on our resurrection comeback tour in 1999 – the dressing room was at the opposite end of the venue so when it came time to stage time, we had to walk past all these bowlers in the alley to get to the stage at the other end of the venue… another strange gig was on a small ship on the Sienne in Paris France with Peter Murphy back in 2005… it was a most peculiar venue on a tiny ship moored in a dock. We had to strip down both our equipment and the songs for the intimate set, but actually was quite fun at the time.
RoD
: Was Peter Murphy as prickly to work with as he appears on stage? I recently watched him mercilessly lambast the sound engineers throughout a gig while temporarily using a roadie as a microphone stand. Is this typical?!
Mark
:
As with most gifted singers and frontmen, Peter can be emotional and demanding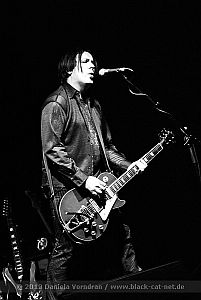 and knows what sound he wants and can be demanding as he works with his engineers to get it. Most likely we were working with a house engineer who didn't know what sound Peter was trying to get. He's putting himself out there every night, connecting with the audience with heart on his sleeve, he's carrying the show so there's going to be moments of pressure. Comes with the territory!
RoD
: Do you prefer playing live, or does the studio give you a greater buzz? Is the creative process more exciting at times than the finished creation?
Mark
:
There's a different kind of thrill for me with both live performance and recording and creating music in the studio. I love being in the studio, where I can flesh out a small guitar or chord sequence into a full blown song or chunk of music, like working with a huge blank canvass and creating a painting you can get lost in… and once that song is commercially released, it theoretically lasts forever. But there's a different thrill from performing live that cannot be replaced – the euphoric moment of connecting both with the band and the audience, it's an experience that is very addictive and cannot be replaced. There's nothing I like more than to strap on my guitar, crank my amp, dial in my stage mix and just get lost in the music onstage for two hours.
RoD
: You released the single 'Like Rain' in 2004. That seems like a very long time ago now. Was it a good experience to re-record it and discover the thrill all over again? It does make for an excellent single, it's a real standout song on the album.
Mark
:
The thing with 'Like Rain' is that we originally demoed the song in my home studio back around 2003, and when Universal signed us and listened to all the shortlisted songs that producer David Bottrill gave to them for consideration as our first single, they chose 'Like Rain'. Dave took us into a London Studio and we re-recorded the song with all our gear, drums etc., and he mixed and released that version. When it came to releasing 'Patent Life' which is supposed to represent our best body of work from that time back in 2004 before we split up, we really wanted to include 'Like Rain' as it was considered a stand out song. We can't really include the version recorded with Bottrill as Universal will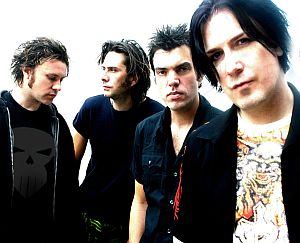 own the rights to that song, so we decided to revisit the original demo of the song from my studio, did some work on the programmed drums to reflect the single version better, as that was how the song evolved, and I did a brand new mix of the song this year. It was fun to work on the song again, and even the demo version really held up well – I guess no matter which recording we use, a good song is a good song!
RoD
: Are there plans to tour the album? 'Patent Life' cries out to be heard live.
Mark
:
Yeah I've spoken to Lee about the possibility of playing live again, it's certainly something that we'd like to do. Right now we have myself living in USA, Lee living in Barcelona Spain, and Rich and Eddie in UK. So it will be expensive to logistically get us all together for a tour. We're waiting to see how the album is received. It's hard to gauge how many fans we have, it's been so long since we last toured… it would be great to play those songs again.
RoD
: What next for NEW DISEASE? Do you intend to release another album in the future? And the burning question there must be will it take quite as long this time?!
Mark
:
Haven't thought ahead that far! It just bugged the hell out of us that the album had never gotten a commercial release, I would play certain tracks to friends in the music business and they would be blown away at the quality, it was always in the back of my head to finally get the album out there one way or another… as for the next record; well Lee and I have written some other new material besides 'Plain field' which was included on the album, so we'll have to see. There are plans to do a UK release with indie label Armalyte later this year, as the current release through CDBaby is primarily the American market, although the digital album is available worldwide via iTunes/ Amazon. So we may include some bonus tracks on there, maybe another new song… only time will tell!
RoD
: Thank you for your time Mark. All the very best with the album.
See also (all categories):