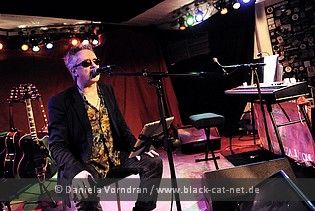 Gleis 22, Münster, Germany
5th November 2014
Wayne Hussey

Does this man really need an introduction? Perhaps only for those too young to remember that Wayne Hussey´s THE MISSION were once one of the biggest acts in the UK with hits as 'Butterfly On The Wheel', 'Deliverance' or 'Beyond The Pale'. Following his departure from THE SISTERS OF MERCY, in which Hussey was the guitarist, he founded THE MISSION together with bass player Craig Adams who left the SISTERS at the same time as Hussey.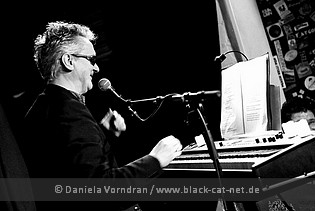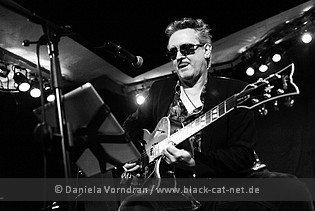 The conflict with SISTERS-singer Andrew Eldritch (and the lawsuit on who owns the name THE SISTERS OF MERCY) was a hot topic in the music press and tabloids at that time but eventually Hussey, Adams and fellow band members Mick Brown (drums) and Simon Hinkler (guitar) continued under the new moniker THE MISSION. The first album, 'Gods Own Medicine', was released in 1986. While the sound still bore resemblances to the Gothic Rock sound of THE SISTERS OF MERCY, songs as 'Wasteland' or 'Severina' illustrated the more melodic approach. THE MISSION, under the lead of singer and guitarist WAYNE HUSSEY, proved a strong favour for hymnal choruses, great hooks and bigger-than-life tunes. Consequently the second album 'Children', released in 1988, hit No. 2 of the UK album chart and the follow-up 'Carved In Sand', which features the hit singles 'Butterfly On A Wheel' and 'Deliverance', strengthened THE MISSION's success in mainland Europe in 1990.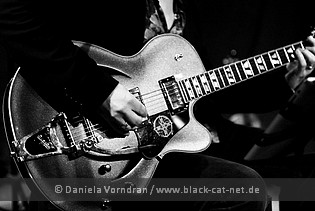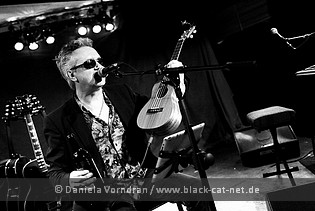 The 1990s saw a number of line-up changes, some rather middle-rate releases and a decrease in album sales. After 5-year-hiatus THE MISSION returned in 2001 with the album 'Aura', which turned out as one of their most successful albums. Successful tours and more studio albums followed as well as some line-up changes and more than one announcement that THE MISSION would cease to exist – just to be resurrected once again a while after that. It was after one of the announcements – and a farewell tour that was consequently called 'Farewell' - when WAYNE HUSSEY released his first solo album 'Bare'. It was a collection of some THE MISSION songs and many cover versions which were all performed in a very stripped-down, acoustic way. This year he released the new solo album 'Songs of Candlelight and Razorblades', a project he implemented by crowd funding via Pledge Music.
http://themissionuk.com
-
http://www.waynehussey.de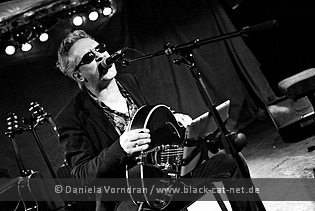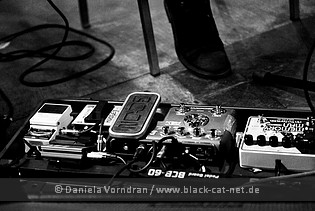 Music & Performance

So with this new album up his sleeves, WAYNE HUSSEY went on another solo tour through Europe. And when WAYNE HUSSEY's one-man-show makes a stop you just cannot help but go! A few years ago, HUSSEY already did a gig at the Gleis 22 in Münster, which was a fun-filled evening which started with HUSSEY performing a few songs in one go just to ask then "So what you wanna hear now?" an ended as a long night full of cover versions, THE MISSION songs and a considerable amount of red wine. This time it was hardly different, except that HUSSEY did not encourage the audience making song requests. With 'Madam G' from his new album, HUSSEY started a two-and-a-half hours long journey, roaming from his solo stuff to lots of THE MISSION songs, including some rather rare and unknown ones, to lots of cover versions of songs by artists such as BOB DYLAN, DEPECHE MODE, BJÖRK, NEIL YOUNG or ALL ABOUT EVE. Before the gig I wasn't sure if it was going to be a pure solo gig again or if HUSSEY would bring extra musicians this time but just as last time he limited himself to the use of just acoustic guitars, keyboard, and occasionally a beat box.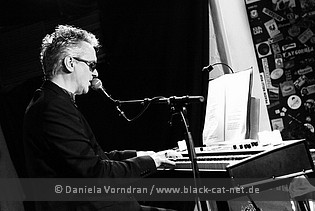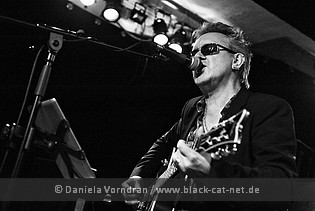 Worst decisions of the night was that HUSSEY insisted of sitting down behind his keyboard or on a chair with his guitar for the entire night as due to the low height of the stage he was literally invisible to anyone who wasn't in the first few rows. He just came on stage, said hello and when he sat down it was like he vanished in some sort of black hole. As a 6' 5'' guy I truly got a taste how many gigs must be for small persons! Though rather invisible HUSSEY was still very audible, luckily. You have to give this man credit to have an amazing live voice which sounds just as great and crystal-clear as on any of his studio recordings. Something which not all singers can claim! Ironically HUSSEY proved what amazing things one single man can do and that one single man is sometimes not enough. Songs like 'Severina', 'Amelia', 'Like A Child Again' or THE CURE's 'A Night Like This' give you goose bumps all over your skin when performed in such an intimate setting by such a great artists. On the other hand it was a little difficult to stay focussed in the middle of a 160-minute set of slow burner after slow burner – something that a few other attendees felt too, obviously, as they would not stop talking and babbling during the show.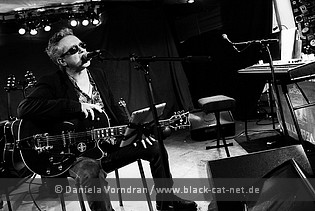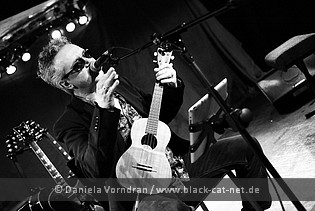 Some of them apparently didn't even try to be focussed as they blabbered with their pals the entire night, including the softest and most intimate moments of the performance. This can be pretty irritating at such a small acoustic solo gig! At least there were hardly any people who watched the whole show through the screens of their mobile phones or other devices, maybe because this was pretty much a 40+ audience. In the second half of the performance HUSSEY grabbed anyone's attention again with an epic medley of 'Wasteland', 'Lucky' and 'Like A Hurricane', an unexpected rendition of GEORGE MICHAEL's 'Careless Whisper' and his own version of 'Personal Jesus' where the reception proved that there must have been quite a few DEPECHE MODE fans in the house. During 'Butterfly On The Wheel' HUSSEY had to stop to ask some people in the front rows to go to the back of the room if they'd prefer to talk, which was one of my personal highlights of the night. Not just because of the long-awaited "yeah, make them shut up!" moment but also because the stripped down version of this song is so more touching than the (already really great) original.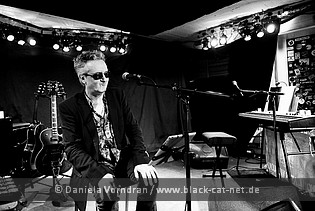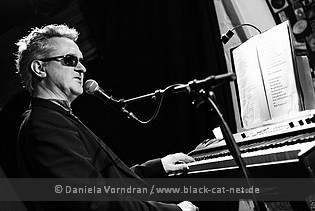 WAYNE HUSSEY was quite generous with his encores, doing a second block of THE MISSION songs exclusively, including the haunting 'Beyond The Pale' and 'Litany for the Faithful', which finished the 30-song marathon. You really get great value for your money when you go to see WAYNE HUSSEY live, not just in terms of quantity but also quality. His brilliant musicianship is undeniable, HUSSEY is a perfect professional who clearly loves what he's doing up there on stage. I certainly would go again to see him any time!
Setlist

01.
Madam G
02. All Along the Watchtower (Jimi Hendrix cover)
03. Island in a Stream (The Mission song)
04. House of the Rising Sun (The Animals cover)
05. Like a Child Again (The Mission song)
06. You Are Not Alone
07. Blood Brother (The Mission song)
08. Black Mountain Mist (The Mission song)
09. A Night Like This (The Cure cover)
10. Naked and Savage (The Mission song)
11. Martha's Harbour (All About Eve cover)
12. When I Drift Too Far From Shore
13. Amelia (The Mission song)
14. Wither on the Vine
15. For Ever More (The Mission song)
16. Severina (The Mission song)
17. Black Cat Bone (The Mission song)
18. Wasteland (The Mission song)
19. Lucky (The Mission song)
20. Like a Hurricane (The Mission song)
21. The Bouquets & the Bows
22. Butterfly on a Wheel (The Mission song)
23. Careless Whisper (George Michael cover)
24. Coming Home (The Mission song)
---
25. Personal Jesus (Depeche Mode cover)
26. Swan Song (The Mission song)
27. Next Station
---
28. The Crystal Ocean (The Mission song)
29. Beyond the Pale (The Mission song)
30. Litany for the Faithful (The Mission song)
Rating

Music: 8
Performance: 9
Sound: 8
Light: 0 (there simply was no light show!)
Total: 8 / 10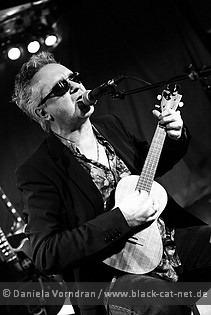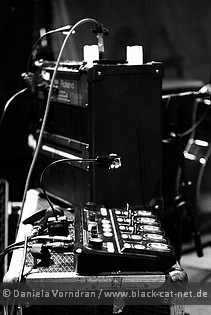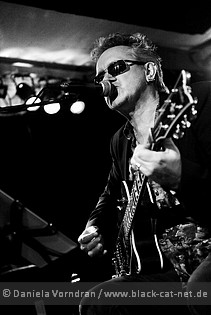 All pictures by Daniela Vorndran (
http://www.vorndranphotography.com
/
http://www.facebook.com/blackcatnet
)
See also (all categories):