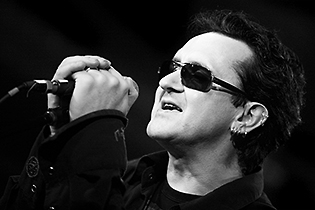 Matrix, Bochum, Germany
8th November 2008
Wayne Hussey, Crowman, Vic Anselmo


In October 2007, Wayne Hussey announced the "second" end of THE MISSION after 22 years "with a minor interruption". After a farewell tour in February 2008, he started to pursue other projects. Right in time for the farewell tour, his first solo album 'Bare' was released, comprising re-recorded THE MISSION songs, it also contains cover versions of bands like U2 or THE CURE and in November he'll be in Germany for a few dates. On 8th November he was guest at the Matrix in Bochum.
Vic Anselmo

The young singer/songwriter from Latvia came in contact with music at an early age. With ten she attended music school to learn piano and later she taught herself how to play guitar. In her teens she formed a live band and gathered lots of live experiences. She was already on stage with big names like Mick Moss (ANTIMATTER) or TITO & TARANTULA. In 2006, she released her first demo CD 'Beverly' and in autumn 2008, her debut album 'Trapped in a Dream'.
http://www.vicanselmo.com/
/
http://www.myspace.com/vicanselmomusic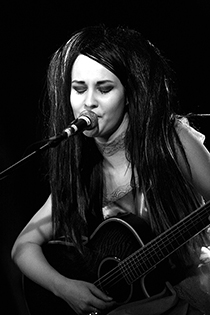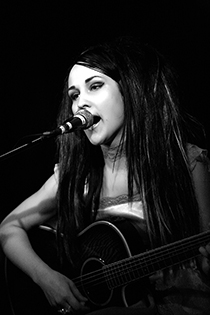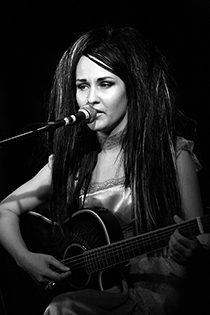 Music & Performance

VIC ANSELMO, not a name that's ringing any bells so far. We just came down to the concert room and stood very much in the middle of the - at this time poorly filled - venue when a delicate young lady in a purple dress came on stage, sat down with her guitar, introduced herself and began to play her fragile tunes on the acoustic guitar, illuminated by various spotlights with a voice that hit me quite off-guard, because I would have never expected such a punchy, powerful yet still brittle timbre in that small person. Many people must have been blown away by her as well as she was surrounded by fans later at the merchandise booth and apparently sold one or the other copy of her debut album.
Rating

Music: 8
Performance: 7
Sound: 8
Light: 7
Total: 7.5 / 10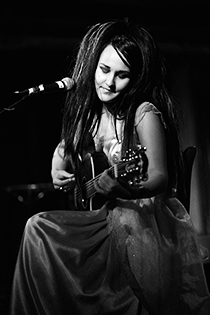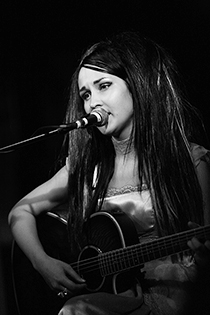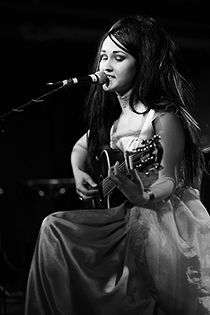 Crowman

The CROWMAN acoustic project consists of musicians from the bands THE COLD and the Prog-Rock band GUM who got together to play new and old THE COLD tracks as well as re-interpreted Wave classics and favourites of the band. CROWMAN are Uwe Liebscher (vocals), Hardo Pfeiffer (guitar), Dirk Henel (guitar), Alexander Meister (bass) and Matthias Caroli (drums, percussions).
http://www.myspace.com/crowmanacousticprojekt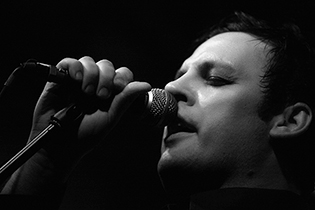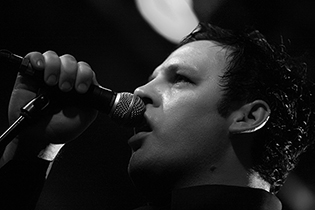 Music & Performance

As a drum set was built up now, we could assume the next tunes would become somewhat more rhythmic; the assumption was correct, whereas the songs were acoustic after all. Uwe, the singer, initially seemed a little bored to me and too emotionless, but that vanished in the later. The band not only played some re-arranged tracks from THE COLD, two members of the band are a part of, like 'Summernight' from the 2004 release 'After All', also the set grasped some cover songs like one from "Youtub" (U2) I know from the radio but just can't recall the title anymore. Funny was that Uwe could sing the song, but read the lyrics from a sheet of paper - fatally reminded me of PETER HEPPNER. Furthermore a cover of THE CURE track 'A Forest' was played. Well, he tried but no one suffers and laments as good as Robert Smith.
Rating

Music: 8
Performance: 8
Sound: 8
Light: 8
Total: 8 / 10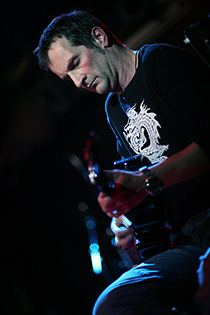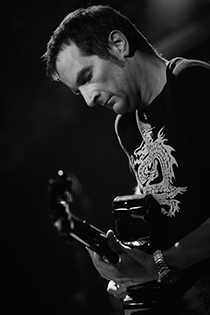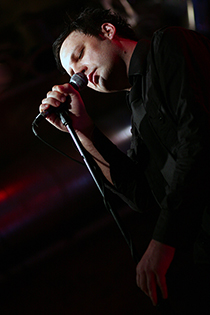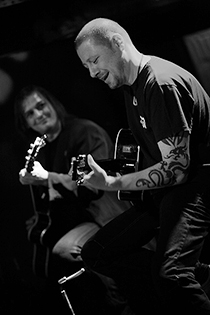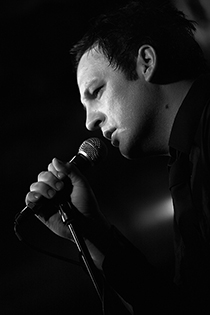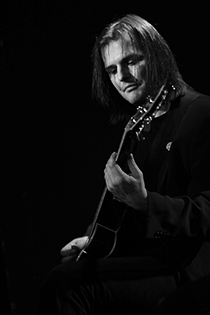 Wayne Hussey

He was a member of the SISTERS OF MERCY and the front man and founding member of the legendary THE MISSION who called it quits after a farewell tour in February 2008. By that time he already released his first solo album 'Bare' which is exclusively available on tour and through the band website.
http://www.myspace.com/waynehussey
/
http://www.themissionuk.com/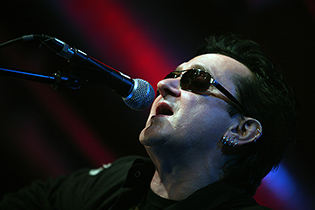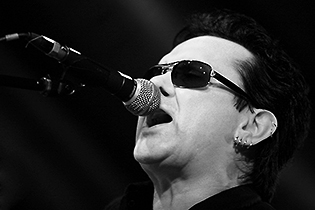 Music & Performance

Now it was time for the man of the evening, if I may say that; and the fans - meanwhile a lot of them gathered up in front of the stage - really wanted to see him now. After all they've had to wait almost an hour, admittedly filled with good music and then he came, an almost empty bottle of wine stood on the ground, you have to have something to drink right? "How are you Bochum?" were his first words, a concordant and loud "Good" was the answer, but Wayne wasn't satisfied yet. "Don't you want to ask me how I am?" Of course we wanted and he told us he's not well, in fact he looked a bit feverish and he really had a cold as we learned later. To "The Mission" now - that was a flat one I know. This concert differed quite much from all I've seen so far. Actually there was no setlist at all, it was more of a musical request programme and there was just the question "What do you wanna hear?" and here we go.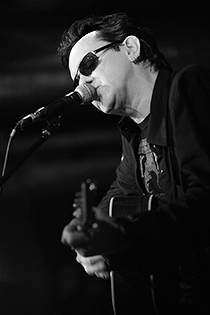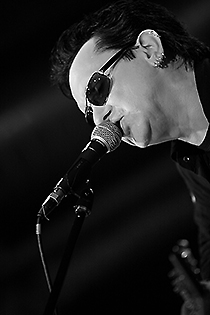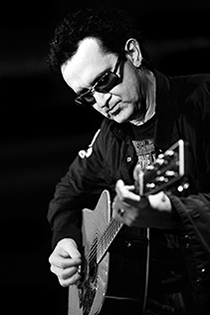 Everyone had their own favourites of course and one of the first songs, that made it was 'Beyond The Pale' hymn-like presented and sometimes the audience was louder than Wayne himself, in-between we got several times a "Mister Sound guy give me some guitar" that went on for quite a while and later Wayne couldn't hold back the comment "Maybe you should just push down that phase button". With 'Stay with me', Wayne's guitar work became more saucy and a little harder. I haven't mentioned it before, but I'm still impressed by his brilliant vocal performance. Some younger bands really could use someone like that. Besides his guitar there was also a piano standing on stage he sat down behind several times. He said he's not a good piano player. I thought there was nothing to complain when he intonated songs like 'Kingdom Come', collaboration between him and the audience again or U2's 'With or without you', honestly I think that was much better than the original.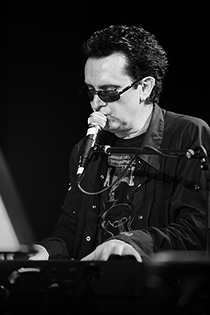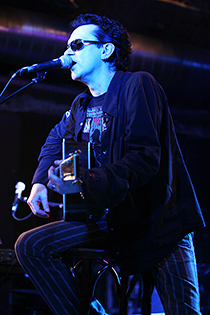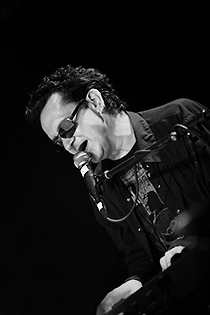 'A Forest' also became a short revival and lamented almost as good as Robert Smith, looked kind of hilarious, then he just stopped in the middle of the song and had to laugh himself, said "I don't feel well" took a "fair" gulp of wine and countered on the reactions in the audience "Yeah, you know me I'm full of shit", but there was still something to come. After he'd left the stage and everyone was expecting an encore, Carlo, Ralf and Peter of the DEAD GUITARS came on stage and played 'Isolation', a song from the new album 'Flags', exclusively available on tour, the regular release is said to be in February/March 2009. Now I regret I didn't buy one at the merch booth as the song is atmospheric, emphatic music at its best and greatly sung by Carlo together with Wayne.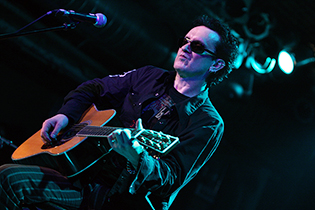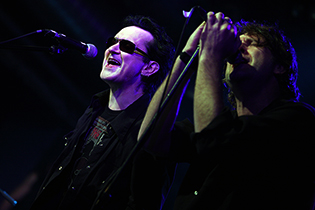 The band stayed on stage for 'Butterfly on a Wheel' with Wayne playing the piano and doing vocals together with Carlo. It was unbelievable, that stream of emotions spreading out from the stage. As the last song of the evening, the heavily demanded 'Bloodbrothers' was played. Actually he'd only five minutes left because some Hip Hop club would open later according to him. We made it the longest five minutes I've ever experienced and everyone sang loudly even without Wayne and even long after he'd left the stage and I guess some folks hoped he'd return but that didn't happen. A splendid concert! Highly recommended to see this man live if you've got the chance!
Rating

Music: 9
Performance: 9
Sound: 9
Light: 9
Total: 9 / 10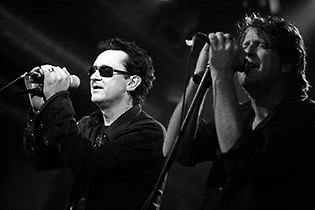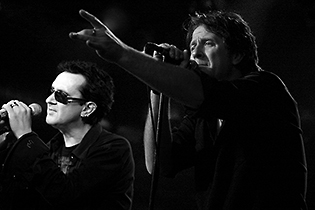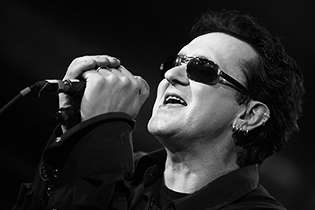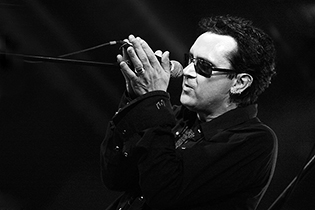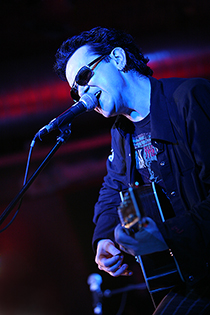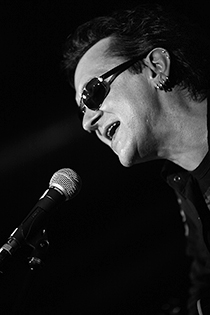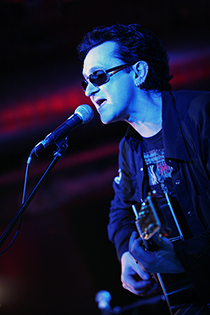 All pictures by Marcus Nathofer
{jos_sb_discuss:17}
See also (all categories):