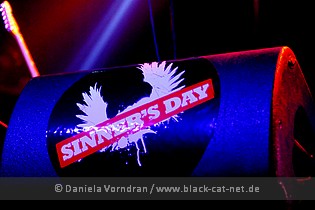 Ethias Arena, Hasselt, Belgium
31st October 2010
Sinner's Day 2010 Main Stage: The Orb, Echo And The Bunnymen, Nina Hagen Band, Marc Almond, Heaven 17, Arbeid Adelt!, Marky Ramones Blitzkrieg, UK Subs, Poesie Noire

Quite early we arrived at the venue, hellishly tired and without having drunk at least a coffee, because it was simply too early. Murphy's Law! Fortunately, we could get hold of some at the venue. After helping a bit to set up a merchandize booth we thought it was time to explore the Ethias Arena a bit more. When we first saw the main stage upon entering the hall we were just speechless. Such a huge construction with larger than life LED screens in the back and on the rear. It was the place where the second band of the day POESIE NOIRE would open the program at this stage after RED LORRY YELLOW LORRY did the same on the club stage earlier.



Poesie Noire

It is unclear when exactly the band started but the first mentioning goes back to 1985 with them winning the Breekend Rock Festival. Their reputation kind of exploded and soon they were supporting DEAD CAN DANCE and THE SISTERS OF MERCY. Their first release was the album 'The Gioconda Smile' from 1985 which should be followed by a plethora of full-length and mini album releases until the end of the 1980s. After more than ten years following the band split, a new album emerges on the horizon called 'Sense Of Purpose', released in October 2010. http://www.poesienoire.com/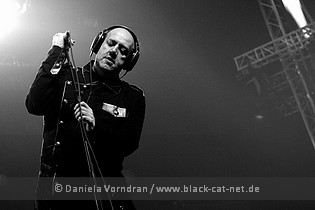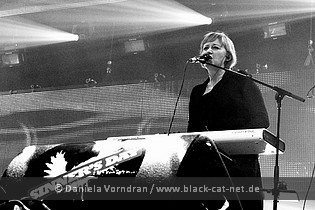 Music & Performance
They just created waves of excitement with the announcement of releasing a new album after such a long time of silence, and now they were playing a show at Sinner's Day festival, got into their positions on the large stage and started, accompanied by a classical-sounding violin introduction before starting with 'Starvation Of A Mind', a danceable electronic anthem. It was followed by a track, upping the pace even more and thus should have been a perfect invitation to dance along, which not many did as far as I could see. For 'The Air', Marianne switched from keys to the front. 'The Air' incorporated more spherical and calm tonalities as opposed to the following 'Earth' that had a rather aggressive stance and reminded me more of a classic EBM track to be honest. 'Déjà vu' had more of a Goth Rock / Post Punk flavour to it, speaking for the versatility the band offers. It's just not something that caught me, really. Still, a lot of people were watching it already and we wondered how it would turn out later this day.

Rating
Music: 6
Performance: 7
Sound: 8
Light: 9
Total: 7.1 / 10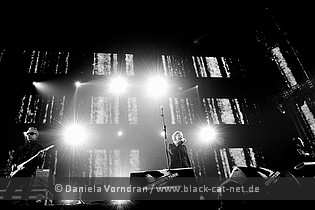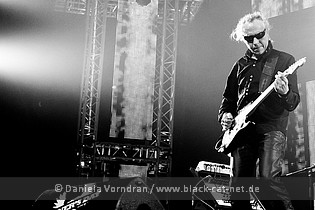 UK Subs

The mid-1970s were the time when British punk band UK SUBS came to life. Before even signing a record deal, they were already playing several of the renowned Peel sessions on BBC Radio 1. The group released their album 'Another Kind Of Blues' in 1979. They even played some gigs opening for THE POLICE around that time. With the 1980 release of the live album 'Crash Course' they had released their best-selling album. Over the years, the band underwent a significant amount of changes with the most occurring in their drummer's department. The band released a multitude of albums until today and still tours the world to play in clubs and on festivals. UK SUBS are Charlie Harper (vocals), Nicky Garratt (guitar), Alvin Gibbs (bass) and Jamie Oliver (drums). http://www.uksubs.co.uk / http://www.myspace.com/uksubsofficial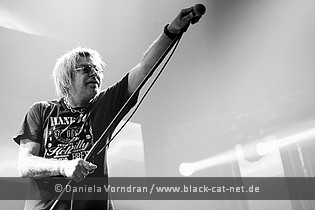 Music & Performance
With the UK SUBS soon to enter the stage we were presented with quite a different stylistic direction compared to that of POESIE NOIRE. It was in the most proper sense of the word punk and just looking at them for a few seconds took you at least 20 years back in time. Clean, rebellious punk rock was what came out of the PA upon the band starting their set with 'CID', a track the band already played live decades ago and which got celebrated as much as it was now. The rebellious attitude in no way seemed to be a fake and the fun the band had on stage was real. As is common with those punk songs, they're quite short and so the track soon made way for 'I Live In A Car', driving at even higher velocity and coming along with cutting riffs you could just shake your head to. The beginning of a journey through years and years of finest music that hasn't lost a bit of its significance ever since it's been created. Cuts like the melodious 'New York State Police', the high-octane attack 'Kicks', or 'Rockers' that exploded out of the blue, kept the crowd on their toes.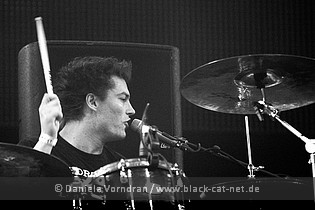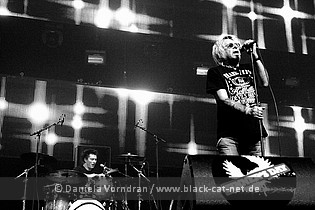 But the band also had something special for the people with the song 'Sinner's Day', actually being the track 'Saints & Sinners' but renamed for the festival and with altered vocals. I must say I enjoyed a lot what I could see before having to head over to the club stage for the next band there.

Setlist
01. CID
02. I Live In A Car
03. New York State Police
04. Squat 96
05. Emotional Blackmail
06. Kicks
07. Left For Dead
08. Rockers
09. Sinner's Day (Saints & Sinners)
10. Bitter & Twisted
11. Limo Life
12. Endangered Species
13. Tomorrow's Girls
14. Warhead
15. Riot
16. Strangle Hold

Rating
Music: 7
Performance: 7
Sound: 8
Light: 8
Total: 7.3 / 10


Marky Ramones Blitzkrieg

MARKY RAMONE was drummer with the legendary RAMONES for about five years which he's probably most notable for, but played in a variety of other bands as well. For example the hard-rock band DUST he recorded two albums with upon starting his career in 1971. With his newest band MARK RAMONE'S BLITZKRIEG, he's paying tribute to THE RAMONES and touring the world. http://www.myspace.com/markyramone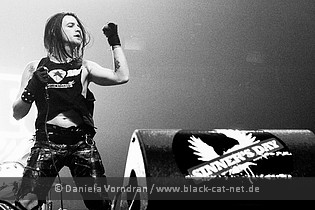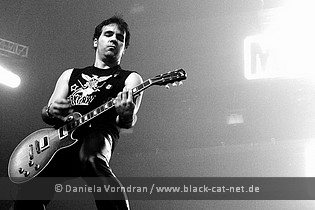 Music & Performance
He who still holds up the flag of that legendary punk rock band THE RAMONES, as mentioned, is touring the world to pay them tribute and on this day arrived in Belgium to give the craving fans a good time. Marky remained in the back at the drums while a young guy at the front was taking over vocal duties. The band thought of a different way to present the songs with not much more than a 2 second gap between each. That fact, however, must have confused many who didn't realize how many songs already had been played and so the photographers could take their time to take their shots. The party started with 'Rockaway Beach' and continued with 'Teenage Lobotomy', next up posing the question 'Do You Wanna Dance?' So did they want to? Yes, they did and they did it quite happily, frankly spoken. With not that much of a pause between the songs, the entire performance naturally required a higher level of energy.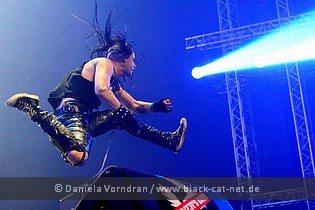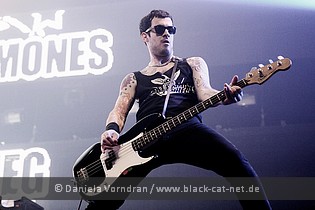 Of course that was not a problem for the young guy at the front, but it was striking to see how Marky, who's not the youngest anymore after all, kept up to further songs such as 'Sheena Is A Punk Rocker', 'Judy Is A Punk'; or 'The KKK Took My Baby Away'. If you were not at least moving your head to the upbeat pleasure you must've been dead already. Thumbs up for that show!

Setlist
01. Rockaway Beach
02. Teenage Lobotomy
03. Do You Wanna Dance
04. Sheena Is A Punk Rocker
05. Havanna Affair
06. Commando
07. Beat On The Brat
08. Do You Remember Rock'n'Roll Radio
09. Carbona Not Glue
10. Judy Is A Punk
11. The KKK Took My Baby Away
12. Chinese Rock
13. I Wanna Be Sedated
14. Cretin Hop
15. What A Wonderful World
16. Rock'n'Roll Highschool
17. I Don't Wanna Walk Around With You
18. Ramones
19. Pinhead
20. Blitzkrieg Pop

Rating
Music: 7
Performance: 8
Sound: 8
Light: 8
Total: 7.6 / 10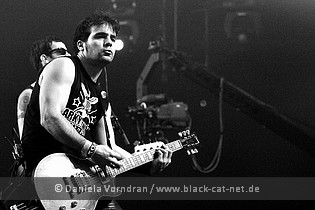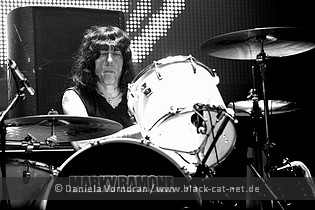 Arbeid Adelt!

ARBEID ADELT! Was formed in 1981 by Marcel Vanthilt (Max Alexander) and Jan Van Roelen (David Salamon). Together they created their first songs with such titles as 'Ik sta scherp' (I'm So Horny) or 'Schuld, mij treft geen ...' (Blame, I'm not to ...). The mini album 'Jonge Helden' would be produced and released soon. Already after their second record 'Le chagrin en Quatre-vingt', they disbanded to come back again, recording a single with an altered line-up and fall apart again. A full-length was released with 'Des Duivels Oorkussen' in 1991 when they got together once again. http://www.myspace.com/arbeidadelt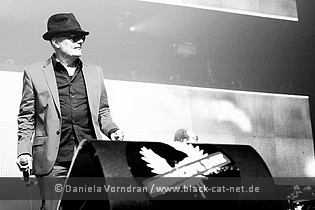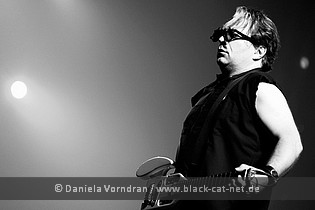 Music & Performance
Well, I was not really sure what I could expect from that band before and if I would like it at all since I was not even able to get anything out of the lyrics because I simply don't speak the language. But I took the chance and after the host of the festival for the first and last time announced a band in German, I found that it was indeed an interesting musical cocktail aside from the lyrical content hidden to me. They played a meld of minimalist electronics & acoustics with partly experimental flourishes and saxophone sounds. The tempo spanned everything from mid-tempo to faster tunes which were all completely danceable. At some point I had the feeling of having actually understood something like "Rotbarsche" but that's as far as it goes and the rest was lost to me. The bowler hat singer Max-Georg Alexander was wearing and which gave him a very posh appearance disappeared after that little foray into chanson. The audience obviously had a lot of fun actually getting what he was talking and singing about.

Rating
Music: 7
Performance: 7
Sound: 7
Light: 8
Total: 7.2 / 10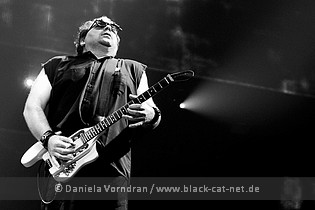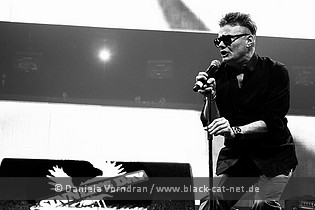 Heaven 17

HEAVEN 17 started beginning of the 1980s, particularly in 1981, and had their debut single '(We Don't Need This) Fascist Groove Thang' out the same year. The single became their first success. The debut album 'Penthouse And Pavement', however, couldn't remotely link to its success. The following 'The Luxury Gap' would feature hits like 'Temptation' and 'Come Live With Me'. In the course of time, the band would make a gradual shift towards acoustic or traditional instrumentation. In 1988 and after the release of 'Teddy Bear, Duke & Psycho', the band called it quits, but reunited in 1996 for the album 'Bigger Than America'. Following this, a couple remix and live albums were released and almost ten years later, the next studio album followed with 'Before After'. It's also their last album until today. 2010 saw them playing a series of special concerts presenting the debut album 'Penthouse And Pavement' in its entirety for the first time in occasion of their 30th anniversary. HEAVEN 17 is Glenn Gregory (vocals), Martyn Ware (keys, vocals), Billie Godfrey (backing vocals), Asa Bennett (guitar), Joel Farland (drums) and Julian Crampton (bass). http://www.heaven17.com/ / http://www.myspace.com/heaven17music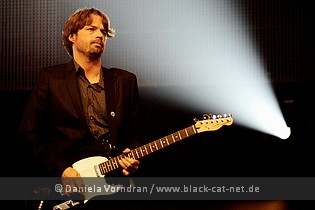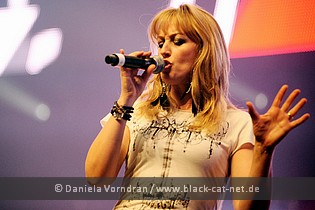 Music & Performance
That surely has been one thing to look forward to at the main stage on this year's Sinner's Day. HEAVEN 17 were about to enter the arena to a really huge audience, all in wait to get reunited with some old favourites of theirs and just to have a good time. Upon entering the stage, the audience freaked out and welcomed them loudly, but not as loud as they welcomed the opening track '(We Don't Need This) Fascist Groove Thang' whose soulful vibes found their way into the bloodstream right away and got the crowd into action. Even though the base of it all was electronically generated the acoustic embellishments and the combined vocal powers of Martyn and Billie gave it all an entirely organic sonic painting. The announcement of the next song being the title track off their 'Penthouse & Pavement' album roused sheer excitement, breaking into happy movement when the song actually started. 'Play To Win' was next and only let you dive deeper into that nostalgic feeling and surely wouldn't make you stop dancing smoothly.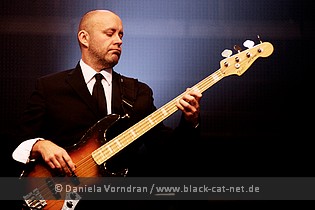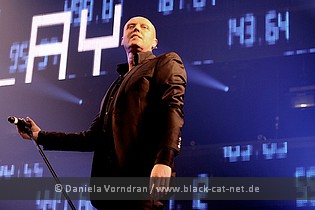 'Geisha Boys And Temple Girls' brought to the table a more electronic and clubby flavour than the tracks before while 'I'm Gonna Make You Fall In Love With Me' brought back that compelling soul flavour from before. The thing that really bothers me though was that I couldn't watch that show until the very end to see and hear 'Being Boiled'. But duty called. Anyway, what I could see was amazing and something I surely won't soon forget.

Setlist
01. (We Don't Need This) Fascist Groove Thang
02. Penthouse & Pavement
03. Play To Win
04. Geisha Boys And Temple Girls
05. I'm Gonna Make You Fall In Love With Me
06. And That's No Lie
07. Crushed By The Wheels Of Industry
08. Come Live With Me
09. Sign Your Name
10. Let Me Go
11. Temptation
---
12. Being Boiled

Rating
Music: 8
Performance: 8
Sound: 9
Light: 9
Total: 8.3 / 10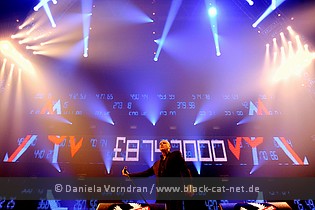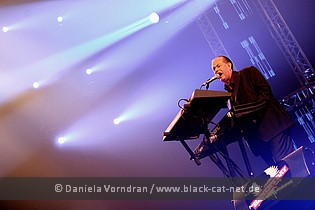 Marc Almond

MAC ALMOND rose to fame as one half of the duo SOFT CELL, founded in 1980 and having that one blasting hit 'Tainted Love' amongst other tracks that kind of drowned in its large wake. In 1984, Almond started his solo career and worked with a lot of well-known artists such as SIOUXSIE SIOUX, NINA HAGEN; or JIMI SOMERVILLE. 2001's performance of Almond and Ball as SOFT CELL for the opening ceremony of a club preceded another SOFT CELL album, released in 2003. In 2004, he was injured badly in a motorcycle accident but could recover completely following several surgeries. On occasion of his 30th stage anniversary he toured through Europe. http://www.marcalmond.co.uk/ / http://www.myspace.com/marcalmondofficial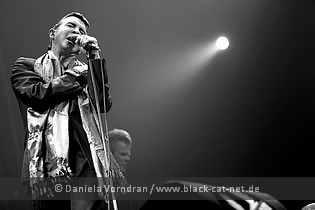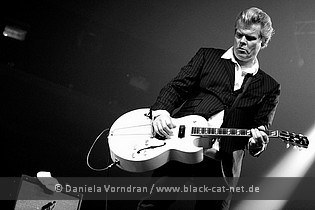 Music & Performance
The man that has come back and hell how he came back. After that horrible accident a few years ago I sincerely doubted he'd ever be setting a food on a stage again. But I, presumably like many others, underestimated the human will and what it is capable of doing. He not only came back on stage it was like the accident never happened and now I was going to see that man performing live and the joy he radiated when entering after his band swept over like a wave and once he started the show with the splendid 'Glorious' the people couldn't hold back anymore. That voice was an incredible instrument to transport any sort of emotion directly into the crowd's hearts. 'Tears Run Rings' would continue to do so and with its rhythms animated Marc to dance lightly like a child across the stage for a while. As the first song off his album 'Variete', he presented 'Nijinsky Heart' coming up with poignant string arrangements and a melodramatic mood that warmed the heart.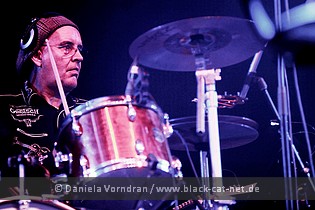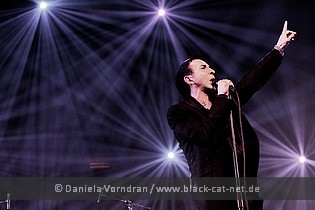 'Bread & Circus' had a kind of theatrical feeling for us and made me picture a vintage play with a couple of dancing actors to the toe-tapping rhythms. With the profound 'Child Star' Marc presented something balladry and calm before with 'The Devil (OK)' a spoken-word performance came along that seemed more like a narrative. Time and again I was amazed by how strong his vocal performance and I called myself lucky having seen him performing.

Setlist
01. Glorious
02. Tears Run Rings
03. Torch
04. Nijinsky Heart
05. Bread & Circus
06. Child Star
07. The Devil (Okay)
08. Jacky
09. The Idol
10. Brilliant Creatures
11. Bedsitter
12. Sleaze
13. Joey Demento
14. Tainted Love

Rating
Music: 8
Performance: 9
Sound: 9
Light: 8
Total: 8.5 / 10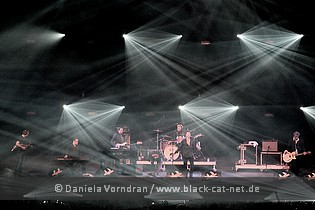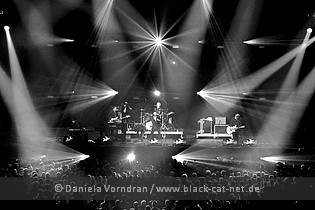 Nina Hagen Band

In fact, NINA HAGEN BAND was the first band of NINA HAGEN after she's relocated from East to West Berlin end of the 1970s. The band produced 2 albums after which the band split up and Nina Hagen pursued a solo career, and a quite prolific and illustrious one at that. Over the course of her career, spanning three decades by now, she's released around 13 albums, many of which receiving an English counterpart release. The newest album is called 'Personal Jesus' and was released in 2010. But when playing live she of course is backed by a band again. http://www.beepworld.de/members77/ninahagendas/ / http://www.myspace.com/ninahagenrocks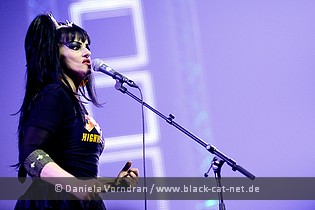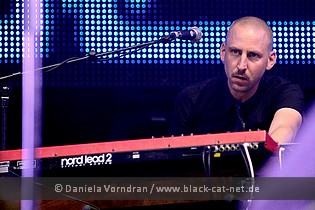 Music & Performance
I had some expectations for the show of NINA HAGEN and her band. But I couldn't know how strange it would be turning out in the end. Nina recently released a new album, called 'Personal Jesus', which was also the opening track of her set at the festival and I'm sure you've got a good idea already whose song she covered here, and it was absolutely strange hearing that DEPECHE MODE song in a soul / gospel clothing, sung by a woman wearing a shirt that utilized the AC/DC style logo, changing the text to "Jesus". An indicator for the further stylistic direction of the show? You can bet on it. The next song already announced itself with "We are the riders on the storm..." with a timbre sometimes sonorous; other times having a rather freaky appeal.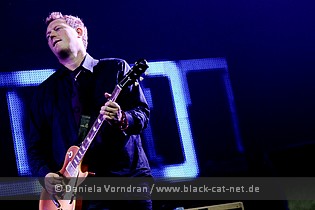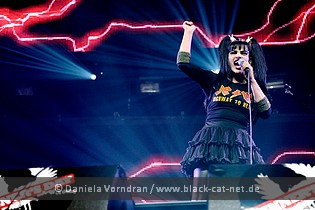 The next song was a tiny German tune called 'LSD', seeing her goofing around on stage while performing. Before 'Help Me Lord' started she told us about a dream she had of Elvis, I don't know if it was his ghost or not, letting her take over the "leading role". That Elvis guy is always up for a surprise. With strange feelings about what I had just seen I left for the club stage at some point.

Rating
Music: 6
Performance: 7
Sound: 8
Light: 7
Total: 6.8 / 10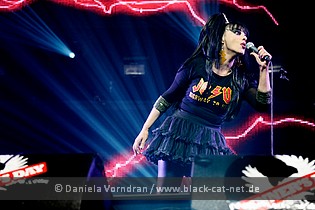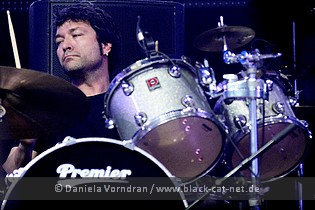 Echo And The Bunnymen

The band emerged back in 1978. The same year they already made their live debut, followed by the first single 'The Pictures On My Wall'. Having used a drum machine up to that point, the debut album 'Crocodiles', which met with high critical acclaim, saw them switching to a human version. The sophomore 'Heaven Up Here' from 1981 would become an even bigger success than the debut in every department and paved the road to mainstream success, cultivated even more with the follow-up album 'Porcupine', reaching #2 of their native's chart. However, the band fell apart one day instigating an attempt to try it with a different line-up which didn't meet with excitement. ECHO & THE BUNNYMEN were resurrected again in 1997, releasing a new album with 'Evergreen', followed by 4, more or less, successful albums culminating with 'The Fountain' in 2009. http://www.bunnymen.com/ / http://www.myspace.com/thebunnymen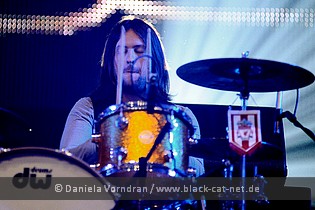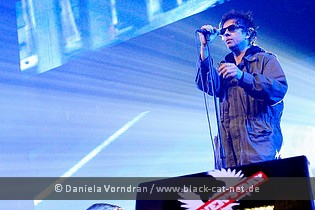 Music & Performance
If you could be astounded by one thing then it was the fact the organizers managed to get that group on the festival for a gig, a gig that was highly anticipated by many and which soon got impressively introduced with 'Going Up' as a mildly pushing compound that thrilled the audience. In the following, the band called for 'Rescue', taking on a rockier painting than the track before, yet with caressing melancholy in abundance and when Ian reached "It's just the blues I'm singing" you would buy it and fall into unrestrained applause once the song ended. In-between songs, he's been talking quite a lot to the audience yet it was kind of hard to get anything off the accented speech. Ok, now back to the music and 'Villiers Terrace' that with its piano melodies full of poignancy and autumnal melancholy made for an unforgettable hymn, the people were surging within. One of my highlights was the travelling across the 'Seven Seas' which we could look on from an elevated position with an incredible view on the scenery and the rain of light it was illuminated with.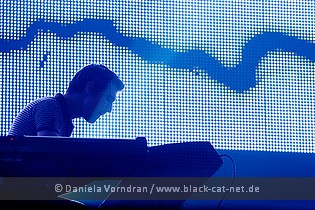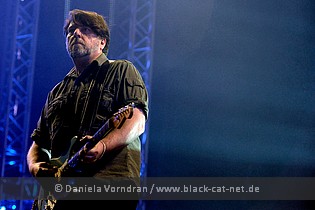 But an even better moment arrived with 'Zimbo (All My Colours), indulging in widely reverberating drums, framing an acoustic picture of thought-provoking landscapes, painted with sonic colours. That one was certainly nothing to dance to and I could spot no one doing it while the song was running. Following 'All That Jazz' offered opportunity enough to do so, spilling a classic rocking charm through its drum section. One of the band's best-known hits off the famous 'Ocean Rain' album was coming up with 'The Killing Moon' - one or the other might know it from the Donnie Darko movie as well, A groovy ending has been given with 'The Cutter' which was intended as ending, but not served as ending due to the fans never-ceasing screams and shouts. So the band came back and the show concluded with the beautiful 'Nothing Lasts Forever' and the never-ending 'Lips Like Sugar'. The remaining question was: Could THE ORB top it?

Setlist
01. Going Up
02. Rescue
03. Villiers Terrace
04. Do It Clean
05. Seven Seas
06. Bring On The Dancing Horses
07. Think I Need It Too
08. Zimbo (All My Colours)
09. All That Jazz
10. Never Stop
11. Back Of Love
12. The Killing Moon
13. The Cutter
---
14. Nothing Lasts Forever
15. Lips Like Sugar

Rating
Music: 9
Performance: 9
Sound: 9
Light: 9
Total: 9 / 10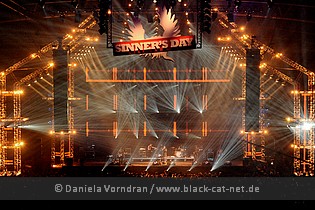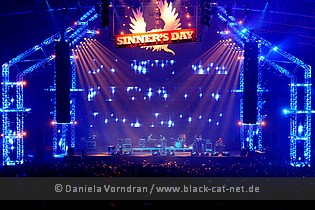 The Orb

THE ORB was founded in 1988 and in its early days the two worked as ambient and house DJs. A first release came with the 'Kiss 'EP. But the thing that made them really popular was 'A Huge Ever Growing Pulsating Brain That Rules From The Centre Of The Ultraworld', a little track of 23 minutes. When the next hit 'Little Fluffy Clouds' had been released, one of the founding members had left the band already and got properly replaced. Over the years to come THE ORB would become some kind of a sonic chameleon with an ever changing base of sounds and differing sonic explorations before returning to their roots eventually. The most recent album released is a collaboration with David Gilmour of PINK FLOYD called 'Metallic Spheres'. THE ORB is Alex Paterson and Thomas Fehlmann. http://www.theorb.com/ / http://www.myspace.com/orbisms

Music & Performance
Regarding the decreasing of the crowd in front of the stage during the changeover and later even during the show. The answer whether they did it or not must be a "NO". The stage setup minimized for their performance with just two tables with a plethora of machines on them placed in the middle of the stage. 'Chucks Peaks' opened the grand finale of the day by embracing everything with ethereal layers, getting gradually thicker and which soon were underscored by monotonously pumping beats while the stage was steeped in psychedelic colours. Here and there a new element appeared in the sound close before the other would become totally unnerving. Spacey effects additionally added an element of limitless width.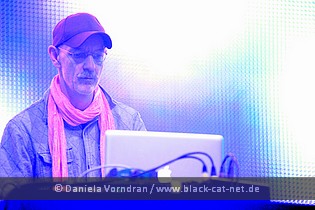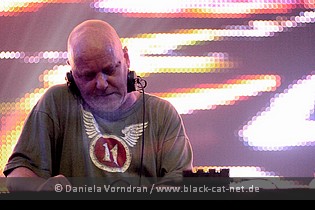 The 'Towers Of Dub' injected some more sonic colour, drenching everything in a delay and upping the tempo of the thing a bit. Occasionally you saw people dancing. Also THE ORB were up for dancing it seemed. It was an unexpected way of dancing, but it showed the guys had fun with what they were currently doing. Soon, the 'U.F.Orb' would be touching down and bring us a pulsing rhythm with a variety of sound gimmicks amidst sparkling melodies. All the compositions had one thing in common: They were long! You couldn't exactly tell how much but they kind of stretched on for miles. When THE ORB finished with 'Captain Korma', they left a sparse and tired crowd, including us who wanted to get into a bed fast. A whish that wouldn't be fulfilled so soon we had to learn.

Setlist
01. Chucks Peaks
02. Towers Of Dub
03. No Change For Gold
04. U.F.Orb
05. Waltz
06. Kan Kan
07. Dolly Unit
08. Fluffys Medley
09. Captain Korma

Rating
Music: 6
Performance: 6
Sound: 8
Light: 8
Total: 6.6 / 10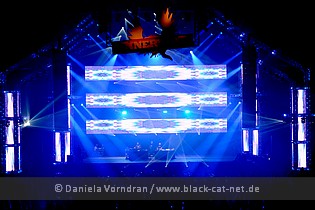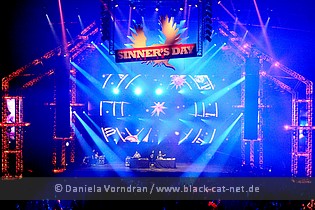 All pictures by Daniela Vorndran (http://www.vorndranphotography.com/ / http://www.black-cat-net.de/ / www.myspace.com/vorndranphotography)
{jos_sb_discuss:17}

See also (all categories):