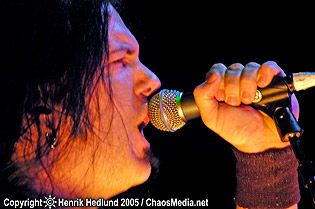 Rockefeller & John Dee, Oslo, Norway
March 24-26th, 2005
Nebular Mystic, Mortiis, Lamented Souls, Amon Amarth, Hatesphere, Morbid Angel, Grimfist, Deceiver, Aura Noir, Zeenon, Arcturus, Nattefrost, Obliteration, Grave, Gehenna, Sunn0))), Dissection
Norwegian Inferno Festival has under its five year long lifespan grown to become one of the most interesting among the Scandinavian metal festivals. Each year they have an interesting array of excellent bands, spanning most genres of extreme metal. I had my first visit last year and I just had to come back for another serving this
year.
The festival spans three days and this year there were no less than 30 bands sharing its two stages. Since it's mandatory to drink a lot of alcoholic beverages when you're on a festival, and the 30 bands pretty much occupied almost every minute of the opening hours of the venues, I had to rationalise and sacrifice a bunch of them. Thus I will only cover a bit over half of them, but rest assured the rest of the time was well spent with a big frosty beer in my hand.
Nebular Mystic can easily be labelled one of the best Norwegian demo-bands right now. Formed in 1999 this black metal legion has released four demos, and it seems the next release will actually be their debut CD.
I had the opportunity to see Nebular Mystic last year at the same venue when Wolf's Lair (a metal store in Oslo) had their five year anniversary party. At that time I had heard about them, but never actually heard their music and I must say I was pleasantly surprised. The music is traditional Norwegian black metal, but what differentiates Nebular Mystic from the masses of other bands in the genre, is that they're actually good. It's quite strange that they haven't received better recognition and had more success than they have, since they really deserve it.
Seeing that Nebular Mystic is only the third band playing on the first day of the festival, there's actually an impressive amount of people watching the show. The sound is great and even though the performance is a bit shaky at first (stage nerves perhaps?), they quickly find themselves and put on a great show. Vocalist Dis does a great job and both guitarists flanking each side of the stage really grooves with the music. There's not much interaction between the members though, which would have put another dimension to the performance…
Musically Mortiis has grown quite a lot the last couple of years and even though I really liked his early stuff, the newer material really strikes a chord in me. I guess being force-fed electronic music like EBM and synth-pop by my girlfriend for a couple of years helped lowering my standards… On stage the bands feels like band, and not just a bunch of musicians supporting Mortiis. Each member brings his piece to the table, just as it should be, but the main focus is no doubt on Mortiis himself. This is not necessarily a good thing since the vocals are really sub par. They are much different than on record with more screaming and less actual singing. On top of that there are also tons of effects (probably to cover up the quality of the vocals), and as if that wasn't enough, the sound is pretty bad with the vocals being drowned in the rest of the music.
Performance, now this is an area where Mortiis really shines! The man doesn't stand still for one second. He's all over the stage, dancing and hopping around. The performance is actually so good that I'm willing to forgive the man for the vocals…
Lamented Souls formed in the early nineties inspired by bands like St. Vitus, Cathedral, Black Sabbath and Kiss. The band consists of many prominent figures in the Norwegian metal scene, for example Apollyon of Aura Noir/Cadaver and Simen "Vortex" Hestnaes of Arcturus/ Borknagar/ Dimmu Borgir.
The vocalist is a huge hippie-like creature that lunges around the stage. Other than that there's unfortunately not a whole lot that happens up there. Not that that's a huge problem, since a lot of action wouldn't fit the music well, so I guess I shouldn't complain.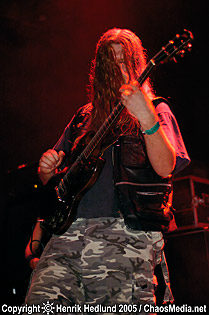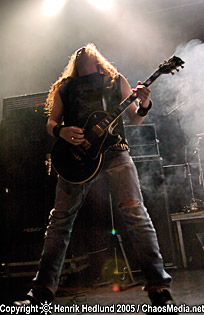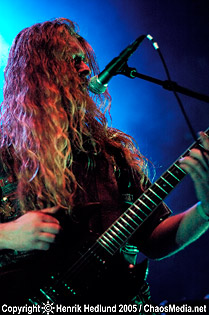 I'm usually not a huge fan of mid-tempo music live and the few times I've seen Amon Amarth I haven't been all that impressed. Tonight, however, was different… The guys were really on fire and the music was extremely tight and well executed! If I had a few more beers under my belt I'm certain I would be ecstatic over the gig (Amon Amarth and alcoholic beverages are pretty much synonymous), but now I'm just happily watching the show with a big grin on my face.
There's an appropriate amount of thrashing happening on stage, and a whole lot of synchronised head banging. I love synchronised head banging, an art Amon Amarth has mastered, and together with the excellent lighting the total experience is just perfect; very powerful and, I think the word I'm looking for is 'mighty'.
John Dee's small stage is just perfect for Hatesphere, making the performance a real intimate one with the singer constantly clinging out into the audience. When I'm in the pit in front of stage photographing I'm actually in the way of his relentless thrashing around the stage, and I end up being trampled on…
Morbid Angel with Steve Tucker is a good deal, but to be honest, Morbid Angel with David Vincent is much, much better. It feels like the lost son is back home again and old classic songs have never sounded better. This night we're treated to tunes such as "Maze of Torment" and "Immortal Rites", and a dear personal favourite, "God of Emptiness". When I saw Morbid Angel last summer the drums were so loud that one could hardly breathe at the front of the stage. The drums are not quite as bad this time, but they're still too predominant…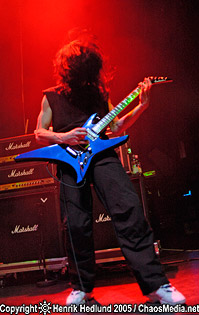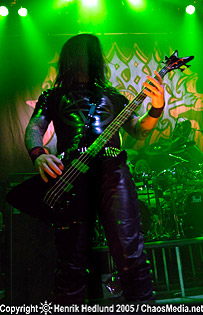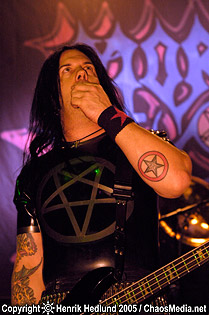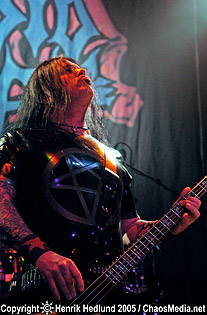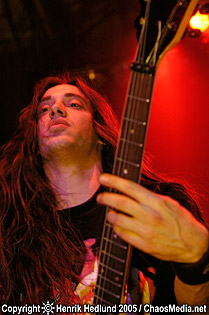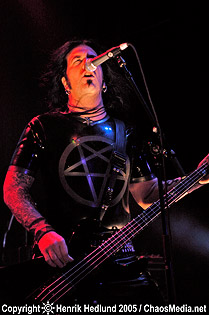 At first glance I would say that Grimfist's music isn't anything special. We have all heard it before. But after a while, it kind of grows on you. The music can best be described as Pantera mixed with a fistful of death metal, a pinch of black, and finally a touch of classic heavy metal. As it turns out, it's quite a tasty brew after all.
The performance is pretty intense and the vocalist a funny guy. Other than that, the show was quite ordinary; not bad at all, but it didn't offer anything special either.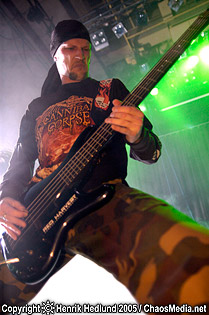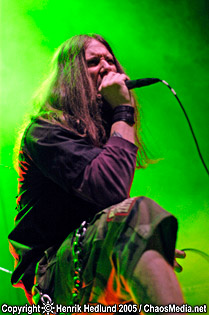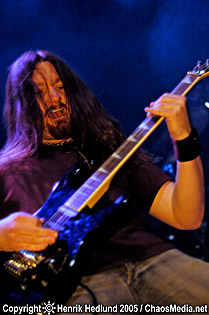 These Swedes contributed a valuable break from all the typical black/death of the Inferno Fest. Their traditional and groovy thrash was delivered straight, fast, and without any unnecessary complications, a feat that felt really good for a while. On the other hand, it offered very little in terms of surprises, or rather, none at all and that just makes it bland in the long run.
During their performance it almost felt like I had travelled back a bunch of years to the golden years of metal. Their vocalist is sporting a typical 80'ies thrash outfit, complete with a fussy moustache that would make every fourteen years old green with envy.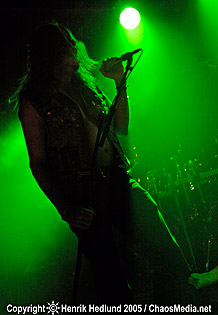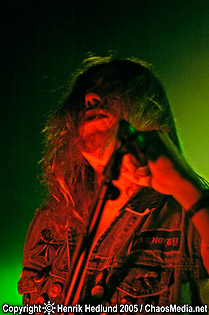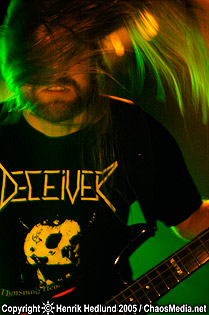 It's pretty obvious Apollyon feels more at home in Aura Noir than in Lamented Souls, who played yesterday. While he was quite passive during that show, this time he's quite the opposite, switching microphones and moving all over the stage. Guitarist Blasphemer isn't doing a bad job either, but he's pretty much covered in smoke in the darkest corner of the stage, so he's more or less taking a back seat role in this whole venture.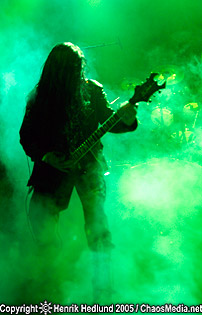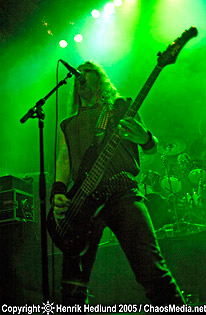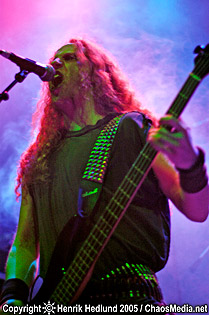 Aggressive music delivered by three gals 'n' one fellow, is that really something appetising? Actually, the answer is yes… At first I though that Zeenon wouldn't be as interesting if it wasn't for the fact that they are female, but since then I have revised my opinion and I must say that their music holds up regardless of gender. There are some very interesting grinding guitars and melodies, but as with most music these days, it has been done before.
All the members seem to be enjoying themselves tremendously on stage, and especially the vocalist does a pretty good job keeping the show rolling. To sum up: it's nothing extraordinary, but really not bad at all.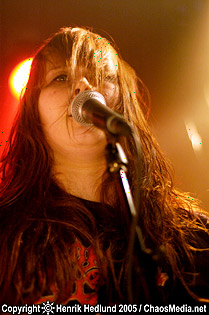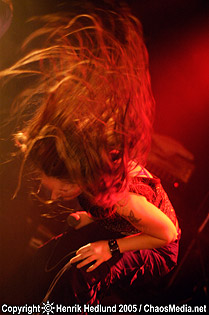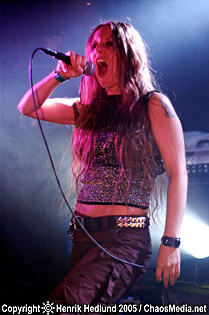 Arcturus, by some viewed as one of the most original and innovative bands in the metal world today, began in the late 80'ies as the death metal trio Mortem. During the 90'ies the band changed style and transformed into the macabre operetta that today is known as Arcturus.
Now, Arcturus' show, that's a whole different ballpark! It's a surreal theatre featuring pyrotechnics and cosmic jokers intertwined with masked dancers, and not to forget singer Simen "Vortex" Hestnaes with his slithering motions.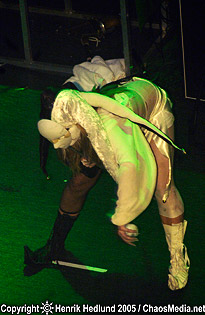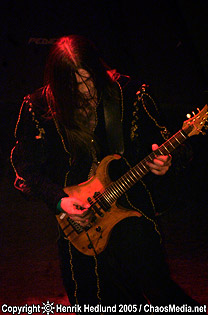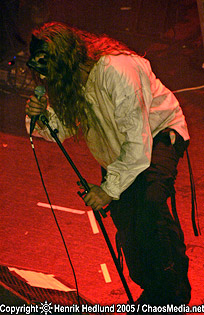 The madman, and Carpathian Forest front-figure, Nattefrost is on a mission to bring filth and scat into the metal world. Armed with his fellow gimp, Vrangsinn, and his favourite pair of high heel boots he's soon to infest a stage near you!
Nattefrost enters the stage sporting high heels, fishnet stockings, and g-string panties. His minion in distaste, bassist Vrangsinn, wears nothing other than panties and a pair of fake boobies. Nattefrost handles guitar duties together with Hoest, more known as vocalist in Taake and Ragnarok. Neither of them is particularly good, but I guess that's not the point of Nattefrost the "band". Rather, it's all about being as repulsive and disgusting as possible; a feat the band manages rather well. Between songs we're treated intros which are recordings of Nattefrost pissing and puking… Yummy!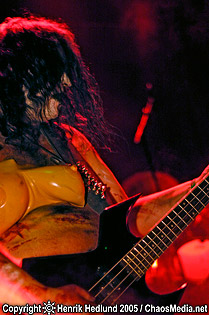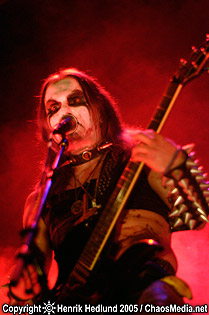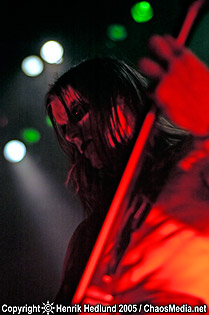 Obliteration is a young band in many respects. Formed in 2001 by four young Norwegian guys inspired by acts such as Morbid Angel, Slayer and Cannibal Corpse, this band is at the beginning of a journey to something great.
I have heard some say that Obliteration is the future of Norwegian death metal. Perhaps this is not a bad description; taking these guys' age into account, they are pretty impressive. However, at the moment I don't think they bring enough news to the table to lifted to the skies, but give them a couple of years and this might really become something big!
The vocalist doesn't need any help with putting on a good show. There's a whole lot of helicopter head banging going on here and what's better at a death metal show? Nothing! The string benders on the other hand, they could use a lesson or two, but I guess their inability to move could just have been nerves…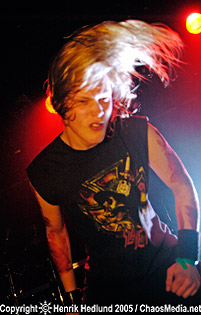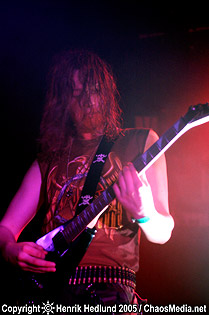 By some considered to be one of Sweden's finest, these old men have put the development of Swedish death metal since the mid-80'ies. If you're looking for a modern flavour, you're in the wrong place; this is old school to the bone!
This is death metal; nothing more, nothing less. 'Nuff said!
The guys in Grave certainly are no spring chickens and know how to put on a heavy show. It has all the ingredients a death metal concert requires, such as a whole lot of aggressive thrashing and head banging, but I just can't help thinking that Vomitory (who I also know wanted to play at Inferno) would have looked a whole lot better up on that stage.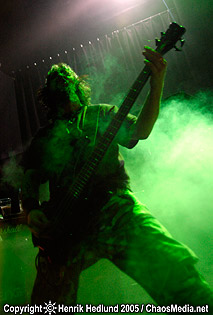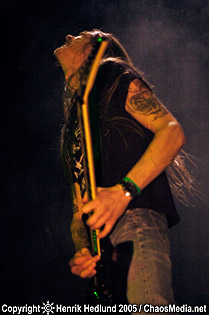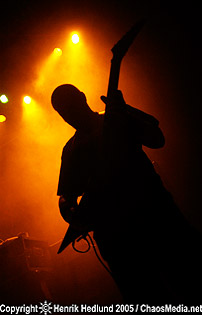 Norwegian Gehenna (not to be confused with Swedish street metallists Gehennah) has been around for more than ten years. With six albums under their belt they have been a well-known act of the second wave of Norwegian black metal, spawning tunes spanning from mid-tempo material drenched with keyboards, to raw primitive aggression.
Gehenna is probably the most stationary band in the world. These guys really don't move unless it's absolutely necessary, and apparently that wasn't the case during the show. Other than the immobilized statues on stage, the concert was a nice little moment.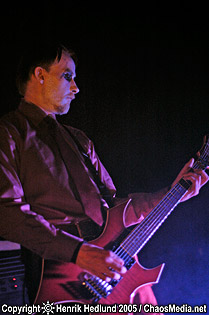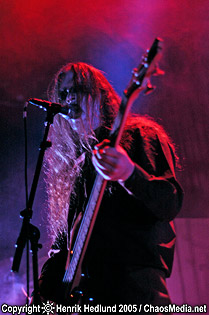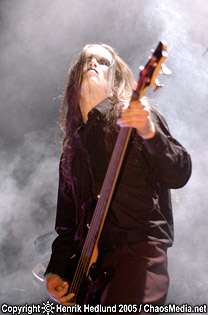 I had seen Sunn0))) mentioned quite a lot on various forums and been unsuccessful in finding any in-depth information about this apparently mysterious band. Hence I was really looking forward seeing them at Inferno and got to their show early. On stage there was a huge wall of guitar amplifiers and a massive amount of smoke. As it turned out, there would be plenty more smoke coming up as well, which I experienced first hand since the smoke machine was aimed pretty much straight at my face.
I know now that Sunn0))) is an experimental noise project, something I can enjoy once in a while if my mood is right, but that evening, being totally unprepared of this, I thought it was the biggest piece of shit ever… That's why I prefer not to grade this show.
Formed in 1988 by Jon Nödtveidt, these guys need no introduction. Back in the 90'ies they released a couple of highly acclaimed albums, but then Jon had to go to prison for a while and things fell silent. Now they're back (I use the word "they," but in reality Jon is the only remaining member of the old band) to unleash their anti-cosmic chaos upon the world.
Unfortunately I didn't have the possibility to go to the first Rebirth of Dissection concert in Stockholm (Sweden) last year, but from what I've heard it was pretty uptight and the performance contained a lot of glitches and errors. The time passed since then seems to have been well spent, with a lot of rehearsing, because this time all the pieces of puzzle are in place and we're treated to a massive show with classic after classic delivered in a fast pace. In fact, the only new song played this dark evening was "Maha Kali" off their new single with the same name.
How about the actual performance itself? Main-man Jon is on fire and it's clearly visible that he enjoys every second of it. The guy has stored up a whole lot of energy during the last years, and is just bursting to get it out!
The grand finale of the evening was a cover of Tormentor's "Elisabeth Bathory," with a special guest appearance of Attila (Tormentor/Mayhem) on vocals. Unfortunately, this is also the moment the Rockefeller crew decides to close and shut things down. With only one guitar amplifier, and no microphones working, the band performs what could only be described as an unplugged version of the song with Attila literally screaming at the top of his lungs and the drummer gently caressing the drum-skins to not drown out all other sounds. Pure cult!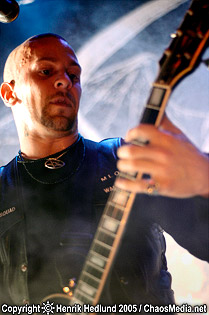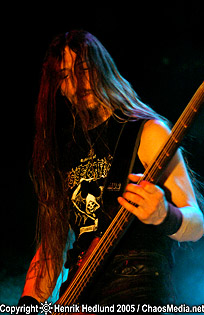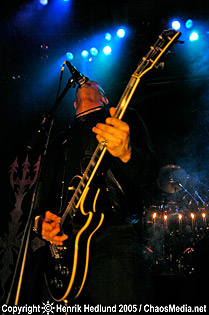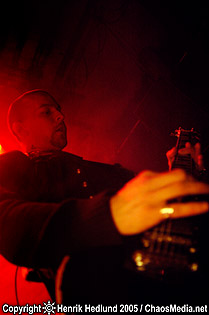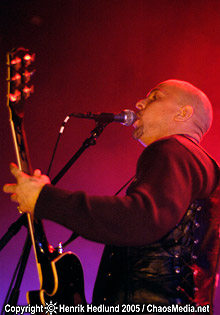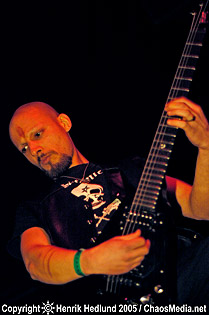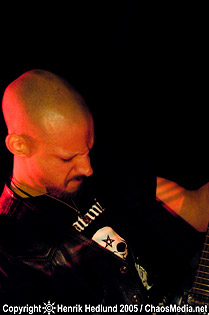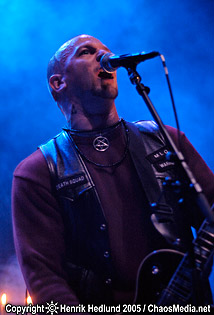 Some minor foodstuffs are served at Rockefeller; hotdogs mini pizzas, baked potatoes etc. Everything is expensive of coarse, but that's all in the vein of Norway where even the smallest of things cost a fortune. My personal recommendation for the hungry festival visitor is to find one of the many kebab places, which serves about the only food you can find at a decent price in Oslo (although stay away from Little Amir down the block from Rockefeller; those gyros taste NOTHING).
Rockefeller has a capacity of approximately 3000 people and most of this area is directly in front of, and above, the stage. By above I mean the two floors of balconies that overlook the stage area and provide an excellent vantage point to get a clear view of your favourite band performing.
On top of those numbers we have John Dee which holds about 400 people, but then the place is stuffed to the brim. The open area of John Dee is not aligned in front of it's stage either, so not all of it is good for watching the bands.
The most negative point of the venues is that there're only about ten small tables between the two places. 10 tables + 3400 people = a bad equation! This is always my main complaint of the festival, and because of this my feet hurt as hell after an evening. But, to look at things from the bright side, this is just another reason to go to Möllers and have a seat and drink a decently priced beer I guess (and miss reviewing even more bands).
The staff is not over-the-top friendly, but nevertheless quite helpful. One thing that struck me was that the security was friendlier this year than last, but the strict prohibition of spikes and bullet belts and the likes, stood just as strong as earlier years.