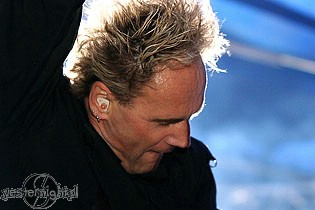 Castle, Bolkow, Poland
28th to 29th July 2007
Castle Party Day 2: Masskotki, Angelspit, NFD, Fading Colours, The Legendary Pink Dots, Mortiis, Front Line Assembly

As far as weather is concerned, Sunday was even worse than the previous day: it was raining the whole day so the courtyard looked like the sea of umbrellas from the early afternoon till late at night. There were moments we were jumping and dancing only in order to warm up so strong and cold the wind was... But in spite of bad weather the number of the people who came was quite large, probably mostly thanks to the bands that were supposed to play: MORTIIS, NFD and for the first time in Poland – FRONT LINE ASSEMBLY.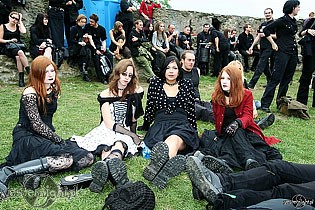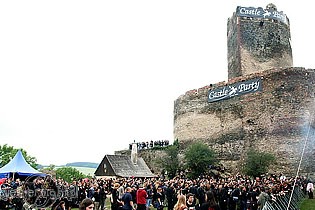 Masskotki
Lady Electra (performing with Procesor Plus) and Katiusza (played bass guitar with Silikon Fest) met on the punk concert in Rzeszow in winter 2001. Soon it was obvious that they have same music fascinations and they want to join their powers in musical duet. That was it: with minimal number of people in the band play on the maximum of the instruments and of course sing, dance and have fun. There was no problem with finding the necessary instrumentation, Lady Dust off old soviet synth Elektronika which she got from her friend from Ukraine, Katiusza bought zoom for bass guitar, and they've got drum machine as well. The songs were written very fast in sprig of 2003, as MASSKOTKI wanted to play firsts concerts on the east countries tour (Belarus, Latvia, Russia) in the end of May. First time they performed in Grodna - Belarus.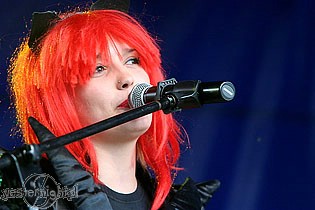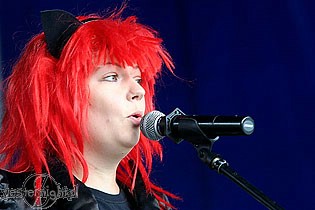 Since then they played around 30 gigs, including tour with Moscow synth pop group ROBOTY in Poland. Their lives are lived in the cruel rhythm of rock 'n' roll so you never know how long they can manage. Still they play, make new songs, in the mean time they eat a lot, and think of new dresses for shows.
http://www.myspace.com/masskotki
/
http://www.mass-kotki.net/
Music & Performance
The look of two ladies wearing devil horns, red wigs and fancy dresses on such a rainy, grey day must have been invigorating, especially it the appearance was supported by means of dynamic, humorous and vivid music. The lyrics treating about joy of life, music, sex, parties and rock 'n' roll were rather light-spirited, proving the ladies support the 'girls-power' attitude. The music being a light, dynamic mixture of key/guitar melodies and capricious, girlish vocals stood for a rather nice example of pugnacious, catchy tunes, a bit repetitive and monotonous at times, but pleasant.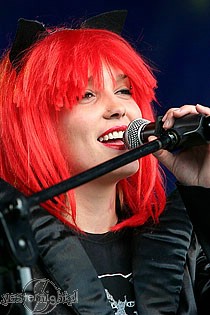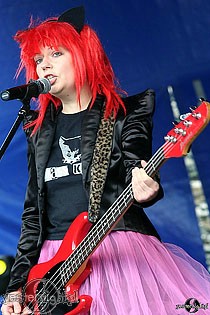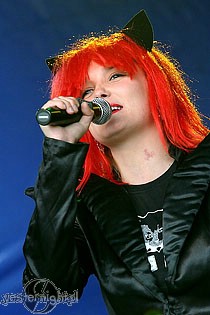 The fact is, the ladies were rather static on the stage, so the whole show was limited to 'enacting' of their songs, but this minor disadvantage did not disturb the audience from giving them a warm welcome and even warmer applause.
Setlist
01. Mass kotki
02. Siniaki
03. Rocco
04. 5-10-15
05. Forever 18
06. Maryja
07. Devochka
08. Alcatraz
Rating
Music: 6
Performance: 5
Sound: 7
Light: daylight
Total: 5.8
Angelspit
ANGELSPIT was formed in 2004 by Karl Learmont aka ZooG and destroyX. Since forming, ANGELSPIT have taken their energetic live show throughout Australia, New Zealand, USA and Europe supporting bands such as KMFDM, FLA, FRONT 242, CRÜXSHADOWS, AYRIA, TANKT and IKON. With their unique blend of industrial, rock, noise, metal and a touch of pop, ANGELSPIT are forging a new style in cyber punk locally and internationally whereas their complex, rich and disturbing imagery enhances the sinister overtones in their music. Their debut album is called 'Krankhaus'.
http://www.angelspit.net/
/
http://www.myspace.com/krankhaus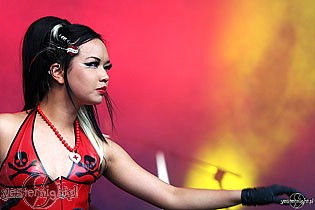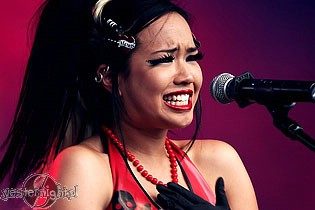 Music & Performance

It's a funny thing with ANGELSPIT - every time I watch their concert the atmospheric conditions seem not to be right for their cool, flashy, latex outfit - at Wave Gotik Treffen it was unbearably hot, at CP the temperatures were far too low to feel comfortable in such clothes... Still, every now and then ZooG and destoyX managed to provide an energetic and dynamic show. The music they play is a kinda mixture of punk, electro and industrial elements formed in such songs that are perfect for scanning them together with the audience: consisting of few syllables, easy to remember, they are really catchy. Very ravishing, hard hitting melodies and expressive scenic manner of the two made the concert really vivid and joyful event. Not to mention that they both looked like colourful butterflies playing on the grey day: latex costumes, hair, make-up and extravagant hairstyles; all that stood for the show of its own.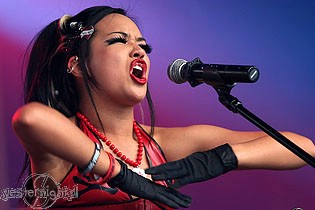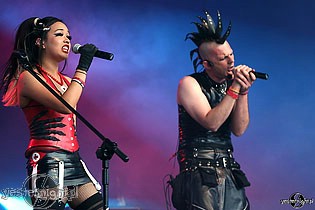 To make the performance even better ANGELSPIT also dance and move vividly (this time it was not only for the sake of the gig, I can imagine how cold it was up there on the stage) imitating the cat movements and jumping. All in all ANGELSPIT concert looked a bit like a disco or a party so entertaining it was.
Setlist
01. A La Mode
02. Elixir
03. Wolf
04. Sin
05. Bitch
06. 100%
07. Meat
08. Vena Cava
09. Maggot
10. Wreak Havoc
Rating
Music: 8
Performance: 8
Sound: 8
Light: daylight
Total: 8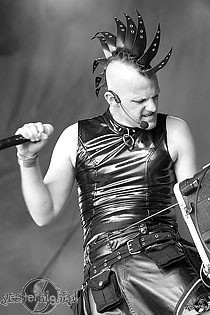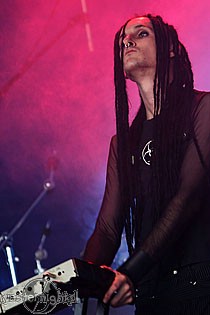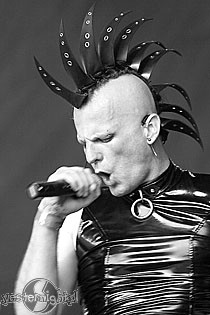 NFD

NFD was established in 2002 in London as a result of the failure in reactivation of FIELDS OF THE NEPHILIM in the original form. NFD are: Tony Pettit - bass (co-founder of FIELDS OF THE NEPHILIM, THE NEPHILIM and RUBICON), Peter Bob White - vocal, guitar (ex- SENSORIUM), Simon Rippin - drums (ex- THE NEPHILIM). During the concerts the band is supported by two additional musicians: Chris Milden and Steve Carey. Their debut album 'No Love Lost', released in 2005 by Jungle, met the enthusiastic reaction of the European press. The German magazine Sonic Seducer set the album to be the best gothic album of 2005. The other reviews were alike.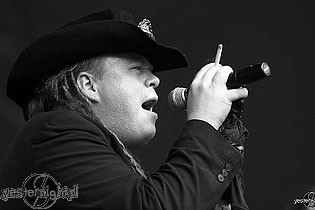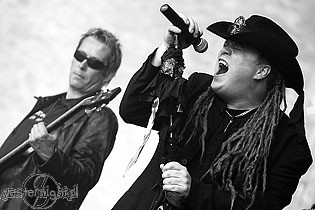 The second album, 'NFD Dead Pool Rising', was released on 30th May 2006. The CD was promoted by the single and video clip to of the track 'Light My Way'. There are many reminiscences of the best albums of FOTN on the newest publishing: 'The Nephilim' and 'Elizium'. At the moment NFD is the most promising band of the gothic scene in Great Britain.
http://www.nfd.web.com/
/
http://www.myspace.com/nfdworld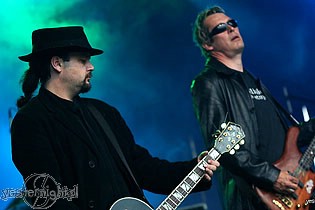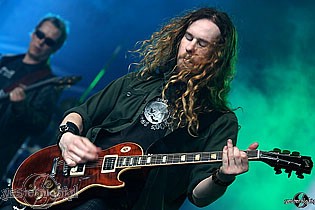 Music & Performance
During NFD concert the rain became really heavy so the sea of umbrellas I mentioned at the beginning made seeing the scene practically impossible. The musicians didn't seem to pay attention to the ubiquitous water (though they thanked the audience for coming in spite all the rain) and gave such an energetic show it warmed the people better than the raincoats and sweaters they were wearing. Hoarse, extremely powerful and appealing vocal of Peter White and pounding, storming guitars at times made impression as if they were coming from a kind of cave or a basement. Reverberations, roaring, overpowering tones and huge sonic waves carrying vast amounts of energy with them was NFD concert gifted us with. I believe it was one of the most kicking gigs at Castle Party.
Setlist
01. Omen (intro)
02. Light My Way
03. Turbine
04. Darkness Falls
05. Stronger
06. Unleashed
07. Descent
08. Caged
09. When the Sun Dies
Rating
Music: 9
Performance: 8
Sound: 8
Light: daylight
Total: 8.5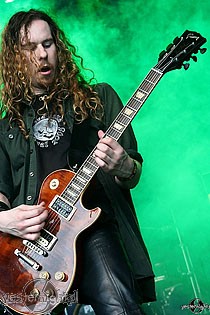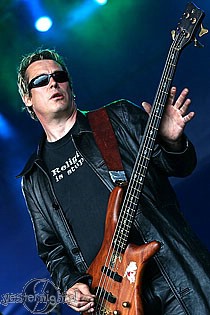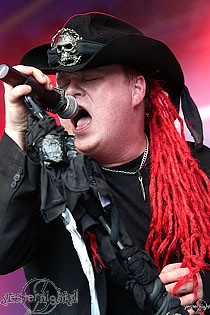 Fading Colours

Everything started in 1986 in Boleslawiec, Poland (near Jelenia Gora). Brothers Leszek and Krzysztof Rakowski, together with Piotr Jerominow and Pawel Nowak, created the band BRUNO THE QUESTIONABLE. In 1988, after two years of hard work, the band debuted at the most important Polish rock festivals - at "Jarocin' 88", "Out Of Control (Warsaw)" and "New Stage (Gdynia)" and they won them all. Soon after, some changes were made: Kasia Ziemek joined the band as a lead singer.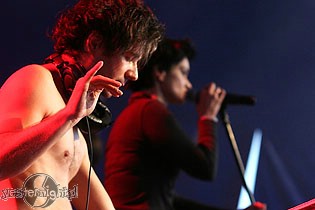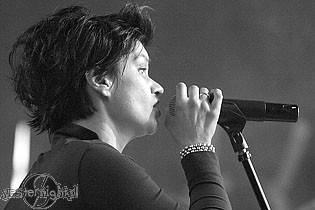 In 1992, an independent German label SPV started in Poland. One of the bands which were signed, along with the likes of CLOSTERKELLER and AGRESSIVA 69, was BRUNO THE QUESTIONABLE. 1993 was a turning point. The album 'Black Horse' was out, and De Coy and Leszek were married. After the release, the premiere song 'Black Horse' became "number one" on many radio and TV stations. The doors to fame were open. The name of the band was changed to FADING COLOURS and many new albums followed, e.g. 'Time' (95), 'I'm Scared Of...' (98), 'The Beginning 89 – 93' (02).
http://www.myspace.com/fadingcolours
/
http://www.fadingcolours.com/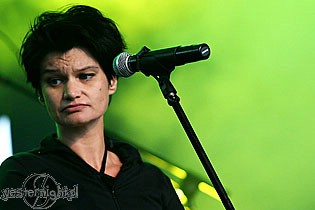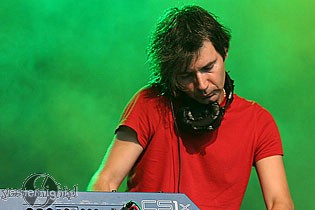 Music
FADING COLOURS' music is said to be the music of emotions, making all the hyper-sensitive people happy, but it also features a danceable, trance, energetic quality following the path marked by such artists as ELECTRIC UNIVERSE. De Coy - the vocalist - has the ability of jumping into such high registers that her voice reminds a scream, so astute that you could give shape to diamonds with it, whereas Leszek Rakowski and Daniel Kleczynski - the musicians - produce the sounds that constitute an independent entity that blends and yet not overwhelms a delicate voice. Danceable, energetic, dynamic or delicate, subtle, meditative - the music of FADING COLOURS has many facets and each of them is equally appealing.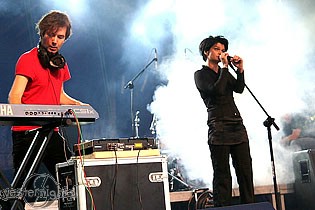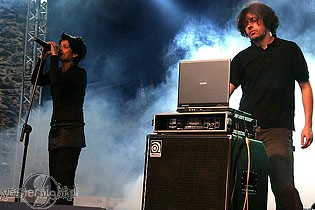 Performance
Vast amounts of smoke and lots of changing lights made a really rich background for De Coy who stood in the centre of the stage deadpan, in a modest, black dress; a figure extinguishing itself from the surroundings, not by means of flashy props, but by means of frugality and rawness of the looks. On the stage she impersonates the voice and nothing disturbs that expression and the emotion exchange between the music and the listeners. The most striking is the contrast between the changing multicolour voice and the face of the vocalist that made me think of a child one moment and the antic mask the very next. what came to my mind was the mix of contrasts - thoughtfulness and good fun, sadness and trance, introspection and openness, limitations and freedom... very beautiful show, indeed.
Setlist
01. Lorelei
02. Feel
03. Angel
04. Clean
05. Seems strange
06. Fade Away
07. Black Horse
08. Time
09. Seems
Rating
Music: 10
Performance: 8
Sound: 8
Light: 7
Total: 8.7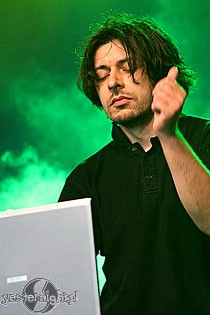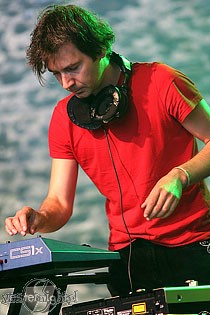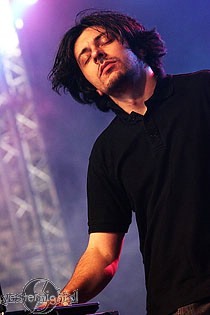 The Legendary Pink Dots
THE LEGENDARY PINK DOTS were formed in August 1980 in London. In 1984 the band moved to Amsterdam. The main members of the group are vocalist / songwriter / keyboardist Edward Ka-Spel and keyboardist Phil Knight. Their music is a mixture of neo-psychedelic, ambient music, electronic music, tape music, industrial, psych folk, synth-pop and Goth rock and experimental / avant-garde. LPD have released more than 40 albums, the last of which is entitled 'LEGACY - 25TH ANNIVERSARY SINGLE'.
http://www.myspace.com/thelegendarypinkdots
/
http://www.brainwashed.com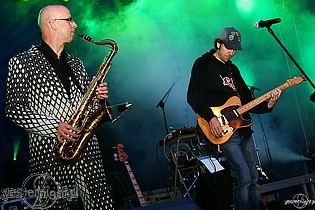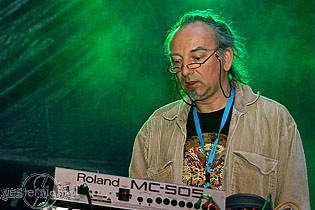 Music & Performance
The concert of LPD started with a highly theatrical speech and then everything disappeared in the masses of smoke and green lights. Edward Ka-Spel appeared wearing a long, dark tog and sunglasses so he looked like a kinda guru on holidays whereas the saxophonist in turn presented kind of futurist/classic style in his white-black suit.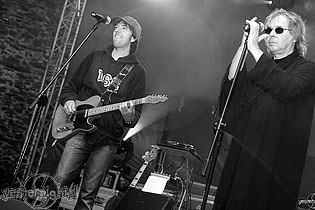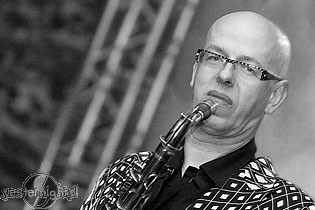 Their music sounded a bit like a story slowly enfolding its main motive: reverberating sounds, electronic collages, guitar passages added to that impression. The vocals were very much stuck in an atmosphere of the theatre, musical monologue, charming tale accompanied by balanced music. There were also moments when the music speeded up and gained the energetic tint, but generally LPD presented a rather hypnotic, meditative quality of their music.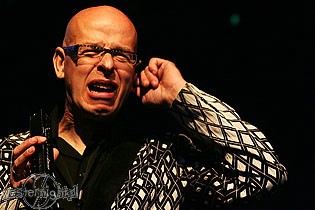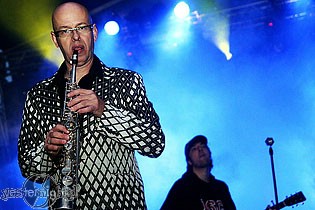 When the scene was disappearing in the masses of smoke the whole looked a bit unreal - which suited very nicely with LPD atmosphere.
Rating
Music: 8
Performance: 8
Sound: 8
Light: 7
Total: 7.9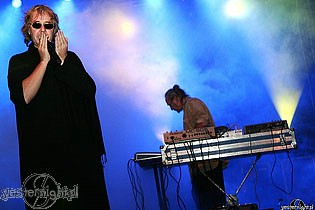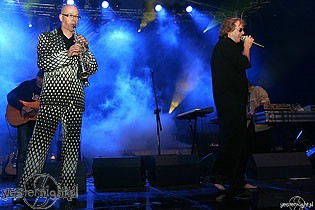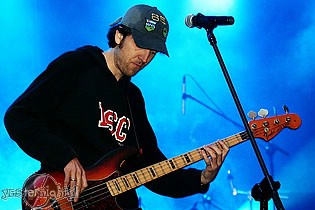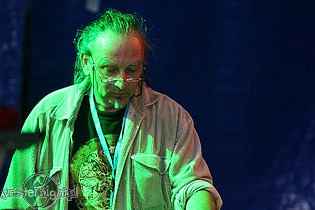 Mortiis

MORTIIS began his journey down an ever-evolving path in the early 90s as a singular mastermind who a decade later would be the namesake of MORTIIS full-band incarnation. MORTIIS the man and the band - have travelled many musical paths over the course of their career, with each release stepping further away from the last and expanding into new territories. The MORTIIS of today takes the darkness of the earlier ambient creations and fuses it with deep-seated anger and aggression. The band formed in 1992, started with the demo 'The Songs of a Long Forgotten Ghost', next, the album 'Fodt Til A Herske' was released in 1993 and 'The Stargate' (in 1999). One could separate the artistic output of MORTIIS into three parts: first six albums is the first, second is the album 'The Smell of Rain', the third is the last album 'The Grudge'. At the beginning MORTIIS was much about ambient dark wave, than they passed on to creating industrial/gothic.
http://www.mortiis.com/
/
http://www.myspace.com/mortiis1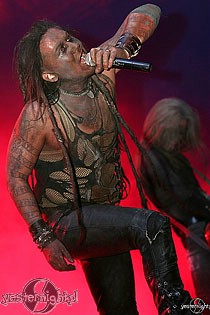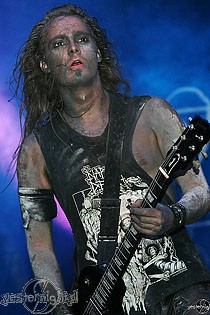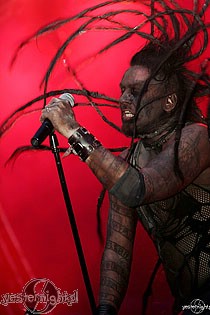 Music & Performance
I don't know much about the music of MORTIIS, nor do I listen to the music they play, one thing's sure: both the appearance of the musicians (they were styled as if to the creatures of the night coming from under the ground or I should rather say devils or demons with a dim, dark make-up and the clothes, as if coved in dust) and their music - rather hard, harsh and noisy attracted attention of the audience. Mass of smoke, strong strobe light and the guys of MORTIIS themselves, this all that seemed a bit like an infernal discotheque for me. Noisy, harsh and astute voice fused with the music which made impression of a huge scream; gibberish and howling.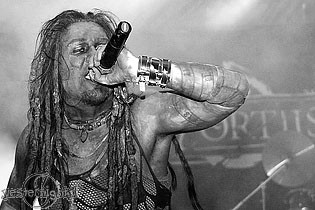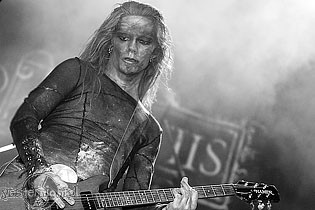 They had some technical problems at the beginning (during the song 'Way to wicked'), well, as a matter of fact they themselves didn't seem to spare their equipment for better times (Haavard throwing his mike stand to the back and almost killing the drummer :)), but later the gig run more or less smoothly. Whatever one may say about MORTIIS (there were complaints after the gig concerning the quality of vocal) they definitely do not lack scenic power: devilish dancing and very much "rock 'n' roll" behaviour on the stage prove that 100%.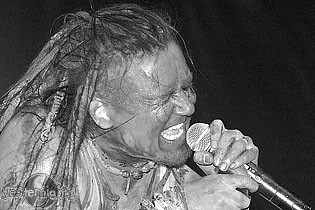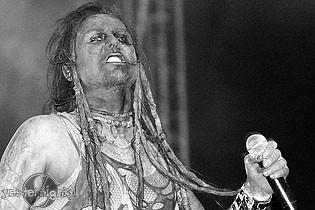 MORTIIS played the old songs, as well as lots of those of their recent album 'The Grudge' which was released in 2005 and some absolutely new songs like 'Zeitgeist' and 'Doppelganger'.
Setlist
01. Decadent & Desperate
02. Way to wicked
03. Zeitgeist
04. Marshland
05. Underdog
06. The Grudge
07. Le Petit Cochon Sordide
08. Doppelganger
09. Parasite God
10. Great deceiver
11. Smell the witch
Rating
Music: 7
Performance: 7
Sound: 7
Light: 7
Total: 7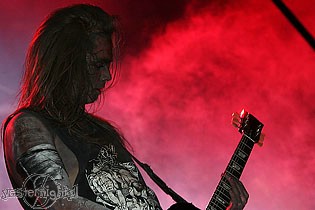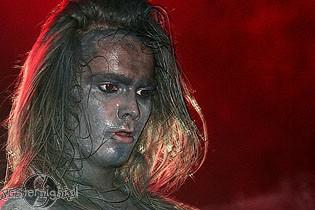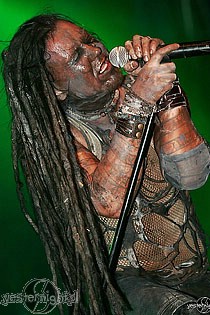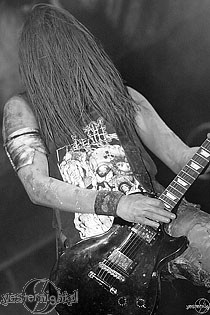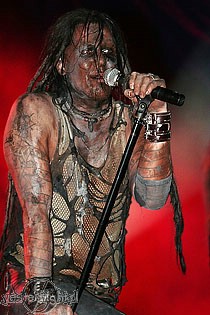 Front Line Assembly

FRONT LINE ASSEMBLY (FLA) began in 1986 when Bill Leeb decided to part company with Canadian Industrial pioneers SKINNY PUPPY under alleged controversial circumstances and set out of his own musical quest. Whilst Bill trading under the pseudonym Wilhelm Schroeder had real little influence in SKINNY PUPPY, it was a place where he learnt his trade and saw the germination of some of the ideas that would form the backbone of FLA.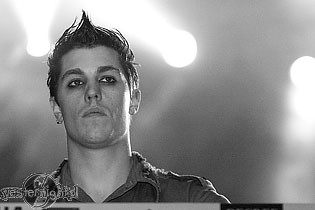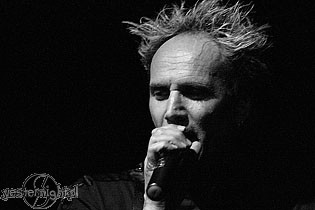 Following two self released demo tapes 'Total Terror' and 'Nerve War', (which are like gold dust to the hardcore FLA fan although 'Total Terror' was re-released as part of the two CD 'Total Terror 1 and 2' in 1993) FLA debuted in 1987 with their first album 'The Initial Command'. The album was quickly followed by the release of FLA's second album 'State of Mind' (1988) and the two mini albums 'Corrosion' (1988) and 'Disorder' (1988). Having more than 40 releases on their account, including the newest 'Fallout', they are one of the most known projects of dark Industrial.
http://www.mindphaser.com/
/
http://www.myspace.com/thefrontlineassembly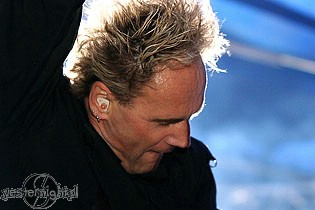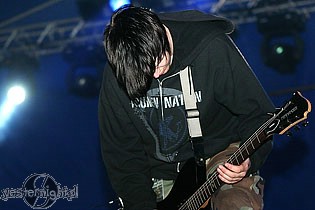 Music & Performance

First, I'd like to state it very clearly: on seeing FLA at their concert in Poland I could hardly recognize them... I admit it openly: I used to criticize them for their shows being too static, stiff and too monotonous... after I saw them at Castle Party I withdraw this all! The energy produced during FLA concert was amazing and simply smashing! As I've already mentioned it was the first appearance of FLA in Poland - nobody knows what the reason of their previous absence was, enough to say they managed to mark their first gig with lots of positive emotions...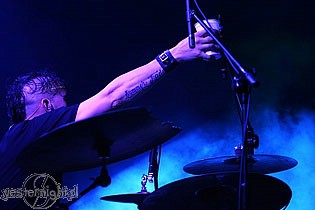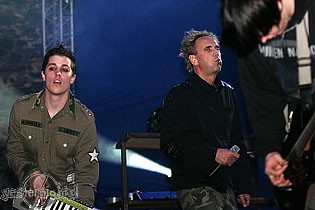 Before the show they prepared for quite a while (and every while at this 'cold gothic night' was longer than usual...), but as they started their gig it became obvious it was worth waiting all this time: Bill Leeb talked to the audience, danced, played the drums (I'd never seen him doing that before) and his musicians produced the music, so well-known to the people gathered by the stage and so energetic the listeners could not react in other way than by screaming, singing, dancing and applauding them enthusiastically.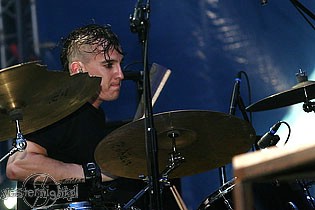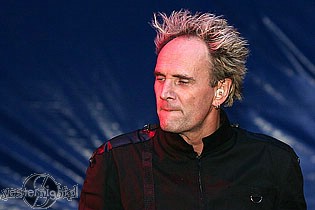 The atmosphere of the gig was magnificent, the wind (though freezing us almost to death) added to it, so all in all it I remembered it as extremely hot :)). The power of the music was so devastating it made the whole scene shake and the blood run really fast in my veins... Instrumental richness, beautiful light changing stylishly and building the mood either of meditation or wild, wicked ride, fantastic voice and great choice of songs made the concert really unforgettable. We only hope FLA will be back in PL soon....
Rating
Music: 10
Performance: 10
Sound: 10
Light: 10
Total: 10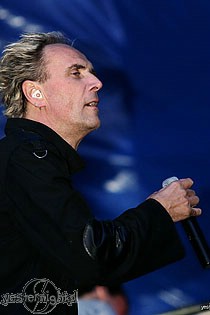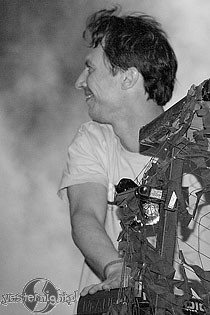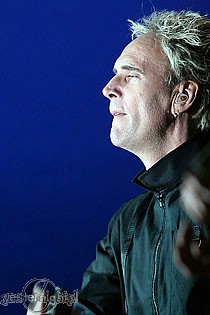 That was the last concert at Castle Party 2007; some of the people went to have some more fun at the disco, the others returned home and went to warm themselves up in other way. :) Despite the nasty weather, problems with club owners in town and some technical problems several artists had, it was a magnificent edition... I can only hope the edition 2008 will stick to this high standard :)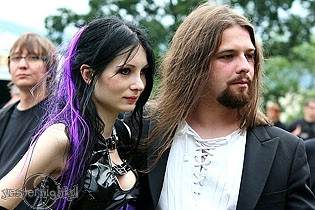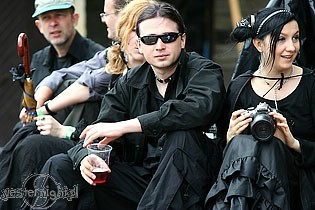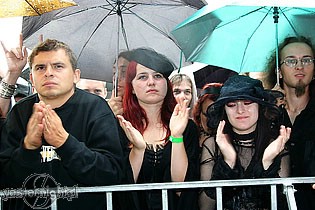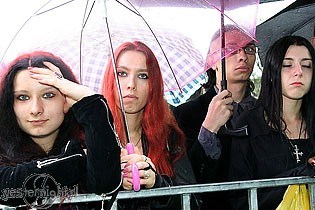 All pictures by Bartosz Sarama (
yesternight.pl
)
{jos_sb_discuss:18}
See also (all categories):