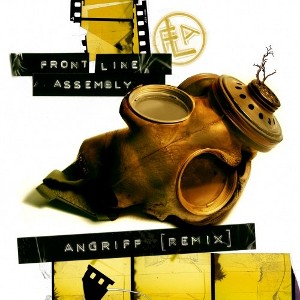 Title: Angriff
Artist: Front Line Assembly
Genre: Electronic

Release Date: 29th October 2010
Label: Dependent Records
EP Review

The release of 'Improvised Electronic Device' a few months back can be righteously called a return to form for FRONT LINE ASSEMBLY after the rather mixed 'Artificial Soldier' in 2006 and met with widespread acclaim. To keep the fire burning, Bill Leeb and company throw in an EP holding remixes of one of the album's most popular tracks 'Angriff'; as well as new tracks. The EP was supposed to be available at live shows only, but a limited amount of discs remained and now will be released on 29th October. An own 'Radioactive' mix by the band starts the EP with a thick noise burst giving way to a developing complex structure that leads into a heavy, slow-stomping beat eventually. Apart from the chorus section, which is still the most familiar, the song underwent major reconstruction. If you call the latest Septic compilation your own, you will know 'Attack The Masses' already, a break beat laden drum 'n'bass offspring, slowing down to grinding industrial rock structures at once. Just like the EP's title track the chorus lines are German-tongued. Sounds like Bill finds pleasure using that language more and more.
The following 'Radio Edit' is just as its title does imply a more compact version of the track. MINDLESS FAITH are giving the track a harsher guitar treatment, adding a few more melodies but keeping most of the song's tracks untouched. Not the highlight I had hoped for to be honest. TIM SKOLD is pulling a cunning rendition by altering the tempo and putting a straight beat under everything. Maybe that doesn't sound like much, but it's lending the song a different feeling, he's calling 'Der Angriff'. The second new and instrumental cut 'Freakuency' keeps quite a mellow vibe while adding and removing new bits of sound constantly to maintain interest over its 7 minutes. Speaking of mellower vibes, the MIND.IN.A.BOX mix of 'Angriff' has them in abundance; in fact, it's emphasizing and densifying them and with a few typical MIAB sonic ingredients added makes for a wonderfully different version of that song. The closing PROJECT PITCHFORK take on the other hand sounds rather old-school in terms of sound design.
Not all of the remixes on the EP should've been released necessarily in my opinion. But a few of them are real gems and with that make up for the lack of creativity that prevails on others. It's striking the band manages to do a better rendition than MINDLESS FAITH or PROJECT PITCHFORK who for my tastes deliver standard ware and actually should be capable of creating something more ambitious. The other takes, however, in conjunction with the new tracks elevate that release above standard niveau.

Tracklist
01. Angriff (Radioactive Mix by Front Line Assembly) - 7:31
02. Attack The Masses - 5:25
03. Angriff (Radio Edit) - 4:34
04. Angriff (Mindless Faith Mix) - 5:42
05. Der Angriff (Tim Skold Mix) - 7:42
06. Freakuency - 7:09
07. Angriff (Mind In A Box Mix) - 7:06
08. Angriff (Project Pitchfork Mix) - 6:43
Line-Up
Bill Leeb
Chris Peterson
Jeremy Inkel
Jared Singerland
Website
http://www.mindphaser.com/
/
www.myspace.com/thefrontlineassembly
Cover Picture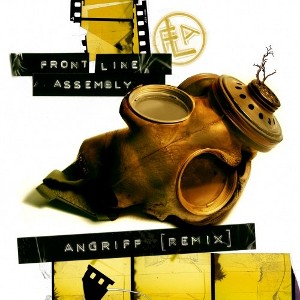 Rating
Music: 7
Sound: 9
Extras: -
Total: 8 / 10
{jos_sb_discuss:19}
See also (all categories):