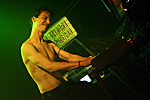 Röhre, Stuttgart, Germany
July 19th, 2007
Front Line Assembly, Portion Control


This summer evening in July, the Röhre in Stuttgart had invited to watch two of the best-known EBM bands live on stage; as openers the visitors were to see the veterans from PORTION CONTROL, and after that the notorious FRONT LINE ASSEMBLY were to appear on the small Röhre stage. Quite a few people had gathered there, and during the evening more were coming, though in the end the Röhre still wasn't sold out. As one could expect there weren't many teenagers attending this event, as these bands surely aren't that well-known among the younger generations. We were looking forward to a nice concert evening, which started at about nine o'clock.



PORTION CONTROL [GB]


The band PORTION CONTROL from South London, England, has been founded in 1980 and has soon dedicated itself to EBM sounds; their first album, "A Fair Portion", appeared in the same year. In 1987, after the release of their 1986 long player "Psycho-Bod Saves The World", they split up. Between 1990 and 1993, John Whybrew and Dean Piavani worked together on a project called SOLAR ENEMY. And in 2002 finally, they have reunited as PORTION CONTROL. Their latest release is last year's "Filthy White Guy".
http://www.portion-control.net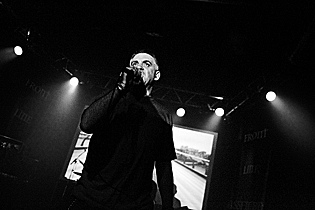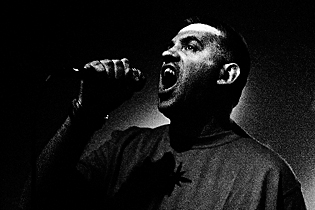 Music

The band itself calls its music style electro-punk or hard rhythmic electronics; it can be classified somewhere between EBM, Electro and Industrial. They were one of the first bands doing this kind of music, and are to the present day one of the best-known bands in this genre, honoured and copied by many other groups and artists. I found their songs rather interesting, but after listening to a few of them they got kind of annoying due to their monotonous sequencer lines and harshness with most of the time hardly any melodies audible.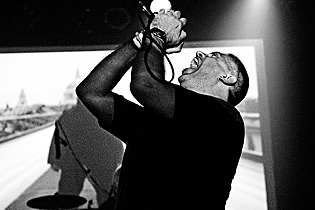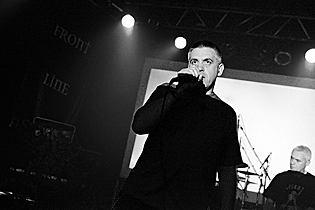 Performance

PORTION CONTROL are only two guys on stage, and there wasn't much of a performance, at the most a very minimalist one. They had some interesting photos projected in the background of the stage, which most of the time were the only light source. Singer John Whybrew jumped and ran from one stage side to the other, but all in all seemed a little bored, which may be due to the fact that he does not very much like live performances. As their music is not very danceable, the people in front of the stage also reacted a little cautiously, except for a few, like FLA's live drummer, who stood there in the first row and seemed very enthusiastic.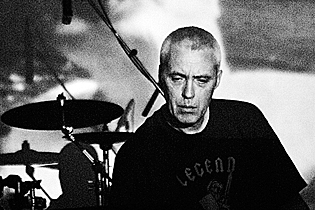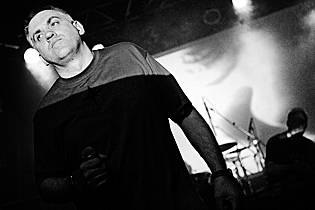 Setlist

01. Onion filth - onion jack iV
02. Global - unreleased
03. Hardman - filthy white guy
04. 7 shades of shit - filthy white guy
05. Hey hey - filthy white guy
06. More than just a nuisance - wellcome
07. Grime - unreleased
08. Lambeth - onion jack iV
09. Chew you to bits - hit the pulse/archive
Rating

Music: 5
Performance: 4
Sound: 8
Light: 3
Total: 4.9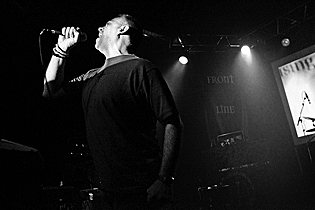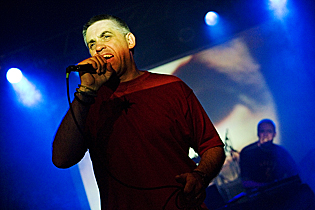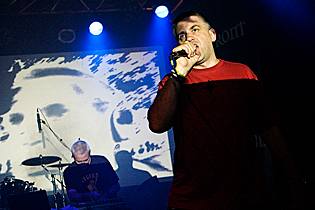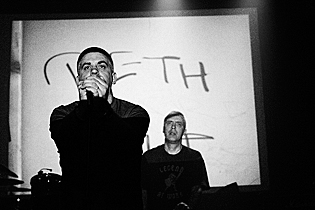 FRONTLINE ASSEMBLY [CAN]


In 1984, Bill Leeb decided to leave the Canadian Industrial legend SKINNY PUPPY and attend to his own projects, among others DELIRIUM and FRONT LINE ASSEMBLY. After two self-released demos FLA's first album 'The Initial Command' appeared in 1987, already featuring Rhys Fulber and setting the cornerstone for the band's typical sound. Becoming more and more successful, they managed to create a milestone of electronic music in 1992 - the full length album 'Tactical Neural Implant'.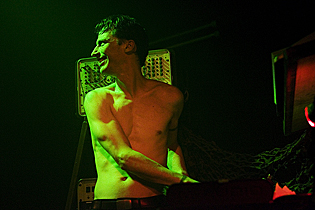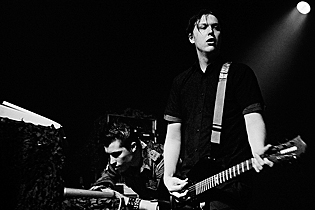 The following years saw a label change from Third Mind to Roadrunner Records and more album releases. Due to internal problems during the disastrous tour from 2001 the end of FRONT LINE ASSEMBLY seemed to have come. But Bill and Rhys, who had temporarily left the project, and joined it again in 2003, proved all the pessimists wrong. Their 2006 album 'Artificial Soldier' shows that they still know how to enthral their fans. FRONT LINE ASSEMBLY are Bill Leeb (vocals, synths, programming) Rhys Fulber (synths, programming), Chris Peterson (synths, programming) plus guest musicians live on stage. http://www.mindphaser.com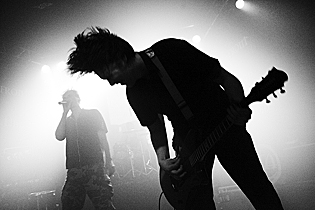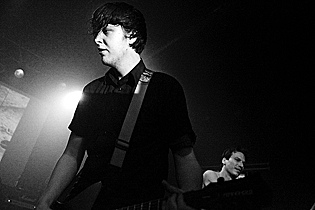 Music

You surely do not have to introduce FRONT LINE ASSEMBLY to the fans of electronic music. For many years now they have released several albums important for the development of this genre and celebrated by their numerous fans. In their songs, elements of Electro and Industrial get mixed up, nice melodies and danceable beats meet the harshness of machine noise and the EBM-typical sequencer lines. With it you have Bill Leeb's special vocals, all in all resulting in very interesting and never boring songs.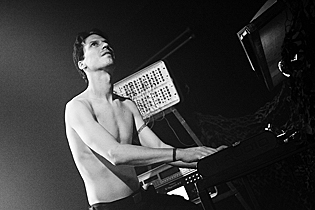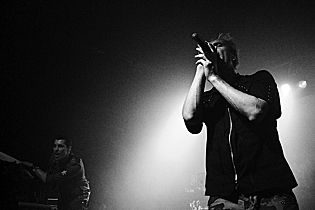 Performance

As I have experienced it before, FRONT LINE ASSEMBLY nearly had no stage lighting apart from their beamer projections to the background of the stage. But unlike many other bands of their genre, they were delivering an energetic stage show. Singer Bill Leeb as always seemed a little fey and irritated also, guitarist Jared Slingerland ranted over the stage like a whirlwind, and the two guys on the keyboards also seemed to have a lot of fun during the set. The audience rewarded this with dancing and avid shouts and applause, and once again FLA managed to enthrall their audience; though not fully, as their show appeared a little uninspired and too routined, if with exceptions.
Rating

Music: 8
Performance: 6
Sound: 7
Light: 3
Total: 6.5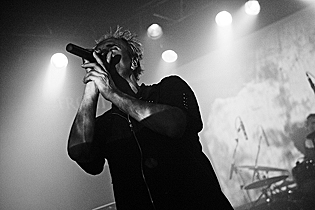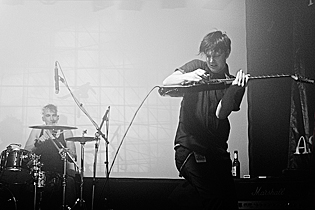 All pictures by Ruth Gräbeldinger
{jos_sb_discuss:17}
See also (all categories):