Saint, Oberhausen, Germany
3rd October 2010
Front Line Assembly, Mind.in.a.Box, Clicks
German Unification Day, a time to celebrate in peace and humility... or with lots of electronic music at a concert in Oberhausen! FRONT LINE ASSEMBLY would play their only show in North Rhine Westphalia on that day and so the decision which kind of celebration it should be was not a tough one to make.
Clicks
CLICKS I is the new project of Kr-lik who became known as being the driving force behind the harsh electro bastard CONTROLLED COLLAPSE. The track 'Again And Again' released on 'Dependence 2010' compilation gave listeners a taste of what to expect. Another track followed with 'This is Jeopardy' on 'Extreme Sündenfall 10' collection. Currently the guys are looking for a label. CLICKS is kr-lik (vocals, synths, concept), tomtylor (live keys), Lukasz Klaus (live drums).
http://www.myspace.com/clicksmusic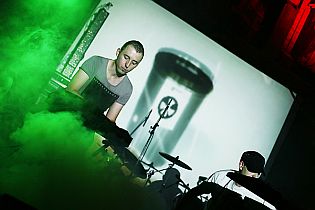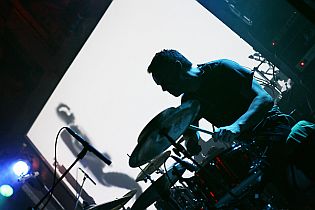 Music & Performance
The Polish guys of CLICKS opening the evening I think were rather unknown to most and even I only knew one of the above-mentioned tracks. I also think many expected it to be a rather uninteresting start. Yet it became one, mildly put, funny experience. The show started in a normal way with the guys most of the time dancing and twiddling knobs while kr-lik delivered some vocals to the in parts weird sounding mixture of electro clash and live instrumentation. Close to the end of the set the Mac Book had a "malfunction" and frequently you're pretty screwed if something like that happens. Kr-lik's commenting it with "This actually shows that Apple Computers are not so great." Only the start of a series making the band all the more sympathetic and the start of the evening less common than expected!
Rating
Music: 7
Performance: 7
Sound: 7
Light: 7
Total: 7 / 10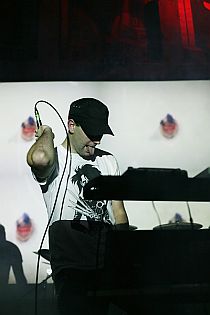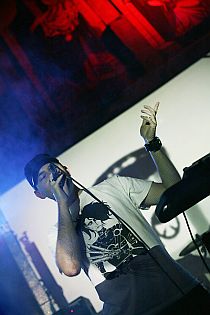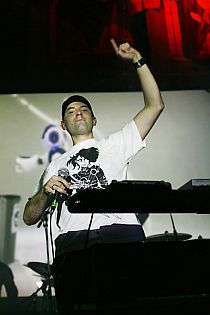 Mind.in.a.Box
The Austrian electronic duo MIND.IN.A.BOX created an own niche inside the electronic music scene. Their unique blend of different styles has conquered the hearts and minds of fans and press all over the world in a storm and is meanwhile known as techno pop. The name MIND.IN.A.BOX is a metaphor "for everything that prevents our Minds from truly being free". The duo was signed to Dependent in 2004 and released their first Album 'Lost alone' in June of the same year, followed by its successor 'Dreamweb' in May 2005. Over 2 years after the release of 'Dreamweb' their new Album 'Crossroads' as the third part of the so called 'Black trilogy' hit the streets in August 2007. In 2010, MIND.IN.A.BOX have put out an homage to one of the most popular home computers back in the days; the Commodore 64 with the album 'R.E.T.R.O'. MIND.IN.A.BOX live is Stefan Poiss (vocals, synths), Roman Stift (bass), Gerhard Höffler (drums) und Adam Wehsely-Swiczinsky (guitar).
http://www.mindinabox.com/
/
http://www.myspace.com/mindinabox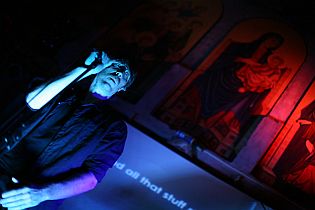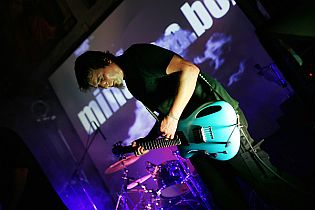 Music & Performance
For the gig of MIND.IN.A.BOX the attendance count had raised: Not as many people as in Berlin, where I first saw them playing in June, attended the show but still a good bunch. Soon the stage got bathed in dark colours and the musicians took their places to start with the slow-building 'Remember', a track intended to be on the still nameless next album. I suggest you take that one as the opener there as well since I could hardly imagine a better one. Stefan Poiss still keeps it with little movement, instead impresses with a flawless vocal performance full of urgency, while all around him the band gets caught inside the web of rhythms. To 'Amnesia', he sat down again on his stool and it looked like he was playing the vocal melody simultaneously to singing.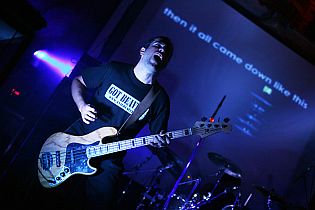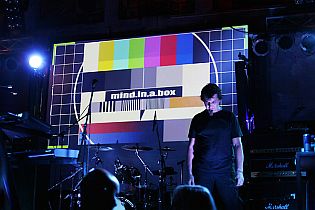 'Stalkers' was the moment for the audience to participate with clapping and dancing along to what has grown to a real rocking piece in its live incarnation. The following 'Certainty' as well as 'Light and Dark' were sound-wise connected with each other through a fluent transition and were like one big song, covering a wide range of moods and influences here. A highlight came up now with 'Whatever Mattered', being a calm song full of vivid sonic imagery and a fabulous vocal delivery. Closing the set was a shift into the 'Second Reality' and a return to stage after the band had already left. I missed 'Fear' this time around, but still it was a well-rounded affair and proof that MIAB belong on stage.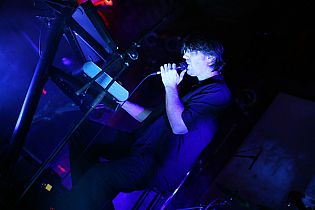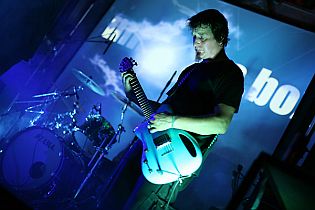 Setlist
01. Remember
02. Amnesia
03. Stalkers
04. Certainty
05. Light and Dark
06. Whatever Mattered
07. Second Reality
Rating
Music: 9
Performance: 9
Sound: 8
Light: 8
Total: 8.7 / 10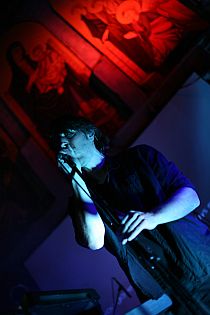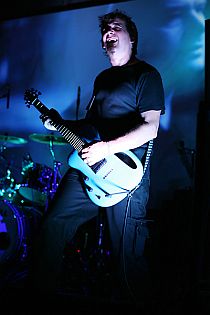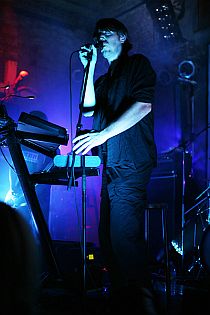 Front Line Assembly
There's no denying, the Canadian FRONT LINE ASSEMBLY is one of the most influential acts of the Industrial scene. Albums like 'Caustic Grip' (1990) or 'Tactical Neural Implant' (1992) stand the test of time and have been a source of inspiration to a plethora of electronic underground bands. After gaining huge mainstream success with the side project (sic!) DELERIUM in the 1990s, founder Bill Leeb seemed to neglect a little his first brainchild FRONT LINE ASSEMBLY but managed to revive it over the last few years. FLA's more recent albums, however, were a bit of hit or miss and at times a bit inconsistent. The single 'Shifting through the Lens' was the herald for FRONT LINE ASSEMBLY's new album 'Improvised Electronic Device' which has been released at the end of June 2010. FRONT LINE ASSEMBLY is Bill Leeb (vocals, keys), Jeremy Inkel (keys), Jared Singerland (guitar) and Jason Bazinet (drums).
http://www.myspace.com/thefrontlineassembly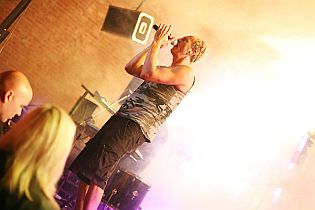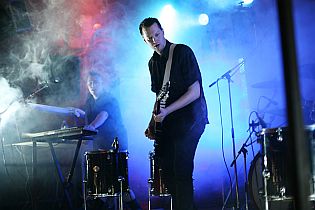 Music & Performance
Suddenly, it got really crowded in front of the stage for the time for the main act to hit the stage was close. But when it started with the powerful drum beats of 'I.E.D' eventually, the dancing was still a bit too cautious for my tastes. However, I would have nothing to complain about anymore as soon as 'Circuitry' started and the audience space turned into a danger zone with poging electro heads everywhere which later made me change positions to another location as a measure of safety. Particular kinds of music and adrenaline are an explosive mixture. The lads threw in a little German with the following 'Angriff' and after the movements of Bill Leeb looked a little tired in the beginnings in my eyes, I experienced a change. Soon he was gearing up really here.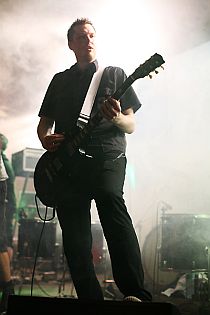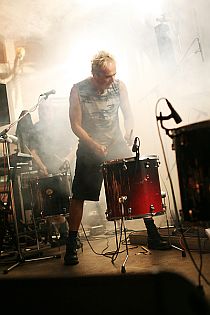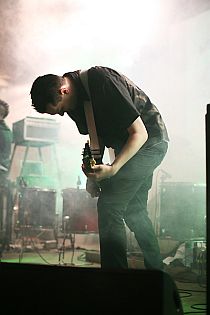 For 'Resist' the entire line-up became drummers and created a powerful texture for the track's beginnings. With 'Release' we were getting back to the current album and the audience performance kept getting wilder, at least nearby. Menacing walls of orchestral darkness built when it was time to speak the 'Prophecy' and nail it into the people's head emphatically. When 'Shifting through the Lens' was up, the people were cracking up and were just too willing to loudly clap along to the beat with Bill. After 'Millennium' had closed the set loud clapping and cheering made clear the people wanted more and with 'Liquid Separation' they got more. But probably the best thing about that encore was the cult hit 'Mindphaser' where no one could be held back from dancing any longer. Still the show wasn't over yet and with 'Bio-Mechanic', another track off the 'Tactical Neural Implant' album ended the show for good. FLA rocked Oberhausen in style.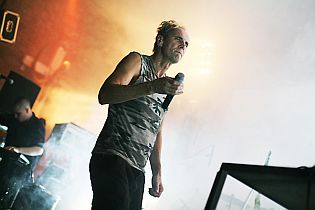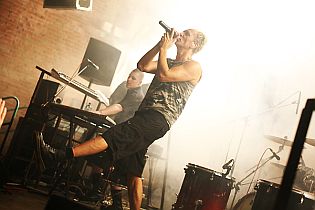 Setlist
01. I.E.D
02. Circuitry
03. Angriff
04. Resist
05. Release
06. Hostage
07. Plasticity
08. Pressure Wave
09. Prophecy
10. Shifting through the Lens
11. Millennium
---
12. Liquid Separation
13. Mindphaser
---
14. Bio-Mechanic
Rating
Music: 9
Performance: 9
Sound: 8
Light: 8
Total: 8.7 / 10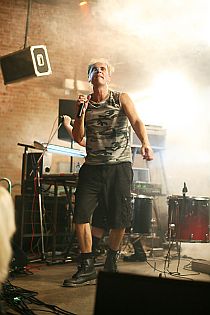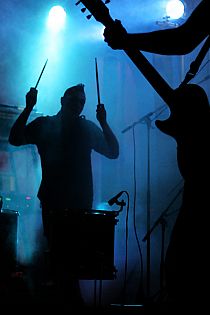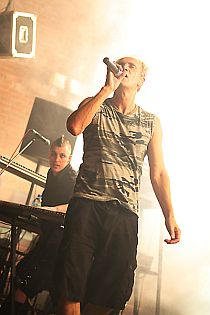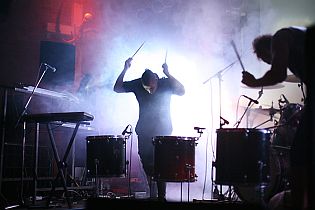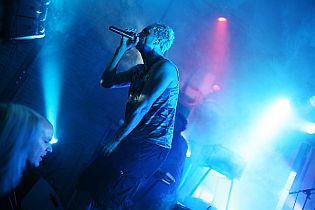 All pictures by Dajana Winkel (
http://www.nocturnalhall.com/
)
{jos_sb_discuss:17}
See also (all categories):