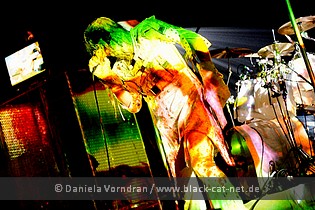 Expo, Waregem, Belgium
16th - 18th July 2010
Gothic Festival 2010 Day 2: Skinny Puppy, In The Nursery, Front Line Assembly, yelworC, Anne-Marie Hurst, Dive, Nosferatu, Arcana, Triore, Narsilion, Militia, Seventh Harmonic
After a too short night I had a relaxed start into the day with a nice breakfast in my hotel. Usual mail checking and backing up picture followed before I left to the festival area... to have some more coffee. This day had some bands I was really looking forward to in stock. First of all SKINNY PUPPY, who delivered one of the best shows I had ever seen in my life. But before that all happened, eleven other bands were on the list with half of them I had never seen before...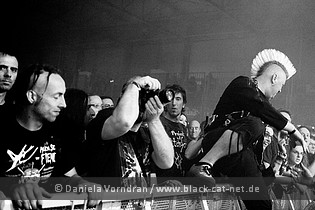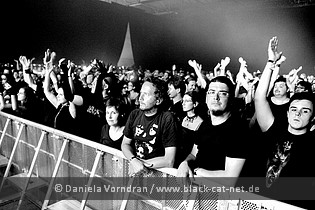 Seventh Harmonic (Club Stage - J. "Niggels" Uhlenbruch)
The neo-classical band formed in autumn 1999. Their very first, self-released CD was aptly titled 'The Awakening' and made available in March 2000, followed by the debut full-length 'The Ascent' in 2001. Before putting the ensemble on hiatus in 2004, another album followed with 'Promise of Sacrifice' in 2004. The remainder of members became a part of the band INVICTUS. But now, SEVENTH HARMONIC is definitely back and working on material for a new album. SEVENTH HARMONIC is Ann-Mari Thim (vocals), Caroline Jago (composition, programming, keyboards, bass, guitar), Lesley Malone (percussion, visuals), Frédérique Henrottin (harp) and Eilish McCracken (violin).
http://freespace.virgin.net/seventh.harmonic
/
http://www.myspace.com/seventhharmonic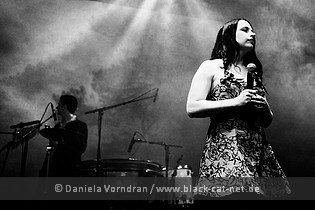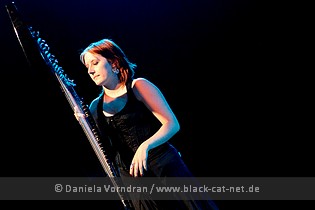 Music & Performance
The second day at the Gothic Festival 2010 started quiet and calm with SEVENTH HARMONIC, a nice way to start a festival day. Supported by some visuals on the video screen, the Swedish-British fiver created a beautiful, haunting atmosphere. Focus of the music and the stage presence is singer Ann-Mari Thim, and indeed her performance was more than convincing. Her voice, apparently classically trained, is pretty strong and rich. The rest of the band left a good as impression as well, although they had to rely on pre-recorded backings for the more orchestral parts of the songs. But who could afford to bring a full orchestra for such a gig? Anyway, SEVENTH HARMONIC gave us a relaxed and lovely start of the festival day, and although I'm sure that many people weren't familiar with SEVENTH HARMONIC, their performance was pretty well received. And later in the day we would see vocalist Ann-Mari Thim again on stage as a member of ARCANA!
Rating
Music: 9
Performance: 8
Sound: 8
Light: 7
Total: 8.3 / 10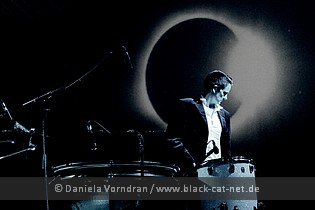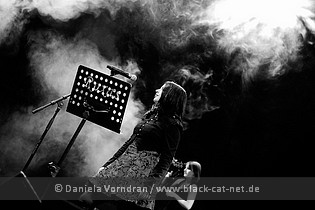 Militia (Main Stage - J. "Niggels" Uhlenbruch)
Frank Gorissen founded MILITIA together with Joe Billen after Frank met him at a radio show he was hosting and occasionally would invite musicians to play there. The first recorded material on a tape had been given the name 'Statement'. The first album, the 3LP 'New European Order', became a great success, followed by a variety of full-length and EP releases, both on CD and Vinyl. The MILITIA live shows are known for being a major spectacle with the stage covered with the most different percussion instruments like barrels or scrap parts from old cars for instance. The current line-up encompasses Frank Gorissen (compositions, electronics, synthesizers, sequencer, loops, samples, wind instruments, vocals, percussion), Frank Van Hoof (tools, percussion), Philippe Hermans (percussion), Jerôme Opbroek (percussion), Paul Mommers (percussion) and Diana Tummers (percussion).
http://www.myspace.com/militiaweb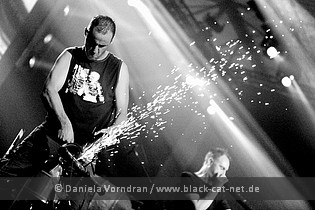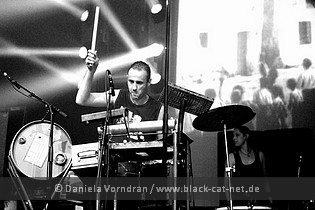 Music & Performance
Early EINSTÜRZENDE NEUBAUTEN meets early CABARET VOLTAIRE meets early TEST DEPT. That was my thought during the first few tracks MILITIA performed at the Gothic Festival. You could also throw in some LES TAMBOURS DU BRONX but to be fair, MILITIA isn't just a repetition of something old, they stand on their own. With eight performers and lots of gear and scrap metal, the stage never looked fuller and more packed over the weekend than at the gig of MILITIA. It was as impressive as challenging; MILITIA isn't easy listening at all but a rewarding experience for everyone willing to get into such an experience. And after all, watching musicians doing some percussions with grinding machines was fun and delivered some extra visual effects - emitting sparks all over the stage! Hard stuff for those who like it hard but hey, it's the Gothic Festival and seeing more experimental bands as well was what we came for!
Rating
Music: 8
Performance: 9
Sound: 8
Light: 8
Total: 8.3 / 10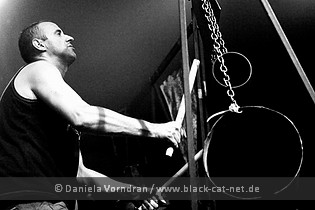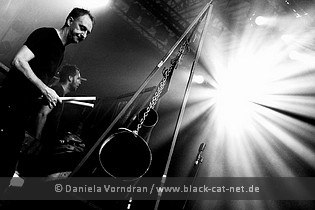 Narsilion (Club Stage - J. "Niggels" Uhlenbruch)
The band that later would be known by the name NARSILION was formed in 2000 as ARANMANOTH and renamed in 2003. At the end of this year, recording for the first demo 'Return to the Silver Forest' started. In October 2004, and after signing with a label, the first full-length album 'Nerbeleth' was being released and supported by a plethora of live shows. Immediately afterwards, the band commenced with production on their sophomore 'Arcadia', released in May 2006! Their most recent release is called 'Namarie' and saw the lights in 2008. NARSILION is Sathoris Elenorth and Lady Nott.
http://www.narsilion.com/
/
http://www.myspace.com/narsilionspace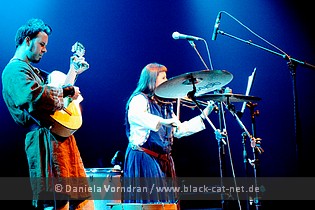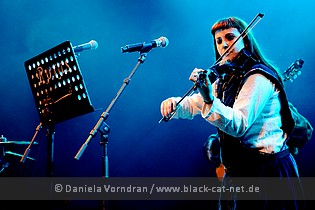 Music & Performance
After signing to the label Black Rain, a lot of new doors were opened for the Spain-based NARSILION, who are in a way one of the new hopes of the dark folk scene. NARSILION seats right between folk, neoclassical and medieval music, and while a German act of this kind would probably throw in some Rock and Metal as well, NARSILION keep it pure and simple. This is also true for their live shows. Lady Nott focussed on her vocals; Sathoris Elenorth was drumming his tympanum most of the time and supported Lady Nott with some backing vocals. There were NARSILION shows were they brought further musicians but in Waregem it was only the two of them, delegating much of the music to backing tapes. But most of their "fantasy folk" compositions started with synth programming anyway. NARSILION's performance in Waregem did not much offer to look at for the eye so it was a good idea to close your eyes to get carried away by NARSILION's tender but evocative songs.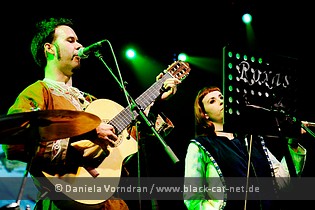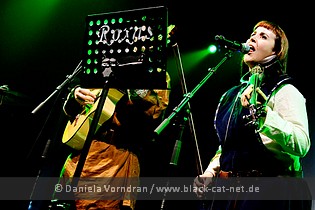 Just like Ann-Mari Thim of SVENTH HARMONIC, Lady Nott and Sathoris Elenorth would be back on stage again to perform with ARCANA.
Setlist
01. Winds of the Eternal Prophecies
02. El Regreso Del Samurai
03. Dreams about the Eternity
04. Lost Horizons
05. The Quest of Legacy
06. Desperta Ferro
07. Beltane
08. A New Beginning
Rating
Music: 7
Performance: 7
Sound: 8
Light: 7
Total: 7.2 / 10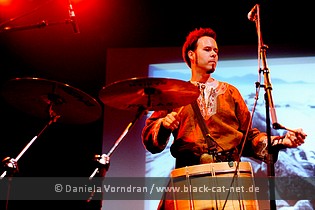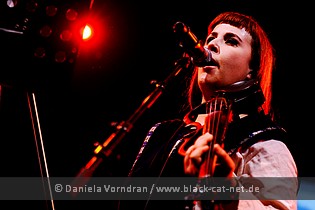 Triore (Main Stage - J. "Niggels" Uhlenbruch)
TRIORE is the collaborative effort of Christian Erdmann (Triarii) and Tomas Pettersson (Ordo Rosarius Equilibrio), given final birth to with the track 'Roses 4 Rome'. The album 'Three Hours' is the first full-length result of both artists' work and has been lifted in 2009.
http://triore.de/
/
http://www.myspace.com/triore
Music & Performance
TRIORE live is exactly what you would expect from a collaborations of ORDO ROSARIUS EQULIBRIO and TRIARII. Dark, apocalyptic Neo-Folk with synthetic orchestration and a certain ritual and martial feel to it. TRIORE combine the best of two musical worlds, which is demonstrated by Christian Erdmann and Tomas Pettersson standing next to each other as the two pari passu masters of celebration. Lyrically, TRIORE has also a lot to offer but in a live situation this doesn't come across as well as when you give their album 'Three Hours' a close listen at home, of course.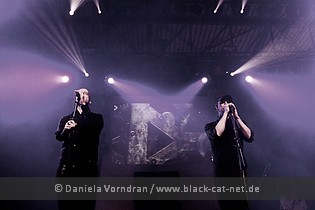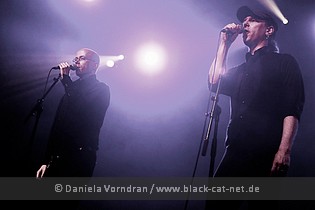 The sound is what carries you away at a TRIORE live show, and Erdmann, Petterson and their live staff presented an intense but not intrusive live experience. Quite a contrast to the many "heyho, let's party, we wanna see your hands!" bands you see at festivals of this scene. In other words: TRIORE were one of the bands at the Gothic Festival which were "gothic" in a stricter sense, although I'm sure that the Cold Meat Industry artists would never make such a claim themselves. A dark, haunting, moving and intellectually demanding performance and I loved it!
Rating
Music: 9
Performance: 9
Sound: 9
Light: 7
Total: 8.7 / 10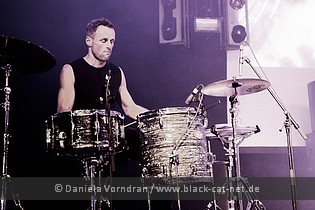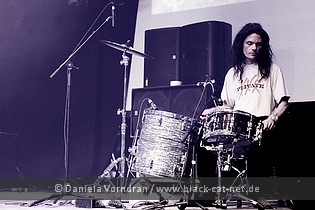 Arcana (Club Stage - J. "Niggels" Uhlenbruch)
The Swedish band formed in 1994 as a duo and released their first album 'Dark Age Of Reason' in 1996. But from 2002 on, when the fourth album 'Inner Pale Sun' was released, the line-up expanded to that of a fully-fledged band. Before signing to Kalinkaland Records and releasing their newest album 'Raspail' in 2008, the band was signed a long time to legendary Cold Meat Industry label. ARCANA are Peter Bjärgö, Ann-Mari Thim, Ia Bjärgö, Mattias Borgh.
http://www.erebusodora.net/arcana
/
http://www.myspace.com/peterbjargo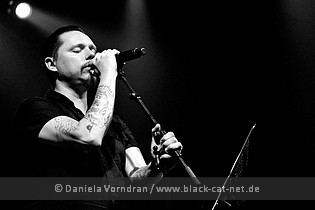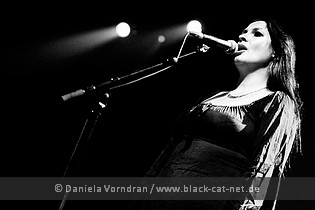 Music & Performance
The problem about ARCANA's gig was that so far the second day of the Gothic Festival had a lot of rather calm and introvert performances - MILITIA were actually the only exception here - so it was a little taxing to concentrate to yet another performance of this kind. At least that was how I felt about it but on the other hand this does not say anything about the qualities of ARCANA itself, of course. The qualities are in fact unquestionable, and Peter Bjärgö and his live band - which featured, as mentioned before, also members of SEVENTH HARMONIC and NARSILION - embarked on a trip into the realms of dark, neo-classical folk to take us with them. In the forty minutes they were grantee, ARCANA presented material from most eras of their 16-year career, including some songs they've rarely played before.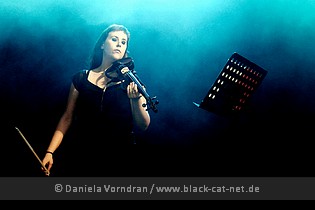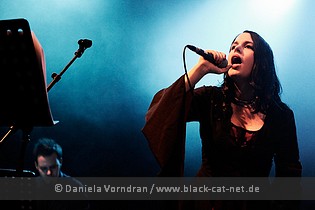 The performance was mainly carried by the impressive stage presence of Bjärgö and his formidable, deep and masculine voice which were beautifully complemented by Ann-Mari Thim's vocals, a thoughtful, ethereal and sophisticated musical journey which my mind truly appreciated, although my dancing foot longed for some action after ARCANA's gig. Perhaps the only (minor) complaint about the Gothic Festival 2010 was that the line-up could have been a bit more mixed up and varied on the second day of the festival weekend. However, ARCANA were superb, no doubt about it!
Rating
Music: 9
Performance: 9
Sound: 8
Light: 7
Total: 8.6 / 10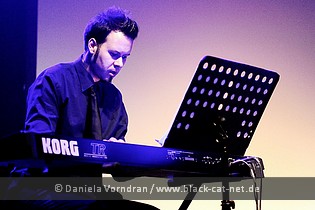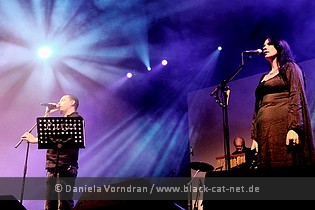 Nosferatu (Main Stage - Sebastian Huhn)
The British band NOSFERATU formed in the late 1980s and has left a first mark with a track, called 'Bloodlust', released on a vinyl compilation in 1990. The first EP 'The Hellhound' followed in 1991. 1993 saw the release of the full-length debut 'Rise' and a line-up change. In 1994 already, the band put out a compilation of rarities and piled-up early recordings under the name 'Prophecy', after which the line-up carousel started rotating again. Having replaced the departed, the band signed with a new label and shaped the next album 'Prince of Darkness' released in August 1996. The album 'Lord Of The Flies' followed in 1998 and the next change of personnel occurred. Founding member Damien DeVille is the only member of the original line-up still being in the band. Last known release is 'Anthology', a 2-disc compilation from 2006. NOSFERATU is Louis DeWray (vocals), Damien DeVille (lead guitar), Nevyn (bass guitar), Chrys Columbine (keyboards, piano, vocals), Belle (drums) and 6 (rhythm guitar).
http://www.myspace.com/officialnosferatu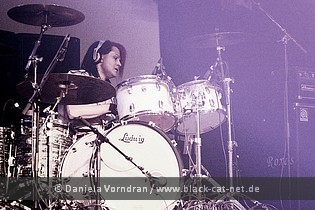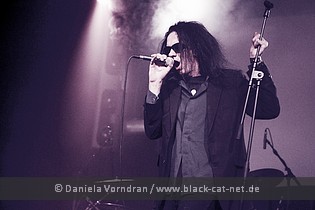 Music & Performance
NOSFERATU, the legendary, mythological creature, most notable through the embodiment of German actor Max Schreck in the 1920s silent move, has been chosen as name for the British band, and their music is just as dark, though not as sinister as the movie is. The guys around singer Louis DeVray began with 'The Witching Hour' that, introduced by a piano melody, mutates to a grand dark rock song. In-between the songs, Louis was always talking to the crowd but the settings with the microphone made it nearly impossible to catch a word clearly, which wasn't a problem when he was singing. The next songs were swinging between thick, emphatic melodies on top of a vibrant rhythm and spectral noise before the rash break came to pass. Soon, the 'Dark Angel' would be spreading its wings, casting a dark shadow under which the crowd could dance.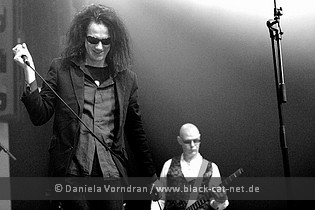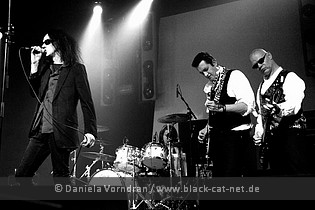 With 'Black Hole', the new single of the band was following up and followed in the same driving manner as the previous one. Just here I thought that the audience was much too cautious, also to the anthemic 'Lament'. I couldn't exactly pinpoint where that came from all of a sudden. Couldn't be the music in my opinion and there were not any fuck-ups in the performance. Anyway, NOSFERATU was one of those bands I hadn't even on the radar before and which now are getting a thumbs up from me for a show that, even though it had no surprising or extraordinary moments, was still way above average.
Rating
Music: 7
Performance: 7
Sound: 7
Light: 7
Total: 7 / 10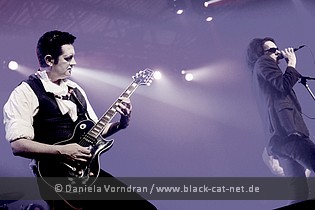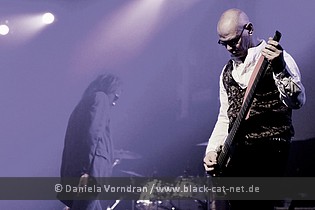 Dive (Club Stage - Sebastian Huhn)
Dirk Ivens, known for his prolific work with veteran Belgian THE KLINIK started DIVE in 1990 with a self-titled album full of minimalism and distortion which also proved to be highly effective in a live environment. The sound retained its roots over the years, but kept evolving at the same time. The newest DIVE release was a 3CD box, entitled 'Are You Real?' in 2007, including the albums 'No Pain No Gain', 'Into The Sun' and an additional live CD.
http://www.myspace.com/divebelgium
Music & Performance
Last year, the Gothic Festival had THE KLINIK and this year's got Dirk Ivens solo or the short one DIVE at the club stage. All alone, moving through an infernal strobe light storm he started the set with 'There's No Hope', and while the minimalist beats relentlessly pumped forward, he screamed out the lyrics. The stark energy of this reduced show left no other choice for people than to dance, it seemed. 'Dead Or Alive' was second in line "I'm Gonna Take You / I'm Gonna Break You / And You Can't Say No".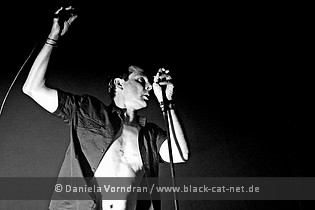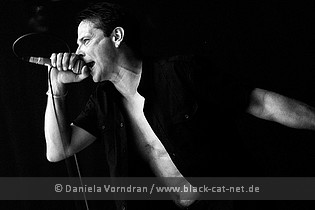 With these words screamed out, everyone's will to resist was broken already a few minutes into the set. The mentioned strobe lights didn't interest the crowd much, but for a photographer that sort of light show was a nightmare. But it stayed like that with Ivens jumping, running and screaming within the flashy environment to songs like 'Bloodmoney', underlined with heavy break beats, or a cover of THE KLINIK's 'Pain And Pleasure' for instance. Everywhere you looked there was a moving body to be seen in the twilight. Being in such ecstasy, the people screamed for more after Ivens had left and he came back for one more song: 'Back To Nature', originally by FAD GADGET and minimalized by DIVE. Even though the light show would need more tuning, the show, as minimalist as it was, unfolded its full effect and knew to excite.
Rating
Music: 8
Performance: 7
Sound: 7
Light: 4
Total: 7 / 10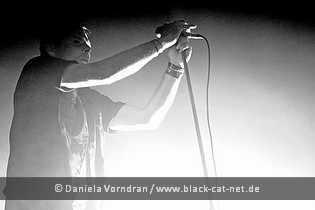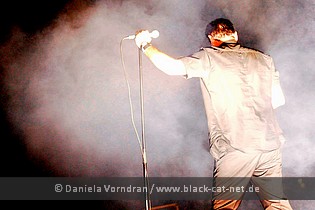 Anne-Marie Hurst (Main Stage - J. "Niggels" Uhlenbruch)
ANNE-MARIE HURST started with being the lead vocalist of the band THE ELEMENTS until 1982. That same year, she became a founding member of SKELETAL FAMILY until 1985. During that time, the band gained quite a following and was to support SISTERS OF MERCY also. Their next project GHOST DANCE was given birth to quickly afterwards, playing their first gig already in late 1985. In 1989, the successful career of that band already came to an end. Despite Anne-Marie doing solo shows and working with the band THE SWEET, her main focus was placed on her private life. As of 2009, there was something going on behind the scenes again, where she was working on new material with SKELETAL FAMILY guitarist Stan. And since February she's performing live again. The live-line-up is composed of Anne-Marie (vocals), Stan Greenwood (guitar), Trotwood (bass), Eddy Van Helsing (guitar) and Rob Caswell (drums).
http://www.myspace.com/annemariehurst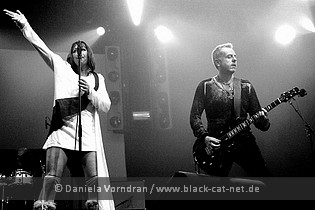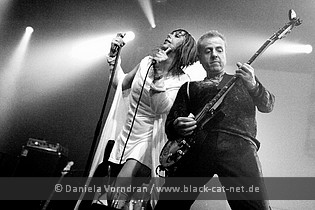 Music & Performance
The Gothic Festival welcomed another musical legend of the scene: ANNE-MARIE HURST, often called UK's queen of old school Goth. After a number of gigs in Great Britain, Waregem was her first gig in mainland Europe. I have to admit that I'm not too familiar with ANNE-MARIE HURST's previous bands like GHOST DANCE or THE SWEET but SKELETAL FAMILY classics like 'Promised Land' or 'She Cries Alone' surely ring a bell. And, to the delight of her fans, ANNE-MARIE HURST delivered these gems in Waregem. On top of it, some old GHOST DANCE faves like 'I Will Wait' or 'Walk In My Shadow' (actually the show closer). Not much left to ask for the fans, and all those who weren't familiar with the songs and music couldn't help but to admit that ANNE-MARIE HURST and her band know exactly what they are doing up there on stage.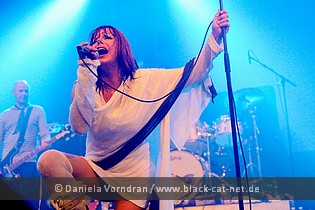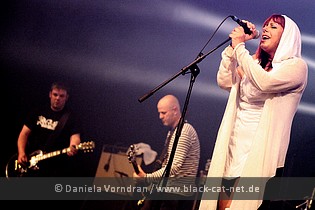 Literally, decades of experiences as a live performer showed, and HURST was quite seemingly excited and happy about the great feedback from the large crowd in front of her. I'm sure that with this gig HURST gained some new fans, so let's hope that it doesn't take years again until she hits the road in Europe once more.
Setlist
01. River of no return
02. Down to the Wire
03. She cries alone
04. Don't let go
05. Last Train
06. Move
07. The Angels
08. So sure
09. I have changed
10. I will wait
11. Promised Land
12. Hands on the Clock
13. Walk in my Shadow
Rating
Music: 8
Performance: 9
Sound: 9
Light: 8
Total: 8.5 / 10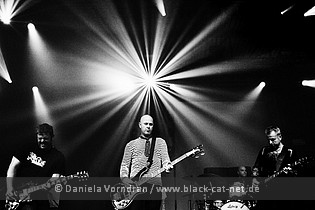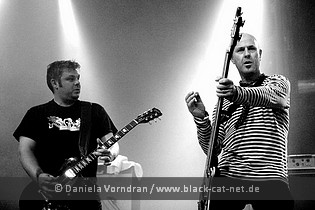 yelworC (Club Stage - Sebastian Huhn)
YELWORC was founded in 1987 by Peter Devin and Dominik van Reich. Back then the name of the project was LIVE DF YELWORC but a year later the name was shortened and has never changed again. If you read the name backwards you'll get 'Crowley' and Aleister Crowley, a magician, philosopher and adventurer had indeed an influence on YELWORC's experimental forms of expression in musical as well as formal regards. The debut 'Brainstorming' was released in 1992, followed by the 'Blood in Face' MCD in 1993. Dominik van Reich left the band in 1994 due to personal discrepancies and Peter continued. Peter also started working on the album 'Trinity' which is the first part of a conceptual trilogy inspired by 'Dante's Divine Comedy' in 1994. It took ten years until 'Trinity' was finally published in 2004 and after 3 years of hard work, 'Icolation' is released in October 2007. It pushes the Trilogy forward into the next phase: The Purgatory. 2009 saw YELWORC returning to the live circuit after 15 years, but also work continued on new material. The new album will be called 'Torture Trial' and hopefully be released sometime this year. Completion of the trilogy's third part 'Any Heaven?' meanwhile has been pushed back for an indefinite time.
http://www.yelworc.de/
/
http://www.myspace.com/yelworc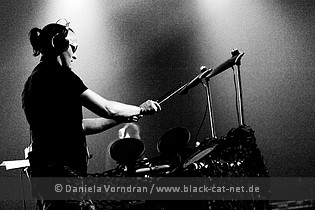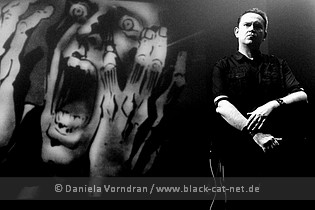 Music & Performance
I was not the only one who's been looking forward the performance of YELWORC a lot and so plenty people gathered in front of the club stage already when I arrived, curious what would be in stock with this live performance. Well, first that was a song named 'Numbers' from the upcoming album 'Torture Trail', supported with symbolic imagery with signs of different cultures spread over the world, and Peter taking centre stage, his face hidden. The downer came with the vocals not being heard until halfway into the second song 'Doom of Choronzon', something that bugged me and also others a little. Up on the gallery, the problem remained for much longer than that. The mask Peter was wearing seemed to be some kind of mutilated pumpkin mask, fitting 'Ecce Mundo' very well to which dancers could be spotted in several rows. A classic was coming up next with 'Blood In Face', one track I had hoped for. 'Soulhunter' would've been great to hear as well. For 'Dark Thorn', the first interaction with Anika, doing the keys up to that point but it was lacking one crucial thing and that was passion; the bit to make it look real. Maybe she was not feeling so comfortable yet and it'll fade with time. Peter was showing some more of that needed passion but also here it could've been better.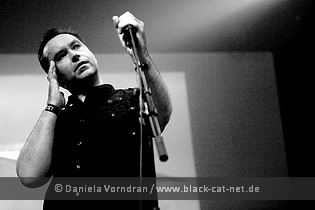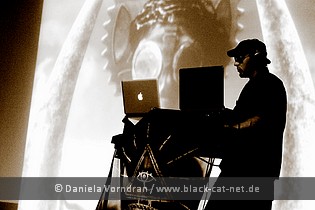 Think that was enough criticism since the show had good points just as well. The thing with the masks is something to build upon and expand, since it transports a certain mood, suiting the song and using certain tools gives it another visual detail. Adds an artful element to the show! Also the video projections should be kept within the show; even should be reinforced. The vocals, for those who could actually hear them, were powerful and hard just as expected. More recent material predominated in further parts of the setlist like the fairly kicking 'Teufels Dreizack', the protean 'Eclosion' or 'Vampires Tongue'. Particularly with that song, or better the club treatment I had some problems. Most of the dynamics the song has got were swallowed by the bass drum; undeniably works better live that way, though. The show closed with the special live track 'Outronius', including the lyrics of 'D-Mask' off the 'Trinity' album and immediately afterwards big applause followed. There was light and dark within this live performance; some things that need to be worked on and some to work from.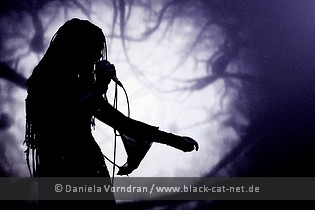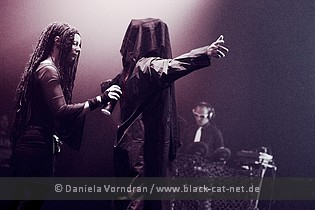 But it would be boring if everything was perfect anyway. So in summary there's to say that it with all its flaws still was a good performance, but with room for improvements, and I hope to get a better sound mix next time.
Setlist
01. Numbers (New Song)
02. Doom Of Choronzon
03. Ecce Mundo (Live-Version)
04. Blood In Face
05. Dark Thorn
06. Bloodwhited
07. Teufels Dreizack
08. Eclosion
09. Purple Blood
10. Vampires Tongue (Live-Cutted-Version)
11. Outronius
Rating
Music: 8
Performance: 6
Sound: 6
Light: 7
Total: 7 / 10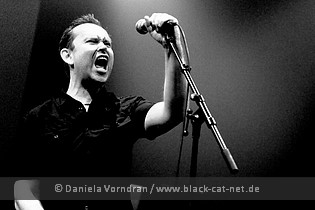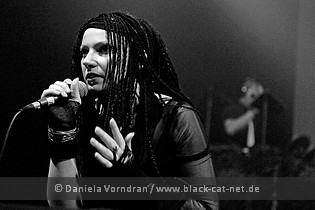 Front Line Assembly (Main Stage - J. "Niggels" Uhlenbruch)
There's no denying, the Canadian FRONT LINE ASSEMBLY is one of the most influential acts of the Industrial scene. Albums like 'Caustic Grip' (1990) or 'Tactical Neural Implant' (1992) stand the test of time and have been a source of inspiration to a plethora of electronic underground bands. After gaining huge mainstream success with the side project (sic!) DELERIUM in the 1990s, founder Bill Leeb seemed to neglect a little his first brainchild FRONT LINE ASSEMBLY but managed to revive it over the last few years. FLA's more recent albums, however, were a bit of hit or miss and at times a bit inconsistent. The single 'Shifting through the Lens' was the herald for FRONT LINE ASSEMBLY's new album 'Improvised Electronic Device' which has been released at the end of June 2010. FRONT LINE ASSEMBLY is Bill Leeb (vocals, keys), Jeremy Inkel (keys), Jared Singerland (guitar) and Jason Bazinet (drums).
http://www.myspace.com/thefrontlineassembly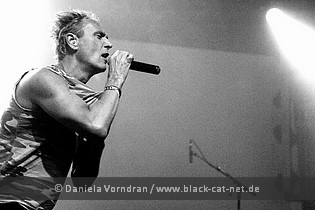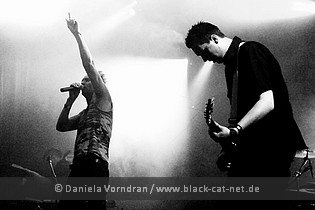 Music & Performance
It's been a long time since the last time I saw FRONT LINE ASSEMBLY live in concert. It was actually the "Hard Wired" tour 1996, and although I'm a big fan of Bill Leeb's brain child I somehow always managed to miss FRONT LINE ASSEMBLY when they toured Europe since then. The reports from FRONT LINE ASSEMBLY's more recent shows were rather mixed, though. Some loved it, some had rather mixed feelings about it and some complaint that Bill Leeb at times lacked the energy he once had and acted as if he began to dislike playing live. And of course there was this infamous and well-reported FRONT LINE ASSEMBLY gig with the fake Bill Leeb at the Wave Gotik Treffen a couple of years ago, probably one of the weirdest stories in the history of live gigs! Well, in Waregem I finally had the chance to catch up with FRONT LINE ASSEMBLY live again, and as I love their new album 'Improvised Electronic Device' and hoped to hear some classics I was looking forward to their gig, no matter what third parties had to say about FLA's live shows over the last few years.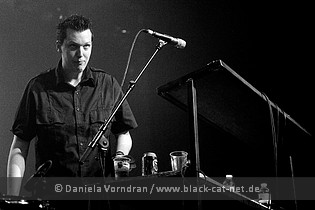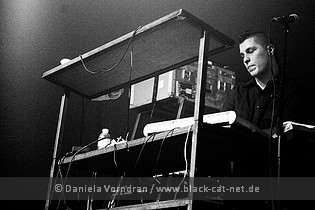 And boy, in Waregem they crushed any doubts about their live qualities! Starting with the title track of the new album, FRONT LINE ASSEMBLY plunged in medias res and gave us the hard Industrial Rock treatment. Drummer Jason Bazinet, the latest addition to FLAs live line-up, and guitarist Jared Singerland made sure that FLA sound a lot more organic and Rock than on their studio works. While some Industrial / Electro bands try too hard to be rockier on stage it as just perfect in this case. A quick "Hello, we are F.L.A.!" from Bill Leeb, and the band threw in the first of many classics with 'Circuitry', the single hit from 1995's 'Hard Wired' album. It seemed that FRONT LINE ASSEMBLY decided for a festival-friendly setlist full of classics and with only four songs from the new album, but then time is always the limiting factor at such festivals. I was thrilled that 'Angriff', my fave from the new one, made it into the set and even more thrilled that they performed the classic anthem 'Resist', from 1990s 'Caustic Grip' album, as well. I truly did not expect to hear such old gems, especially as Bill Leeb said in our interview that he definitely prefers to play the new stuff. However, with 'Plasticity' and 'Millenium' there were more classics in store for us, and the new single 'Shifting through the Lens' proved to be an absolute live killer.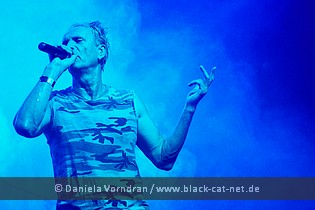 A tight, energetic and impressive performance! There were a few hick-ups regarding the sound mix here and there but the crowd was well into it, and when FRONT LINE ASSEMBLY finished their set with the anthems 'Millenium' and 'Mindphaser' hell broke loose! A very good day for FRONT LINE ASSEMBLY and their fans, and a great demonstration how an Industrial / Electro band should be live! I swear it won't take another 14 years to see them live again, in fact I'm already counting my money to see how many gigs I might attend when FRONT LINE ASSEMBLY return to Europe this autumn!
Setlist
01. I.E.D.
02. Circuitry
03. Angriff
04. Resist
05. Release
06. Plasticity
07. Prophecy
08. Shifting Through The Lens
09. Millennium
10. Mindphaser
Rating
Music: 9
Performance: 9
Sound: 8
Light: 9
Total: 8.9 / 10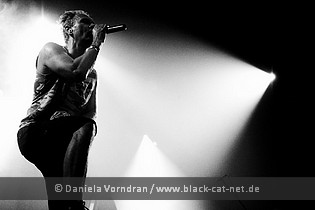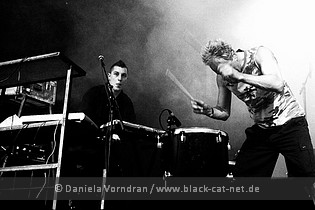 In the Nursery (Club Stage - Sebastian Huhn)
The roots of the family business of the twin brothers Nigel and Klive Humberstone extend back to a time when New Wave was on the lead. IN THE NURSERY started with rough and experimental tracks causing a stir in Britain's blooming Industrial scene. Dark pathos-filled synth sounds combined with crunchy military drums and a powerful rhythm foundation made up the trademark sound. Later on, bombastic, soundtrack-like soundscapes were increasingly woven into it. The dramatic, emotional sonic pictures IN THE NURSERY is painting also roused the attention of film directors. Beginning with the mid-90s, the band composed movie scores. Also with the recent songs e.g. from their last regular studio album 'Era', IN THE NURSERY remained true to themselves. ITN are Klive Humberstone (percussions), Nigel Humberstone (keys, synths), Dolores Marguerite C (vocals) and David Electrik (percussions).
http://www.inthenursery.com/
/
http://www.myspace.com/inthenursery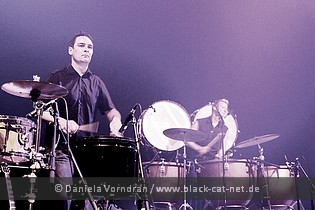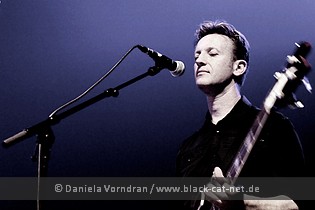 Music & Performance
Before the show I was asked by two friends if IN THE NURSERY were any good since they haven't had an encounter with them as yet. So I started some adulation about how good they were in my opinion and what they were doing when on stage. I feared that if IN THE NURSERY were in a bad live shape this time I would have to suffer severe punishment ;) Thank god they were not, and after the first track 'Rainhall' had given the introduction, I could forget about those fears completely. At some point I decided to take a closer spot to be even nearer to the action of 'Blueprint' with the interlocking drum and percussion textures of Dave and Klive, pushing on the song and making it so tempting to move that some couldn't resist doing it, while others were sticking to watching the fascinating play that was enriched with Dolores' vocals. The 'Hymn Noir' stirred melancholy feelings with soaring orchestral emotion before the action started with the rhythm kicking in and the protagonists on stage showing their skills again.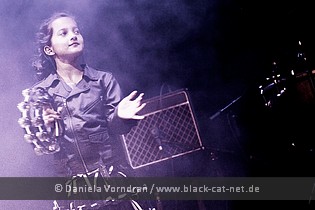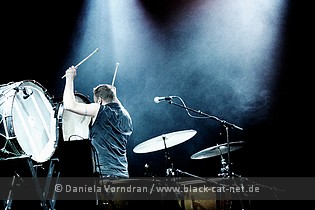 'Mystery' gave the ears a bit of a calm old-school trip before 'Silent in Time' opened the door again for cinematic dynamics; a song that builds more and more textures by degrees and swells up to dramatic extends, and has Klive adding a vocal part. Should be adding some much more often don't you think? During those songs, the audience was watching the band in awe, but when one song ended they got all the more louder. For the rhythm-driven 'Cobalt', a little guest entered the stage with Klive's and Dolores' daughter India, supporting the band a little with a tambourine. Looked a bit uncomfortable at first, but she began to enjoy herself more and more. 'L'Esprit' closed the show, but just for a few moments until the demand for more became loud enough to bring everyone back on stage- A trip to the past began with 'A to I', so far away from what they'd be doing later, a descendant of post-punk. Also the following 'Stone Souls' is of that era.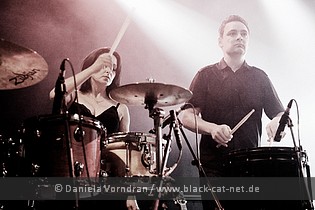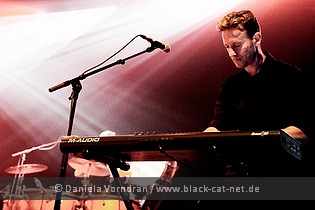 IN THE NURSERY then struck the final minutes with compelling showcases of 'Compulsion' and 'Sentient'. Could anything top this for me today? Yeah, but only one thing and I really didn't expect it to be such an enormous blast. Anyway, that shouldn't divert attention from the fact that it was once again brilliant.
Setlist
01. Rainhall
02. Blueprint
03. Hymn Noir
04. Bombed
05. Mystery
06. Silent In Time
07. Sixth Sense
08. Cobalt
09. Au Rebours (Flesh Field Remix)
10. L'Esprit
---
11. A to I
12. Stone Souls
13. Compulsion
14. Sentient
Rating
Music: 9
Performance: 9
Sound: 9
Light: 8
Total: 8.9 / 10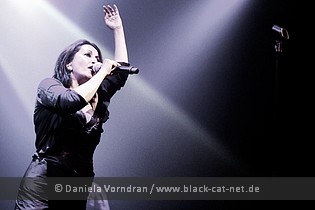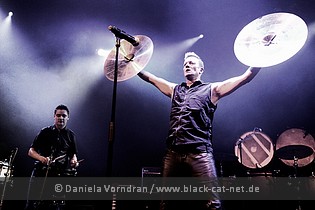 Skinny Puppy (Main Stage - J. "Niggels" Uhlenbruch))
In 2005 the Canadian music legend SKINNY PUPPY headlined the Saturday night at the M'era Luna, in 2007 they were only granted a 45 minute slot in the late Sunday afternoon! Heresy! Well, at least unfortunate. SKINNY PUPPY, founded in the early 1980s in Vancouver, is one of the most influential bands in the scene, and their Industrial sound and their conceptual work influenced a plethora of subsequent bands. SKINNY PUPPY's early albums like 'Remission', 'Bites' or 'Mind: TPI' were ground-breaking for their times and comprised popular classics like 'Smothered Hope', 'Assimilate' or 'Addiction' which were standards at your local Goth club for years and years. But SKINNY PUPPY never stood still and were in search of new sounds and aimed at an even more complex and less accessible sound in the late 1980s and early 1990s, always eager to explore new musical grounds.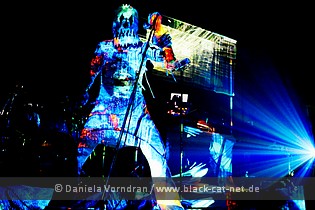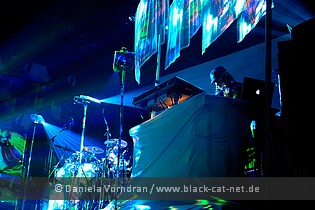 An urge that made albums like 'VIVIsect VI' (1988), 'Too Dark Park' (1990) or 'Last Rights' (1992) unrivalled to this day. But tensions grew and during the recording of 'The Process', SKINNY PUPPY broke-up and Dwayne R. Goettel died of an overdose after returning back home. A return of this influential band seemed impossible at this point, but sometimes even impossible things happen and after a reunion show in 2000, SKINNY PUPPY returned in 2004 with 'The Greater Wrong Of The Right', followed by the latest offering 'Mythmaker' in 2007. A new album is already finished but still wasn't released due to the insolvency of the label.
http://www.skinnypuppy.com/
/
www.myspace.com/skinnypuppy

Music & Performance
Out of this world! These words describe best the SKINNY PUPPY live experience. There were many great live shows at the Gothic Festival - including DIVE and FRONT LINE ASSEMBLY just a few hours before SKINNY PUPPY entered the stage in Waregem - but it is hard to put in words to describe the audio-visual psycho-trip installed by Nivek Ogre, cEvin Key and drummer Justin Bennet.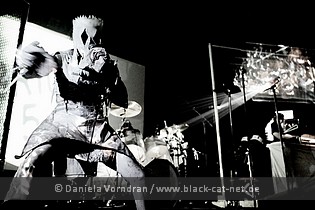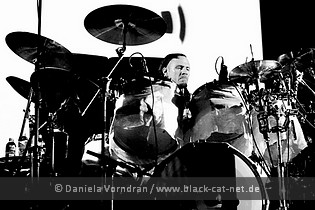 Artistic creativity meets human insanity, or at least the artistic illustration of insanity. A show by SKINNY PUPPY is not just the performance of selected crowd pleasers, it's narrative and theatrical and Nivek Ogre is as much an actor as a vocalist. With 'Love In Vain', he entered the stage, dressed in all white with a scary mask and a huge cone-shaped hat, which might remind some people on an oversized dunce's cap and some others on a Ku Klux Klan bonnet (some might argue there's not too much of a difference *g* ). The stage design is basically rather simple. Everything - from the keyboard racks to the drum kit to Ogre's metal cage on the left - is covered with white cloth. The trick is that three or four video projectors project various images and animations on the stage, and on the huge screen in the back, from various angles. This way the stage is flooded with colour and crazy visuals. A simple but clever concept which delivers much more than a mere light show! It's a visual overkill, which is in combination with Ogre's stage acting so captivating that I hardly noticed the next song, 'Hatekill', kicking in. But I gave the next song a scream after the first second - there's no way on hell I wouldn't recognize one of my all-time faves, 'Addiction'! This single from 1987 hasn't been performed live for ages, and before this tour I could only pray that I might hear it live once in a lifetime.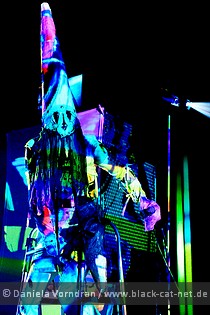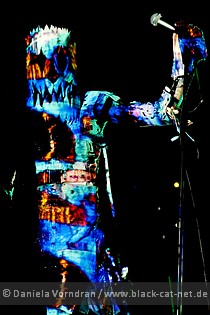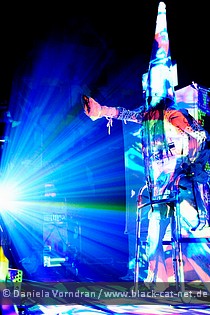 But that was not the only goodie SKINNY PUPPY dug out from their back catalogue, as we also got to hear other old gems like 'Deadlines' or 'Morpheus Laughing', making the setlist considerably different from the last tours. And as much as they avoid to compile a setlist of mere "musts" and fan faves, SKINNY PUPPY also give a new life to the old songs they performed live. I'm sure that an outsider couldn't tell which songs are old and which ones are rather new, as cEvin Key gave all songs a nice new treatment, beefing up old ones and tweaking the newer ones - from 'The Greater Wrong of The Right' (2004) and 'Mythmaker' (2007) - so that everything sounds integrally connected. In the middle of the show the audience had the first chance to actually give some applause as all songs up to the where performed in one go, with lots of improvisations and jamming between the main tracks. But it was more than obvious that the crowd was in awe for what they witnessed, with glowing faces everywhere and some dancing in front of stage. To finish their main set, SKINNY PUPPY reactivated another old song which wasn't performed in more than 15 years before this tour, 'Assimilate'! If SKINNY PUPPY ever had a huge club hit, then it's this one!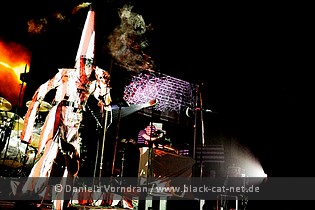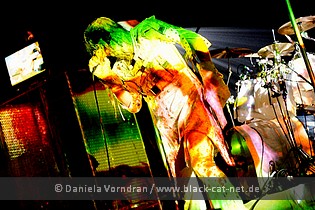 A miracle why they didn't play it in such a long time but then SKINNY PUPPY hardly cares about such things! 'Assimilate' caused a roar when it kicked in and it let the Expo Hall erupt! No question that SKINNY PUPPY had to return for an encore, and of course they did 'Worlock', one of the most epic songs ever. But they had yet another surprise in store and played 'Shore Lined Poison', including a sarcastic dig at British Petrol by Ogre. It was first time since 1990 that SKINNY PUPPY played this album track from 1990s 'Too Dark Park' live! Another big "wow"! Since their legendary reunion show in Dresden 2000 I saw SKINNY PUPPY quite a few times but I have to say that this show was among the very best! And in my book it was also the show of the year so far, which will be hard to beat. Maybe only by SKINNY PUPPY themselves!
Setlist
01. Love In Vein
02. Hatekill
03. Addiction
04. Dogshit
05. Deadlines
06. Tormentor
07. Politikill
08. Pedafly
09. Rodent
10. Pro-Test
11. Morpheus Laughing
12. Ugli
13. Assimilate
---
14. Worlock
15. Brap
16. Shore Lined Poison
Rating
Music: 10
Performance: 10
Sound: 9
Light: 10
Total: 9.9 / 10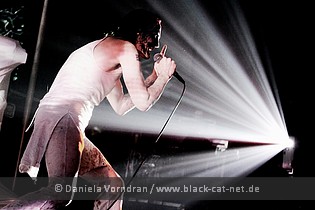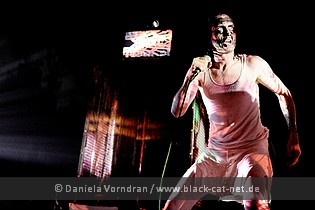 All pictures by Daniela Vorndran (
http://www.vorndranphotography.com/
/
http://www.black-cat-net.de/
/
www.myspace.com/vorndranphotography
)
Written by Daniela Vorndran (common parts), Sebastian Huhn and J. "Niggels" Uhlenbruch
{jos_sb_discuss:17}
See also (all categories):