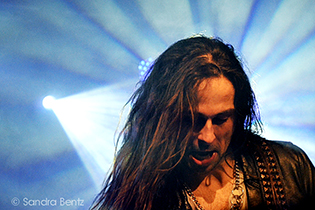 Alte Seilerei, Mannheim, Germany
24th March 2015
Hardcore Superstar, Nitrodive & Double Crush Syndrome

The Alte Seilerei (Old Ropery) is a former factory building that has been converted into a venue that houses sports events, comedy acts and concerts alike. It is located rather outside the city of Mannheim. On 24th of March, HARDCORE SUPERSTAR and NITRODIVE played a show there - together with an unexpected guest as opener.
Double Crush Syndrome

As a surprise act, the German band DOUBLE CRUSH SYNDROME was the opener for this show. They come from Waghäusl in Baden-Wurttemberg and were formed in February 2013. Unlike most bands, they release their music without being signed to any record label. The band members are Andy Brings (lead vocals, guitar), Slick Prolidol (bass, backing vocals) and Markus Herzog (drums).
http://www.doublecrushsyndrome.de
/
https://www.facebook.com/doublecrushsyndrome/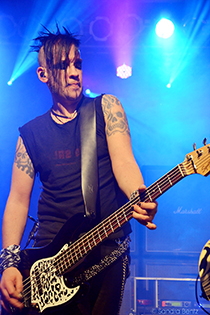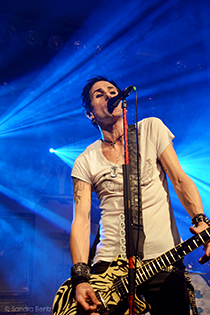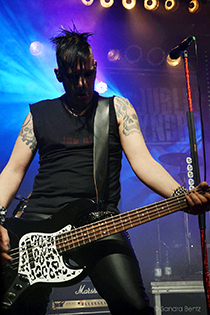 Music & Performance

DOUBLE CRUSH SYNDROME's music is Rock'n'Roll with emphasis on the Rock part. Their performance was energetic and it was obvious they had a rather large fan base within the audience that was eager to have a good time. And the band delivered, especially the singer who made sure there was a lot of interaction with the fans, even going as far as leaving the stage during 'We die for Rock'n'Roll' to walk around the audience to greet people, to dance with them and then to resume the song on stage.
Setlist

01. She's a pistol
02. We cannot be ruled
03. Yeah! Pain!
04. I'm in love with you
05. Blood on my shirt
06. Can't you be like everyone else?
07. Fuck you is my answer
08. We die for Rock'n'Roll
09. Gimme everything
---
10. Tonight
Rating

Music: 7
Performance: 7
Sound: 5
Light: 7
Total: 6.5 / 10
Nitrodive

NITRODIVE is a three-man band from Gothenburg in Sweden. After their signing to Gain and their initial debut with an EP in 2009, they have released two albums so far, their first one called 'Survival of the Fittest' hitting #14 of the Swedish billboard charts upon its release in 2011. A lot of touring later, their second album 'Re-Evolution' was released in December 2014. NITRODIVE is Albert Norberg (guitar & lead vocals), Robert Johnson (bass & vocals) and Johan Gren (drums & vocals).
http://www.nitrodive.com
/
https://www.facebook.com/NitroDive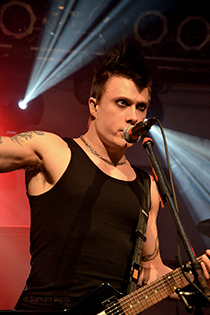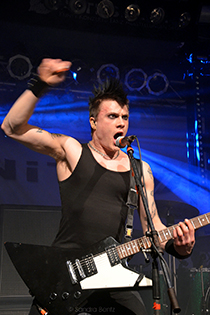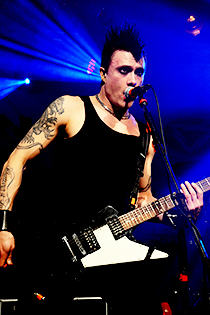 Music & Performance

The sound of NITRODIVE is bit more edgy than that of their predecessors, best described as Alternative Rock with a hint of Metal vocals at times. After a short break to rearrange the stage, the guys started their set to heat up the audience even more. As a nod to all those who did not know their music they also played a cover of the RAMONES' 'Blitzkrieg Bop', to make sure everyone was having a good time and to give them the possibility to sing along. Not that their own music and of course their vivid performance wouldn't have been stirring by themselves. Still one could get the impression the lead singer was a bit nervous at times which would have been a shame as there was nothing to be nervous about: performance, instruments and vocals were on point. The only thing that was a little annoying was that the lights were a tad bit too often rather blinding than illuminating – and that their set was over too soon.
Setlist

01. Re-Evolution
02. Hold Me Back
03. Blitzkrieg Bop (Hey Ho Let's Go) (Ramones cover)
04. Dead or Alive
05. Someday
06. Woman
07. Dying to Live
08. Bad Blood
Rating

Music: 9
Performance: 8
Sound: 7
Light: 6
Total: 7.5 / 10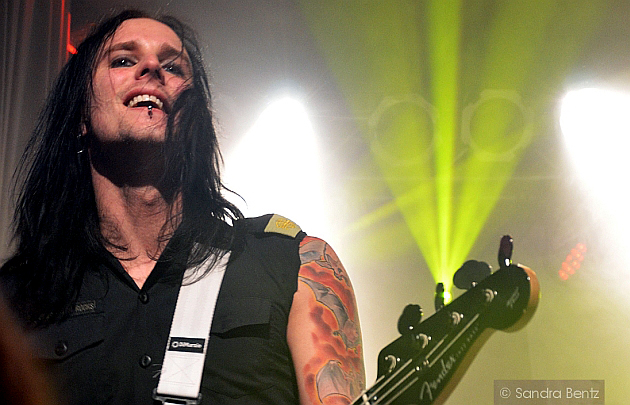 Hardcore Superstar

The main act HARDCORE SUPERSTAR also comes from Gothenburg. The band has been founded in 1997, so they can look back on almost two decades of making music. In those years they have experimented and reinvented themselves numerous times without losing the special something that makes their very own sound, a mixture of Sleaze and Rock. With this tour they don't only prove once again their affinity for live performance but also give their fans a foretaste to their upcoming newest album which will be released in April. HARDCORE SUPERSTAR is Joakim "Jocke" Berg (vocals), Martin Sandvik (bass), Vic Zino (guitar) and Magnus "Adde" Andreasson (drums).
http://www.hardcoresuperstar.com
/
https://www.facebook.com/OfficialHardcoreSuperstar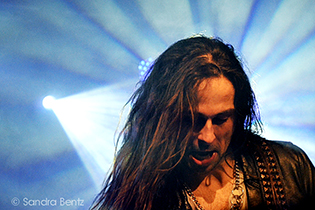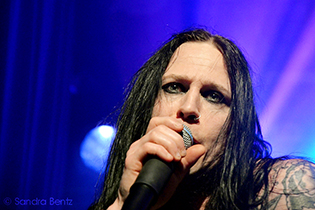 Music & Performance

Headliner and highlight for this evening were HARDCORE SUPERSTAR. Their sound, as already described, is a mixture of Sleaze and Rock with a bit of this and that mixed in which amasses to their unique style of music. Even after the many years of performing, HARDCORE SUPERSTAR are capable of surprising their audience, this time by choice of their first song. 'We don't celebrate Sundays', their most notorious song and usually reserved for later in the show was played as their opener to get the audience right into the mood. All in all the set list did have its surprises, not only because of the new songs but also because of older songs that frequently were part of the set list but were omitted like 'Bag on your head'. The new songs, however, more than made up for that. Needless to say the atmosphere was great but turned a little sombre when Jocke dedicated their song 'Touch the sky' to the recently passed A.J. Pero of TWISTED SISTER.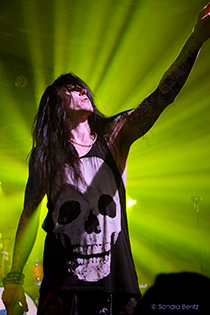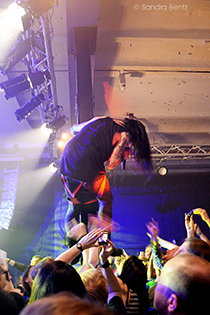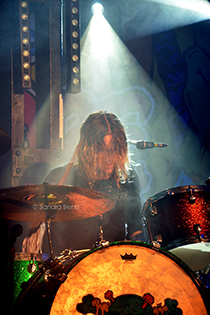 But by 'Last call for alcohol' this sombreness was forgotten and the band invited their fans to drink with them and even got some of them on stage before leaving the very same. They returned for three more songs though, one of them from their upcoming album plus the catchy songs 'Moonshine' and 'Above the law' which concluded the night.
Setlist

01. We don't celebrate Sundays
02. My good reputation
03. Guestlist
04. The cemetery
05. Off with their heads
06. Dreamin' in a casket
07. Wild boys
08. Kick on the upperclass
09. Touch the sky
10. She's offbeat
11. Last call for alcohol
---
12. Don't mean shit
13. Moonshine
14. Above the law
Rating

Music: 9
Performance: 9
Sound: 7
Light: 8
Total: 8.25 / 10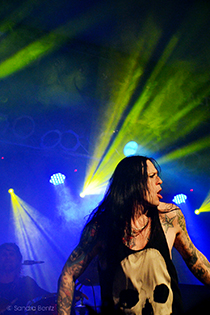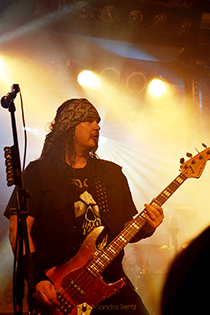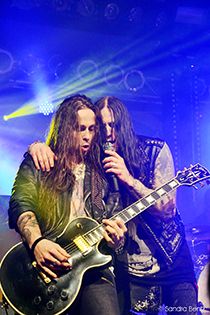 All pictures by Sandra Bentz
See also (all categories):