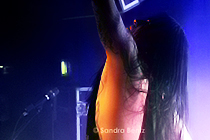 Zoom, Frankfurt, Germany
20th October 2015
Chase the Ace & Michael Monroe & Hardcore Superstar

On October 20th, in the very heart of Frankfurt's downtown and just a few steps away from the city's busy shopping mile Zeil, we hit the ZOOM, a small club for both parties and occasional concerts, to witness the rock spectacle of this fall: the co-headlining tour of HARDCORE SUPERSTAR and the mighty MICHAEL MONROE, former singer of HANOI ROCKS. Support on this still ongoing tour is CHASE THE ACE from Tel Aviv.
Chase the Ace

CHASE THE ACE, a London-based rock band hailing from Israel, opened the show. The band consists of four members: Roi Vito Peleg (vocals / rhythm guitar), Yam Artzy (drums / back vocals), Dan Parsons (lead guitar / back vocals) and Yair Gadon (bass / back vocals). In their two and a half years of existence, they've already released one album ('Are you ready?', 2013) and their second one, 'Hell Yeah!', is only a few weeks shy from being out as well (official release: 25th November 2015).
http://chasetheaceband.com
/
https://www.facebook.com/ChaseTheAceBand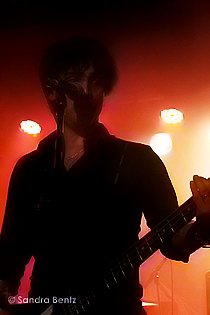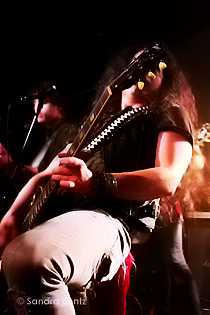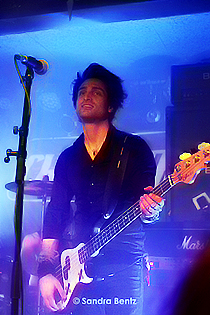 Music & Performance

Not only their band name CHASE THE ACE reminds of AC/DC, their music also captures the 70s' and 80s' rock spirit, fitting in well with the other bands' music and so it is no miracle they were well-received by the audience. Even from the very beginning there was a flow of interaction between band and audience, especially when the singer left the stage to wander the venue, small though it may be, in order to perform his guitar solo in the midst of the audience rather than on stage.
Setlist

01. Cat is on the Loose
02. Stalker
03. Fortunate Son
04. Bad Seed
05. Raise Your Glass
06. Hell Yeah
07. California
Rating

Music: 8
Performance: 7
Sound: 7
Light: 7
Total: 7.3 / 10
Michael Monroe

Best known as the former singer of HANOI ROCKS, MICHAEL MONROE has been focusing on his solo project both after the band's first break-up in 1985 and their final break-up in 2009. He has released thirteen solo-albums so far since 1987, with the latest one called 'Blackout States' (16th October 2015).
http://www.michaelmonroe.com
/
https://www.facebook.com/michaelmonroeofficial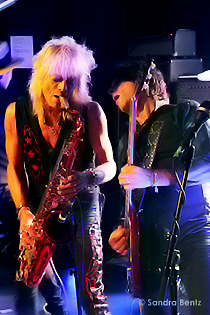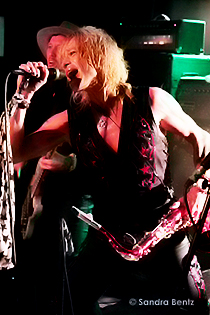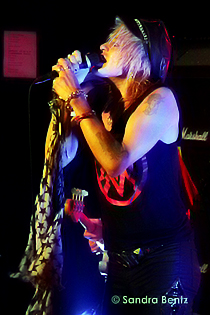 Music & Performance

It is no secret that MICHAEL MONROE had been performing rock music even before some of us were even born and those years of experience showed. So if anyone feared that MICHAEL MONROE's age would be noticeable in his performance, they were proven wrong: energetic as ever and full of enthusiasm - not only as singer but also playing various instruments - his love for both his music and the audience was highly visible. Together with his band he created a great show, even on the rather small stage. Of course some HANOI ROCKS classics were integrated into the setlist, much to the pleasure of the fans who were partying just as hard as the band on stage, with some of them even crowd surfing. As CHASE THE ACE before, MICHAEL MONROE too, extended his performance to the rest of the club climbing amps and seats as well as a metal bar on the ceiling. Unfortunately, though, with great performances like these time flies and after two encore songs, it was time for the last band of the evening.
Setlist

01. 78'
02. This Ain't No Love Song
03. Old Kings Road
04. Trick Of The Wrist
05. Oriental Beat
06. L.E.S.
07. Man With No Eyes
08. RLF
09. Down With The Ship
10. Hammersmith
11. Got Blood
12. Tragedy
13. Malibu
14. Up Around The Bend
15. Dead, Jail, Rock'n'Roll
---
16. Nothing's Alright
17. Wanna Be Loved
Rating

Music: 9
Performance: 10
Sound: 8
Light: 8
Total: 8.8 / 10
Hardcore Superstar

Almost exactly half a year ago, HARDORE SUPERSTAR had their last tour in Germany, but the band from Gothenburg, Sweden doesn't seem to get enough of touring. Their latest album 'HCSS' has been released in April and with already 18 years of being around, the four Swedes are old hands in their business. HARDCORE SUPERSTAR is Joakim "Jocke" Berg (vocals), Martin Sandvik (bass), Vic Zino (guitar) and Magnus "Adde" Andreasson (drums).
http://www.hardcoresuperstar.com/
/
https://www.facebook.com/OfficialHardcoreSuperstar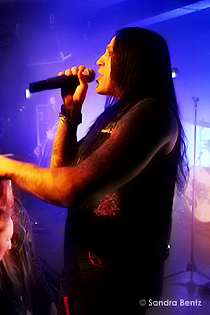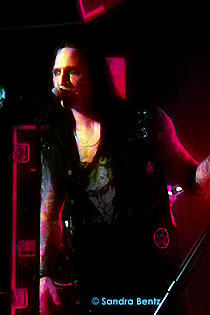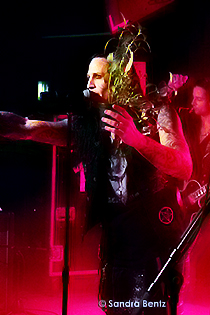 Music & Performance

Even though they are not new to the stage themselves playing after a great performer like MICHAEL MONROE certainly raises the audience's expectations. But HARDCORE SUPERSTAR wouldn't be HARDCORE SUPERSTAR if they didn't manage that in the blink of an eye, and so, having the rocking 'Sadistic Girls' as opener, they carried the audience away from the first second on. The setlist was, in slight difference to March, completely focused on partying and that's what the fans did, with all they had. Energetic as ever Jocke led through their show and even managed to surprise the audience with 'Hateful' from the in 2005 released album 'Hardcore Superstar', a rarely to never live played song of the band.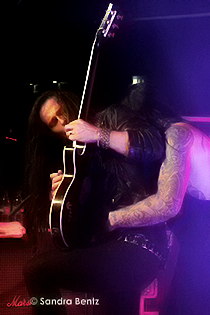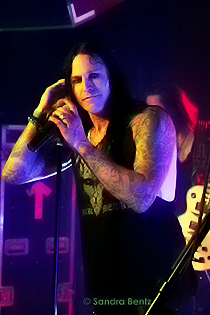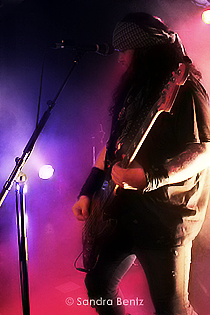 Of course the running gag with Adde's drums being disassembled during the last song wasn't left out either, and after 14 songs the band finally left the stage and concluded the evening.
Setlist

01. Sadistic Girls
02. Guestlist
03. Touch The Sky
04. Medicate Me
05. Bully
06. Wild Boys
07. Dreamin' In A Casket
08. Into Debauchery
09. Don't Mean Shit
10. Hateful
11. Moonshine
12. Last Call For Alcohol
13. We Don't Celebrate Sundays
---
14. Above The Law
Rating

Music: 10
Performance: 10
Sound: 8
Light: 7
Total: 8.8 / 10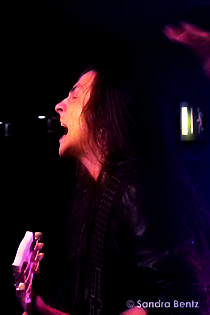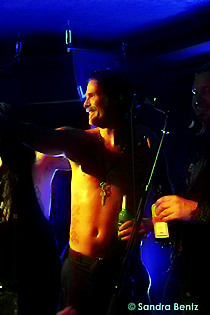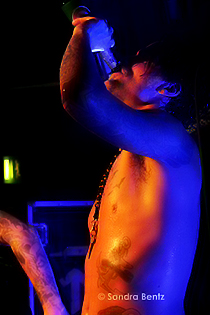 All pictures by Sandra Bentz
See also (all categories):