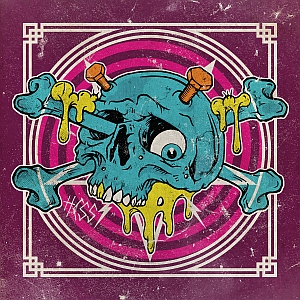 Artist: Hardcore Superstar
Title: HCSS
Genre: Sleaze Rock
Release Date: 24th April 2015
Label: Gain Records (Sony Music)
Album Review

HARDCORE SUPERSTAR are one – if not THE – main act of Swedish sleaze rock. The band is located in Gothenburg but they do have a thing for touring both as headliner and as support act. And not to forget: They often work on new songs or, as in this case, work with older songs that did not make it the first time. So their eleventh and self-titled studio album gives an interesting overview over their musical evolution spanning almost two decades. The new album starts with four songs that get the listener into the mood by mainly representing the current style of HARDCORE SUPERSTAR. Starting with 'Don't mean shit', the band delivers what they are known for - rocking tunes with catchy lyrics with potential to stay in your head for days.
'Party 'Til I'm gone' comes along as a dirty, sleazy Rock song with radio-like mixing and a refrain to melt hearts. Jocke plays with his voice here, excellently conveying the longing of the refrain's first line 'Take me away from home' and reversing the mood just as quick in the following two lines. Since HARDCORE SUPERSTAR know how to deliver, we get a rather unexpected sound in 'The Cemetery' - a great live song as we've experienced ourselves not too long ago. The guitar riffs almost remind of British rock bands, but the familiar HARDCORE SUPERSTAR-sound creeps back in in the refrain. A successful roundup through and through, that shows its full potential better on stage, though. 'Off with their heads', the fourth song on the album, pairs rocking sounds with a hint of Alice In Wonderland. Although not being fairy-tale-themed, Jocke's singing in the refrain really reminds of the Queen Of Hearts, creating a cool and furthermore extraordinary atmosphere.
As already mentioned, this album includes different styles that still represent HARDCORE SUPERSTAR at different times of their musical career. Its overall key aspect is, of course, Rock music. Guitar solos, memorable bass lines and the solid use of drums paired with the suitable vocals. This is what one has come to expect to hear and so it comes as kind of a surprise when the sound differs heavily throughout the album. Two songs stand out in particular in this respect, the first of which would be 'Fly' which is with a play time of almost eight minutes also by far the longest song. Here the first minutes take you back to a sound that reminds of the late 90s or early 2000s, more laid-back and somehow in its simplicity it takes the listener to the rehearsal room. Admittedly, it might take a few times to get used to this mixture between rock ballad and grunge ballad. Which leads to the next song that stands out even more: 'Touch The Sky'.
Here we have an interesting mixture of Reggae with a Rock twist that dominates the first verse. Sadly the song does not go back to this mood after the chorus; the next verses lack this strong emphasis on Reggae with less reverberation for the vocals. Another interesting opening is the one of 'Growing Old' with its eerie synths and a reminiscence of a musical box. After one and a half minute this opening, basically an interlude, leads into more familiar terrain and back to Rock. The last two songs take the listener the last steps back to the 'state of the art' and are less experimental. 'Glue' is more light-hearted and catchy whilst 'Messed Up For Sure' goes all the way down to dirty sounds and heavy guitars paired with emotional vocals, ultimately ending the album with a short speed-up and tension until the song – and with it this album – fades out.
Setlist

01. Don't Mean Shit (3:37)
02. Party 'Til I'm Gone (3:25)
03. The Cemetery (3:57)
04. Off With Their Heads (3:29)
05. Fly (7:43)
06. The Ocean (4:39)
07. Touch The Sky - Hardcore Superstar Feat. Etzia (4:17)
08. Growing Old (5:16)
09. Glue (4:07)
10. Messed Up For Sure (4:03)
Line-up

Joakim "Jocke" Berg - vocals
Martin Sandvik - bass
Vic Zino - guitar
Magnus "Adde" Andreasson - drums
Website

http://www.hardcoresuperstar.com
/
https://www.facebook.com/OfficialHardcoreSuperstar
Cover Picture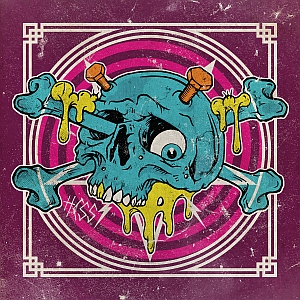 Rating

Music: 8
Sound: 7
Total: 7.5 / 10
See also (all categories):