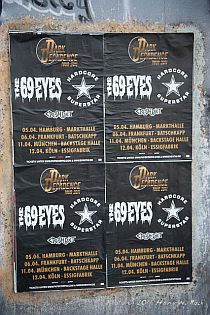 Batschkapp, Frankfurt, Germany
6th April 2011
Crashdiet, Hardcore Superstar, The 69Eyes

For fans of heavy Scandinavian metal there was a real treat coming up with the Dark Decadence tour 2011 where 3 bands from Sweden and Finland were coming together, all indulging in different facets of the genre. CRASHDIET, HARDCORE SUPERSTAR and THE 69 EYES were coming together for an explosive evening in Frankfurt on 6th April.



Crashdiet

The opener for this evening was the Swedish sleaze/glam band CRASHDIET from Stockholm. After they had a change in their line-up (former singer Olliver Twisted left 2008), it was the first time they presented their new singer Simon Cruz on a concert stage to their German fans. CRASHDIET is Simon Cruz (vocals), Peter London (bass), Martin Sweet (guitar) and Eric Young (drums). http://www.crashdiet.org / http://www.myspace.com/realcrashdiet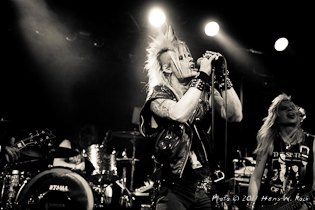 Music & Performance
As to be expected of a band calling their music "sleaze", the band did not bother with sounding perfect. That is in no way a bad thing, it gave the whole thing the "dirtiness" it needed, especially after the singer announced how drunk he was. Just one aspect stood very much out of this "sleaze setting": As sleazy as the whole music may have sounded, Simon's voice was quite contrasting, almost too "clean", although he was running around on stage the whole time. Well, the rest of the band wasn't just standing around either, but they weren't as jumpy as the singer. Often the opening act has little to no response from the audience: In this case, however, it did not take very long, before the first people were not only singing along, but also brought on some action.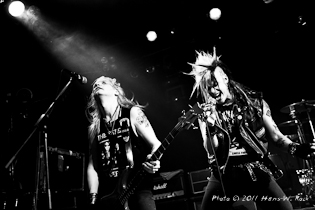 Setlist
01. Down with the Dust
02. So Alive
03. Riot in Everyone
04. Native Nature
05. Queen Obscene
06. Rebel
07. Caught in Despair
08. Breakin' the Chainz
09. Generation Wild

Rating
Music: 8
Performance: 8
Sound: 7
Light: 7
Total: 7.7 / 10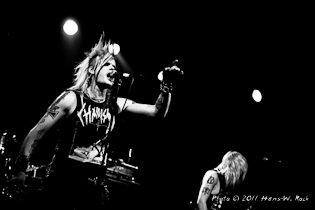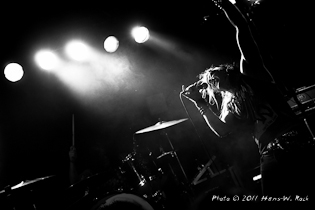 Hardcore Superstar

Within more than a decade of being an active band, HARDCORE SUPERSTAR have earned themselves a good reputation as outstanding musicians, not only in their home country Sweden, but also elsewhere. Their music embraces several styles, from sleaze rock to "metalesque" moments to simple ballads, they have experimented with many styles and yet never lost their own. In 2010 they brought out their 8th album 'Split your Lip'. HARDCORE SUPERSTAR is Joakim "Jocke" Berg (vocals), Vic Zino (guitar), Martin Sandvic (bass) and Magnus "Adde" Andreasson (drums). http://www.hardcoresuperstar.com / http://www.myspace.com/hardcoresuperstar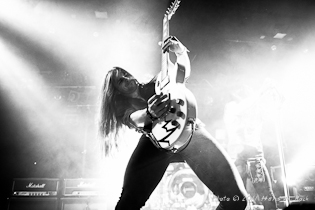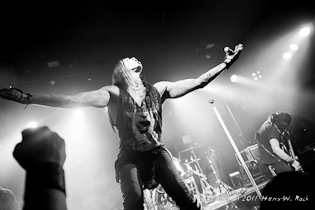 Music & Performance
Should one have considered CRASHDIET's show as energetic, HARDCORE SUPERSTAR were able to even top that. Their setlist contained a good mixture of old and new songs, but all in all was a rather "safe" choice. Anyway: The vibes were great, the crowd was already warmed up by CRASHDIET and prepared to go for another round of sleaze. But not all of the show was only jumping around and being hyper, no, near the break, the band left the stage and only the guitarist and singer remained to play an acoustic song: 'Here comes that sick bitch'. Only two songs later their notorious live-song 'Bag on your head' is used for another surprise: Eric Young of CRASHDIET takes over the drums, before the show is "over". Well, not quite, the band returned for an encore, after which they left the stage - and the fans still wanted more.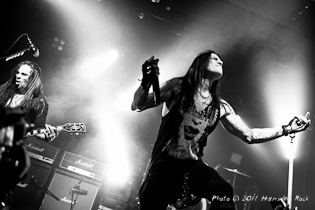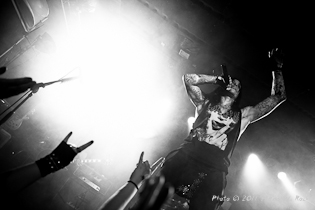 Setlist
01. Sadistic Girls
02. Guestlist
03. Split Your Lip
04. Liberation
05. My Good Reputation
06. Wild Boys
07. Into Debauchery
08. Dreamin In A Casket
09. Bully
10. Here Comes The Sick Bitch
11. Last Forever
12. Bag On Your Head
13. Moonshine
14. We Don't Celebrate Sundays

Rating
Music: 9
Performance: 8
Sound: 8
Light: 6
Total: 8.1 / 10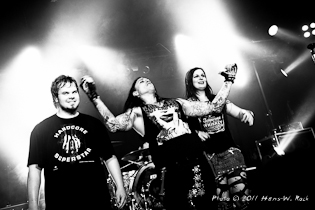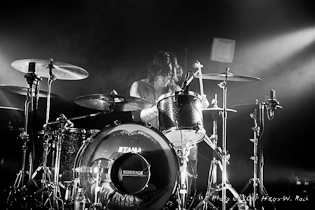 The 69 Eyes

The only band this evening not coming from Sweden was THE 69 EYES, sometimes known as "Helsinki Vampires", from Finland. Their music, unlike that of the other bands this evening, can rather be defined as "Goth Rock". Especially in the gothic (music) scene, they have an elevated status. Their last album was out in 2009. THE 69 EYES is Jyrkie 69 (vocals), Bazie (guitar), Timo-Timo (guitar), Archzie (bass) and Jussy 69 (drums). http://www.69eyes.com / http://www.myspace.com/theofficial69eyes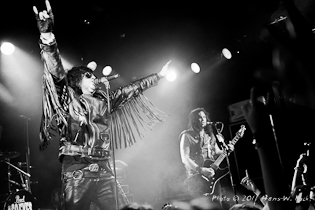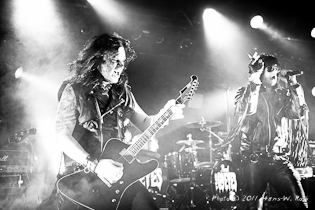 Music & Performance
Somehow, many guests left after HARDCORE SUPERSTAR finished, but those who stayed became a show that made a good ending for the evening: Rather calm, at times in comparison with the other bands even static, nevertheless stirring but also with a hint of melancholy - just as expected of gothic rock. And the audience did take it pretty well, both when older songs like 'Velvet Touch', 'Sister of Charity' or 'Betty Blue' and classics like 'Feel Berlin' or 'Devils' were played, as well as with newer ones like 'Kiss me Undead': raised hands were seen everywhere.

Rating
Music: 7
Performance: 6
Sound: 7
Light: 8
Total: 6.9 / 10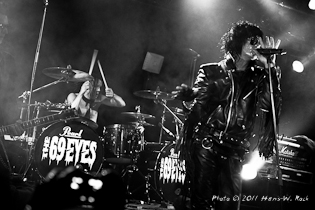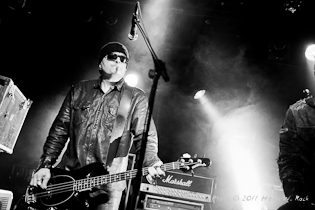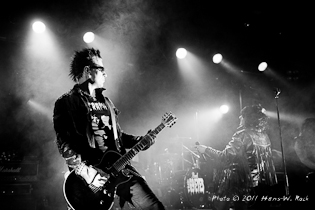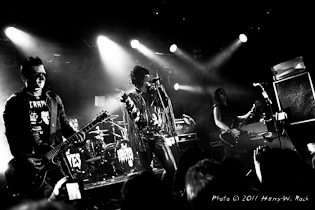 All pictures by Hans W. Rock



See also (all categories):