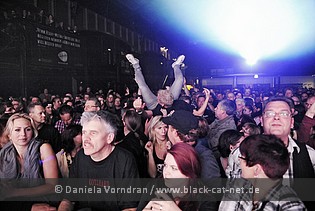 Turbinenhalle, Oberhausen, Germany
8th November 2014
Gotthard & Hardcore Superstar

When singer Steve Lee died in an accident during vacation in USA on 5th October 2010, many fans thought this would be the end of GOTTHARD. But the band is still there, with a new singer, and released a new album this year. Sure that they were embarking on tour as well, supported by Swedish HARDCORE SUPERSTAR.
Hardcore Superstar

Within more than a decade of being an active band, HARDCORE SUPERSTAR have earned themselves a good reputation as outstanding musicians, not only in their home country Sweden, but also elsewhere. The band was founded in 1997 and their music embraces several styles, from sleaze rock to "metalesque" moments to simple ballads, they have experimented with many styles and yet never lost their own. Currently, the band already released ten albums with 'C'mon Take on Me' being the latest one, out in 2013. HARDCORE SUPERSTAR is Joakim "Jocke" Berg (vocals), Vic Zino (guitar), Martin Sandvik (bass) and Magnus "Adde" Andreasson (drums).
http://www.hardcoresuperstar.com
/
https://www.facebook.com/OfficialHardcoreSuperstar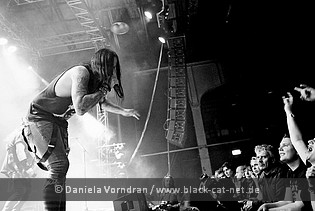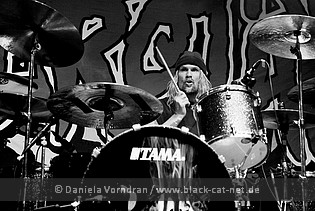 Music & Performance

Remembering the last time I saw GOTTHARD in Bochum 2012, I thought the show would attract more people. But the hall was not filled totally and the gallery was even closed. Already when you entered, a huge backdrop over the stage was announcing the support act of the evening, HARDCORE SUPERSTAR. In front of that backdrop, the drum set and other instruments were placed. Behind, already the stage was set up for following headliner, so the support act had kind of limited space. But it was enough for the Swedish guys to rock the crowd with an energetic and fast show that even had its calm moment with 'Run to Your Mama', when only singer Jocke remained on stage for a kind of acoustic performance of the song. The rest of the show was full of jumping around and full of sleaze. After 45 songs, the band left the stage and a well warmed-up audience.
Setlist

01. Moonshine
02. Into Debauchery
03. Dreamin' in a Casket
04. She's Offbeat
05. Last Call for Alcohol
06. Above The Law
07. Run to Your Mama (Only Singer on Stage)
08. Have You Been Around (Especially played)
09. Glue
10. We Don't Celebrate Sundays
Rating

Music: 7
Performance: 8
Sound: 7
Light: 5
Total: 6.8 / 10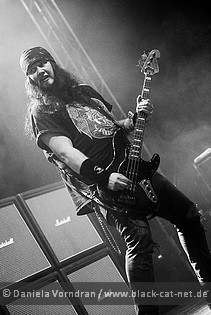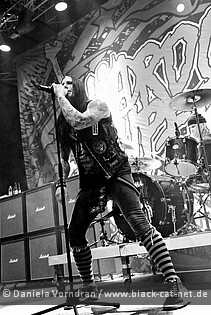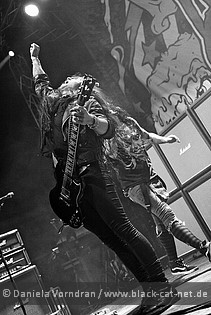 Gotthard

Swiss band GOTTHARD was founded beginning of the nineties and soon became THE trademark of Swiss Hard-Rock. Any studio album after their debut was on top of national charts. The self-titled debut album was released in 1992 and with position 5 in the national charts already very successful. Between 1992 and 2009, the band released nine studio albums, several live albums and compilations and numerous singles and EPs. In 2010, the unbelievable happened. On 5th October, singer Steve Lee died in an accident during vacation in USA. The band grieved for Steve for a long time and many thought that GOTTHARD would never come back. But in February 2011 the band already announced that they are looking for a new singer and finally in November 2011 the band introduced the new singer, Swiss-Australian Nic Maeder, to the world. The first new album with him as singer, 'Firebirth', was released in June 2012. The newest album is entitled 'BANG!' and was out in April 2014. GOTTHARD today is Nic Maeder (vocals), Leo Leoni (guitar), Marc Lynn (bass), Hena Habegger (drums), Nicolo Fragile (keyboard) and Freddy Scherer (guitar).
http://www.gotthard.com
/
https://www.facebook.com/Gotthard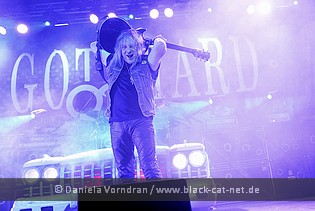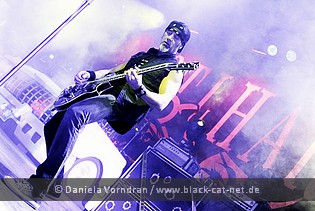 Music & Performance

It was 21.15 when the intro sounded from the speakers and with police alarms, the full view onto the stage was unfolding, a stage that was designed like a police car. GOTTHARD entered the stage finally with the title song of their current album, 'BANG!'. GOTTHARD surely were the headliner and many people were eagerly awaiting the show. From the very start, the audience was with the band. And during the now following show, the band knew how to get people going. Of course, there were several more songs from the new album presented, like 'Feel What I Feel' or 'What You Get'. The show not only presented new stuff, there were also really old pieces, like 'Remember It's Me', being welcomed with loud cheers. As already two years ago, the show was once more supported by a great light show, especially setting singer Nic into the right light. Nic also impressed with a great voice, especially convincing during the calmer songs, like during the ballad 'One Life, One Soul', being not the only one presented in the course of the evening. Nic not only has a great voice and friendly attitude, he also knows how to communicate with the audience, asking them to clap or sing along.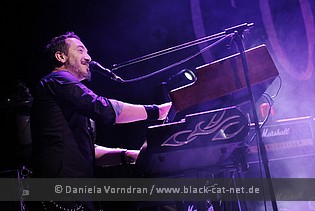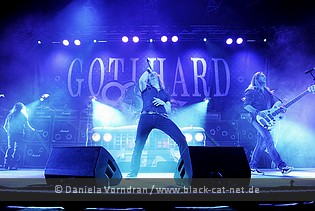 During their show, the band showed real eighties Hard-Rock qualities when comes to posing and the art of playing the instruments. Guitarist Leo even was playing his instrument behind his head or back. Faster songs like 'Mountain Mama' made people move. This song, as you expect from a metal show, was introduced by a drum solo, accompanied by fast changing lights. As first encore, the band presented one more new song, 'Thank you'. Ending the set with 'Anytime Anywhere' they released people into the night with memories of a great rock performance of two great bands!
Setlist

00. Intro: Let Me in Katie
01. Bang!
02. Get Up 'n' Move On
03. Sister Moon
04. Right On
05. Master of Illusion
06. Feel What I Feel
07. The Call (1/2)
08. Heaven
09. Remember It's Me
10. The Oscar Goes To You
11. What You Get
12. Starlight
13. The Train (1/2)
14. C'est La Vie
15. One Life, One Soul
16. Drum Solo
17. Mountain Mama
18. Hush (Billy Joe Royal cover)
19. Lift U Up
---
20. Thank You
---
21. Anytime Anywhere
Rating

Music: 8
Performance: 9
Sound: 8
Light: 9
Total: 8.5 / 10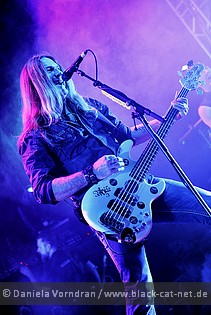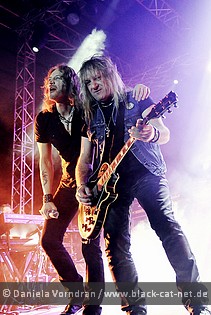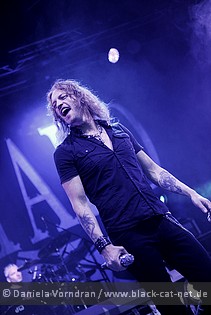 All pictures by Daniela Vorndran (
http://www.vorndranphotography.com
/
http://www.facebook.com/blackcatnet
)
See also (all categories):