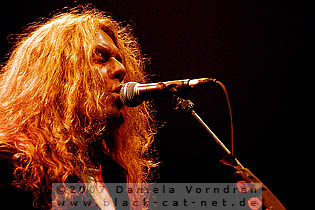 Amphi Theater, Gelsenkirchen, Germany
25th May to 27th May 2007
Rockhard Festival Day 3: Sabaton, Hardcore Superstar, Dew-Scented, Dark Funeral, Tankard, Paul Di Anno, Spock's Beard, Axel Rudi Pell, Thin Lizzy

We wanted to get their early so we wouldn't miss SABATON, the first band, which the female side of things said she found to be quite entertaining. We got through painlessly, I got my coffee and we saw the band.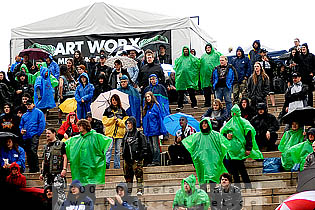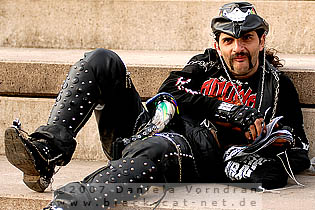 Sabaton

This entertaining young Swedish six-pack has been prancing around under the SABATON moniker since 1999. They recorded their first demo 'Fist for Fight' back in 2000 and have since released three albums, namely 'Primo Victoria', 'Attero Dominatus' and 'Metalizer'. They seem to enjoy reading books about war and watching movies, because all their lyrics are about soldiers soldiering and battles and so on. If Wikipedia can be believed, they even wrote a song about the war against Serbia from Slobodan Milosevics' viewpoint. Cute!
http://www.sabaton.net/
/
http://myspace.com/sabaton1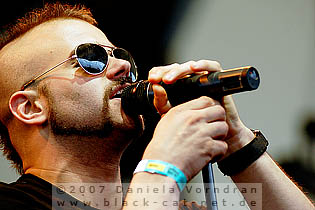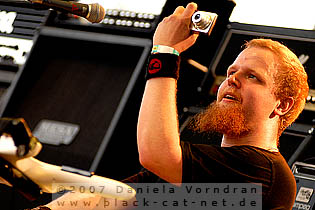 Music

Keyboard-drenched guitars! No, not DIMMU BORGIR, SABATON! And it is power metal. Did I mention power metal doesn't belong to my preferred styles of metal? Well, not really anything new to be heard here. They did a tour with EDGUY. That ought to say everything. But I must admit in moments when all true cult grimness breaks down I shamefully listen to a few EDGUY songs I have lying around. And some SONATA ARCTICA album I bought a few years ago. Oh well...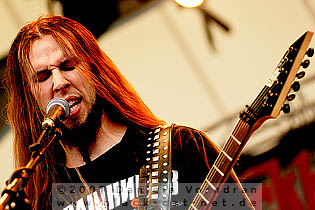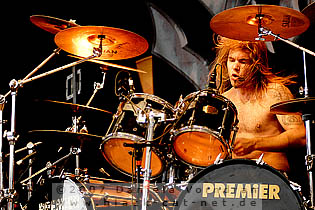 Performance

Well, they did deliver a nice performance. All band members appeared wearing camouflage pants and black tees, except for the singer who wore pseudo muscle armour printed shirt. Apart from singing he bounced back and forth on stage, rhythmically punching vortexes into the thin air. His whole appearance made him look like an Action Man figure back from the eighties. Or the bad guy from Arnold Schwarzenegger's gloriously ridiculous (but nonetheless fun) movie Commando. All in all it was quite 80ies and a bit gay. Just like the days before watching GRAVE DIGGER and HAMMERFALL (eeks!) I was lulled into enjoying their performance. Yes, that's the grim and dismal truth. Must have something to do with all the grey hair I'm getting. I might not really enjoy the music and its contents, but they did put on a good show.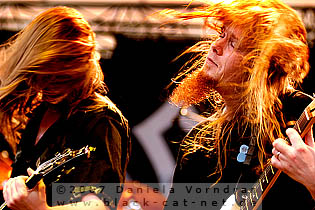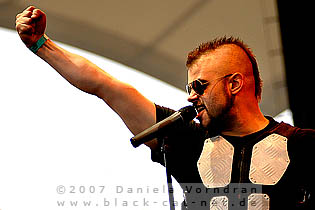 Setlist

01. Intro
02. Panzer Battalion
03. In The Name Of God
04. Light in the Black
05. Into the Fire
06. Attero Dominatus
07. Rise Of Evil
08. Primo Victoria
09. Back In Control
10. Metal Medley
Rating
Music: 6
Performance: 7
Sound: 7
Light: -
Total: 6.5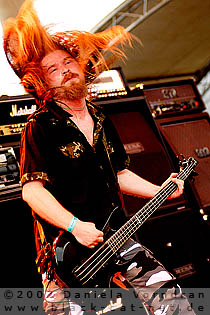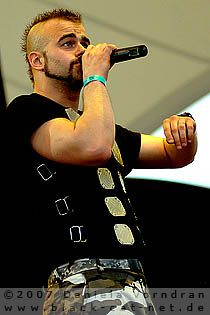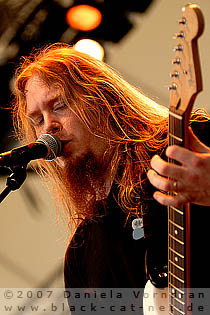 Hardcore Superstar

Guess what, more Swedes. Perhaps the festival ought to be renamed into "Rock Hard Festival with some Bands that are not Swedish". Anyway, HARDCORE SUPERSTAR have been around a while, forming in 1997 (hah, the year I left school) in Gothenburg. They've five albums and 13 singles. HARDCORE SUPERSTAR seem to be quite the thing in Sweden, having been nominated for a Swedish Grammy. Apparently one of them had a fight with an "Aftonbladet" journo in the Swedish consulate in the US of A. Hah. Now that's rock 'n' roll, isn't it?
http://www.hardcoresuperstar.com/
/
http://www.myspace.com/hcssgbg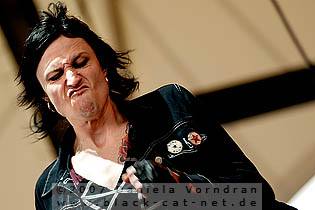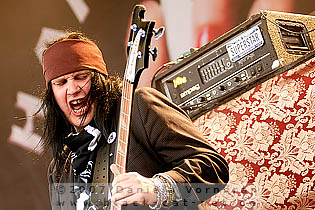 Music

Talking about rock and roll, that's basically what HARDCORE SUPERSTAR play. They seem to be totally inspired by 80ies hair metal bands and thus chug out sleazy cock rock, i.e. the kind of music men wearing tight jeans enjoyed playing to become rock stars, shag a ton of groupies after each show and wind up as coke addicts and/or alcoholics. Or total mad men. Think of Axel Rose. The music was good, but it's just not the kind of stuff I'd listen to at home.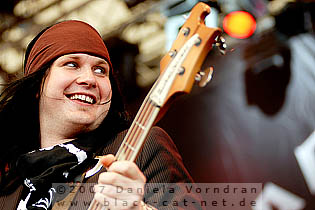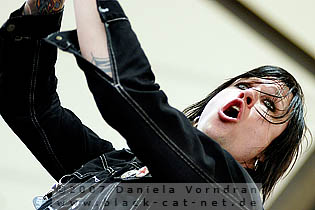 Performance

Well, they did put carpets on their cabs as a nice touch. The singer did what can be expected from such a band, namely pace around with the microphone stand with a somewhat snotty face, spewing out (hopefully) sleazy lyrics. The show was good – after all this is a band which has been touring a large part of their career non stop. They worked hard on stage, I'll give them that. It was just too early in the morning to enjoy properly, and I was still silently suffering from the evil poisoning of doom which had been inflicted on me the last night.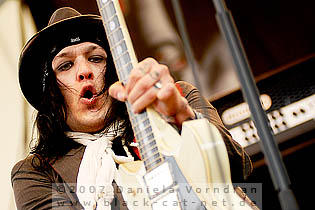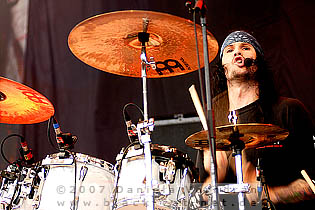 Setlist

01. Last Forever
02. Bag On Your Head
03. Bastard
04. She's Offbeat
05. Hateful
06. Medicate Me
07. Wild Boys
08. We Don't Celebrate Sundays
---
09. Kick On The Upperclass
Rating

Music: 7
Performance: 7
Sound: 7
Light: -
Total: 7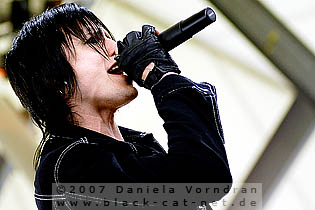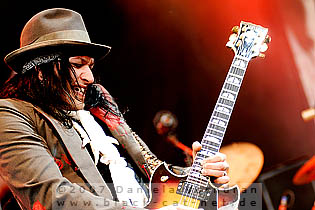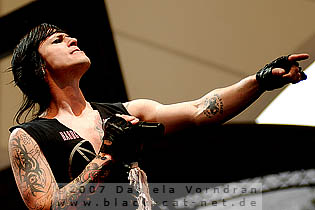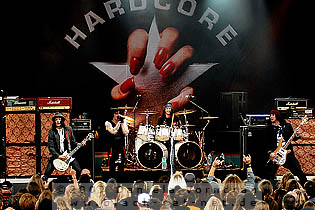 Dew-Scented

NAGLFAR didn't come. Their plane didn't even lift off, airline was on strike. Hah! DEW-SCENTED were horribly nice and jumped in to fill the gap. And I must say I was quite happy about that, as NAGLFAR have become somewhat generic in my ears during the years. Anyway, DEW-SCENTED have been around for what seems ages, having formed in 1992. Their first album was unleashed in 1996; they've released eight in total since then. Album number eight was just released end of March this year.
http://www.dew-scented.de/
/
http://www.myspace.com/dewscented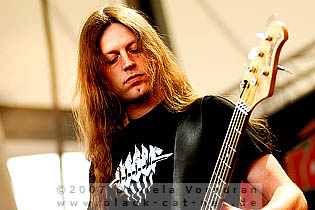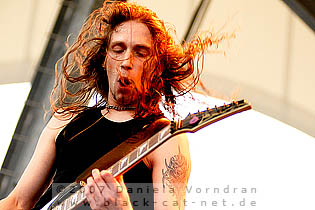 Music

Straight to the point death/ thrash metal which will burst forth from your speakers like a monster with issues, bite itself into your neck more viciously than a pack of pit-bulls and make you rhythmically move your head up and down. And leave you for dead. That's DEW-SCENTED and it's the reason they're signed to Nuclear Blast.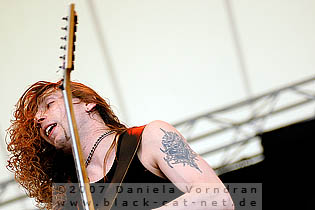 Performance

DEW-SCENTED entered the stage and started to kick major ass. No, NAGLFAR were not missed - that became apparent when Götz Kühnemund shoved his beer gut on stage to say NAGLFAR weren't coming yet DEW-SCENTED were going to jump in. The crowd violently cheered and I was as happy as was possible with a horrible hangover. The band put on a good show and everybody down in the pit had a violently good time jumping into each other. Unfortunately the weather didn't seem to enjoy DEW-SCENTED as it kept on raining. Nearly the entire amphitheatre was standing around wearing rain skins bought for a Euro or two from the main merchandising booth. I must say it did look odd, which is why Leif the singer made a nice comment on just how daft the crowd looked - it's just not metal!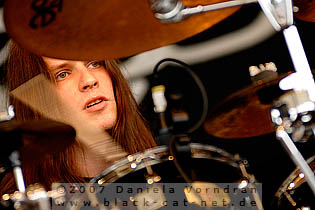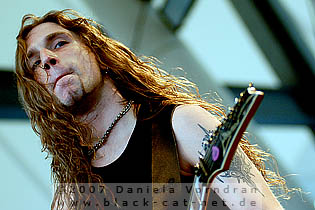 Setlist

01. Intro
02. Never To Return
03. Cities Of The Dead
04. Turn To Ash
05. That's Why I Despise You
06. Bitter Conflict
07. New Found Pain
08. Into The Arms Of Misery
09. Soul Poison
10. Acts Of Rage
Rating
Music: 8
Performance: 8
Sound: 8
Light: -
Total: 8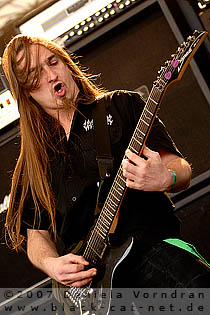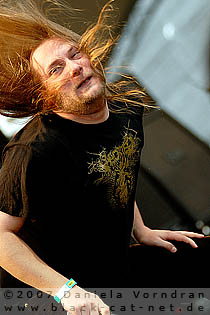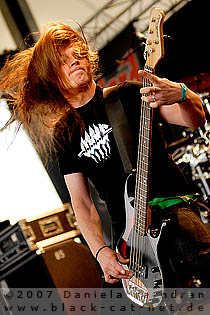 Dark Funeral

Swedish black metal thoroughly influenced by what the band thinks is satanic. They've released eight albums since starting out in 1993, with me nearly buying "The Secrets of The Black Arts". I opted for Emperor instead.
http://www.darkfuneral.se/
/
http://www.myspace.com/darkfuneral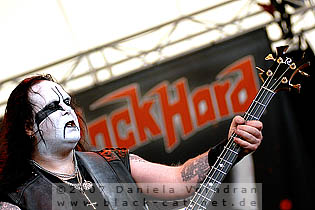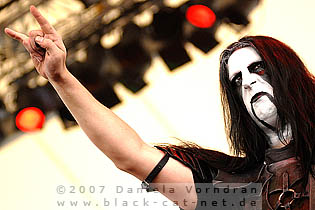 Music

The music was intense and evil back when DARK FUNERAL started out, however their style has in the meantime become quite generic. It's become exceedingly difficult to enjoy this particular type of black metal since the French scene has spawned absolutely devastatingly brilliant bands which have pushed the edge not necessarily to new extremes, but to new depths. Nonetheless, DARK FUNERAL still laid waste to and plunders, pillage, desecrate and impale any festival.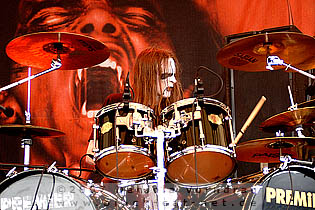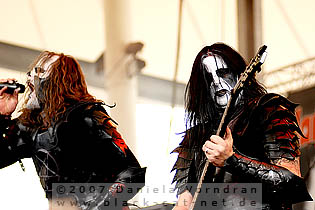 Performance

A band wearing corpse paint and leather armour has a great potential to look daft during daylight, but they didn't. I actually enjoyed the entire concert and spent sometime banging my head in the pit (although black metal doesn't have anyone hopping into someone else, so it's only a minuscule part of the fun). Emperor Magus Caligula (the singer) was horribly polite, thanking the crowd "so fucking much" between each song. But then the vast majority of black metal bands are horribly polite and nice people to hang out with.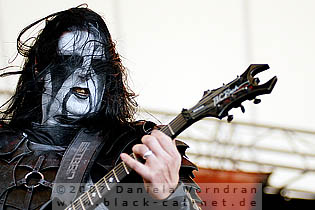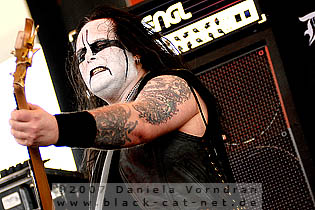 A good, solid performance without any ups and downs; straight played right in the face of the crowd. Just to put it simply: DARK FUNERAL rocked.
Rating

Music: 8
Performance: 8
Sound: 8
Light: -
Total: 8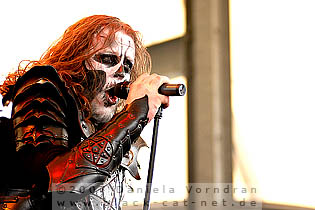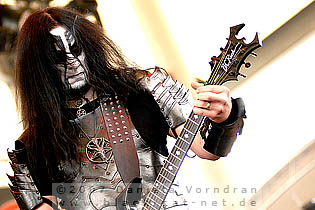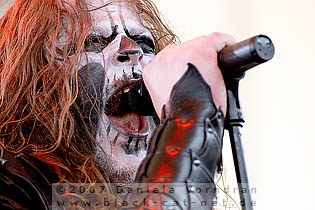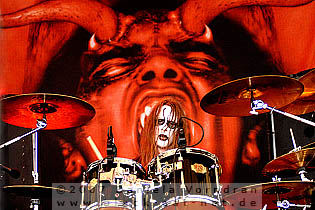 Tankard

Well, what can be said of TANKARD? They've been thrashing in and out of Germany since 1982, exposing beer guts, laying waste to pubs and beer crates. TANKARD have puked out 16 albums, the first being the highly entertaining "Zombie Attack" in 1986. The band is a musical singularity in the world of metal, for 25 years.
http://www.tankard.org/
/
www.myspace.com/tankard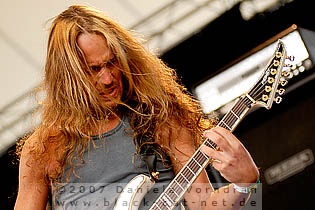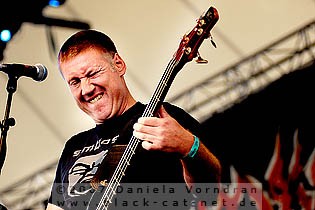 Music

Oh my, TANKARD! Straight forward thrash metal bombing down on your head! What makes TANKARD so special is what they're all about - namely beer. Beer thrash metal to get pissed with is a wonderfully good description. After all, they're singing about hating someone because he still owes money for a beer or two. Now that's a reason not only for hate, but war! At least sometimes that is, just not when you're lying totally bombed on the floor of some club, so drunk you're sleeping although a band is blasting your eardrums to shit.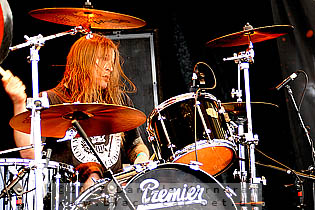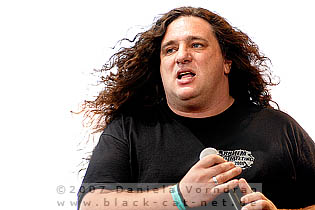 Performance

TANKARD, why did they have to let them on stage? That's what I kept thinking and saying. A mate just kept answering he was fancying seeing them. And when they started thrashing I even felt glad they were there. After all, what can be more enjoyable and fun than a totally daft show performed by a guy who enjoys playing daft in front of people who are momentarily daft anyway because they're getting bombed? They put on a great show. The high point of any TANKARD show is Gerre flashing his beer gut. This time he announced it as "125 kilos of pure eroticism". The bloody pillar holding up the roof was in the way, so I can't really comment on just how erotic it is indeed. To cut it short - TANKARD appeared, everyone's blood alcohol level instantaneously rose by 1.0 milligrams and everyone had a wonderfully good time. The sun even came out and started shining. We need another beeeeeeeeeeeeeeeeeeeeeeeeeeeeeeer!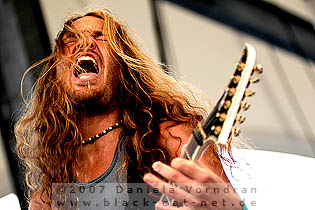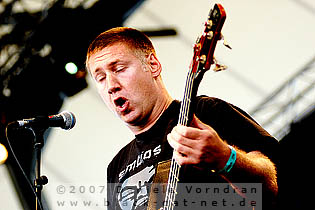 Setlist

01. We Still Drink
02. Zombie Attack
03. Slipping From Reality
04. Beermuda
05. The Beauty And The Beer
06. Need Money For Beer
07. Chemical Invasion
08. Die With A Beer
09. Rectifier
10. Freibier
11. Tankard
Rating
Music: 7
Performance: 9
Sound: 8
Light: -
Total: 8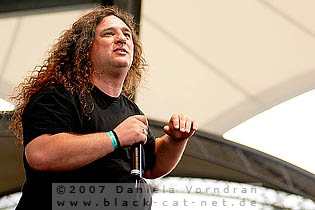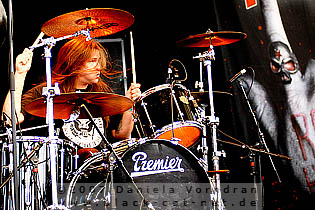 Paul Di'Anno

What can be said about Paul fucking Di'Anno? Not only is he the original voice of IRON MAIDEN, he *is* the voice of IRON MAIDEN. But then I never listened to nor cared for IRON MAIDEN, as I grew up on a steady and healthy diet of BOLT THROWER and CARCASS. Anyway, Paul Di'Anno was the band's original singer, starting out in 1977. He recorded 'Killers' with MAIDEN, left in 1982 because of drug abuse and was replaced with Bruce Dickinson. Since then he had partial success with two bands, KILLERS and BATTLEZONE. Nowadays he tours the world with different bands doing the backing, trying not to be swayed into playing the old MAIDEN songs that made him a rock star.
http://www.pauldianno.com/
/
http://www.myspace.com/diannothebeast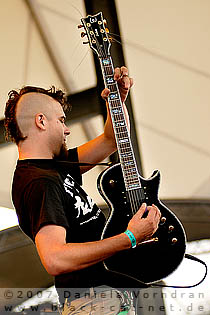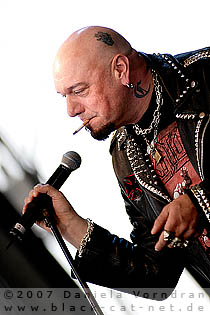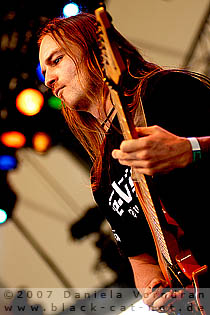 Music

Götz fucking Kühnemund (to quote Paul) managed to sway him into playing a special Killers-era set. So that's what we got - Paul Di'Anno singing the old MAIDEN songs without MAIDEN and some punk band called REVISION backing him instead. No slip ups, everything tight and in tune. Anything else would've been a major disappointment and probably would've resulted in Paul beating somewhat up. Most of the old MAIDEN songs were played faster, which earns a mark in my book.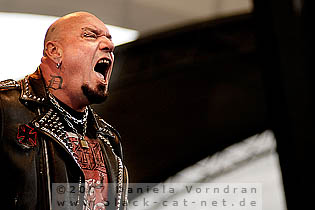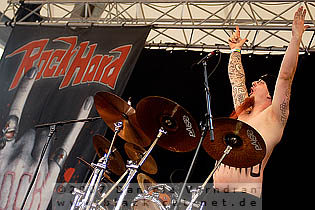 Performance

Well, Paul did put on quite a show, and so did Götz and Holger, who entered the stage to grab the mic and sing the first part of 'Running Free'. To my surprise, Götz can sing. Anyway, Paul "The Beast" Di'Anno basically took the whole crowd in a choke hold with his performance. I can't really enjoy the music too much as I never grew up with it and it never meant anything to it, but I must say Paul Di'Anno's show did kick some major butt. He has probably had more ups and downs in his life than the entire pit could come up with, and it simply shines through on stage. He still is a punk, and it's a good thing he is.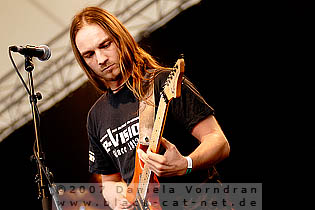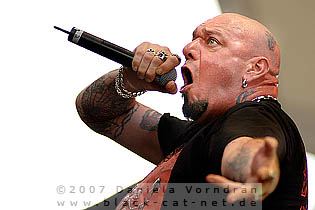 Setlist

01. Intro: Ides Of March
02. Wrathchild
03. Prowler
04. Murders In The Rue Morgue
05. Remember Tomorrow
06. Faith Healer (ALEX HARVEY)
07. Killers
08. Strange World
09. Phantom Of The Opera
10. Running Free
---
11. Transylvania
12. Blitzkrieg Bop (RAMONES)
13. Sanctuary
Rating
Music: 8
Performance: 9
Sound: 8
Light: -
Total: 8.4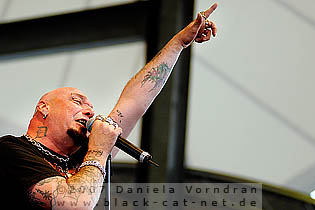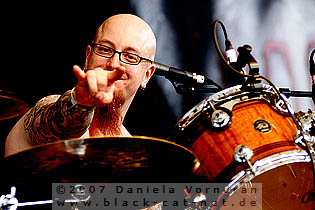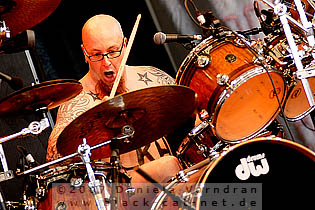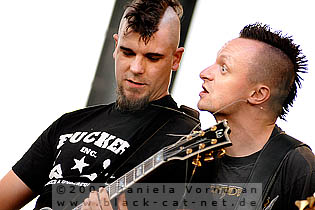 Spock's Beard

This quite enjoyable and likeable outfit was formed in 1992 by Neal Morse. The rest is legend. Well, not entirely. Neal Morse quit in 2002 and was replaced by Nick D'Virgilio, who still is responsible for the vocals. All in all, they've released 19 albums to widespread critical acclaim. The Rock Hard loves them, but then it's hard not to.
http://www.spocksbeard.com/
/
http://www.myspace.com/spocksbeard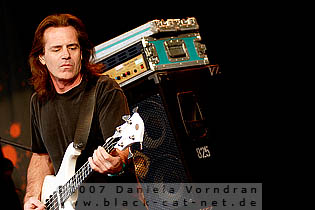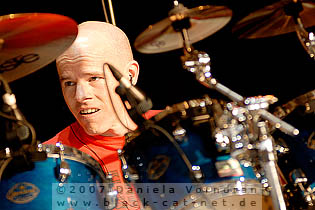 Music

Well, it's prog rock, with tons of different influences ranging from Yes to basically anything else. Being prog rock, the music is performed by outstanding musicians who simply can't hit a wrong note. What's particularly nice about SPOCK'S BEARD is that the songs themselves don't get lost. I can imagine they're the right music to listen to on a sunny Sunday morning when you just feel good and need some feel good music.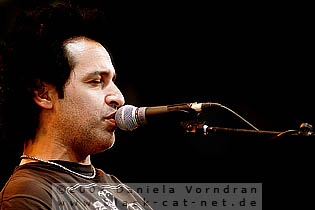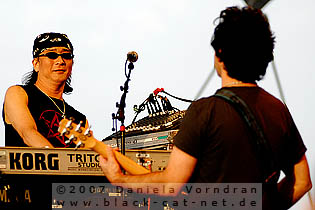 Performance

Well, they put on a decent show; however the music is nothing to freak out to. The pit emptied itself, with only a handful of bearders remaining to enjoy the band. Personally, I found the whole show wonderfully relaxing, a very welcome change from being bombarded the whole day with loud music. High point of the show was their cover version of LED ZEPPELIN's 'Whole Lotta Love', which the whole amphitheatre enjoyed. Good stuff.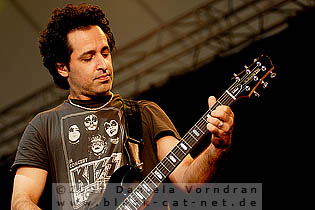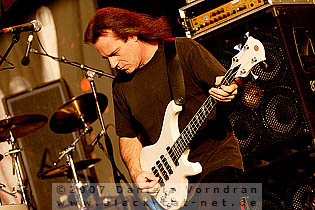 Setlist

01. On A Perfect Day
02. In The Mouth Of Madness
03. Surfing Down The Avalanche
04. Thoughts Pt 2
05. Skeletons At The Feast
06. Rearranged
07. The Water
08. Go The Way You Go
09. Whole Lotta Love (LED ZEPPELIN)
Rating
Music: 8
Performance: 8
Sound: 8
Light: -
Total: 8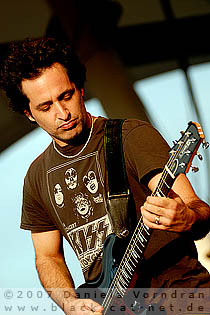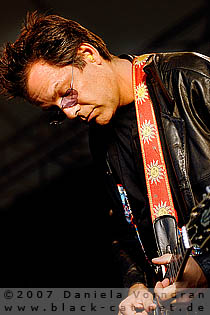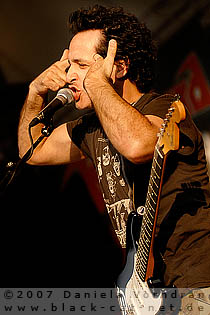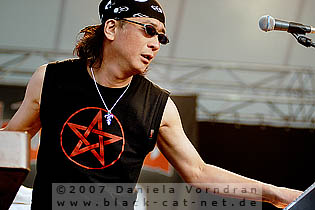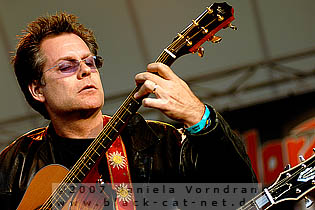 Axel Rudi Pell

Well, ARP has its roots in the German metal band STEELER, which bit the dust in 1989. Axel Rudi Pell, the bands lead guitarist, gave his ego a boost and started the band with his name in the same year. ARP has released 17 albums since then and probably had just as many people join and leave the band. The current line-up has Johnny Gioeli on vocals, Mike Terrana of RAGE and Yngwie (yuck) Malmsteen fame on drums, Ferdy Doernberg on keys and Volker Krawczak fondling the bass strings.
http://axel-rudi-pell.de/
/
http://www.myspace.com/axelrudipellrocks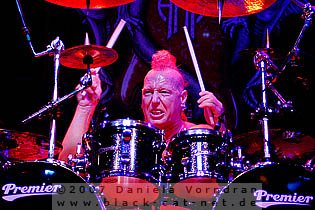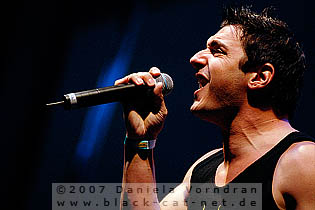 Music

Well, it's melodic rock, sometimes harder, sometimes softer. Apart from that, it's laden with big solos and lead work from ARP, giving it a sometimes epic character. Either that or they simply inflate the running time of the songs. What really annoyed me wasn't the music itself, but the horribly stupid lyrics. Ok, to be honest, 90 per cent of rock and metal lyrics are horribly stupid, but then most of the time you can't understand them. A song title like 'Strong as a Rock' simply is dumb. A rock is an inanimate object with no such property as "strong". Tough, yes, but strong, no. "Cor, guv, that rock is strong! It beat me arm wrestling in a flash!" No. Just not thinkable! And on top of it all, the refrain featured "strong as a rock, fly like an eagle" or something. Now just wtf is that meant to mean? I decided to switch my brain off, which helped.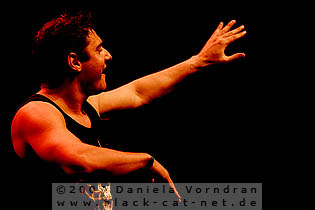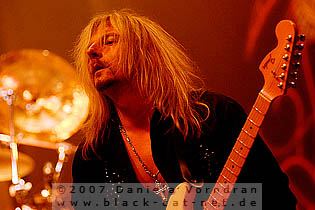 Performance

Johnny Gioeli is a great performer and a great singer. Point out. The greater part of the show would've been bollocks if it would've had a lesser man on stage. He managed to enthral the audience and delivered a performance which fitted this music amazingly well. The ten minute Mike Terrana drum solo was just too much. ARP shredding his solos every few minutes can get boring. But then Johnny Gioeli would jump back on stage and everything was alright again.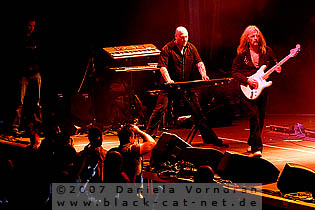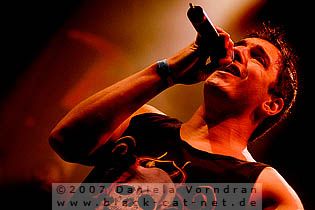 Second biggest high point was Ferd Doernberg shouldering his keys and delivering an on stage duel with Axel Rudi Pell. All in all it was a nice rock show with fireworks, lights and a great singer. All you need - if you like the music, that is. Apparently the show was recorded for an upcoming ARP DVD. If you're a fan, it's something you'll definitely need.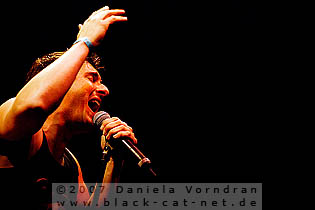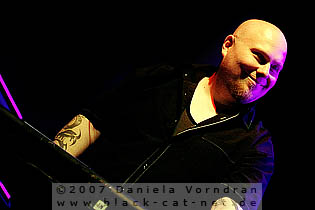 Setlist

01. Intro
02. Fly To The Moon
03. Strong As A Rock
04. Casbah
05. Mystica
06. Call Her Princess
07. Fool Fool
08. Tear Down The Walls
09. Rock The Nation
10. Temple Of The King
Rating

Music: 7
Performance: 9
Sound: 8
Light: 8
Total: 8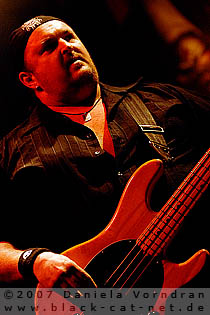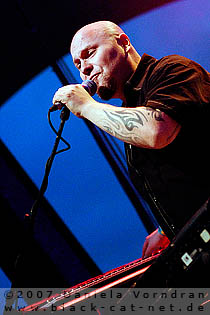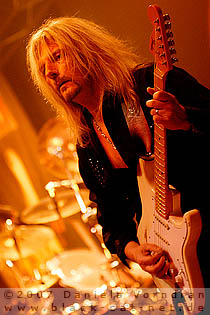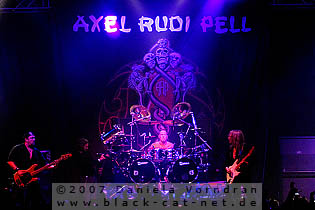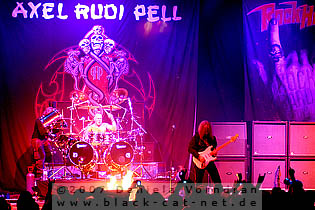 Thin Lizzy

What is there to be said about THIN LIZZY? Rock music legend! Point out. They're just one of those bands which have left a mark on music history. Even if you've never heard the music, you still know the name. Phil Lynott founded the band way back in 1970. He unfortunately died of a heroin overdose in 1986, three years after THIN LIZZY disbanded. However, THIN LIZZY is something too good not to milk so the remainders reformed in 1999 and added a new guitarist and singer for the irreplaceable Phil Lynott. 20 albums and one bronze statue of Phil placed in Dublin later they hit the Rock Hard.
http://www.thin-lizzy.info/
/
http://www.myspace.com/phillynott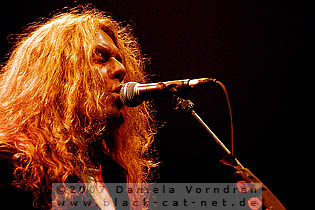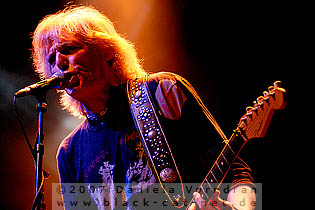 Music

Classic, fuzzy rock from the 70ies! Although it can't be called classic for a simple reason - this is the original stuff which was around before such music became classic rock. What totally ruined the whole gig was the guitar sound: big, fat tube driven crunch which wasn't around in the 70ies and was totally unthinkable back then. Bloody hell, why the fuck did they have to do it? Channel one, fuzz pedal or a one-channel British amp cranked all the way up. Nothing else and definitely not a 2007 Engl amp! It's just not the same with that kind of sound.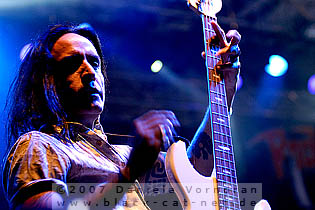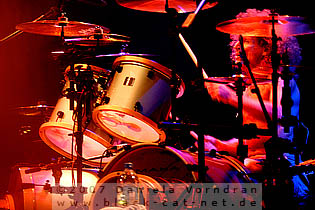 Performance

Yeah, they performed well, at least what we saw of them. It was late, eight kilos of photo gear had worn us down (well, at last half of us) and the whole strain of a three day festival was dragging us down. We saw the first four songs which were all solidly performed, but I just can't say much more as I didn't see the rest.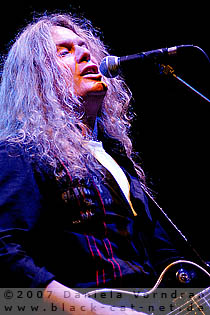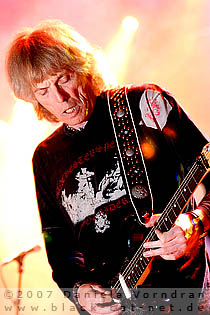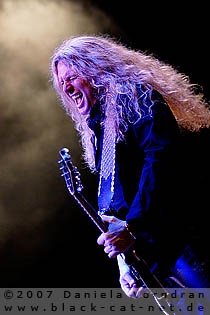 Setlist

01. Jailbreak
02. Waiting For An Alibi
03. Don't Believe
04. Cold Sweat
05. Are You Ready
06. Bad Reputation
07. Drum Solo
08. Emerald
09. Suicide
10. Cowboy Song
11. Boys Are Back In Town
---
12. Black Rose
13. Rosalie
Rating
Music: 8
Performance: 8
Sound: 2
Light: 9
Total: 6.8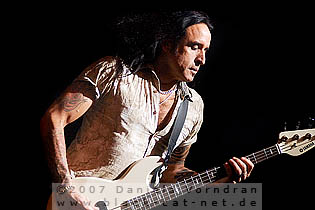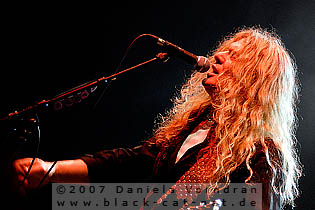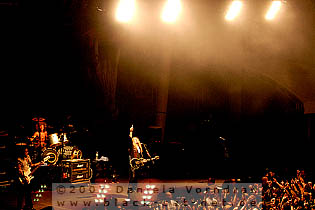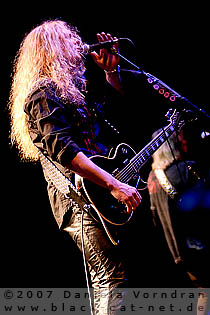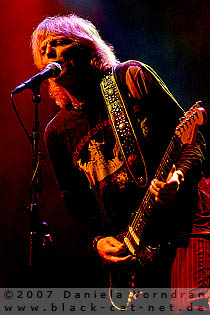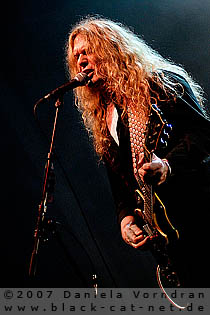 All pictures by Daniela Vorndran (
http://www.vorndranphotography.com/
/
http://www.black-cat-net.de/
/
www.myspace.com/vorndranphotography
)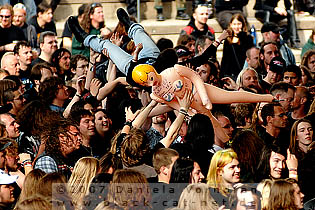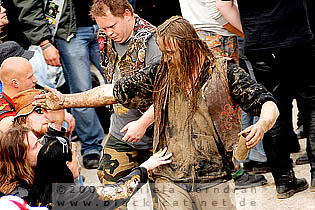 {jos_sb_discuss:18}
See also (all categories):