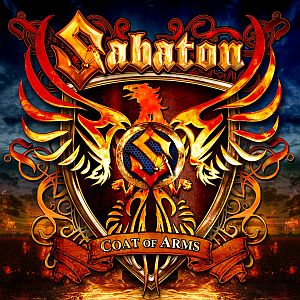 Title: Coat of Arms
Artist: Sabaton

Genre: Metal
Release Date: 21st May 2010
Label: Black Lodge
Album Review

SABATON was formed 1999 in Falun, Sweden. The bands released their first record 'Fist for Fight' 2001 on an Italian label (Underground Symphony); this album was more of a demo and their debut album 'Metalizer' was to be released on the same label in 2002, but due to some conflicts with the label this album was not released until 2007. In 2004, the band decided to record their second album 'Primo Victoria' without a record company and when the album was finished the band took it to some labels and the bidding started. The Swedish label Black Lodge gave a fair offer and the album was out in 2005. 'Coat of Arms' is the bands sixth album so far and it's released on 21st May 2010.
While reading about this band, I learned that they like to stick to a war theme and I had some doubts before starting to listen it. Sticking to a theme like this band does you risk that people are getting tired of it but the interesting thing is that SABATON manage to keep it varying and fresh. I am fascinated by the fact that all the songs sound different but the rhythm is still the same in a way and I have not gotten bored of this music. 'Coat Of Arms' is the first single from the album; it starts with a melodic intro before the song changes, becomes more powerful with cool keyboard, drums and growling guitars and bass that lead you on until singer Joakim Brodén's voice joins and the song takes off. I confess that I had some trouble getting past this song when I started to listen to this album; I had not listened to SABATON before and this song was not what I had expected at all so you could say that this band really made a good impression.
'Uprising' begins with a cool Synth sounding intro before the song takes off. I like that you easily can hear what Joakim sings and the way the lyrics tells the story. I like the tempo of this song and the way the song moves on. 'The Final Solution' quickly became a favourite. The interesting keyboard intro had me wishing for more and I really enjoy the music in this song and the fact that it is given so much space to develop and be heard between the lyrics parts lifts this song and adds something more. Strong lyrics delivered by strong vocals that fit perfectly with the music. 'Saboteurs' opens up with good sounding guitars and bass that keep you company all through the song; I like the edgier feeling to this one and the different sounding vocals that are lighter in a way. I like the change of tempo in the song and the calmer vocal part that is followed by a really good sounding guitar and bass part.
'Wehrmacht' is different and kind of captures my interest from the first time I listened to it; the powerful intro leaves no one unaffected. I enjoy hearing Joakim sing in a different way on this one - if I should describe it I would say that he sounds "less German". The intense and cool chorus together with moving music and change of tempo creates a song that really stays on your mind.
Tracklist

01. Coat Of Arms
02. Midway
03. Uprising
04. Screaming Eagles
05. The Final Solution
06. Aces in Exile
07. Saboteurs
08. Wehrmacht
09. White Death
10. Metal Ripper
Line-up

Joakim Brodén – Vocals
Pär Sundström – Bass
Oskar Montelius – Guitar
Rikard Sunden – Guitar
Daniel Mÿhr – Keyboards
Daniel Mullback – Drums
Website

http://www.sabaton.net/
/
http://www.myspace.com/sabaton
Cover Picture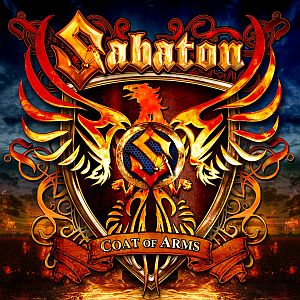 Rating

Music: 9
Sound: 8
Extras: -
Total: 8.5 / 10
{jos_sb_discuss:19}
See also (all categories):