Page 1 of 2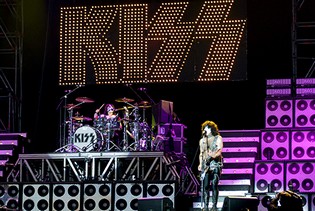 Arrow Rock Festival, Nijmegen, The Netherlands
15th of June 2008
Kiss, Motorhead, Whitesnake, Twisted Sister, Def Leppard, Kansas, Journey, Gotthard, REO Speedwagon
The sixth year in a row for the Arrow Rock Festival. This years line-up brought big promises. Only one cancellation (3 doors down) left us 9 rock bands to enjoy. Most of them have been together and the headliner of the day Kiss was having their 35 anniversary! But did that influence their performance? Well, not in a bad way, that is for sure.
The weather was better than predicted at first. Sun with a bit of rain, actually quite nice festival weather. On the festival grounds there were of course some shops to get some new shirts, albums, posters etc. There was even some extra entertainment, consisting of a parade of strange machines with even stranger drivers riding around the field. They seemed to have come out of a fantasy movie. Since the headliner was Kiss you could have your face painted just like one of its members. It was fun to see more and more painted faces during the day.
REO Speedwagon
When founded in 1967 they were not immediately popular. They had to wait for their ninth studio album Hi Infidelity. And now, who doesn't know hits like 'Take It On The Run' and 'Keep On Loving You'. They had the honor to be the opening band of the Arrow Rock festival.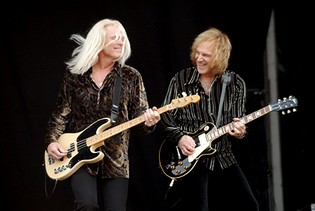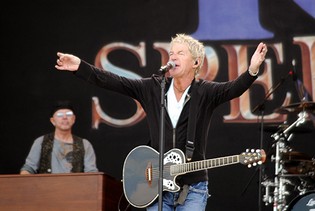 Music & performance

While waiting in line to get on the festival grounds REO Speedwagon was being announced. When finally in and in front of the stage there was a very nicely dressed band on stage. They played us 'Smilin' In The End' from their "most rock 'n' roll album since 1972 Find Your Own Way Home. Another favorite was 'Back On The Road Again' from the Nine Lives album. But the song which had most people singing along to was of course 'Keep On Loving You'. Each member of the band had his vocal moment, giving each song a very different feel. They set the mood for today, let's rock and have some fun!
Rating

Music: 7
Performance: 7
Sound: 6
Light: -
Total: 7 (6.8)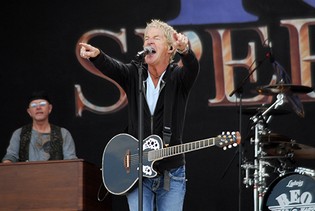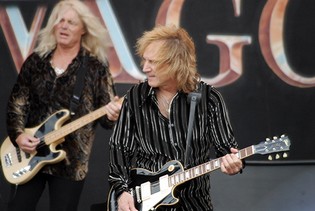 Gotthard

One of the younger bands of this festival. They were founded in 1992 in Southern Switzerland. They were to open the festival but since Three Doors Down was canceled every band on this stage was moved up a spot. Almost the entire audience standing at the main stage now came to the Open Arrow Rock stage. There was almost not enough room for everybody.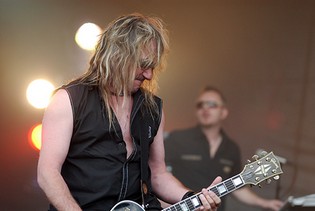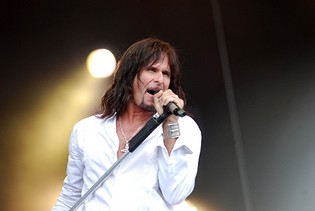 Music & performance
Steve Lee's voice is not what it used to be. This raw sound to his voice does have its charm though. There is still great energy left in this band. So their fans need not worry. When they played 'Hush' the entire audience was singing "na, na, na". They might not be the most difficult lyrics ever but still, when everybody knows your song, that must be a great feeling.
Rating

Music: 7
Performance: 7
Sound: 6
Light: -
Total: 7 (6.8)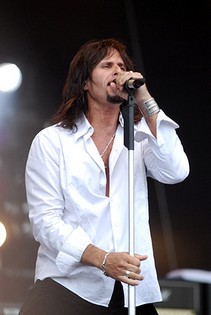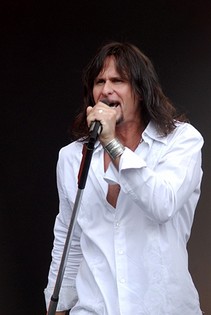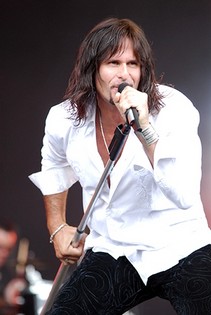 Journey
In 2006 Journey played at Arrow Rock Festival as well. Things have changed in the meantime. Things didn't go well with their singer. While checking out clips on the Internet they discovered the singer of a band called Zoo. His name is Arnel Pineda and he was singing a few Journey covers. From singing just covers he went on to singing as the lead singer of his favorite band.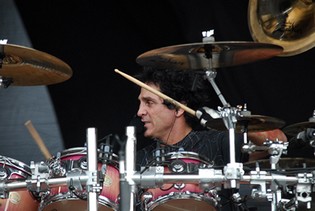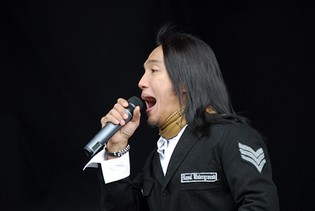 Music & performance

When a band gets a new vocalist everybody has to adjust. Journey has done a great job with this. Their voices sound great together, they are well in tune. Anther issue is the age difference since their new Pineda is only 40. The rest of the band has no trouble keeping up with this new energy boost to the band. Even though there was enough energy it didn't seem to transfer to the audience. The energy stayed on stage.
Rating

Music: 7
Performance: 6
Sound: 6
Light: -
Total: 6 (6.4)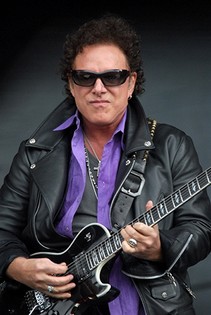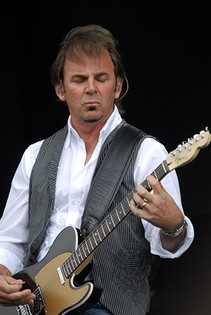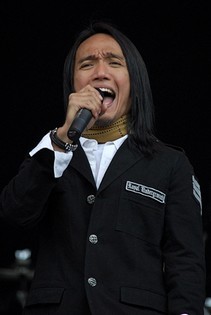 Kansas

Who doesn't know 'Dust In The Wind'. One of the most famous rock ballads. When they entered the stage I heard one question in the audience that was going to be asked many more times today: is he or he still in the band? That is what you get at a classics festival.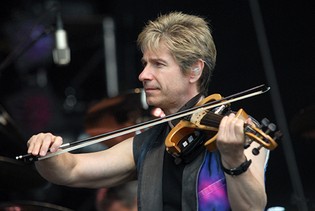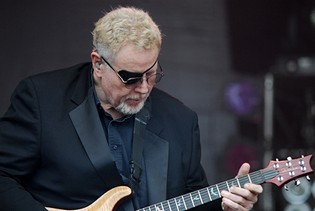 Music & performance
After all these guitars it was nice to finally hear the violin of Kansas. They opened with a instrumental part which was accompanied by some well used strobe lights. This was the first time today that light really made a difference. It is hard to make a difference with lighting during daylight of course. At first the violin lead the song but then the rest of the instruments entered with full power and that was brilliant. Again a lot of audience members sung along with the refrains such as "hold on baby hold on". When it was time for their ballad the keyboard player/singer stopped playing to focus on the singing (and so did all the members in the audience from start to finish).
Rating
Music: 8
Performance: 7
Sound: 7
Light: 7
Total: 7 (7.4)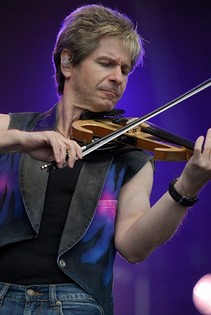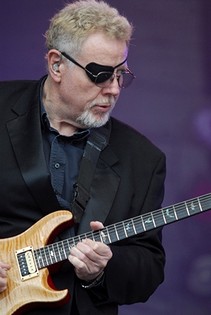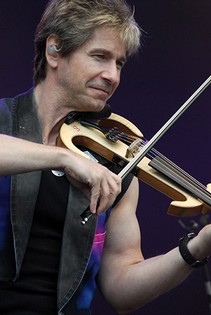 Def Lepard

After 25 years of hard work Def Lepard is still here and going strong. They have been trhough a lot and came out on top. Their latest album has a new sound, it has a seventies feeling to it. They are even accompanied by Tim McGraw, the country singer. Some fans might need some time to get used to it.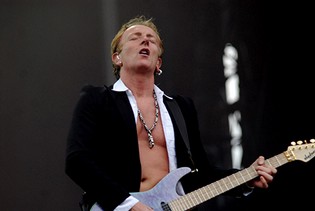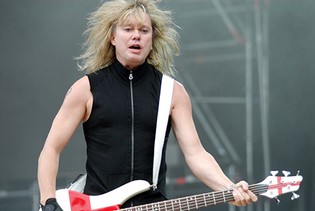 Music & performance
Rick Allen might be one of the most talented drummers I have ever seen. He sounds lik e a great drummer but when you take a better look you will see what makes him so special. It is not the sunflower or the incense on his drum kit. No, he drums with only one arm. Def Lepard went full speed ahead from the first to the last song. They swing! Their voices sound great together. High notes have become a bit of a problem though but after 25 years that is allowed. Besides playing their music they also pay attention to the audience by moving from one side of the stage to the other and even going to the very edges at the side of the stage. This way they address everybody who came to see them. There is great interaction with the audience. They did an audience 'awakeness' check by letting two sides of the audience compete in a shouting contest.
Rating

Music: 8
Performance: 8
Sound: 7
Light: 7
Total: 8 (7.7)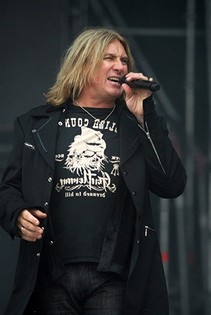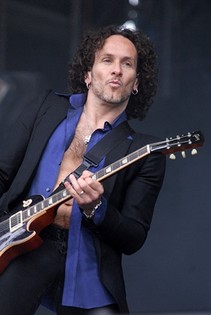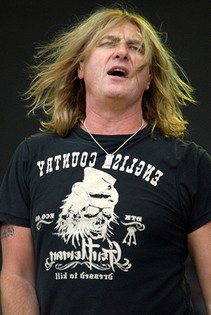 Twisted Sister

Twisted Sister was formed in 1972 but in 1976 they were reinforced by their front man Dee Snider. Todays performance almost didn't happen because there were some transportation problems. Luckily there was a chopper available to pick mister Snider up from the airport. He arrived just before the show. No time for make-up or dress-up but ready to go.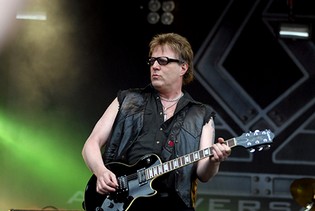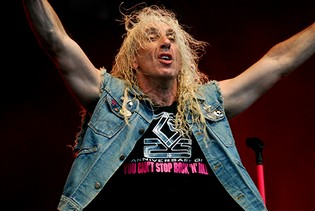 Music & performance
These guys know how to get an audience all revved up. Their back drop said " you can't stop rock 'n roll" and I guess it is true. While racing across the stage with his pink microphone stand and banging his head like crazy Dee Snider won the hearts of the audience. He got the entire audience involved. And I do mean the entire audience. He even addressed those waiting in front of the stage waiting for Whitesnake: "it's and empty stage"!!! Songs such as 'The Beast' from the Stay Hungry album and of course "We're Not Gonna Take It" were sung along loudly. "I Wanna Rock" was a great success as well. There was so much energy on stage and that transferred to the audience. A great party band!
Rating
Music: 8
Performance: 9
Sound: 7
Light: 7
Total: 8 (8.1)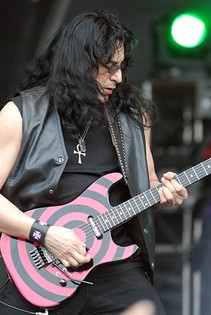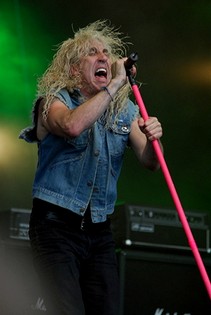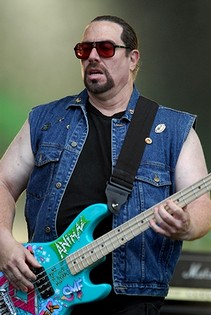 Whitesnake

30 years and they are still here. That must tell us something about quality and persistence. They have found the right sound with the right kind of people. One of them being our own Adje van den Berg, who even came on stage with an orange cowboy hat!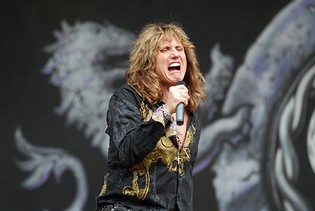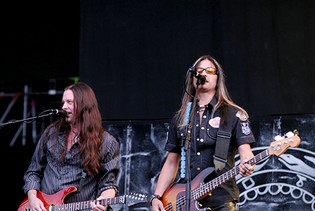 Music & performance

Under a sky with a huge rainbow Whitesnake treated us to a good show. Their vocalist David Coverdale still has some great screams. Often vocalists loose their high notes but Coverdale didn't. It shows that they are still enthusiastic about being on stage. They had a great deal of energy and brought that to the audience. Their hits still get a crowd all excited. They all came along: "Fool For Your Loving", "Is This Love" and last but absolutely not least "Here I Go Again". The power of these songs is still the same.
Rating

Music: 8
Performance: 8
Sound: 7
Light: 7
Total: 8 (7.7)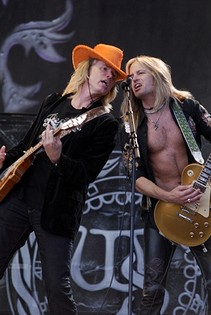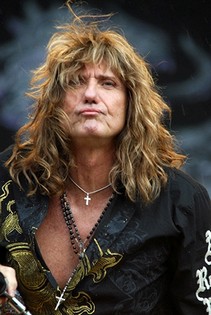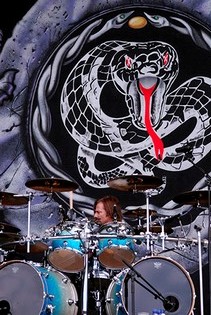 Motorhead
Motorhead has been deafening audiences since 1977. Nowadays they perform at a wide variety of festivals. From Lowlands to Waldrock to the Arrow festival. They have their very own sound which is loved by many. Not so much when they started; they couldn't be put in a box. But today people just know the Motorhead sound and love it.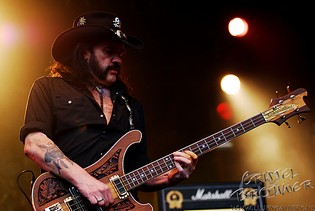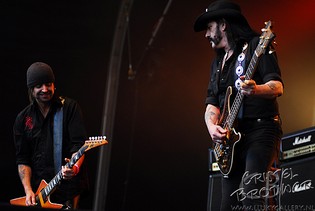 Music & performance
One thing you can always expect with Motorhead is that the volume will be turned up to the max. Maybe they couldn't find that button today, or they weren't allowed to but Motorhead wasn't loud. At all. Not volume wise, not music wise. They didn't sound bad. I don't think they know how to do that anymore but they can do better. Their hits still scored well with the audience. After playing for so long you just know you can't leave out some songs of course.
Rating

Music: 7
Performance: 6
Sound: 7
Light: 7
Total: 7 (6.7)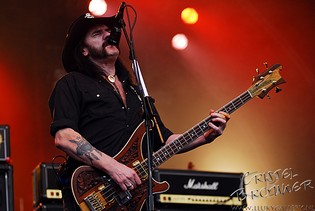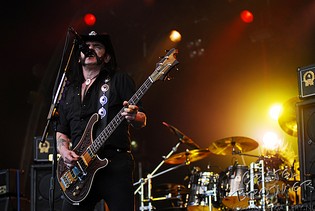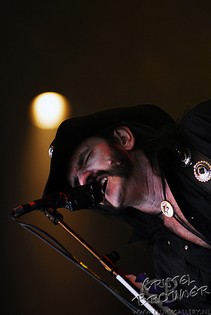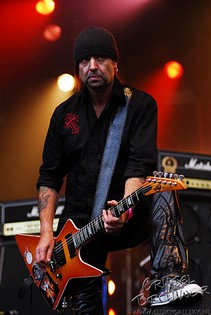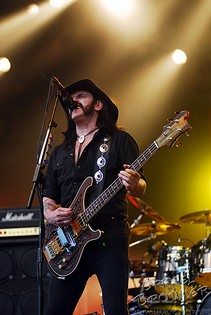 Kiss
This headliner must have caused many, many smiles. These guys don't need an introduction so let's skip to the good part: their show.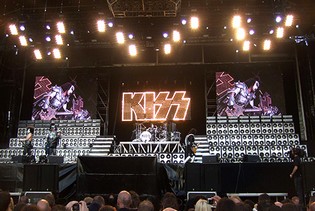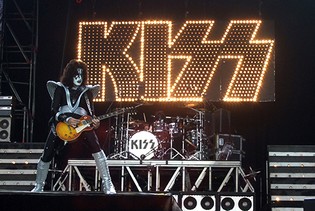 Music & performance

A large black curtain hung in front of the stage. In large silver letters it said: KISS. Music starts and a voice tells us "You wanted the best, you get the best" and we sure did. The curtain dropped no band on the stage… yet. They descended from the ceiling of the stage on a round platform. They stepped of the platform and the show was off to a great start. Things only got better during the show. Within about fifteen minutes Gene Simmons had licked all the paint of his chin because he was constantly showing his tongue. We were treated to many songs from Kiss Alive. Some of the first songs played this evening were 'Death In June', 'Hotter Than Hell', 'Come On And Love Me' and 'Shame'. During 'Hotter Than Hell' Simmons showed us his fire breathing talents. Mr Fehley liked to show us his skills with the guitar, playing under his legs, behind his back and over his head. One other asset was shown often as well, his behind, he turned it to the camera every time he got the chance. That wasn't the only trick with his guitar, he shot fireworks out of it to the top of the stage, setting off more fireworks up there. Mr Stanley made us shout harder than the English crowd, we had to be number one. He swung his microphone all around, he even let it wrap around his neck. A massive success was 'Rock And Roll All Night', the crowd went wild. There were flames, smoke, grand fire works behind the stage and even pieces of paper blown all over the audience, always such a great sight. Apparently it was hot on stage for when 'Lick It Up' was sung you could see mist coming up from Gene's hair. At one point the stage was empty. Leaving only Gene Simmons on stage. The camera was pointed at his face and so were green lights. Blood started dripping from his mouth. At first a subtle drop, then it started flowing and Gene started flying. He flew up to a platform near the top of the stage, brilliant tricks. One song that couldn't miss in this show of course was 'I Was Made For Loving You'. After this 'Love Gun' was up and we were up for another surprise. Mr Stanley actually went through the air over to the front of house where there was a small stage for him. The final blast was caused by 'Detroit Rock City'. After that nobody left unsatisfied! They told us that they would love to come back next year. On behalf of everyone there: you're welcome!
Rating
Music: 9
Performance: 10
Sound: 10
Light: 10
Total: 10 (9.7)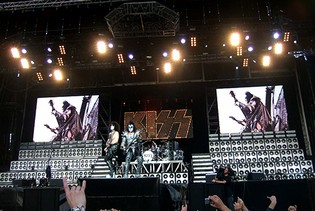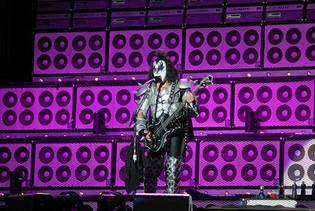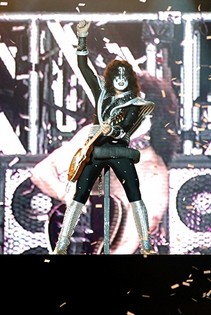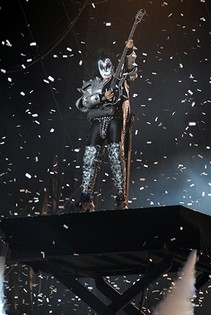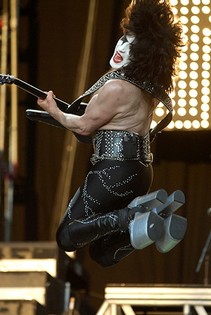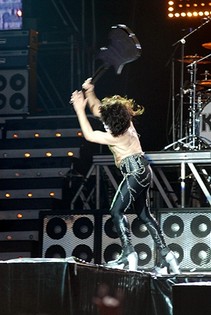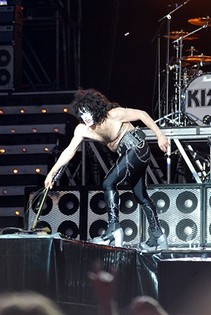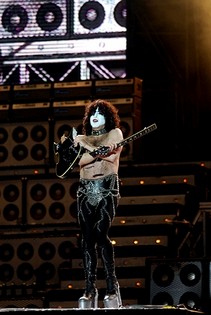 {jos_sb_discuss:18}
More photos on page 2