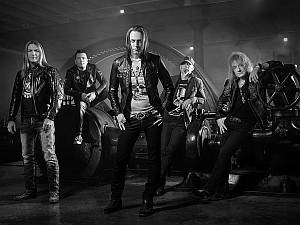 Interview with
Marc Lynn (bass) from Gotthard

To introduce GOTTHARD to any rock fan shouldn`t be necessary the band is, as most aficionados know, in business since 1990 (damn I'm old) and is one of Switzerland's best known bands of all time. On 4th April 2014, the band released their new album 'BANG!'. Reason enough for us to ask them a few questions about the new album and the one released before, about the new singer Nic Maeder and about touring plans…
Reflections of Darkness [RoD]
: At first I'd like to tell you how much I liked the last album 'Firebirth'. You did a great job preserving your overall sound in spite of the loss the band experienced and you really chose an excellent vocalist to carry on with you.
Marc Lynn [Marc]
:
Thank you very much. We're also happy with our decision. Nic fits fantastic to GOTTHARD.
RoD
: On to the questions. How are you and where are you at the moment?
Marc
:
At the moment I'm mostly in the rehearsal room studying and preparing the new live set 2014.
RoD
: How many vocalists did make your shortlist before 'Firebirth'?
Marc
:
We received about 350 tapes from different singers. In the closer selection we had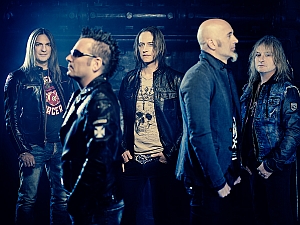 about eight singes which we met and worked together for a few days. Nic was the only one which fitted the band with his voice, character, charisma and his mentality.
RoD
: Where does GOTTHARD stand as a band and where do you see yourself in the future?
Marc
:
We were and still are a classic rock band. GOTTHARD has a wide range of songs between rock, heavy and ballads. This is GOTTHARD and this will be GOTTHARD in the future.
RoD
: Are there any touring rituals you would like to share with us?
Marc
:
Yes, before we go on stage we all stand in a circle, crossing our hands and shouting three times Fu**. This means – stop thinking about all the problems around you. Now we go on stage and do what we're living for and our hearts beat for.
RoD
: Do you and the guys enjoy touring and what has changed since the formation of GOTTHARD?
Marc
:
We enjoy a lot when we're on tour. This has never changes in the last 23 Years. Even Nic is a guy which enjoys touring. Nothing changed; we're still hungry for our fans.
RoD
: Where do you get the inspiration for your songwriting?
Marc
:
The most ideas are from situations in our normal live or tour live. Sometimes funny things happened which it is worth to write a song about it and to keep it forever in your mind. But also serious thoughts and experiences are worth to share with our fans.
RoD
: What music do you and the band listen to on tour and at home? Any new bands out there that get you excited?
Marc
:
We listen to bands like FOO FIGHTERS, NICKELBACK etc. But really new ones are not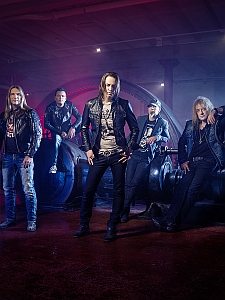 present. What I want to say is that there are not many new bands which bring musically really something special.
RoD
: What are the highs and lows on tour for you guys and what do you bring with you to kill time in the tour bus?
Marc
:
Usually our tour schedule is that tight so we don't spend the whole day in the tour bus. But when we're in the bus we talk about the show, the set list or even about private experiences. When we get out of the tour bus we're most of the time already in the next venue. In the venues we're preparing for tonight's show. We play our instruments, we write down new song ideas and of course, sometimes we visit the city and enjoying the day.
RoD
: What is the bands favourite country to tour?
Marc
:
The world :) - the world is a village and wherever you play there is something special. Japan and South America are for sure specials.
RoD
: Who is the main songwriter in the band?
Marc
:
The main songwriters are Leo, Freddy and Nic.
RoD
: do you have a role model in the music business?
Marc
:
AC DC – this band is a real live band. Over all these years they showed us, what it means to make a great show with a great performance.
RoD
: Who did the artwork for your new record and what is its meaning?
Marc
:
After such a strong cover like the 'Firebirth' cover, we want to change something and go in a new direction: Based on Quentin Tarantino – Road Move style. The important thing for us was to keep the cover striking. It shows our feelings to live free and happy.
RoD
: Can you please outline the new record 'BANG!' and the new songs?
Marc
:
Many of the new songs are special. We wanted to write great, different and special songs.
Bang!: a shuffle beat we never had in our previous records.
C'est la vie: a great ballad with a touch of French flair in it.
Spread your wings: Blues, Rock and Metal in one song.
Maybe: a duet with an unknown female singer just to make the songs feel great.
I won't look down: John Bonham groove direction led Zeppelin style.
Thank you: a huge song with more than just standard music and lyrics. 11 minutes long and really something huge to listen.
RoD
: How did GOTTHARD manage to always land on position number one in the national charts?
Marc
:
The Swiss people love us. I think we're their identification for Swiss Music success. They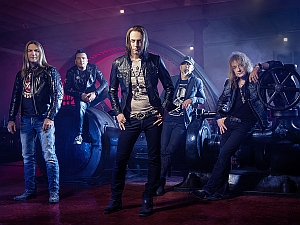 are proud to have us as their band. We're a touchable band in our country. We're really close to our fans. But it's not said, that the place number one is there forever. Let's see :)
RoD
: If you would have to name your one single favourite vocalist who would it be?
Marc
:
I like the voice of Steven Tyler. He has so much soul and playing in his voice and over all his voice is really unique.
RoD
: What are the shortcomings in your job?
Marc
:
We are working for our first live shows in April. In summer we will do a few open airs, mostly in Switzerland. In autumn we will be on tour in whole Europe. 2015 we plan to play international open airs and tours.
RoD
: What is the band`s favourite location to play a gig?
Marc
:
We love to play in Avenches Switzerland, a festival which is located in a 2,000 year old Amphi theatre with 9,000 capacity. It's a round arena and when you're on stage you feel like being in the middle of the crowd. Besides, the sound in there is amazing.
RoD
: What brought you guys to Rock'n'Roll?
Marc
:
The spirit of life. You have it or not :). It's a true, dynamic style with a lot of emotions.
RoD
: After so many years around is it getting harder to write new music?
Marc
:
No – as you can see, we still have many ideas to write songs and create our own style of rock. Every GOTTHARD album sounds different, new songs, new style but it's always GOTTHARD.
RoD
: How does the band prepare before a gig?
Marc
:
One hour before show we go to the dressing room to warm up, change our clothes and concentrate on the songs. Nobody may disturb us in this moment, this is our time.
RoD
: Are there any things left you like to say to the many fans out there?
Marc
:
Thank you very much to support us over all these years and welcome Nic so warmly as our new front man. Come to see our shows, we will be ready to have party with you.


Pictures by Martin Hausler
See also (all categories):