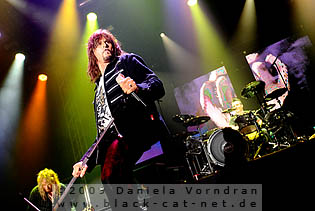 Halle Gartlage, Osnabrück, Germany
14th November 2009
Gotthard & Europe
GOTTHARD & EUROPE came to Osnabrück. That fact caused countless people from all directions to the city. Even some fans from Japan and the UK had come, especially for GOTTHARD. The venue was packed accordingly and it started getting really tight in the hall. But finally the doors opened and everyone tried to secure the best spot for themselves not to miss anything when both bands would lay down a memorable show.
Europe
EUROPE started in 1979 under the name of FORCE. Unlike their fellow countrymen, they sung all their songs in English right from the start and thus, were more accessible for an international audience. The name change to EUROPE occurred in 1982 and one year later, the band released their first, eponymous album. Exactly one year after that release and a tour through Scandinavia, the album 'Wings of Tomorrow' came out. The pinnacle of their career, however, was the internationally acclaimed single 'The Final Countdown' and the accompanying album of the same title which led them on a World tour and gained them incredible chart placements. The following album 'Out of this World', though a million seller', couldn't catch up to that success remotely, neither could any other of the following efforts. The popularity began to subside which led to the break-up of EUROPE. Suddenly,-they re-appeared at the turn of the millennium for a live show. Since 2004, they've released 3 further albums with 'The Last Look of Eden' having been released just this year. EUROPE is: Joey Tempest (vocals), John Norum (lead guitar), John Levén (bass), Mic Michaeli (keys) and Ian Haugland (drums).
http://www.europetheband.com/
/
http://www.myspace.com/europe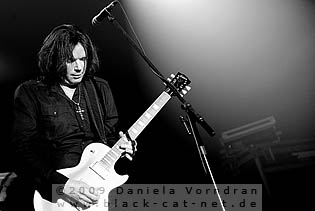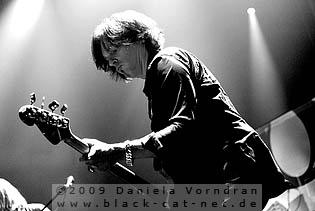 Music & Performance
I didn't think I'd ever get to see EUROPE live some time, really. But things always seem to happen when you least expect them and so I was sitting here in Osnabrück, waiting for the show to start. That happened quite abrupt with everything getting dark all of a sudden and a forceful, orchestral intro sounding. The band also entered the stage in that darkness and when the show was going to start and the light show revealed its full capacities, you could hear cheers all over the place. They started with some stuff from the recent album 'Last look at Eden'. First was the title track with a bombastic orchestral section and surprisingly hard riffs, followed by the grooving 'Gonna get Ready'. The next song, however, turned out being a real classic: 'Superstitious'. The audience immediately picked up the vibe and rocked along.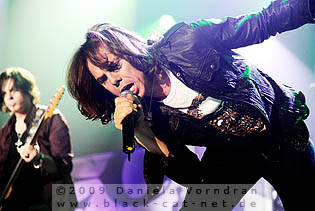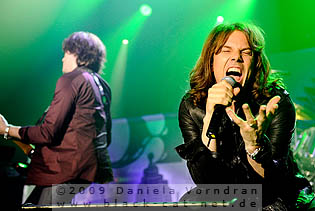 Also a classic and besides that, a dreamy, moody ballad, was played with 'Carrie' as an acoustic version. If anyone really had doubts about Joey Tempest's vocal qualities, they were blasted away this very moment. But also the crowd displayed some neat vocal strength in singing it together with Joey or alone, some with a very moony, sentimental look in their eyes. Just as regards the track list, there was nothing to complain about in the performance department either. The focus was placed mainly on Joey, who brought an awesome lot of fun on stage, never standing at the same spot for long, and he had some pretty cool moves with the microphone stand in his repertoire either. The band most of the time remained very focused on playing their instruments, but catered for one or the other animation as well. But before I'm going to wrap up this review, I should mention that there was a heavily demanded encore and that the last song was their hit 'The Final Countdown'.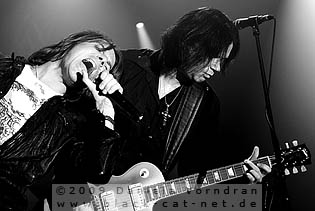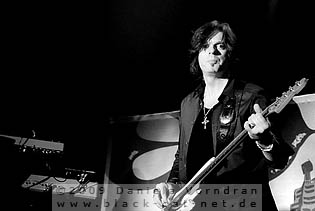 Hearing the melody was enough to put many into sheer excitement. Definitely a great closer to a refreshingly dynamic and entertaining show!
Setlist
01. Last Look at Eden
02. Gonna Get Ready
03. Superstitious
04. Love is not the Enemy
05. Sign of the Times
06. No Stone Unturned
07. Carrie
08. New Love in Town
09. Let the Good Times Rock
10. Start from the Dark
11. Seventh Sign
12. Rock the Night
---
13. The Beast
14. The Final Countdown
Rating
Music: 8
Performance: 8
Sound: 8
Light: 9
Total: 8.2 / 10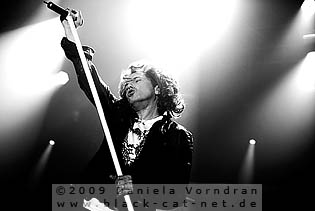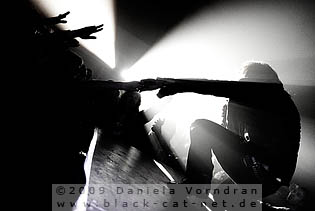 Gotthard
GOTTHARD saw the light of day as KRAK in 1991 in Switzerland. They changed their name to GOTTHARD some time later and work on the first, self-titled debut album began. The record was released in 1992 and became a success in their native, as would any other of its successors, which is one reason why the band is considered the flagship of Swiss Hard Rock nowadays. From the second album onwards, their career went international and their tour schedule not only expanded towards Germany and Austria, but also to France and Italy for instance. Some other remarkable moment in their career was them being the opener for BON JOVI in Zurich in 2001, more importantly they supported AC/DC one time. How many bands can say that? In 2009, GOTTHARD have nine full-length albums under their belts and released various live albums as well. Their latest record is called 'Need to Believe' and came out in 2009. GOTTHARD is Steve Lee (vocals), Leo Leoni (guitar), Freddy Scherer (guitar), Marc Lynn (bass) and Hena Habegger (drums).
http://www.gotthard.com/
/
http://www.myspace.com/gotthard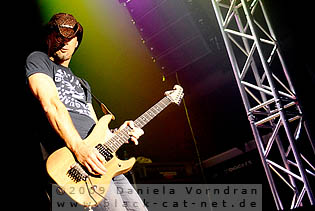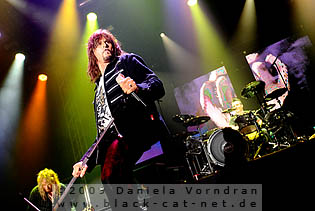 Music & Performance
After EUROPE had finished their gig, countless people streamed into the other part of the hall to get some food or something to drink, but were all back at their places when the main spectacle would begin. As soon as the band had entered the stage, the mood was off the scale and wouldn't subside for the time they'd remain up there. Introduced by the mandatory instrumental, the set started with 'Unspoken Words', a rock axe living on straight and powerful riffs, as well as the raucous voice of Steve Lee, who started right away to scour the stage and the catwalk. He got as close to the fans as possible whenever he could. Also the other band members presented most genuine joy of playing throughout the entire set, which continued with 'Gone too Far' and 'Top of the World' now, which must have been exactly what the crowd was feeling at the time. Such an exhilarating feeling came across from this song, it's hard to believe.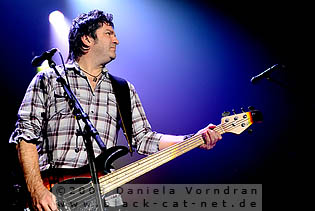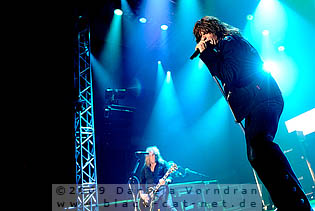 But there was also a time and a place for the more calm moments in the show, the first one of which was the emotionally charged power ballad 'Need to Believe', the title track off their newest album. A little part of the set was also dedicated to an acoustic "jukebox" block, where Steve and Leo Leoni would take place on stools and perform some songs entirely unplugged. The audience called for several of their most favourite gems such as 'Let it be', 'I'm on my Way' or 'One Life One Soul' which all would be played. Just wonderful! One thing, I shouldn't forget before closing off is the incredible light show playing with following spots, different colour compositions and whatever you can imagine, impressively supported by an LED wall in the background. Looked even more impressive from a distance and a total view on the stage! Well, it was much fun and if I would get the offer to attend another GOTTHARD show some time, I wouldn't say no.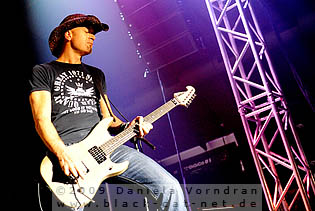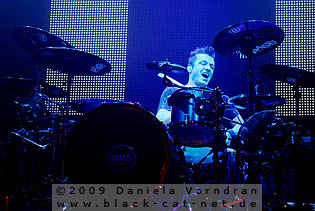 Setlist
01. Unspoken Words
02. Gone Too Far
03. Top of the World
04. Need to Believe
05. Mountain Mama
06. Hush
07. I Know, You Know
08. Right from Wrong
09. Unconditional Faith
---Acoustic Section---
10. Let it be
11. I'm on my Way
12. One Life One Soul
13. All I Care For
--------------------------
14. Shangri La
15. All we are
16. I don't Mind
17. The Oscar goes to…
18. Lift u up
---
19. Sister Moon
20. Anytime Anywhere
Rating
Music: 7
Performance: 9
Sound: 8
Light: 9
Total: 8.1 / 10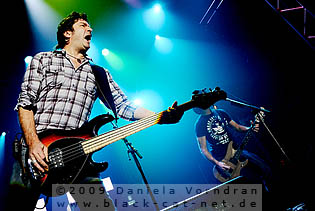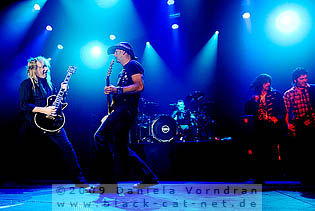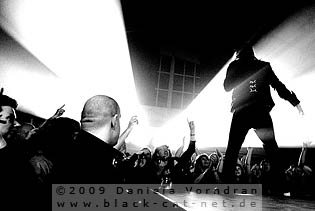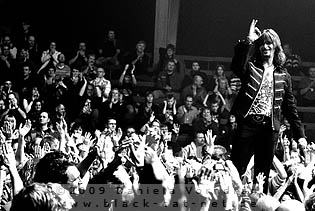 All pictures by Daniela Vorndran (
http://www.vorndranphotography.com/
/
http://www.black-cat-net.de/
/
www.myspace.com/vorndranphotography
)
{jos_sb_discuss:17}
See also (all categories):