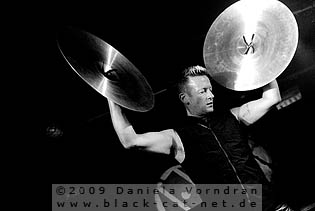 Kulturfabrik, Krefeld, Germany
12th November 2009
In The Nursery


The roots of the family business of the twin brothers Nigel and Klive Humberstone extend back to a time when New Wave was on the lead. IN THE NURSERY started with rough and experimental tracks causing a stir in Britain's blooming Industrial scene. Dark pathos-filled synth sounds combined with crunchy military drums and a powerful rhythm foundation made up the trademark sound. Later on, bombastic, soundtrack-like soundscapes were increasingly woven into it.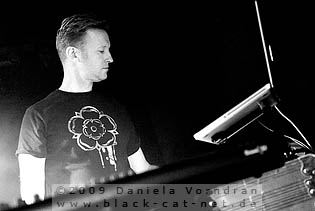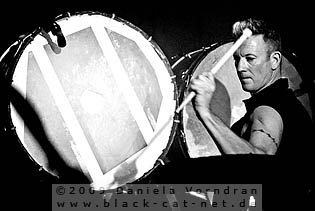 The dramatic, emotional sonic pictures IN THE NURSERY is painting also roused the attention of film directors. Beginning with the mid-90s, the band composed movie scores. Also with the recent songs e.g. from their last regular studio album 'Era', IN THE NURSERY remained true to themselves. On this evening in Krefeld, they presented us a set covering the beginnings, just as presenting their recent efforts. ITN are Klive Humberstone (percussions), Nigel Humberstone (keys, synths), Dolores Marguerite C (vocals) and David Electrik (percussions).
http://www.inthenursery.com/
/
http://www.myspace.com/inthenursery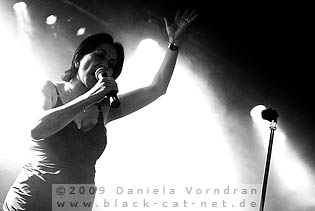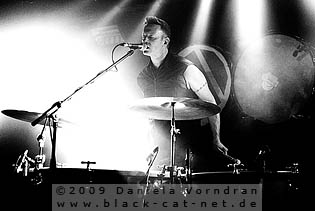 Music & Performance
I haven't had the chance thus far to see the twins and their collaborators in action, so this also was kind of a premier for me and I can say I was very curious how that live presentation of the songs would be like. Well, everything started with a little intro to get everyone into the right mood and then the gentlemen Humberstone and Electrik appeared and the actual set could begin, and it started way in the past with the Post Punk driven sounds of 'A to I' and Nigel handling vocal duties. 'Bombed' with its cinematic, orchestral sections, the powerful use of drums and the perfectly fitting, if only occasional vocals of Dolores, returned straight back to the present. It's especially that evocative blend of timeless, classical movements with the fundamental force of percussive rhythms wrapped around them that makes up a lot of the fascination for this duo's music for me.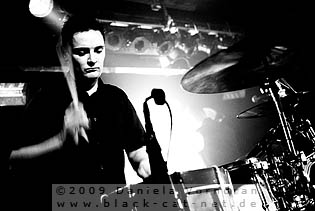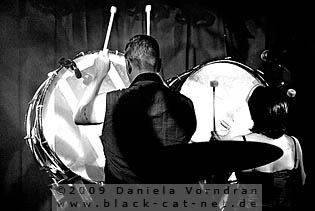 Those compositions, taken from various albums out of the band's history, would take a large part of the set. To pick out favourites would be pointless, for they all, in one way or another, have something striking, something intriguing to them, like the gliding string luxury of 'Hymn Noir' flowing into complicated percussion wizardry eventually. The spoken-word 'Allegory', whose majesty underscored a thoughtful tale told by Dolores, is another masterpiece. Also more danceable tunes like the FLESH FIELD remix of 'A Rebours' were presented and made the audience swathe in their rhythms. Unfortunately, the setlist needed to be cut down a little due to some glitches with the gear which prevented 'Mystery' and 'Groundloop' from being played. The latter one was already part of one of the highly demanded encores, which also included rousing gems such as 'Praxis' or the haunting 'Deus ex Machina'.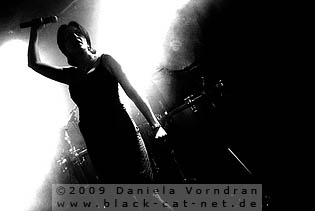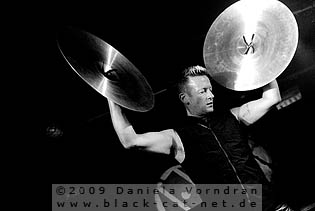 This evening's show was one of those where people would come to see especially one band, to celebrate with them their old and new songs and just have fun with them. Personally, I like such shows much more than those large-scale and completely packed gigs. Has the advantage of a rather familiar and intimate atmosphere, and that's what's being remembered from this one - additionally to the extraordinary performances of all involved. Thanks for this show. It's been a blast.
Setlist

01. Futurebuild Intro
02. A to I
03. Bombed
04. Blueprint
05. Hymn Noir
06. Allegory
07. Silent in Time
08. Sixth Sense
09. New Religion
10. Cobalt
11. A Rebours (Flesh Field RMX)
12. L'Esprit
---
13. Praxis
14. Stone Souls
15. Compulsion
16. Deus Ex Machina
---
plus two more
Rating
Music: 10
Performance: 9
Sound: 8
Light: 7
Total: 9 / 10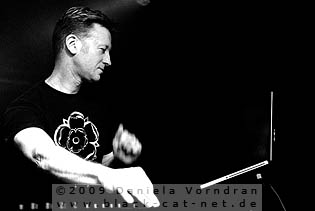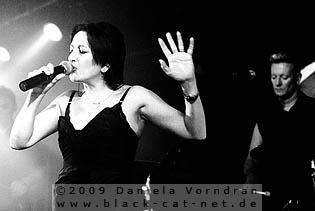 All pictures by Daniela Vorndran (
http://www.vorndranphotography.com/
/
http://www.black-cat-net.de/
/
www.myspace.com/vorndranphotography
)
{jos_sb_discuss:17}
See also (all categories):