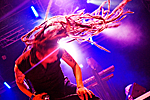 Leipzig, Germany
May 25th, 2007 to May 28th, 2007
WGT DAY 1: REMEMBER TWILIGHT, HOLODNE SONZE, POISONBLACK, CREMATORY, ENTWINE, AMORPHIS, THE RETROSIC and IN THE NURSERY/OPENING PARTY

The Wave Gotik Treffen (WGT) is one of the biggest Gothic festivals in the world and every year, around 20,000 people gather around at the Agra hall to party and see fantastic bands at locations all around Leipzig. This year, with bands like ZERAPHINE, ASP, UNTOTEN, EMILIE AUTUMN, FETISH:MENSCH and SUBWAY TO SALLY it was promised to be a highlight in every Gothic's calendar. Besides those top-class bands you were able to buy clothes, CDs and all sorts of other stuff. Places like the Heidnische Dorf really made this festival special because you have all sorts of different music coming together in one whole pot. On one side, you have the classical gothic music, than you got the whole industrial side of the music up to high class metal. The WGT was definitely one of the best festivals you can think of going to. [Ruth Gräbeldinger]
www.wave-gotik-treffen.de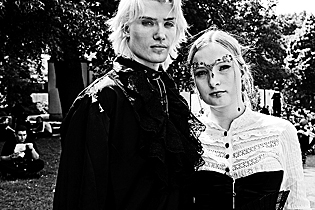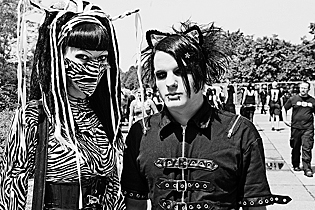 REMEMBER TWILIGHT [Ruth Gräbeldinger]

German band REMEMBER TWILIGHT take the concept of metal plus classical instruments beyond the medieval metal cliché. Featuring oboe and two violins, they fuse metal and punk rock influences with soft classical chamber music, creating "chamber music core", as they call it. On top of that, hardcore-style shouting with German lyrics - often on philosophical topics - are added in for a wild musical ride. In 2005 REMEMBER TWILIGHT released their debut album 'Zerrissen', produced by Alex Krull (ATROCITY, LEAVES´ EYES). After the release, Remember Twilight played on European tours with bands like Finnish cross-over legend WALTARI and German medieval metal orchestra HAGGARD.
www.remember-twilight.de
/
www.myspace.com/kammermusikcore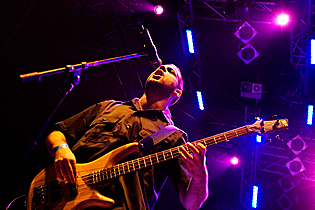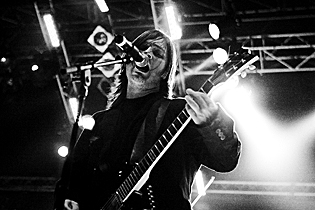 Music

I had seen REMEMBER TWILIGHT just a few weeks before the WGT in a small club in Stuttgart, and I liked them much better there, the atmosphere was much more familiar and they were able to transport a lot more energy. But surely for them it was nicer to play in front of the bigger audience which had gathered in the Kohlrabizirkus this early Friday afternoon. Their sound is quite interesting, mixing up Metal and Punk with classical instruments such as violins and an oboe.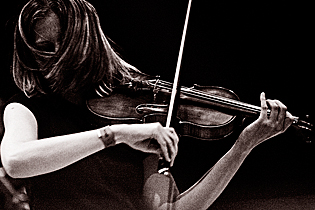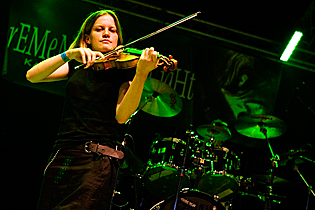 The lyrics, in the German tongue without exception, are partially screamed and besides sung clearly by vocalist Timo. All in all a nice attempt, though most of their songs lack the last specialness to really catch one's ear. On this year's WGT they presented their second release, the EP 'Der Tolle Mensch'.
Performance

REMEMBER TWILIGHT are fun on stage, though I would prefer seeing them on a small one. Especially singer and guitarist Timo really is a live wire and for sure the most charismatic band member on stage. They had beautiful, a little gloomy light of various colours and a good sound, and were also well received by the audience.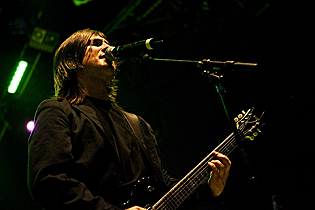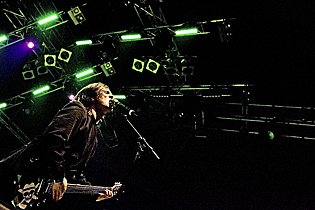 The two female violinists mostly stood in the background of the stage, as did Florian, who however, regularly being rather inconsiderable behind his instrument and microphone (though not when it comes to the sound of his instrument), for one song joined the guitarists directly in front of the audience to bang his head wildly and celebrate the song together with the rest of the group. They always seem to have a lot of fun on stage themselves, which can be very intoxicating.
Rating

Music: 6
Performance: 7
Sound: 7
Light: 6
Total: 6.5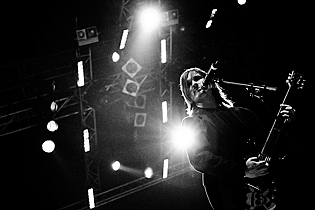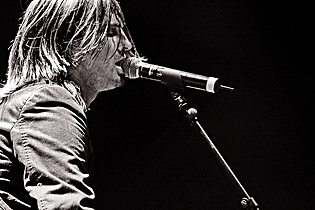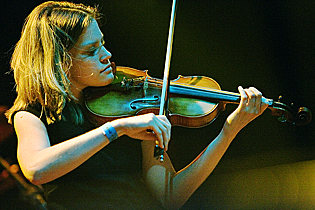 HOLODNE SONZE [Ruth Gräbeldinger]

Holodne Sonze (=The Cold Sun) is a Ukrainian Gothic/Dark Rock band.
Music

I saw HOLODNE SONZE's gig more or less incidentally, as I wanted to see REMEMBER TWILIGHT and POISONBLACK, and these guys played just in-between. I had never even read a word about them before, and afterwards, when looking for some information about the band, it turned out that they are from Ukraine and their website can only be read by those capable of the Ukrainian language and lettering - which is a pity, I'm sure the WGT was a nice opportunity for them to gather a few new fans around them, especially from all over Europe, but up to now it seems difficult to get in touch with them.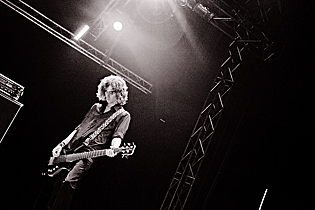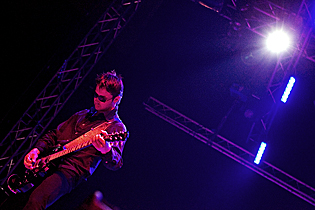 Concerning their music, it can be roughly labelled Gothic/Dark Rock, played with the average instrumentation plus keyboard. It sounded quite interesting, though not very catchy, more like music you have to listen to a few times to really get the hang of it - which surely isn't a deficit. Their lyrics were in their mother tongue, I guess, which means most of the attendees didn't understand a word, so I can tell nothing about their content.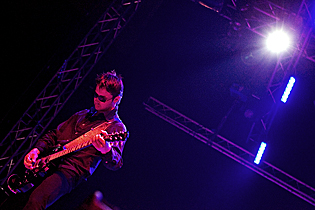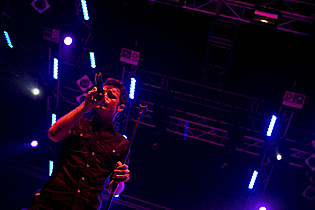 Performance

There wasn't much of a performance on stage during the HOLODNE SONZE set. The five guys delivered an experienced set with no special show elements, just down-to-earth Rock. The vocalist, sometimes appeared even a bit shy, nevertheless had a special bleak aura, and together with the fine light on the Kohlrabizirkus stage their concert was by all means worth seeing.
Rating

Music: 7
Performance: 6
Sound: 7
Light: 6
Total: 6.6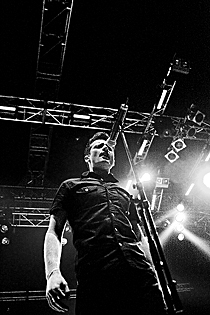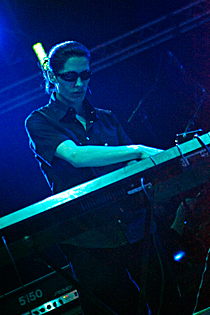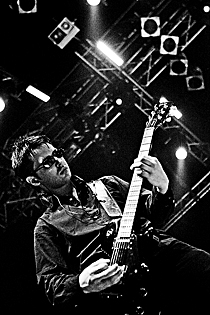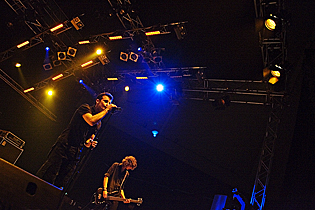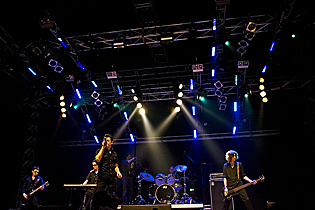 POISONBLACK [Ruth Gräbeldinger]

As SENTENCED fade into the cold white light a new shadow of despair unfolds upon the gloomy Finnish landscape, which is sure to haunt the soul with its sombre and melancholic composite. This abundance of sorrow is better known as POISONBLACK, who feature ex-SENTENCED front man Ville Laihiala on lead vocals and guitars. The group has returned with its highly anticipated sophomore release, Lust Stained Despair, which is a voracious hard rock assault laden with mesmerizing gothic overtones.
www.poisonblack.com
poisonblack.com /
www.myspace.com/officialpoisonblack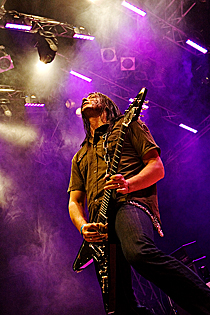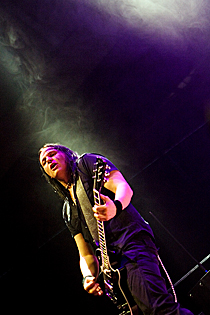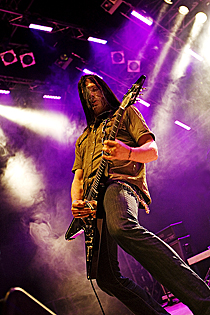 Music

Being the former lead singer of a legendary band, that has disappeared from the stages of the world, but for sure not from the hearts of their many fans, and starting a new band, can be easy and very hard at the same time. Ville Laihiala, well-known together with his former band mates from SENTENCED, has surely had a few doors opened more easily - but convincing the old fans or new ones, and not being compared to his past all the time, is surely not the simplest task to manage.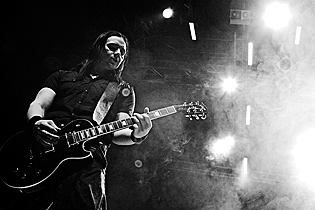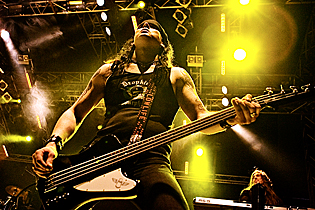 POISONBLACK, where Ville plays the guitar and stands behind the microphone again, have dedicated themselves to a melange of Hard Rock and Gothic Metal (and in a way, they continue where SENTENCED have stopped), with harsh guitars by Ville himself and Janne Markus, but also very melodic parts supported by Marco Sneck on the keyboard. I was very curious to see them, but afterwards a little disappointed; their songs were okay, but not more, at least not the sensation I had expected.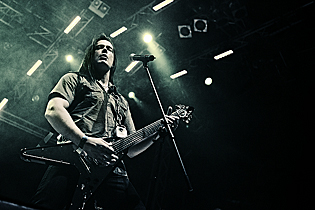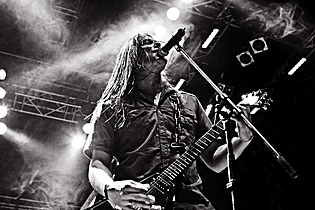 Performance

However, the performance they delivered was worth seeing it. They had the Kohlrabizirkus stage plunged into beautiful, coloured bright light and really rocked the venue. All band members were passionately at work, and this was rewarded by the audience, among which surely one or another SENTENCED fan could be found.
Rating
Music: 6
Performance: 8
Sound: 7
Light: 9
Total: 6.8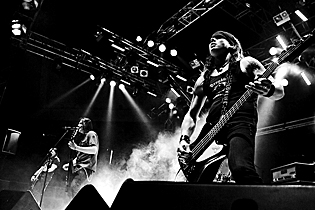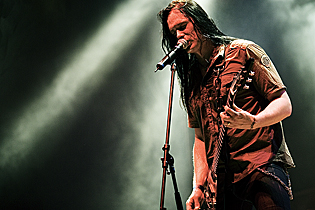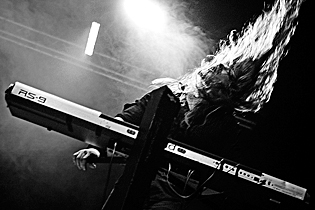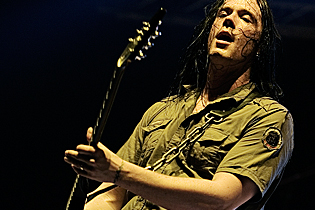 ENTWINE [Ruth Gräbeldinger]

ENTWINE was originally assembled as a death metal band, Kaamos, in 1995 by guitarist and vocalist Tom Mikkola, drummer Aki Hanttu and bassist Taipale. In 1997 they decided to change ENTWINE's musical style to gothic metal and rhythm guitarist and vocalist Panu Willman was shortly after added to the band's line-up. In December of that year, ENTWINE recorded its first demo, entitled 'Divine Infinity'. In February of 1998 female singer and keyboard player Riitta Heikkonen joined the band. ENTWINE's debut album - entitled 'Treasures within Hearts' - was released it in September of 1999. In April of 2000 both Willman and Taipale left the band, with the latter being replaced by Joni Miettinen.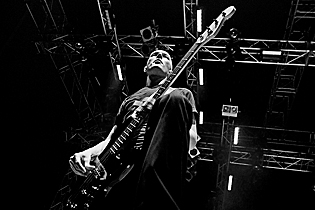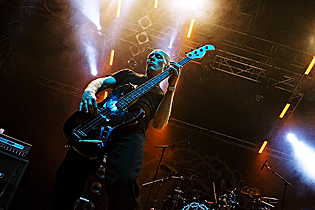 Vocalist Mika Tauriainen was added to the band on the following month. Jaani Kähkönen joined the band as a live session guitarist in late 2001, but soon became a permanent member of ENTWINE. In early 2002 the band recorded their third album, 'Time of Despair', which was produced by Anssi Kippo. ENTWINE then toured Europe with THEATRE OF TRAGEDY and RAM-ZET to promote this release. In 2003 ENTWINE recorded their fourth album, 'diEversity', released in March of 2004. This album showed an evolution on their sound, abandoning some of the band's gothic roots and opting for a heavier style. On December 8 2006, keyboardist Riitta Heikkonen announced her departure from the band citing personal reasons. No replacement is planned.
www.entwine.org
/
www.myspace.com/entwineofficial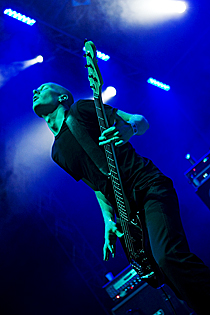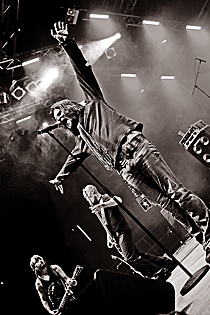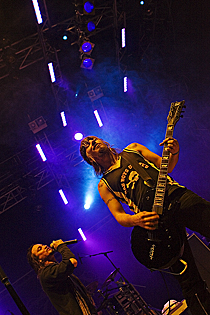 Music

ENTWINE are one of the many Finnish bands doing Modern Gothic Rock/Metal. This band already has a considerable history to show for itself, developing its style from Death Metal to Gothic Metal and nowadays aiming for harder stuff again. The problem with this kind of music these days is that after a time one gets the impression, that one has already heard everything and the bands slowly start repeating themselves - or others. The same with ENTWINE; it's not that their songs are bad, they surely are not, and they were presented here with a lot of pleasure to play, but at the same time, they are nothing really new or innovative.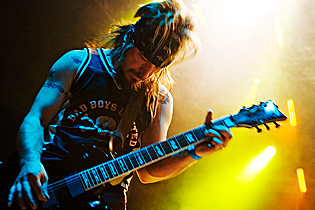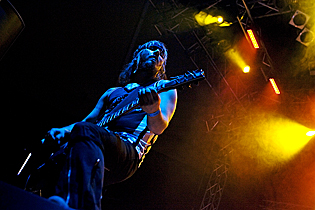 Performance

Like POISONBLACK, the Finnish Goth rockers had fantastic light, and they managed to carry away their audience for the 45 minutes of their set. Especially vocalist Mika Tauriainen delivered a good show; seemingly not being able to stand still for a moment, he ran over the stage from one corner to the other, talked to the fans and seemed to really enjoy himself.

Rating

Music: 7
Performance: 8
Sound: 7
Light: 7
Total: 7.3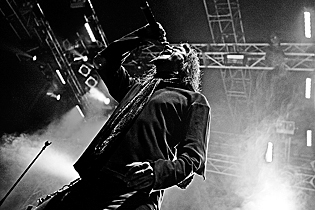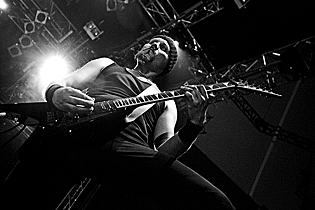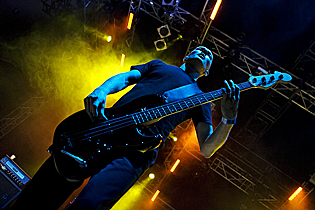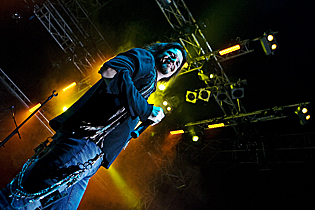 CREMATORY [Anne Kuhfuß]

CREMATORY is a Gothic Metal/Death Metal band formed in Mannheim, Germany, in 1991. The band received its earliest recognition in the mid-1990s as tour mates of MY DYING BRIDE, TIAMAT and ATROCITY. Much like the latter two groups, the band had begun as traditional death metal, than evolved with an industrial music and gothic metal musical direction on later albums. The band would receive heavy rotation on MTV Germany, and would also make appearances at various extreme metal festivals, including Germany's Wacken Open Air in the years 1996, 1998, 1999, and 2001, in addition to inclusion on Nuclear Blast compilation samplers.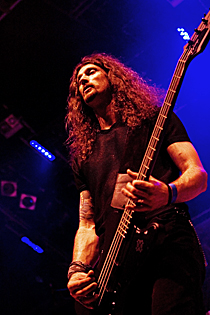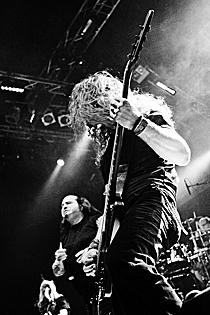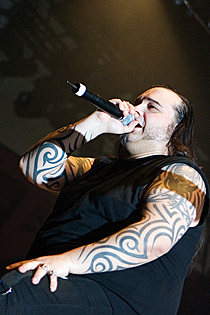 The band re-signed to Massacre Records in 2006 after a 10 year stint with Nuclear Blast; Massacre had been the band's first label. Active for over 15 years (with a brief split between 2001 and 2003) they are among one of Europe's longest running bands affiliated with the gothic metal genre.
www.crematory.de
/
www.myspace.com/crematorymusic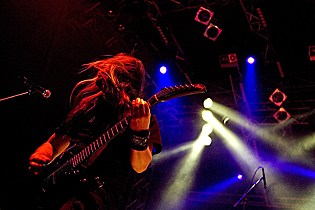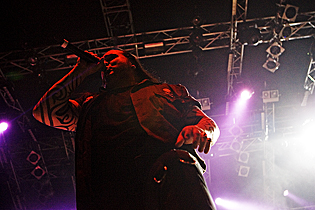 Music
The guys around the woman on the keyboards - Katrin Goger - really knew how to rock the stage with great guitars riffs, nice keyboard lines and a great voice. Their music was a good mixture of everything that makes Gothic Metal as good as it is supposed to be.
Performance
Since this band has been a piece of the metal scene for the last years, their concerts are always worth to be seen. And this year, that was exactly what you can call the concert: worth to be seen.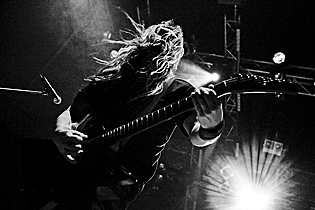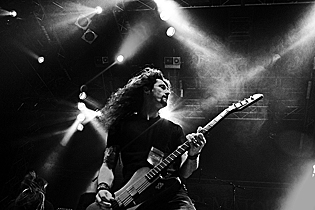 Coming up on stage you could see they were really looking forward to that show at the WGT. Although the WGT is considered to be a "gothic festival", the metal bands - including CREMATORY - really gave something to it to make it special. The fans in the crowd appreciated their work by clapping their hands and singing the songs which really contributed to the already great concert.
Rating
Music: 8
Performance: 8
Sound: 8
Lights: 8
Total: 8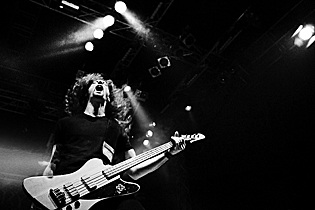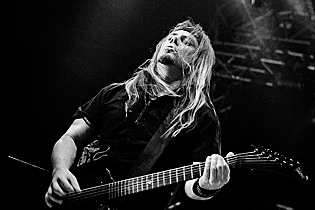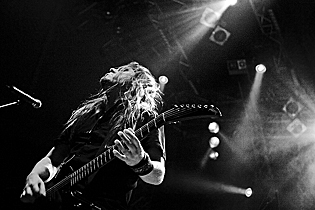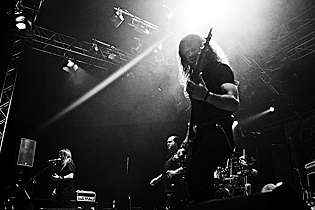 AMORPHIS [Anne Kuhfuß]

AMORPHIS is a Finnish metal band started by Jan Rechberger, Tomi Koivusaari and Esa Holopainen in 1990. Initially, the band was a Death Metal/Doom Metal act, but in later albums they evolved into playing other types of genres. AMORPHIS are well known for their use of the Finnish national epic, the Kalevala, as a source for their lyrics. On May 4th 2007 the band revealed the title and track listing of their upcoming album entitled 'Silent Waters' to be released on August 29th in Finland and August 31st for other countries.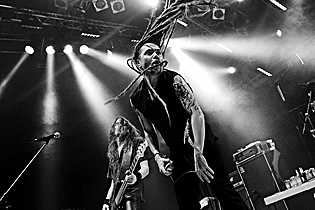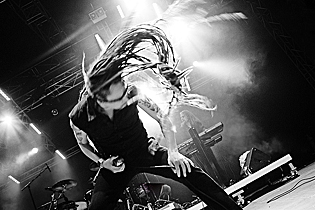 The Silent Waters single will be released June 27 on CD in Finland and as a download single internationally.
www.amorphis.net
/
www.myspace.com/amorphismusic
Music

The sound of the six guys of AMORPHIS is really special: nice guitars with an astonishing voice are exactly what you would expect of such a good metal band. And that's what they showed that day. This was definitely one of the best concerts I've been to up to that day.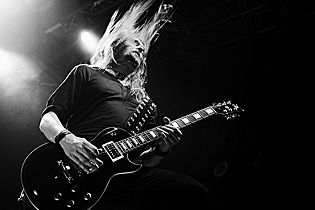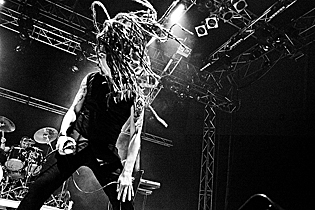 Performance
Looking as good as ever, they came up on stage having fun and looking happy all the time. It was really fun to watch them because they looked so entertaining. During the whole show you could feel and see how much fun they had. And they transmitted that feeling to the fans in the audience. It was a great concert with some good looking guys on stage.
Rating

Music: 9
Performance: 8
Sound: 8
Lights: 8
Total: 8.4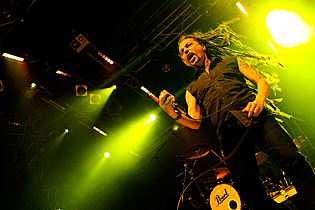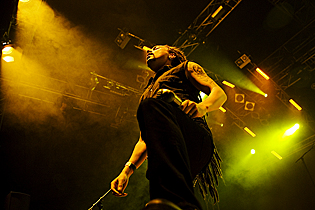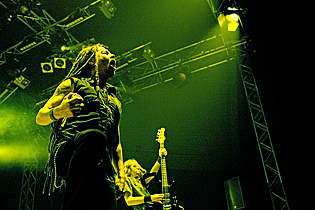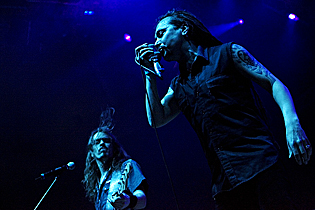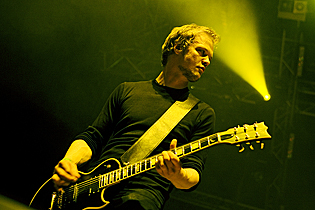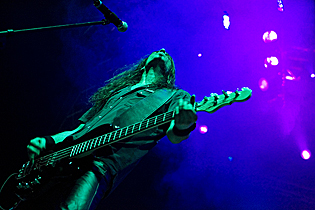 THE RETROSIC - Midnight Special [Karolina Moszkowicz]

THE RETROSIC, the band known for considerable number of top-hitting albums, such as 'Prophesy', 'Messa da Requiem' or 'God of Hell' was formed in 2001. The Wave Gotik Treffen show was to present their newest brainchild 'Nighcrawler' and consequently we had a chance to listen to quite a number of songs of the new album as well as old hits in new versions. At the very start I have to say the show was prepared in detail and the visual part of the performance was very rich, directed to build up the tension and then to provide a perfect background for its release...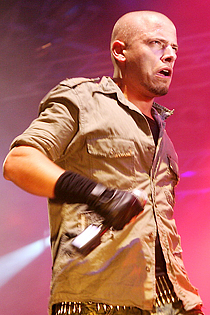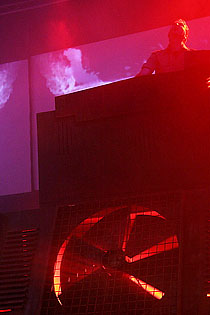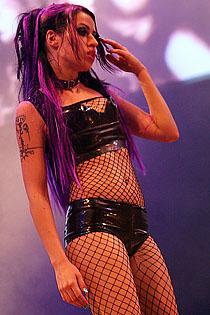 One could say the show started much earlier then the planed '1.00', as when I came to Agra Hall the first thing I saw was a huge screen with the clock counting time left to the begging of the gig... fine idea, preparing well for what was called 'a midnight special'. As the time passed by, more and more people started coming to the place and with the little time left they started calling and the screams and yells were getting more and more intense... And so finally the show began...
http://www.retrosic.com/
/
http://www.myspace.com/retrosic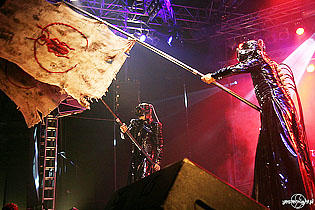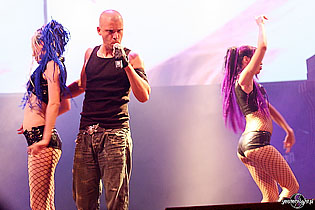 Music

I won't be very objective and cool-headed here - this year it was THE RETROSIC that attracted me to the fest in the first place. I definitely couldn't miss such a treat as seeing them live. I've always thought of the band as a little 'hits factory' so many fantastic songs they created. Their music is what people now call "aggrotech" - industrial/dark electro marked with harsh sounds and aggressive beats. And truly it is a smashing, overpowering force working on dynamic, energetic and extremely catchy and ravishing tones... very danceable and yet deprived of dull repetitiveness, it constitutes a perfect tool that leaves you breathless and... yeah, sometimes 'high-heel-less' :).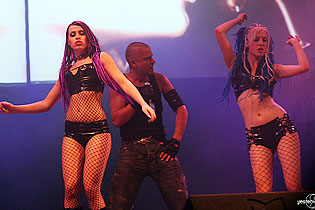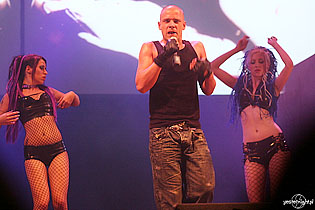 During the show, as I said, we could hear some of THE RETROSIC "best of" such as 'Maneater', 'Eat Me Alive', 'The Storm', 'Laughingstock', 'Scream', 'Antichrist', 'Total War' and the new ones: 'Unleash Hell', 'Bomb', 'Revolution', 'Desperate Youth', 'Bloodsport' to mention just a few. The music - smashing as it is combined with an engaged and highly powerful vocal manner of Cyrus Fletcher resulted in a force the audience couldn't resist. Great show!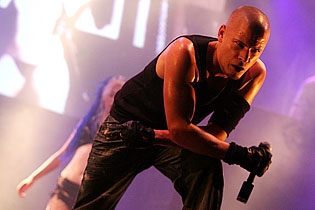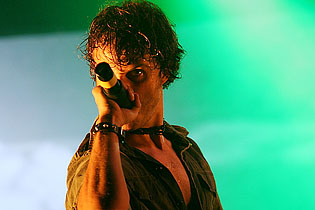 Performance

The show, as I mentioned, started with the time counting, so I was ready to start screaming in the appropriate moment. :) And then two figures - how to call them - fetish aquanauts? appeared on the stage and started waving flags - a signal that the show is about to start. And it started the very moment after with the song 'Ground Zero' and it was obvious it will be a smashing hit: extremely energetic, vivid and ravishing. The scenes were changing very fast - Cyrus singing in his aggressive and dynamic manner and the performers supporting the show. During the song 'Revolution' two ladies of Wicked Trinity: Miss Omega and Natasha de Viant enriched the concert with their dancing while 'Maneater' was played with a man hanging on a metal construction (hang by his skin) in the background.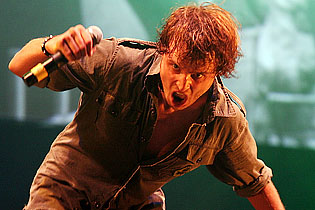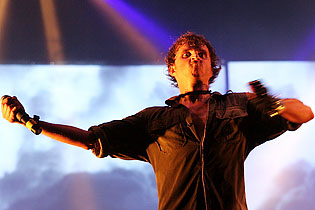 At some point the audience was pelted by the glittering confetti which was thrown from the ceiling - splendid view, especially in shimmering lights. At the end the two leather clothed figures appeared on the stage and took Cyrus off the stage - and so the concert ended. There were complaints the show wasn't scenically consisted as it didn't follow one line, well, some will call it inconsistency the others - variety, the fact is the audience were having great time during the show and the abundance of ideas used by THE RETROSIC stand for an advantage and not for a fault. I must say it was the best concert of the festival - both as far as music and performance is concerned!!!
Rating

Music: 10
Performance: 10
Sound: 10
Light: 10
Total: 10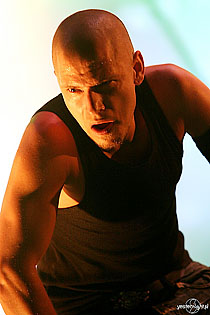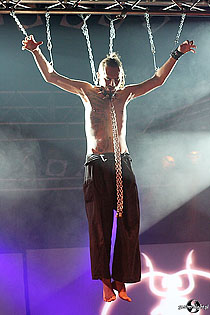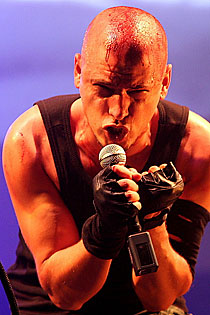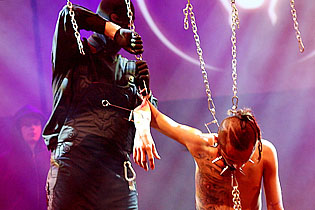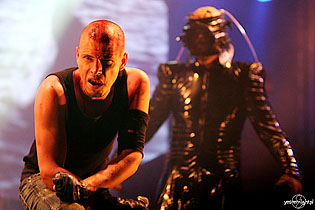 IN THE NURSERY/OPENING PARTY [Ruth Gräbeldinger]

IN THE NURSERY is the Sheffield-based musical project centred around the nucleus of twin brothers Klive and Nigel Humberstone. ITN's musical history spans more than two decades and has constantly expressed their desire for progress and experimentation. Their sublime, cinematic music blends electronica, classical arrangements, orchestral percussion and sound scapes evoking a timeless quality. IN THE NURSERY have released more than two dozen albums since 1981. The creative progress of the band's albums has always consolidated their distinctive sound while taking on board contemporary influences.
IN THE NURSERY's music has been used on numerous film soundtracks and trailers including The Aviator, Interview with the Vampire, Along Came a Spider and The Rainmaker as well as the La Femme Nikita TV series. Parallel to their studio works, ITN have spent the last ten years developing their Optical Music Series, new scores for classic silent films. The series to date has included The Cabinet of Dr Caligari, Asphalt, Man with a Movie Camera, Hindle Wakes, A Page of Madness and Electric Edwardians. ITN have performed their new scores at screenings throughout Europe, South America and Australasia. IN THE NURSERY's new studio album, entitled ERA is out now.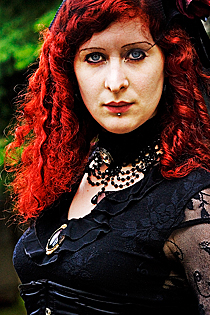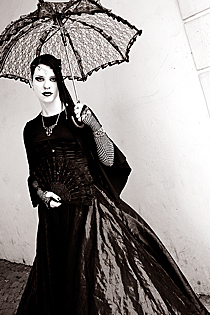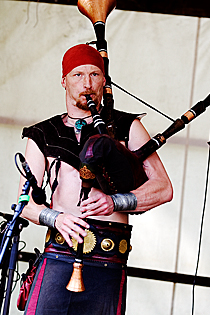 This night, an opening party of the WGT was planned at the Völkerschlachtdenkmal. And so, we all made our way up to the place where it was supposed to happen at. We were not the only ones with this plan that night. A big group of people dressed in black followed us the whole way hoping to have a great night with a great show and even better music. Arriving there, we tried to get the best look at the stage that was built up. But then, the rain started and in short amount of time, the place was getting emptier every minute. The show started and you could see a great light show with some special effects. You couldn't really see much because the stage was pretty far away but it was still a great show. The band was great although it really rained like somebody would empty big bowls of water.
Written by Ruth Gräbeldinger, Anne Kuhfuß and Karolina Moszkowicz
All pics by Ruth Gräbeldinger except THE RETROSIC by
yesternight.pl
{jos_sb_discuss:18}
See also (all categories):