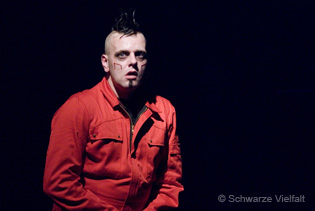 Universal D.O.G., Lahr, Germany
September 20th 2007
In the Nursery, Coppelius, Agonoize


Yeah, my first DDT as a complete non-smoking area! I'm a big fan of the new law and it was very pleasant, visiting a concert without smoke. This time, the location wasn't as filled as the last time, but there were still enough people to make it a fantastic evening and night. Due to the fine weather the outside area was still open and so you could take a deep breath of fresh air (or a cigarette-break). In the outside area you could also meet the members of all playing bands and dance on the "Medieval floor".



In the Nursery


The English band was formed in 1981 by the twin brothers Klive and Nigel Humberstone. At the beginning there was a guitar player, but Anthony Bennett left the band in 1983. Since 1987 Dolores Marguerite C takes part of the band. They released more than two dozen albums during the last 25 years. They also took part of different soundtracks (i.e. "Interview with a vampire") and are still working on new soundtracks of classic films. Their last album 'Era' came out in 2006.
http://www.inthenursery.com/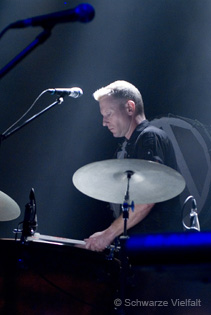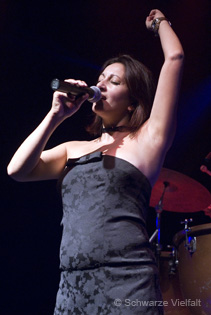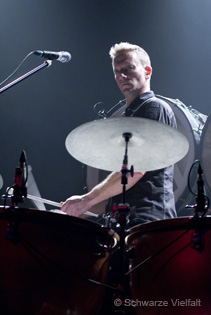 Music & Performance

Some call it Industrial, some call it Neofolk and even some call it Classic. I'm not the one to decide how to call their musical style. For me it's fascinating. I have seldom seen classical percussions on stage for an electronic concert. Although their instrumental songs are not that moving as the other songs, they are still binding. Their preference for classical films and emotional soundtracks is obviously. Dolores C is an impressive singer with a wide voice volume. Together with the powerful percussions and the other classical instruments this was a special performance.
Rating

Music: 7
Performance: 7
Sound: 6
Light: 6
Total: 6.7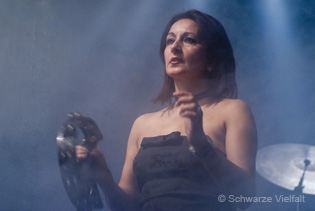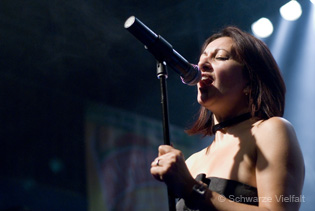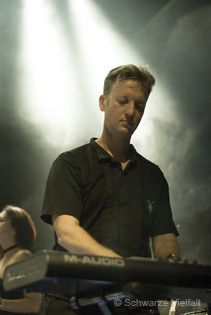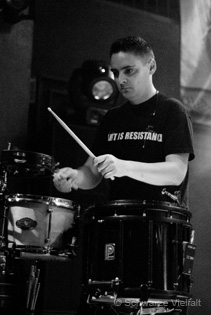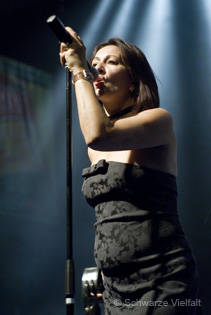 Coppelius

It's hard to find basic information about this extra-ordinary band. The whole image of the band is based on a chamber orchestra of the 19th century. It's known, that they reached the second range at the Emergenza Festival in 2003. Since than they played several opener jobs for Subway to Sally, Mila Mar, Uriah Heep and Letzte Instanz. Their first regular album 'Time-Zeit' came out in 2007. The band is based on Max Coppela (vocals, clarinet), Nobusama (drums), Graf Lindorf (vocals, cello), Comte Caspar (vocals, clarinet), Sissy Voss (contrabass) and Bastille (vocals, butler).
http://www.coppelius-band.de/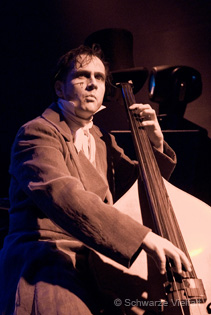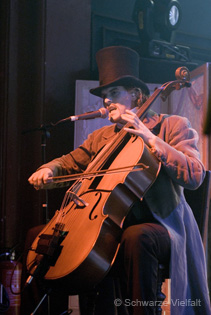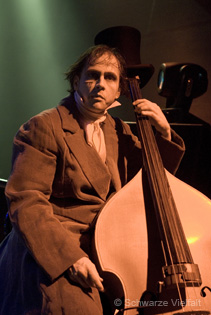 Music & Performance

You have to experience a COPPELIUS-concert! It's really special; it's a chamber concert, it's theatre and mystic. All musicians wore tails and they looked like a dusty orchestra, which was reanimated for the evening. Unfortunately Bastille missed the audition, because he was sick. But also without him the whole show was nearly perfect. Sissy Voss hit his bass and held it like a e-bass. Max Coppela and Comte Caspar ran over the stage and played their clarinets like they were driven by devils. It was such a pleasure to look at. Comte also joined the audience and played right between them.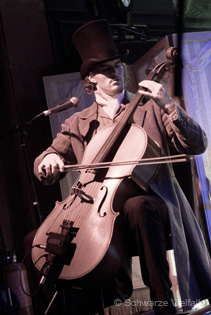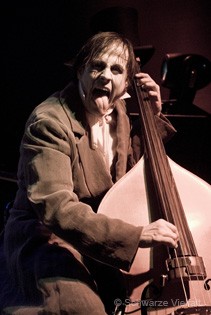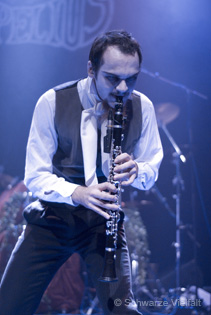 Their music between classical elements and metal parts is really special. Many songs are Iron Maiden covers or inspired by the music of Iron Maiden. Their own songs are based on the lyrical style of E.T.A Hoffmann. Not all visitors liked this special mixture, but it was pure party. They could rise up the masses and make them bang their heads. It looked like a metal concert, but with just classical instruments (besides the drums).
Rating

Music 9
Performance 10
Sound 6
Light 6
Total 8.4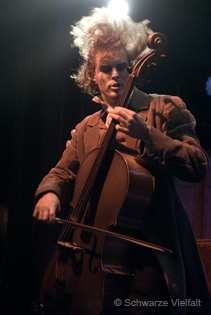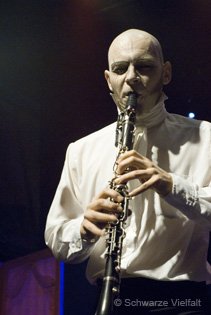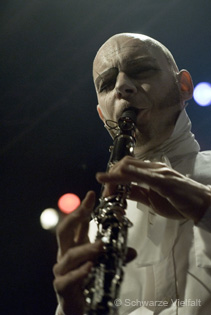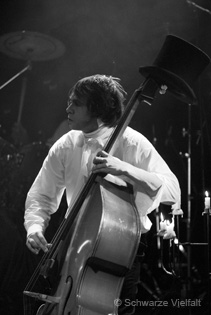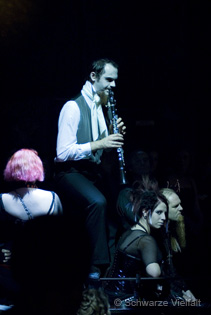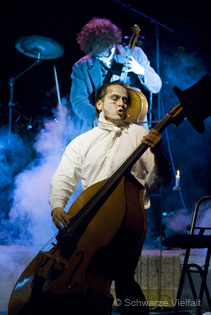 Agonoize

The Electro band was founded in 2002 and is still set with Chris L. (aka Dr. Negative Brain - vocals, lyrics), Mike J. (composition, programming, production, mastering) and Olli S. (composition, programming). They had several club hits and released their last regular album in April 2006. Recently they are working on their new release 'Sieben', which will come out at the 9th November 2007. They are one of the most discussed German Electro acts.
http://www.agonoize.de/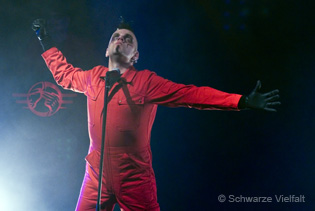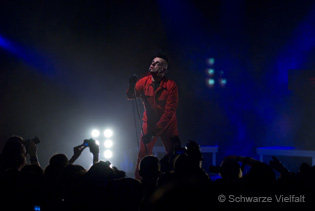 Music & Performance

As it is known, I'm not the biggest fan of AGONOIZE, but I have to say that they are a real magnet. It was amazing to watch the people's reactions to the stage and especially to Chris. Nearly the whole audience was dancing and still just starring at him. He was working with blood and other excrements. The blood ran over his face and body. It even splashed into the first rows and the girls liked it. They seemed to wait for it. It's a splatter show and not only Chris took his part in it. Also Mike and Olli made their faces behind their computers. As usually Mike looked like an even more evil Joker.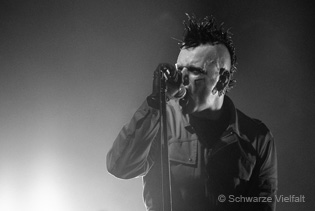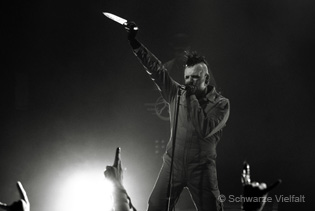 As I had expected the whole D.O.G. was shaking during hits like 'Bängbäng Goodbye' and of course the audience was nearly going nuts at 'Korporalie'. Sometimes the dancers even looked like fighters. After two encores the concert was finished and some dancers just needed this break immediately.
Rating

Music 6
Performance 9
Sound 7
Light 6
Total 7.1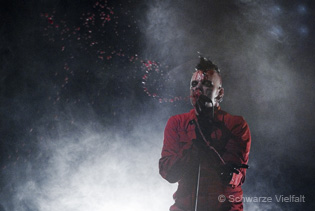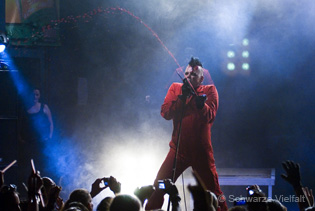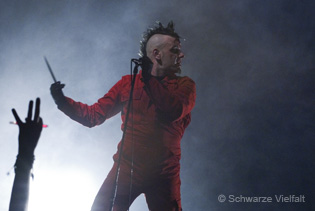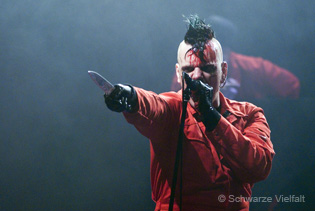 After the main concerts the Dark Dance wasn't over and there were still hours of dancing and having fun. We tried to visit the other concerts on the "Maschinenraum", but it was nearly not possible. There it was hot, full and even much too loud. The music was just too electronic for us - sorry, but that's nothing I can stand for more than two minutes. Additional it was so dark, we couldn't take one picture of the bands. So what kind of "concert" is that? Besides that it was just another fantastic night at the D.O.G. with many friends and as always we are looking forward for the next time. It is always worth the journey to Lahr.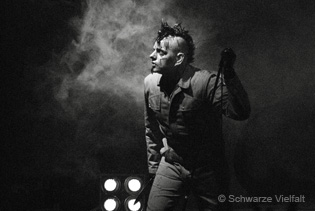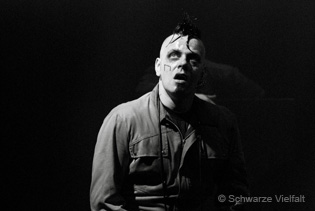 All pictures by Thomas Köhn
{jos_sb_discuss:18}
See also (all categories):