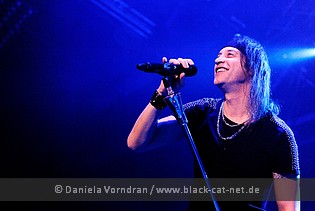 Ruhrcongress, Bochum, Germany
3rd November 2012
Gotthard & Unisonic

GOTTHARD are kind of Hard Rock legends and also the death of singer Steve Lee two years ago did not change anything. Now, the band is touring again with new singer Nic Maeder and people were eager to see what had changed and what not. As support, Metal-All-Star band UNISONIC was accompanying them on tour.


Interest in the band was quite huge… when we arrived the Ruhrcongress, already a really long queue was waiting for entrance. The venue is quite large and I guess a few thousands of people would fit in. Even though the concert was not sold-out, the hall was quite full in the course of the evening. Entrance itself was not so easy though when you had an e-ticket. Usually wearing a barcode to be scanned, there was nothing to scan the code; instead people hat to move to the box office where a huge list with names was printed and any single ticket had to be marked on that list before people were allowed to enter the venue. People were not really happy, especially when they were already waiting very long outside to get a good spot in the hall and now, they had to wait much longer. Any trouble was soon forgotten though when the first band entered the stage short past 8:00.


Unisonic

New band UNISONIC (the band got together in 2009), sometimes called an all-star band or super-group, not only consists of accomplished masters of their genre – namely Michael Kiske (vocals), Kai Hansen (guitar), Mandy Meyer (guitar), Dennis Ward (bass) and Kosta Zafiriou (drums) – but also of some of the most renowned musicians from the European rock and metal scene. Michael and Kai are known for their work with HELLOWEEN (Kai later also worked in GAMMA RAY), Dennis and Kosta have been members of PINK CREAM 69. Mandy even has roots in GOTTHARD, who would play later the evening. Their first EP 'Ignition' was released via earMUSIC/Edel on 27 January 2012, followed by their self-titled debut album on 23 March 2012. http://www.unisonic.de / https://www.facebook.com/unisonicofficial / http://www.myspace.com/unisonic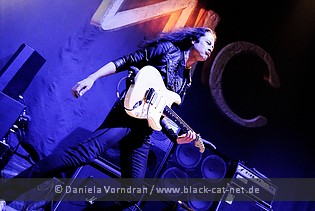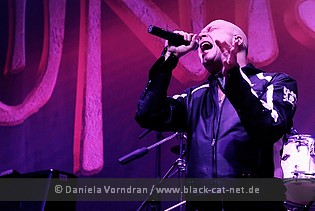 Music & Performance
UNISONIC were opening the evening with their band hymn 'Unisonic'. Trying to push the audience from the very beginning, people itself stayed quite untouched in the first half of the show. Asking them who owns the album, just very few people were answering – even though all band members have quite some reputation, the band itself and its work seemed quite unknown to the audience so far. It did not help either to push the attendees that half of the band was sick, Michael had some vocal problems because of that and that he left stage quite often while the rest of the band went on playing. Having only released one album so far, the band played nearly the whole album. Hymns like 'I've Tried' and 'My Sanctuary' were rocking and some people finally woke up. Maybe going on with a ballad afterwards, 'No One Ever Sees Me', was not the best choice to keep the mood high. After 45 minutes, most band members left stage to make room for a guitar solo.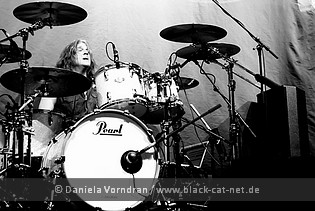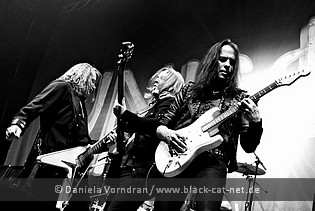 When the band came back, they had a surprise for the audience: two old HELLOWEEN songs, 'Future World' and 'I Want Out' when the fans finally were thawing and celebrating a party. All in all, the band played a solid, 60-minutes set while the audience just seemed to be a bit tired.

Setlist
01. Unisonic
02. Never Too Late
03. King for a Day
04. I've Tried
05. My Sanctuary
06. No One Ever Sees Me
07. Star Rider
08. We Rise
09. Never Change Me
---
10. Guitar Solo
11. Future World (Helloween cover)
12. I Want Out (Helloween cover)

Rating
Music: 8
Performance: 8
Sound: 8
Light: 7
Total: 7.8 / 10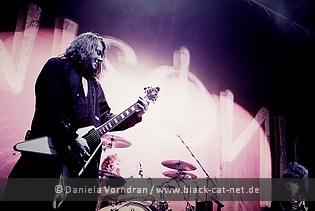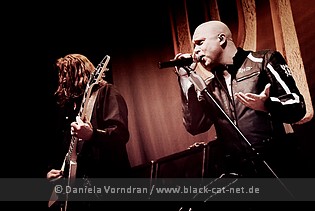 Gotthard

Swiss band GOTTHARD was founded beginning of the nineties and soon became THE trademark of Swiss Hard-Rock. Any studio album after their debut was on top of national charts. The self-titled debut album was released in 1992 and with position 5 in the national charts already very successful. Between 1992 and 2009, the band released nine studio albums, several live albums and compilations and numerous singles and EPs. In 2010, the unbelievable happened. On 5th October, singer Steve Lee died in an accident during vacation in USA. The band grieved for Steve for a long time and many thought that GOTTHARD would never come back. But in February 2011 the band already announced that they are looking for a new singer and finally in November 2011 the band introduced the new singer, Swiss-Australian Nic Maeder, to the world. The first new album with him as singer, 'Firebirth', was released in June 2012. GOTTHARD today is Nic Maeder (vocals), Leo Leoni (guitar), Marc Lynn (bass), Hena Habegger (drums) and Freddy Scherer (guitar). http://www.gotthard.com / https://www.facebook.com/Gotthard / http://www.myspace.com/gotthard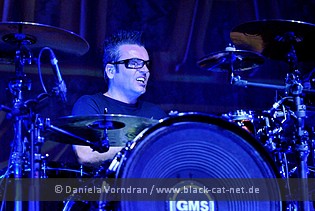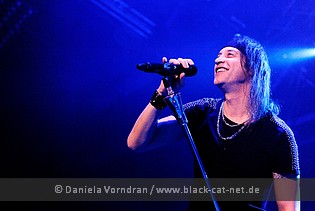 Music & Performance
GOTTHARD surely were the headliner and many people were eagerly awaiting the show. And during the now following 90 minutes, the band knew how to get people going. First two songs, 'Dream on' and 'Gone too far', were rocking right from the start, making sure people are awake! Following new song, 'Starlight' out of the 'Firebirth' album, was a little calmer and underlined by a wonderful light show. New singer Nic impressed a lot with his vocal performance and even though he seems to be quite you compared with the rest of the band, he is surely a lucky choice. He not only has a great voice and friendly attitude, he also knows how to communicate with the audience, asking them to clap or sing along. During their show, the band showed real eighties Hard-Rock qualities when comes to posing and the art of playing the instruments. Guitarist Leo even was playing his instrument behind his head or back.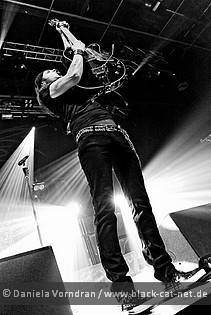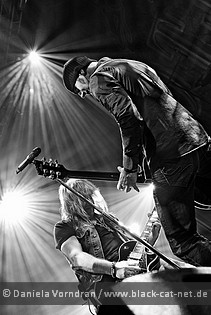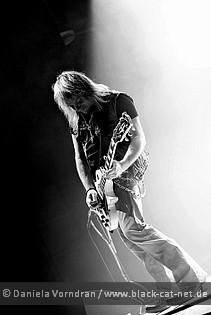 In the course of the show, ballad 'One Life, One Soul' was dedicated to lost singer Steve Lee. Not only the vocal performance of Nic was impressive, also the choir of the audience along to the song caused goose bumps. Besides 'One Life, One Soul', the set of course offered more ballads. But there were of course faster song, like 'Right on' from the new album, or 'Mountain Mama' which made people move. Furthermore, as you expect from a metal show, there was also a drum solo included, accompanied by fast changing lights. Besides the excellent musical performance, also some funny interludes were included. When 'Mountain Mama' was going to start, anyone (except Nic) had the idea of playing AC/DCs 'Hell's Bells' and DEEP PURPLE's 'Smoke On The Water' instead before finally starting the song for real, causing great mood within the audience. Ending the set with 'Anytime Anywhere' they released people into the night with memories of a great rock performance of two great bands!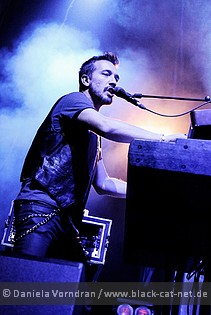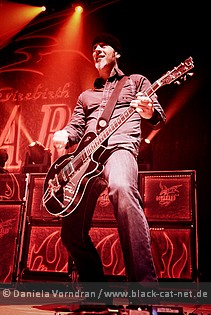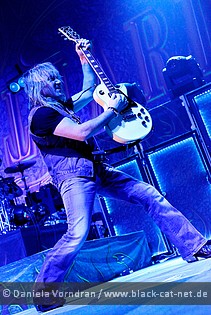 Setlist
01. Dream On
02. Gone Too Far
03. Starlight
04. Remember It's Me
05. Sister Moon
06. Hush (Billy Joe Royal cover)
07. One Life, One Soul
08. The Story's Over
09. Fist in Your Face
10. Give Me Real
11. Drum Solo
12. Falling
13. Tell Me
14. Heaven
15. Mountain Mama
16. Right On
17. Lift U Up
---
18. Master of Illusion
19. Anytime Anywhere

Rating
Music: 8
Performance: 9
Sound: 8
Light: 10
Total: 8.8 / 10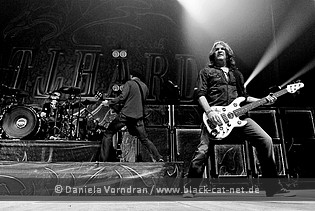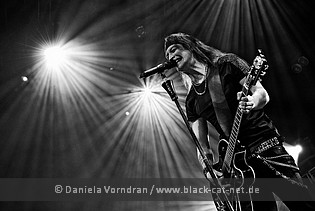 All pictures by Daniela Vorndran (http://www.vorndranphotography.com / http://www.black-cat-net.de/ / http://www.myspace.com/vorndranphotography / http://www.facebook.com/blackcatnet)



See also (all categories):