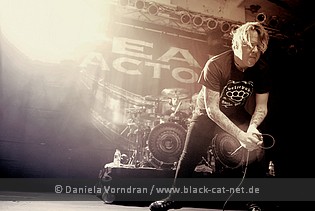 Essigfabrik, Cologne, Germany
13th November 2012
Fear Factory, The Devin Townsend Project & Dunderbeist

November, and also this specific day, had a lot of concerts to chose from and it was not the easiest decision. But the chance to see Devin Townsend finally was the final drop to make me decode for the FEAR FACTORY – DEVON TOWNSEND PROJECT double concert, being opened by Norwegian DUNDERBEIST.



Dunderbeist

DUNDERBEIST (Norwegian for "Thunder Beast") is a heavy metal band from Norway, formed by members of KRACE, KITE and STONEGARD. The band is known from taking elements from other known or unknown songs, making them their own. This "thievery" is increased by their thief-make up, and costumes of white tank tops and black suspenders. So far, the band has released a few albums in Norway, but now they are ready for their international effort with new album 'Songs of the Buried' out in Europe on November 20th. DUNDERBEIST is Torgrim Torve (lead vocals), Åsmund Snortheim (vocals), Fredrik Ryberg (guitar), Kristian Liljan (bass), Ronny Flissundet (guitar) and John Birkeland Hansen (drums). http://dunderbeist.bigcartel.com / https://www.facebook.com/dunderbeist / http://www.myspace.com/dunderbeist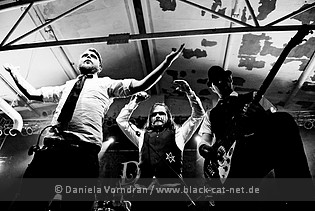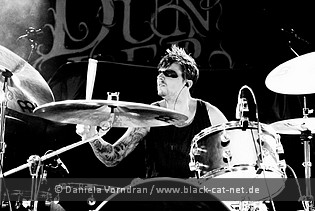 Music & Performance
Having three band on the schedule, it was quite understandable that DUNDERBEIST already entered the stage at 19:30, a time when the venue was not more than half filled. The six band members had quite an extraordinary appearance, wearing mostly white shirts, some of them black vests and suspenders… along with really dark eye make-up. But the classic dressing did not keep them away from behaving like true metallers, posing a lot, moshing and screaming to fire up the audience. After every song, singer Torgrim screamed the band name… not only once… and if you did not know at the end of the set what the band name was…. It was DUNDERBEIST, D-U-N-D-E-R-B-E-I-S-T! Got it now? DUNDERBEIST is really a name to keep in mind! The band made a good impression, putting a lot of passion on stage while presenting several song out off their soon released album, 'Songs of the buried', like the first single out off it, 'Father Serpent' or later in the set 'Four Of The Seven'. The new album is darker and heavier than its predecessor and the heaviness was perfectly presented on stage. Great start of the evening!

Setlist
01. Fear & Loathing
02. Through the peephole
03. Father Serpent
04. Songs of the buried
05. La guerre du feu
06. Four of the seven
07. Shields Aligned

Rating
Music: 8
Performance: 8
Sound: 7
Light: 8
Total: 7.8 / 10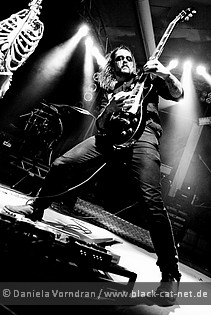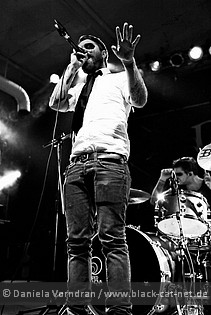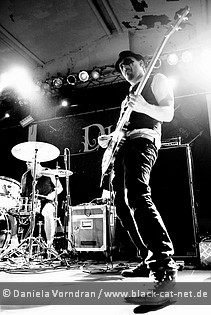 The Devin Townsend Project

Starting as singer for Steve Vai, Canadian musician, songwriter and record producer Devin Townsend was founder, songwriter, vocalist, and guitarist in extreme metal band STRAPPING YOUNG LAD from 1994 to 2007. Besides, he has an extensive career as solo artist. In 2002 he formed The Devin Townsend Band, a dedicated line-up which recorded and toured for two of his solo releases. In 2007, Townsend disbanded both projects and soon started working on a four-album series called THE DEVIN TOWNSEND PROJECT, with each album written in a different style. First two entries in the series, 'Ki' and 'Addicted', were released in 2009. Afterwards Townsend toured Australia and North America in 2010 in support of the albums, and released the next two, 'Deconstruction' and 'Ghost', in 2011. Overall, in his career Townsend has released twenty studio albums and three live albums. Under the moniker THE DEVIN TOWNSEND PROJECT, he also released his newest album, 'Epicloud', in September 2012. THE DEVIN TOWNSEND PROJECT is Devin Townsend (Guitars, Vocals, Keyboards), Ryan Van Poederooyen (Drums), Brian Waddell (Bass) and Dave Young (Guitars). On the album, also Anneke van Giersbergen belonged to the line-up. http://www.devintownsend.com / https://www.facebook.com/dvntownsend / http://www.myspace.com/devintownsenddtb / http://www.hevydevy.com/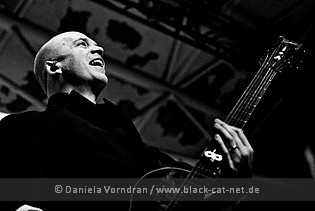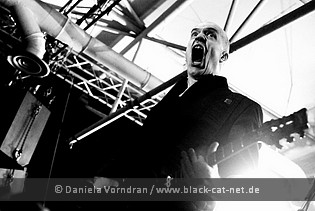 Music & Performance
As second band on the evening – different to Scandinavian shows – Devin Townsend and his band mates entered the stage at 20:30 for an intense one-hour show. In fact, it was this band making me attend the concert evening. I was really curious what was awaiting me since so many people are blown away by Devin's music and live performances. The set started at 20:30 with 'Supercrush!' from the 2009 album 'Addicted', wearing a lot of keyboard and synth parts which all were played by backing take/ laptop. But no one really moaned about it since Devin on stage was a real mad man, posing, making lots of different faces, speaking a lot with the audience, telling stories along with the songs or firing people up to take part in the songs by singing or waving hands i.e. With 'Kingdom', a song contained at 'Epicloud' followed. This song is a re-recording from one of the best songs out off 12-year-old album 'Physicist'. Not only those two songs but the whole show was visually supported by video animations being projected onto a big screen in the back – there you had funny cartoons or comic strips, psychedelic abstract visuals and also Ziltiod can be seen on screen.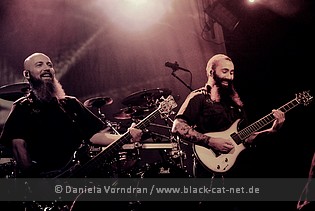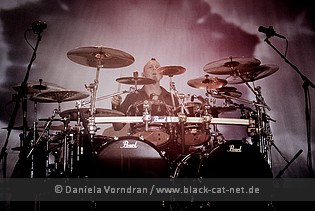 The 'Truth' followed as third songs before you saw lots of waving arms during 'Planet of the Apes'. With 'Where we belong' from the current album, the band moved now "cheesy to the 80s Metal section". The ballad presented an atmospheric width like you know it from HevyDevy. With 'War', Devon moved back again in history to the nineties. Of course, there was also a time – and this time came after the 'War' – to thank DUNDERBEIST and FEAR FACTORY and of course also his band. Asking "Are there any vampires in Cologne?" was already a hint to the next song, 'Vampira' before with 'Lucky Animals' a new 'Epicloud' song followed. People were singing along and of course also dancing and moving as silly as Devin does in the video to the song. (check it out at YouTube!) And of course not only the audience but also Devin himself was dancing in that silly manner while people were shaking their hands. That song of course has more to offer than silly dancing – it has an infecting rhythm, catchy melody and precisely placed guitar riffs sticking in your ear hole.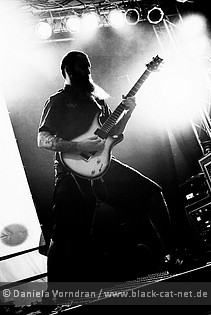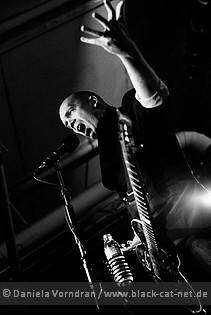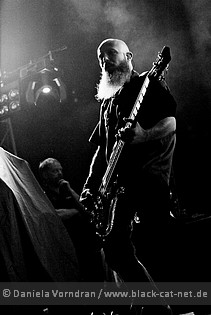 Before 'Juular' as next song started with its stomping beats, Devin told anyone that drummer Ryan had his birthday today and soon, a choir was singing "Happy Birthday" to him. Energetic 'Grace' from the current album with harsh guitar riffs and an extra portion of synth wall-of-sound was steadily leading towards the end of the set and when with 'Deep Peace' the last song was announced, the audience sent "Boooo" screams to the stage making sure this one hour was not enough! During this last song, the audience was once again singing along, one part totally alone, before a long guitar part played by Devin finally ended the concert. What an experience! I did not regret that I had chosen this show for my evening program. The very little down was just the bad sound at the place where we were standing. It was luckily better on other spots in the hall…

Setlist
01. Supercrush!
02. Kingdom (Devin Townsend song)
03. Truth (Devin Townsend song)
04. Planet of the Apes
05. Where We Belong
06. War (Devin Townsend song)
07. Vampira (The Devin Townsend Band cover)
08. Lucky Animals
09. Juular
10. Grace
11. Deep Peace (Devin Townsend song)

Rating
Music: 9
Performance: 9
Sound: 6
Light: 8
Total: 8.8 / 10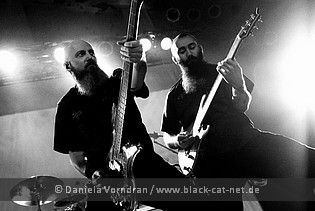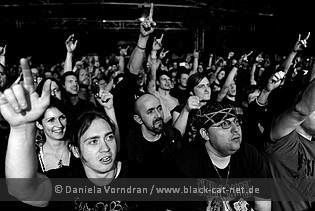 Fear Factory

Bands who can really call themselves innovators, let alone inventors of an entire musical genre are quite rare. FEAR FACTORY with their then entirely revolutionary Cyber Metal sound can be counted as one of those rare cases. The band formed in 1990 in Los Angeles and with their first album 'Soul of A New Machine' appeared for the first time on the radars of music lovers worldwide. With the release of the follow-up 'Demanufacture', the band started their triumphal march. The track 'Replica' even has been named "Best Song of the Year" by Metal Hammer magazine. After the release of 'Digimortal' and various personal differences, the band eventually splits up in 2002. The band comes back together with a different line-up short time later and ever since has released several more albums with 'Transgression' from 2005 and 'Mechanize' from 2010. The latest album, 'The Industrialist', was released in June 2012. FEAR FACTORY is Burton C. Bell (lead vocals), Dino Cazares (guitar), Mike Heller (drums) and Matt DeVries (bass). http://www.fearfactorymusic.com / https://www.facebook.com/fearfactory / http://www.myspace.com/fearfactory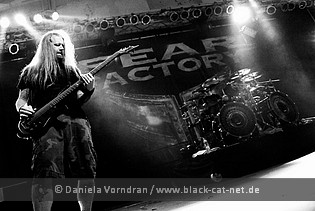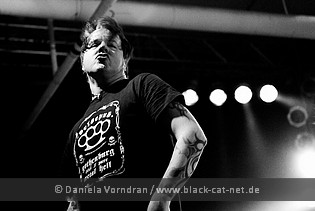 Music & Performance
It was at Devilside Festival 2010 when I saw FEAR FACTORY the last time. Now, the band that was headlining the evening, released a new album and when they entered the stage at 10:00, they started the set right away with the title song, half melodic/ half furious 'The Industrialist', from the new release. This one and 'Recharger', being played later in the set, were the only two new songs. The rest of the show belonged to older gems. The stage setting for the FEAR FACTORY show was very reduced, the stage nearly looked empty, there was only the drum set placed in the back. The rest was free room for Burton, Dino and Matt to move. Dino and Matt constantly changed places while also posing on the stage rim. Already during 'Edgecrusher' with a very bass-dominated intro part you could spot a first crowd surfer. The song was firing out a barrage of harshness while Burton was giving it his all vocally, and Dino treating his guitar like a maniac. In the course of the show, FEAR FACTORY also got the crowd to sing "Happy Birthday" to Ryan Van Poederooyen of DEVIN TOWNSEND PROJECT and I guess, there was a little – or not so little, you never know – birthday party happing later after the show.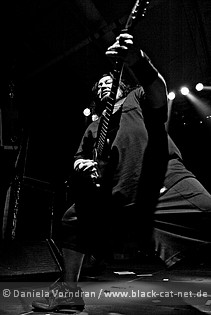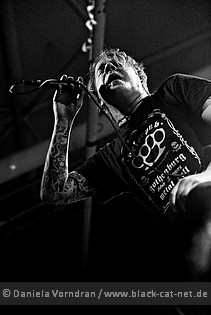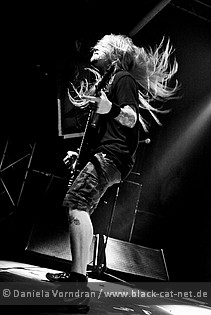 With 'Zero Signal' and 'Replica', FEAR FACTORY brought their performance to an end. What you got during the show was the usual, known FEAR FACTORY power making people freak out, especially in the first rows… but nothing that touched me personally as much as the awesome show of Devin Townsend.

Setlist
01. The Industrialist
02. Shock
03. Edgecrusher
04. Smasher/Devourer
05. Powershifter
06. Acres of Skin
07. Linchpin
08. Ressurection
09. Recharger
10. Martyr
11. Demanufacture
12. Self Bias Resistor
13. Zero Signal
14. Replica

Rating
Music: 7
Performance: 7
Sound: 7
Light: 7
Total: 7 / 10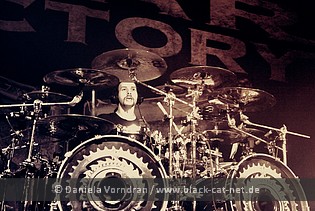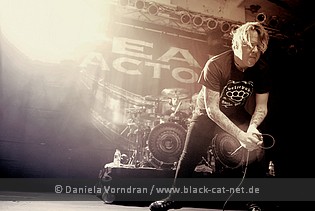 All pictures by Daniela Vorndran (http://www.vorndranphotography.com / http://www.black-cat-net.de/ / http://www.myspace.com/vorndranphotography / http://www.facebook.com/blackcatnet)



See also (all categories):