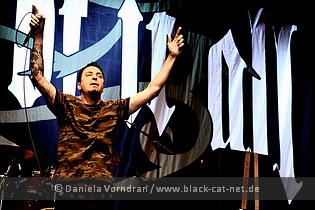 University Campus, Essen, Germany
4th July 2010
Devilside Festival 2010 Hell Stage: Sick of it All, New Model Army, Overkill, Fear Factory, Agnostic Front, Emil Bulls, Smoke Blow, Sonic Syndicate, The Haunted, Black Spiders
Just a few metres across to the Devil Stage, the Hell Stage had been built up which would come up with quite some big names with OVERKILL, NEW MODEL ARMY or SICK OF IT ALL. Opening the day at hell stage however was up to the BLACK SPIDERS.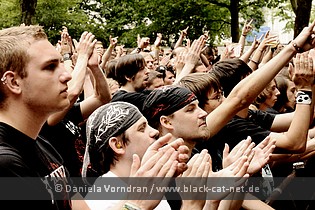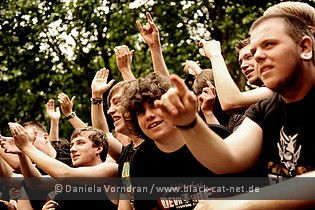 Black Spiders
BLACK SPIDERS started in 2005 and already with early shows gained very positive reception in the press and were invited afterwards to tour with AIRBOURNE. Their first musical life sign was a single, called 'St.Peter' in 2008, followed by two EPs with 'Cinco Hombres (Diez Cojones)' in 2009 and 'No Goats in the Omen' in this year's May. An album is apparently planned for a 2010 release. BLACK SPIDERS is Pete "Spider" Spiby, Ozzy "Owl" Lister, Mark "Dark Shark" Thomas, "Tiger Si" Atkinson and Adam "Fox" Irwin.
http://theblackspiders.com/
/
http://www.myspace.com/theblackspiders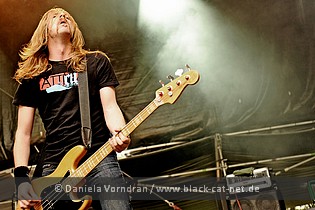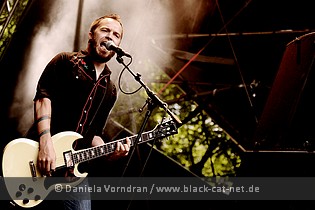 Music & Performance
I've never heard anything of them before and thus was extremely curious what I would get to hear now. First, that was a groovy hard rocking song called 'Si El Diablo' with a bluesy twist that had your feet tapping, followed up by plain straight, driving rock. But not only did the music keep you at the stage, the stage performance of the guys did as well, jumping around like maniacs, making moves and such. For the photographers in the pit that is of course even more of a pleasure than it is for the common attendee. Where was I? Oh yeah, I know. Just before the guys started with their next tune 'Just like a Woman', they asked kindly for everyone to put their middle fingers in the air and shout "Fuck You BLACK SPIDERS". That was much to the likes of everyone of course and those shouts recurred occasionally throughout the musical wake-up call of this band.
Rating
Music: 7
Performance: 7
Sound: 8
Light: - (daylight)
Total: 7.2 / 10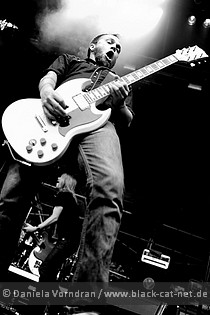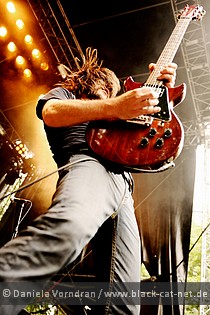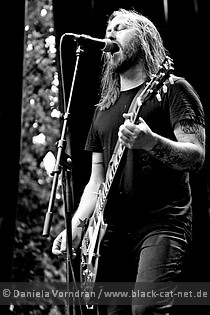 The Haunted
THE HAUNTED emerged in summer 1996 and released their first, eponymous album in 1998. Afterwards the band embarked on a tour through Europe. Following a few line-up changes, the second album 'The Haunted Made Me Do It' was put out in October 2000. One date of the following tour, particularly in Tokyo, then was recorded and released as live DVD 'The Haunted Caught on Tape'. Beginning of 2003, the band locked themselves up in the studio to record the follow-up 'One Kill Wonder', eventually released in 2003. Up to now THE HAUNTED's discography has grown to six studio albums, as well as a couple other releases. 'Versus', the newest album, was released in 2008. The band recently confirmed they're working on new material. THE HAUNTED is Peter Dolving (lead vocals) Anders Björler (lead guitars), Patrik Jensen (rhythm guitars), Jonas Björler (bass) and Per Möller Jensen (drums, percussion).
http://www.the-haunted.com/
/
http://www.myspace.com/thehaunted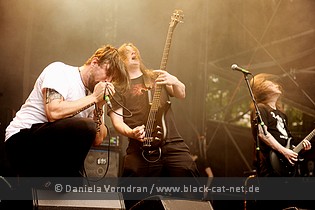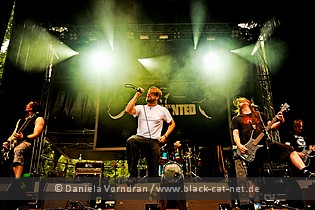 Music & Performance
Just a few days ago, I've seen the guys of THE HAUNTED already when they were supporting SLAYER. A kind of sweaty experience that wasn't ought to repeat itself this time to more comfortable temperatures. THE HAUNTED around Peter Dolving this time gave it just as much raw power as the last time, starting their set with the intro 'Dark Intentions' and a storm of chopped riffs. Immediately afterwards 'The Flood' kicked off and saw band just as a couple people in the audience getting into action. What I really dig about this song is the contrast of the screaming/clean vocals, really adding a bit of a diversion to others' constant screaming. Also very interesting was the track 'Iron Mask' with the vocals fluently grinding from clean to scream which creates a great tension! The audience were enjoying themselves to the hard tunes more and more, and at this gig you could spot the first crowd surfers. I enjoyed it a lot more than last time. Must be the environment!
Setlist
01. Dark Intentions
02. The Flood
03. The Medication
04. 99
05. Little Cage
06. Iron Mask
Rating
Music: 7
Performance: 7
Sound: 7
Light: - (daylight)
Total: 7 / 10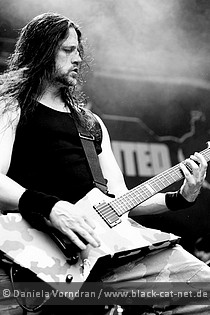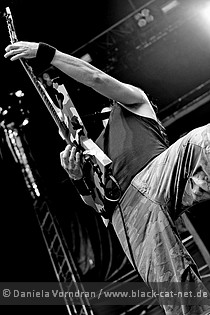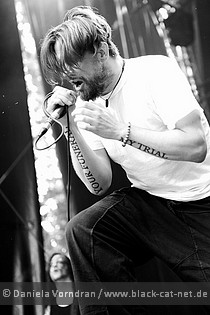 Sonic Syndicate
Swedish SONIC SYNDICATE started their career under the alias FALLEN ANGELS in 2002 playing more traditional Heavy Metal influenced by IRON MAIDN etc. The band recorded three demos within one year starting in 2003 and subsequently played various concerts all over Scandinavia. After signing a record deal with the US label Pivotal Records, the band changed their name to SONIC SYNDICATE. The band entered the studio in spring 2005 and recorded the debut 'Eden Fire' which was released in September of the same year. One year later the band participated in a newcomer's contest organized by renowned Nuclear Blast label and won. As reward they're signed by the label. The new album 'Only Inhuman' then came out in May 2007. In 2008, the band played i.e. at Rock am Ring/Rock im Park and the Summer Breeze Festival. Meanwhile Roland has quit the band and Nathan J. Biggs replaced him on vocals. The album by the name of 'Love and other Disasters' hit the record shops in September 2008.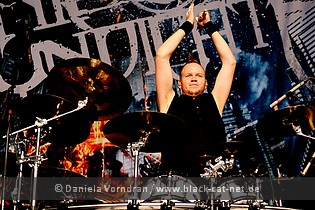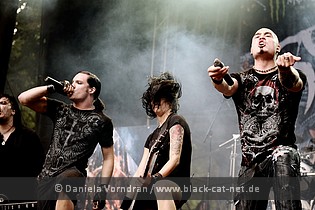 The new album 'We Rule The Night' is set for release in August. SONIC SYNDICATE is Richard Sjunnesson (growl vocals), Nathan J. Biggs (clean vocals & growl vocals), Roger Sjunnesson (lead guitar), Robin Sjunnesson (rhythm guitar), Karin Axelsson (bass) and John Bengtsson (drums).
http://www.sonicsyndicate.com/
/
http://www.myspace.com/sonicsyndicate
Music & Performance
Last time I had the pleasure to watch the sympathetic band live, they still had Roland Johansson in the line-up. So this was my first encounter with new member Nathan J. Biggs who introduced himself right away with a big bang when entering the stage with the others to 'Rebellion in Nightmareland', where he just as his vocal counterpart Richard put on one hell of a performance, energetic, passionate, all you could desire and still I had to get used to his voice first. Achieving that, it was just about enjoying the performance. Second track was 'Flashback' and already there the audience ate from the palm of their hands and the male part additionally had their eyes fixed on Karin. Just too tempting not to do it, huh?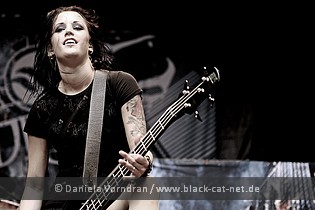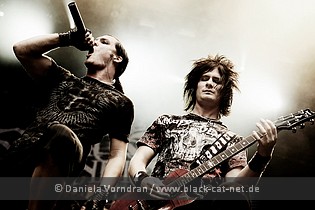 The following couple of songs, namely 'Revolution, Baby' and 'Burn This City' were taken from the upcoming new album 'We Rule the Night' and they say that something entertaining is coming up. The guys and the girl closed it up with 'Denied' and 'Jack of Diamonds' and once again had lain down a splendid show, and Nathan seems like a good fit for the line-up.
Setlist
01. Rebellion in Nightmareland
02. Flashback
03. Revolution, Baby
04. Burn This City
05. Denied
06. Jack of Diamonds
Rating
Music: 8
Performance: 8
Sound: 8
Light: - (daylight)
Total: 8 / 10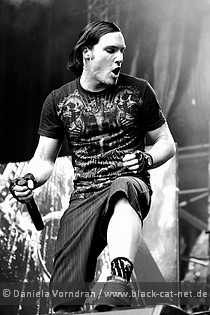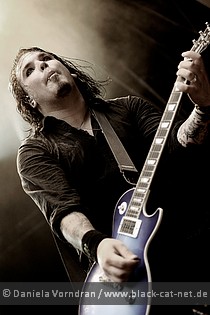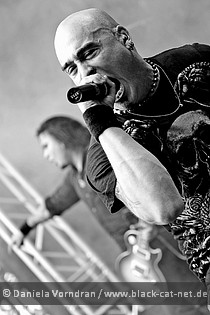 Smoke Blow
SMOKE BLOW started as a cover band playing songs of ZZ TOP and LYNYRD SKYNYRD at local gigs around their hometown in Germany, but soon it got more serious and they started to work on own songs. In 1999 they start to work with the label Loudsprecher from Hannover, "home of the raw power Rock'n'Roll action". The first result is a, as the band describes it themselves, "crappy" sound on the first album' released on a tape and recorded with very cheap equipment, but some of the songs got a bit polished by a producer who loved the songs. However, they got better over time and an even better live band. The years to come brought some label changes and line-up extensions and eventually they debarked with the label PIAS where they released 'Colossus' March 2008. The newest one 'The Record' came out this year SMOKE BLOW is Jack Letten (vocals); MC Straßenköter (vocals), Kentucky (guitar), Gerrard the J.R. (guitar), Greif Hellhammer (bass) and Fabrizio (drums).
http://www.smokeblow.de/
/
http://www.myspace.com/smokeblow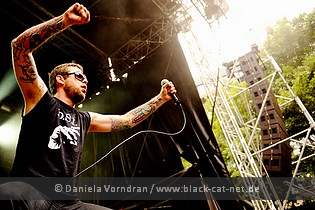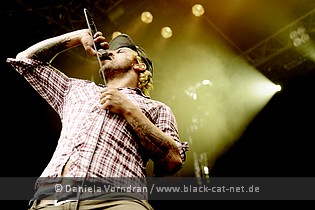 Music & Performance
Unadjusted and a bit rude, that's the attitude SMOKE BLOW already presented in 2008 when I saw them for the first time, and they haven't changed a bit. But as unadjusted their attitude, as unrestrained and powerful their show is. Mr. Letten and Straßenköter were the focal points of a performance that gathered plenty interest and made sure there was hardly any free space anymore in front of the stage. In the meantime on stage, the guys let the wings of the 'Dark Angel' spread all over them, ran all over the stage and more and more looked like genuine, old-school punks in the further course. Fits also the musical performance which had a raw, dirty flavour to it all the way through, and even though something was announced as being "something to relax", there would never be any chance to do that with SMOKE BLOW. That was probably the reason for people to go with the flow and just enjoy the stuff in the sunshine.
Rating
Music: 6
Performance: 7
Sound: 6
Light: - (daylight)
Total: 6.4 / 10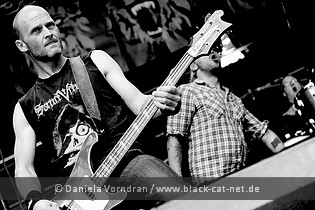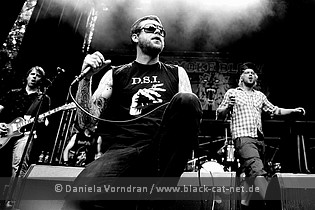 Emil Bulls
In 1995, there was a band forming called the EMIL BULLS, deriving their name from a children's movie of the same title. Come 1996, the first album 'Red Dick's Potato Garden' was being self-produced which today is a rare collector's item. In the following year, the band made #3 at the Emergenza newcomers contest. Not before 2000, the second album 'Monogamy' would be released only on the internet. However, the band would rouse so much attention, it would land them a record deal and after tweaking and tuning the material a little, it's gotten officially released as 'Angel Delivery Service'. The release of the third album 'Porcelain' was preceded by a long time of touring, counting 129 shows in clubs and on festivals. 4 more albums followed in the wake of successful releases that would expand their popularity and strengthen their status a lot, including a live acoustic album in 2006. The most recent full-length is called 'Phoenix'. EMIL BULLS is Christoph von Freydorf (vocals, guitar), Jaime Richardson (bass), Stephan Karl (guitar), Andy Bock (guitar), Fabian Füß (drums).
http://www.emilbulls.com/
/
http://www.myspace.com/emilbulls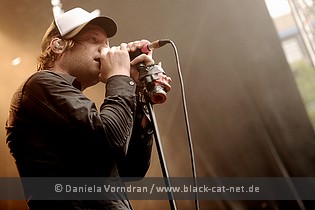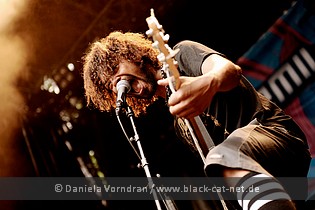 Music & Performance
Like me, apparently plenty more people were looking forward and wanted to see EMIL BULLS on stage now, and since all the people were there already, Christoph and company wanted to do it in style and with the first song 'Here Comes The Fire' right away sent out a message, reading "Come on, let's have a big party together". Such messages are usually understood instinctively and this time was no exception. The audience turned out being very responsive just like it has to be at a show like this. After the fire had been sweeping away over the crowd, the band cast 'The Most Evil Spell' on them. Didn't feel like an evil spell to me at all; had only good effects on the people. On stage it was just as vibrant. Christoph was at the front in close contact with the audience, or scrambled about on stage while his colleagues delivered the passionate backdrop.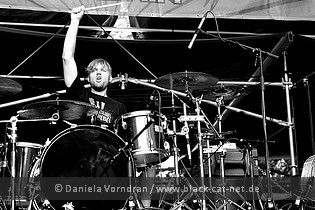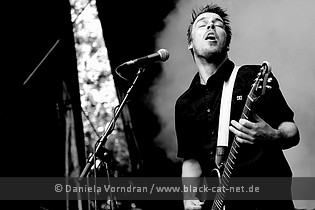 Especially, that did impress on a song like 'Time', bursting with anger or on the current single 'Nothing in this World' where also the audience was involved with singing the chorus along. If I had my way that could've continued for a long time, but unfortunately the set already ended after 8 songs with 'Worlds Apart'! A little highlight of the festival day.
Setlist
01. Here Comes The Fire
02. The Most Evil Spell
03. Wolfsstunde
04. Time
05. All in Tune with the Universe
06. Nothing in this World
07. When God Was Sleeping
08. Worlds Apart
Rating
Music: 8
Performance: 9
Sound: 8
Light: - (daylight)
Total: 8.4 / 10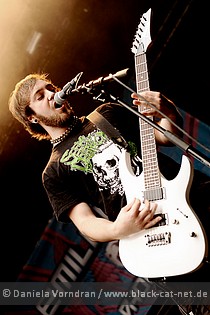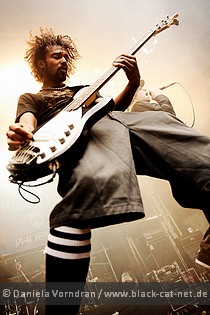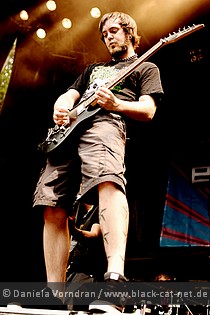 Agnostic Front

AGNOSTIC FRONT; hailing from New York were established in 1982, being rather a project than a real band back then and their first shows ending with tough fights. But at some point a real line-up emerged and the band recorded the first 7" single 'United Blood' and with 'Victim in Pain' let follow the debut album in 1984. In course of recording the second album 'Cause for Alarm', eventually released in 1986, nearly the entire line-up needed to be replaced and when released the album caused some controversies. The successor already came along with 'Liberty & Justice for…' in 1987. Internal tensions would eventually lead to the band's break up in 1993 after a tour and another album 'One Voice'. Chance had it masterminds Miret and Stigma would be finding pleasure in playing again after being called up on a stage on a concert to play an AGNOSTIIC FRONT track. A new line-up was quickly assembled and the band has released a plethora of new material since. AGNOSTIC FRONT is Roger Miret (vocals), Vinnie Stigma (guitar), Mike Gallo (bass), Joseph James (guitar) and Pokey (drums).
http://www.agnosticfront.com/
/
http://www.myspace.com/agnosticfront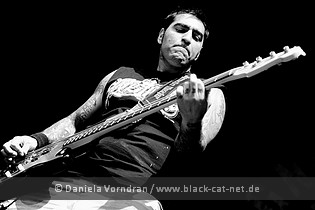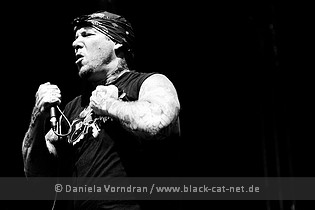 Music & Performance
AGNOSTIC FRONT are among the oldest representatives of the New York hardcore and as such were anxiously anticipated , given away by the wall of people you ran into at some point when trying to cross over to the hell stage to find a decent spot to watch. AGNOSTIC FRONT made short work and after Stigma raised his guitar under cheers jumped right into a set of purest hardcore violence. The announcement of 'For My Family' had a remarkable impact on the audience and raised deafening cheers and with a few people much more enthusiastic reactions. 'Crucified' even had them all screaming collectively "Oi, Oi, Oi" like being under some kind of a hypnosis. Those scream-a-longs would be increasing on the following 'Gotta Go'; everyone seemed to know the lyrics inside-out of around me, relapsing into ecstatic dancing as well. Concluding the adrenaline flooded scenery was the thrashing 'Addiction'.
Rating
Music: 6
Performance: 8
Sound: 7
Light: - (daylight)
Total: 6.9 / 10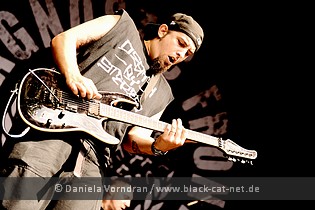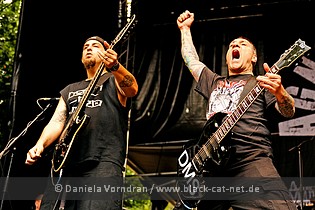 Fear Factory

Bands who can really call themselves innovators, let alone inventors of an entire musical genre are quite rare. FEAR FACTORY with their then entirely revolutionary Cyber Metal sound can be counted as one of those rare cases. The band formed in 1990 in Los Angeles and with their first album 'Soul of A New Machine' appeared for the first time on the radars of music lovers worldwide. With the release of the follow-up 'Demanufacture', the band started their triumphal march. The track 'Replica' even has been named "Best Song of the Year" by Metal Hammer magazine. After the release of 'Digimortal' and various personal differences, the band eventually splits up in 2002. The band comes back together with a different line-up short time later and ever since has released 3 more albums with 'Transgression' from 2005, being the latest one thus far. But vocal master Burton C. Bell has confirmed that a new album with the title 'Mechanize' would likely be released in February 2010 and as we now know it was. FEAR FACTORY is Burton C. Bell (lead vocals), Dino Cazares (guitar), Gene Hoglan (drums) and Byron Stroud (bass).
http://www.fearfactorymusic.com/
/
http://www.myspace.com/fearfactory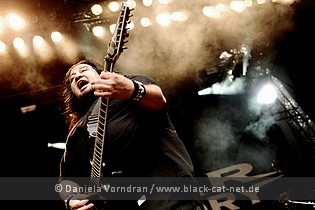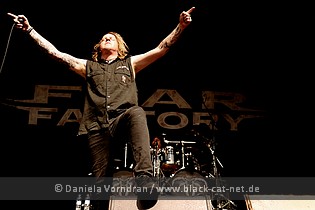 Music & Performance
Now I eventually would come to see a live show of FEAR FACTORY, or at least I thought I would, but in fact I didn't see more than a section of the stage from where I was standing. The university campus had gotten really packed by then. Anyway, the show started with the guys, two of which I could see walking onto the stage to a cheering audience and starting their set with the new album's title track 'Mechanize', commencing with an industrial intro morphing into irregularly timed rhythms that set the avalanche in motion. 'Shock' would be strengthening its powers. Up next was the 'Edgecrusher' that took off with a very bass-dominated intro part to abruptly fire out a barrage of harshness while Burton was giving it his all vocally, and Dino treating his guitar like a maniac. After the 'Fear Campaign' had left visible marks, the time was right for a strong political statement, regarding the oil disaster, leading to a "BP Must Pay" chant with the audience on 'Demanufacture'.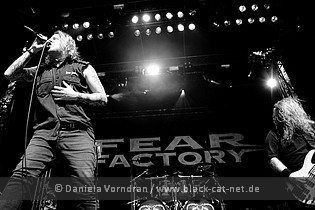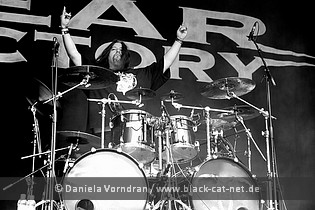 With 'Replica', FEAR FACTORY brought a stirring performance to an end. As mentioned before I couldn't see that much, but what I saw was fantastic.
Setlist
01. Mechanize
02. Shock
03. Edgecrusher
04. Acres of Skin
05. Linchpin
06. Powershifter
07. Fear Campaign
08. Demanufacture
09. Self-Bias Resistor
10. Replica
Rating
Music: 8
Performance: 8
Sound: 8
Light: - (daylight)
Total: 8 / 10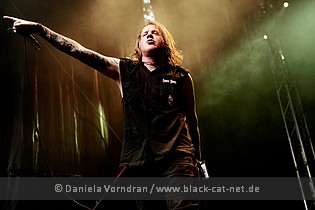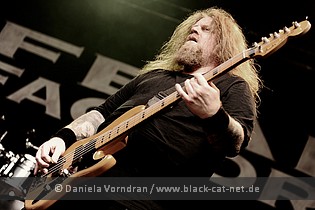 Overkill


The band history goes way back to the beginnings of the 1980s. Joined by additional personnel to complete the line-up, a first demo 'Black Power' has been recorded 4 years later. A self-titled EP quickly sold-out, but led to the first record deal and the release of the debut 'Feel the Fire' in 1985. End of the 80s, they're said to be one of the most important East Coast Thrash Metal bands. That time also saw the release of their album 'Years of Decay', also opening the gates to new influences which not always in their long-lasting career would meet with excitement like the Doom-inspired 'I hear back' from 1993, or 1999's 'Necroshine' departing from the band's usual style and therefore making them much more of a critic's than an audience's darling. In 2010, the band has returned more or less to their roots and also celebrates 30 years in the business. OVERKILL is Bobby "Blitz" Ellsworth (lead vocals), Dave Linsk (lead guitar, backing vocals), Derek "The Skull" Tailer (rhythm guitar, backing vocals), D.D. Verni (bass, backing vocals) and Ron Lipnicki (drums).
http://www.wreckingcrew.com/
/
http://www.myspace.com/overkill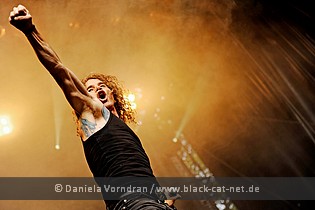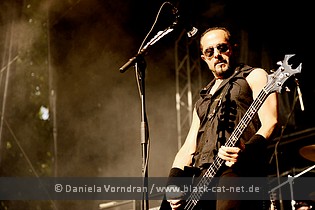 Music & Performance
Frankly, I had absolutely no clue what was expecting me now with OVERKILL. Yes, of course I knew it was Thrash Metal, but there's plenty more than just one variation of the style around, and theirs differed fairly from the one I just had the pleasure to listen to with SLAYER a few days ago. Before the show started and the protagonists would take the stage, it got already very clear that I was an exception in a crowd that loudly shouted for "their" band to finally start the show. A few moments later, they did them the favour and already the first minutes of the opener became one hell of a right at a remarkable speed and with great technical skills. Bobby Ellsworth's vocals appeared to me like Brian Johnson and some Power Metal singer, doesn't matter who, nearly all sound alike anyway, had put their vocal chords into a blender and thus given life to this voice. The set went on with 'The Green and Black' and 'Rotten to the Core' which were all enthusiastically welcomed and celebrated when announced. When the 'Wrecking Crew' entered the stage it was all over.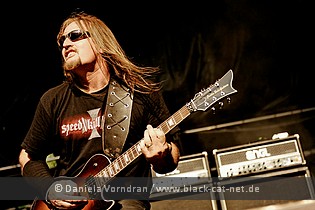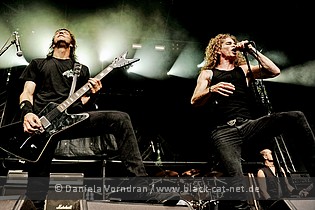 Think I've seldom seen such unbridled ecstasy to a band's song like in these minutes. That's true dedication! Further into the performance, they fell into a 'Coma', while Bobby's delivery remained remarkably expressive, just as becoming 'Ironbound' later. Songs in parts were extremely long and there were moments I thought I missed the beginning of a new one to realize that it was still the same afterwards. Technically brilliant but I don't think I could ever really come to love the music.
Rating
Music: 6
Performance: 9
Sound 8:
Light: - (daylight)
Total: 7.4 / 10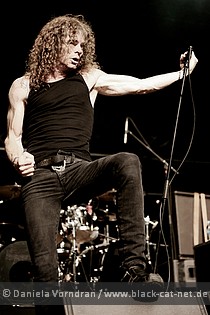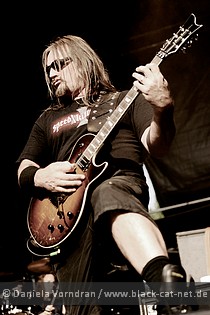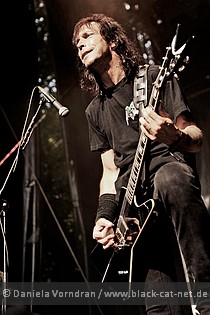 New Model Army
The English rock band NEW MODEL ARNY, established in 1980 named itself after the English revolutionary army of Oliver Cromwell. On their first album 'Vengeance - The Independent Story' (1984) the material could more or less be defined as modern Punk rock with a healthy dose of melody and a great emphasis on the rhythmic section what makes them stand out of the crowd of other genre bands. However, in the course of their meanwhile over 25 years spanning career, they've experimented with various styles and drawn their inspiration from many different sources, but the core virtues of their sound, being intense, angry, and powerful remained intact, albeit their repertoire includes quieter, more emotive and softer material as well. In 2009, they released their eleventh studio album 'Today Is a Good Day'. The current line-up is as follows: Justin Sullivan (vocals, guitar), Marshall Gill (guitar), Peter "Nelson" Nice (bass, vocals), Dean White (keys) and Michael Dean (drums).
http://www.newmodelarmy.org/
/
http://www.myspace.com/newmodelarmymyspace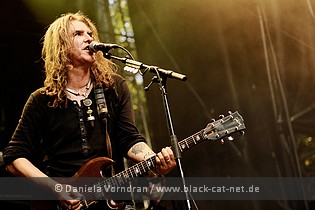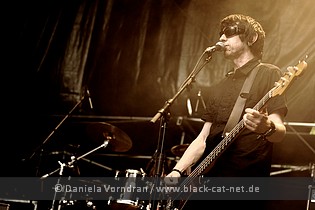 Music & Performance
One of the real big names and bands soon would be entering the hell stage: NEW MODEL ARMY! This band is most likely to exist longer than many of those watching are old, including me. But they seemed to have lost nothing of their fascination through the years. The high visitor's count at the stage was hard proof of that. A journey began that would first bring us into the year 1990 with 'Get Me Out' that, even though it counts 20 years of age by now, lyric-wise fits current times as it was fitting back when it was released. The journey went on to the '51st State' which with the old fans raised enthusiasm all over the place, quite rightly I must say. A fantastic song! The series is being continued with 'A Wonderful Way to Go', resting upon a riding beat and harbouring a magical elegy. Want a celebration of the Wall Street crash? Well, here's 'Today is a Good Day'. A special song, Justin Sullivan didn't announce without a certain satisfaction in his voice.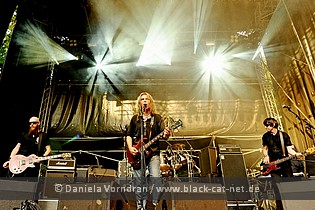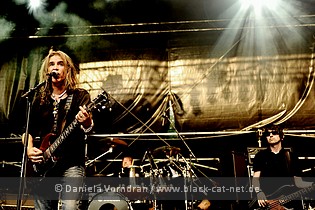 Also he put a lot of energy in his performance and it was fun watching this man who appeared to be more alive than many younger performers. The army also struck calmer tones for instance with 'High' which seemed to be just that little bit too calm for a few, starting to complain about it. Those were silenced already with the next efforts, though. Efforts like 'The Hunt' or 'No Rest'. The scenery concluded with 'I Love the World' and released the audience to the other stage where AMON AMARTH were already waiting for them
Setlist
01. Get Me Out
02. 51
st
State
03. A Wonderful Way to Go
04. Today Is A Good Day
05. Mambo Queen of the Sandstone City
06. Here Comes The War
07. High
08. The Hunt
09. No Rest
10. I Love the World
Rating
Music: 8
Performance: 9
Sound: 8
Light: - (daylight)
Total: 8.4 / 10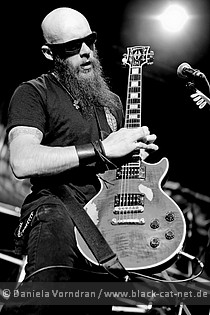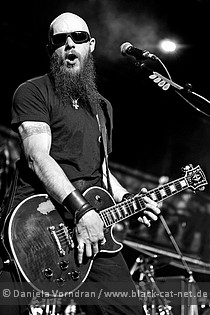 Sick Of It All
SICK OF IT ALL formed in 1986. Once the line-up was completed, a first demo was recorded the same year. The renowned and now defunct CBGB'S became their first live playground where they would gather first public attention. Soon afterwards in 1987, they'd release a self-titled EP. In 1989 the band inked a label deal, produced and released their first full-length instalment 'Blood, Sweat & No Tears'; followed by 'Just Look Around' in 1992. After signing to major label EastWest Records., the band came up with their third long player 'Scratch The Surface' which would just be the beginning on a scale of constantly rising popularity for the band and allowed them to start a world tour, just the first of a lot more to come as the band's known for spending a lot of time on the road.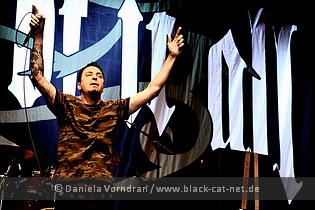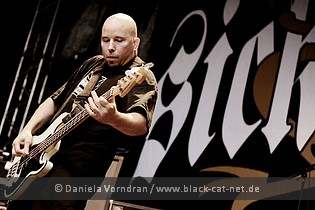 That wouldn't hinder them writing new stuff though and so SICK OF IT ALL can look back now on 9 albums, latest one of which is 'Based on A True Story' just released in April. SICK OF IT ALL is Lou Koller (vocals), Pete Koller (guitar, back vocals), Craig Setari (bass, vocals on few songs, back vocals), Armand Majidi (drums).
http://www.sickofitall.com/
/
http://www.myspace.com/sickofitallny
Music & Performance
The final act on hell stage today and not less of a big name than the band before, just for a different genre: It was SICK OF IT ALL's turn now and by the looks of it the entire audience of the festival gathered to see that spectacle. Accordingly loud were the screams when the band around Lou & Pete Koller appeared and made a kick-start with their aggressive style that knows no mercy. With the beginning of the second assault 'Death or Jail', a jumping commenced, making the band look like living rubber balls for a moment, before they got back into their rampant acting to the violence of their music.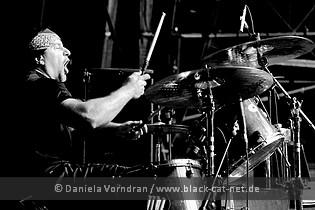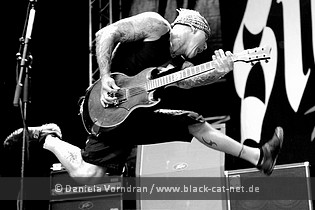 Straight upcoming 'Uprising Nation' then had the audience jump wildly, much to the likes of Lou who had the crowd under control completely. I'd also like to give credit to Pete. Haven't seen a guy with a guitar going berserk like that for some time! Following the announcement of the band, celebrating their 25th anniversary next year without any break-ups or "reunion bullshit" came 'Built To Last', which you can admittedly see as a statement given the needed momentum with the instrumental and vocal backdrop! To 'Step Down', black balloons were released into the crowd for them to play a little. With 'A Month Of Sundays' they were venting their displeasure about the closure of famous CBGB's in 2006 and just a few demanding minutes later it would all be over already and no screaming would change that.
Rating
Music: 7
Performance: 8
Sound: 8
Light: 7
Total: 7.5 / 10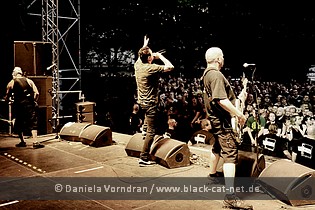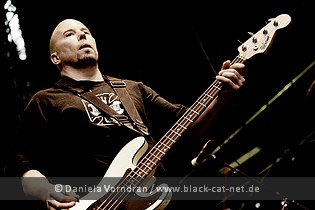 With SICK OF IT ALL, the action on hell stage came to an end. All in all, I must say the bands playing there I liked more, though both stages had their highlights. The biggest problem at hell stage was that at some point you had to put a lot of time and effort in seeking a place to really get to see something of a certain band, some even climbed up trees. It's not supposed to be that way. Maybe another, that is, a bigger place for the next issue should be found. If the attendee's ground is growing as you can expect it wouldn't be much fun for anyone on the campus then.
All pictures by Daniela Vorndran (
http://www.vorndranphotography.com/
/
http://www.black-cat-net.de/
/
www.myspace.com/vorndranphotography
)
{jos_sb_discuss:17}
See also (all categories):