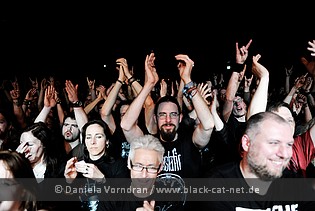 Matrix, Bochum, Germany
26th March 2015
Devin Townsend Project, Periphery & Shining

Why DEVIN TOWNSEND had to perform in the narrow tube of the Matrix of all places will probably always remain a secret. I have never heard optimal sound there and especially for the epic wide screen sound of DEVIN TOWNSEND, this component is not that unimportant at all. But also the support bands PERIPHERY and SHINING had to fight with this that evening.
Shining

Norwegian experimental band SHINING was founded in 1999 as acoustic Jazz quartet in Oslo. Over the years the band changed its style and influences from Metal, Progressive Rock as well as Classic music of 19th and 20th century were included, turning the sound into a more experimental and extreme direction. The debut album 'Where the Ragged People Go' was released on November 2001. The second album 'Sweet Shanghai Devil' followed two years later via the label Jazzland Recordings. Until now, the band has released six albums, the latest one, 'One One One', was out in 2013. SHINING is Jørgen Munkeby (saxophone, flute, clarinet, guitar, lead vocals), Torstein Lofthus (drums), Tor Egil Kreken (bass guitar), Bernt Moen (keyboards, synthesizers) and Håkon Sagen (guitar).
http://www.shining.no
/
https://www.facebook.com/shiningnorway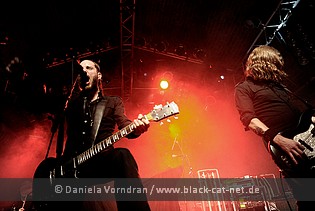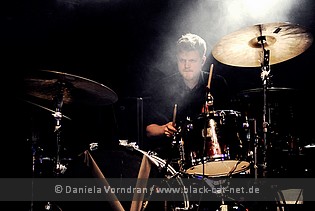 Music & Performance
The Norwegian Prog-Jazz metal heads SHINING, with whose material I wasn't that familiar before and what I should quickly change after the quite successful show of the band, made the beginning. With the 2010 record 'Blackjazz' and the current record 'One One One', there are at least two very celebrated records in their discography. SHINING offered a vast mix of prog, metal and jazz, adorned with saxophone parts. Musically, this could be categorised somewhere between IHSAHN, DILLINGER ESCAPE PLAN and JOHN ZORN... Means hard stuff but a rather classical-acoustic jazz song from the early phase of the band was also performed. The Norwegians conveyed an exciting-entertaining but also demanding mix which was received well. Only singer Jørgen Munkeby with his rather unlikeable rock star behaviour could work on his performance a bit. Other than that, thumbs up!!!
Rating

Music: 8
Performance: 8
Sound: 7
Light: 7
Total: 7.5 / 10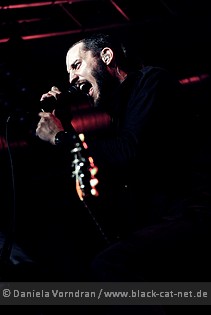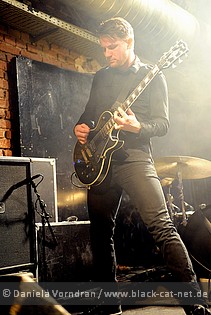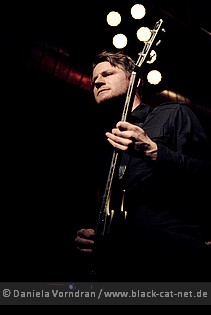 Periphery

PERIPHERY is a Progressive Metal band with some Metalcore influences, founded 2004 and hailing from Maryland, USA. First, they drew attention with their songs they made available online for free. Finally, some labels recognized the band, leading to their breakthrough in 2010 with the debut album 'Periphery', being released in Europe by Roadrunner Records. In June 2011, Misha Mansoor announced the release of two albums in 2012, but finally only one, 'Periphery II: This Time It's Personal', was released that year. The newest album, 'uggernaut: Alpha & Juggernaut: Omega' was out in 2015. PERIPHERY is Spencer Sotelo (vocals), Misha Mansoor (guitars), Matt Halpern (drums), Jake Bowen (guitars), Mark Holcomb (guitars) and Adam "Nolly" Getgood (bass).
http://www.periphery.net
/
https://www.facebook.com/PeripheryBand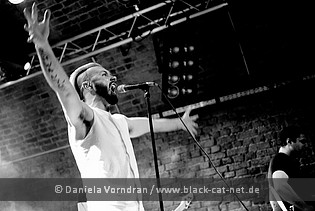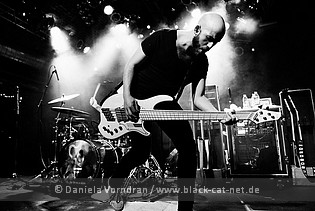 Music & Performance
The Djent shooting stars PERIPHERY from Maryland obviously brought enough fans along, the feedback was decent, even though the current record double pack 'Juggernaut : Alpha and : Omega' from which most songs came from hasn't been released for long. The songs certainly need one or the other run but they don't thrill me at all. I simply don't find access to the proggy chaos of alternative rock, staccato metal and Metalcore. Maybe Djent is simply not my thing (oh well, I find the other shooting stars TESSERACT much more audible or a band like SKYHARBOR really good). The guys definitely know their stuff technically and play ass-tightly together but they also have a real weakness with singer Spencer Sotelo in the band whose vocals sound simply thin and powerless, floating undecidedly between melody punk and Emocore whereas his Metalcore-y shouts are only normal middle-class, he does seem like an antibody in midst of the quite powerful and filigree music. The mob must've been indifferent about that, PERIPHERY were received very well.
Setlist

01. Icarus Lives!
02. Make Total Destroy
03. The Scourge
04. Psychosphere
05. 22 Faces
06. Bad Thing
07. Alpha
08. Graveless
Rating

Music: 6
Performance: 7
Sound: 7
Light: 7
Total: 6.8 / 10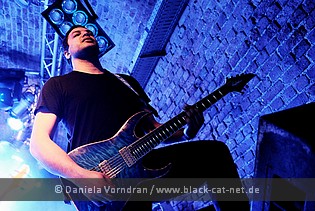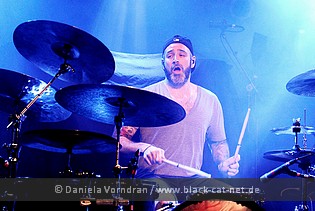 Devin Townsend Project

Starting as singer for Steve Vai, Canadian musician, songwriter and record producer Devin Townsend was founder, songwriter, vocalist, and guitarist in extreme metal band STRAPPING YOUNG LAD from 1994 to 2007. Besides, he has an extensive career as solo artist. In 2002 he formed The Devin Townsend Band, a dedicated line-up which recorded and toured for two of his solo releases. In 2007, Townsend disbanded both projects and soon started working on a four-album series called THE DEVIN TOWNSEND PROJECT, with each album written in a different style. First two entries in the series, 'Ki' and 'Addicted', were released in 2009. Afterwards Townsend toured Australia and North America in 2010 in support of the albums, and released the next two, 'Deconstruction' and 'Ghost', in 2011. Overall, in his career Townsend has released twenty studio albums and three live albums.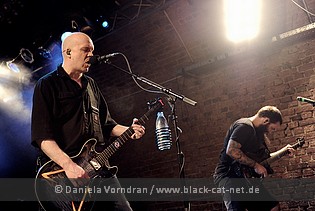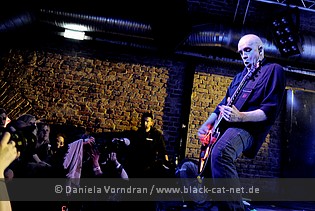 Under the moniker THE DEVIN TOWNSEND PROJECT, he also released 'Epicloud' in September 2012 and latest 'Z²' in October 2014. THE DEVIN TOWNSEND PROJECT is Devin Townsend (guitars, vocals, keyboards), Ryan Van Poederooyen (drums), Brian Waddell (bass), Mike St-Jean (keyboards, synths, programming) and Dave Young (guitars).
http://www.hevydevy.com
/
https://www.facebook.com/dvntownsend
Music & Performance
After an endless alteration phase, which was highlighted by funny to annoying Ziltoid films (films which couldn't be seen entirely nor understood very well because of the small stage and the low roof), the master himself came finally on stage. DEVIN TOWNSEND unfortunately had to fight with vocal issues which he got under control throughout the gig. Nevermind, Devin simply knows how to have the mob under control, the guy is charismatic so it doesn't strike that much that his backing band is acting rather colourlessly. With the hits 'Life' and 'Night' from the early 'Ocean Machine' phase, the guy won anyway and those who can sprinkle sing-along hits a la 'Lucky Animals' don't do much wrong.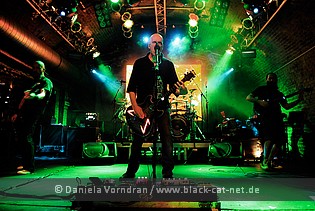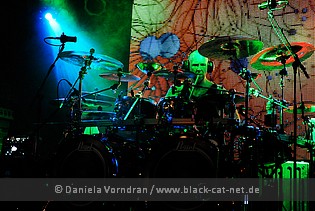 Very entertaining and varied with songs from all phases of his creation with emphasis on Ziltoid, of course. But I hereby hope that he's done with that soon, the constant Ziltoid interruptions, sold puppets and the partly extreme frippery surrounding the cute alien have become a bit too much, after all. Gladly a consideration of music again, Mister Townsend. The sound was rather subpar, improved throughout the gig, though. Great and entertaining show, I will gladly see DEVIN TOWNSEND again, gladly on a bigger stage next time!
Setlist

01. Truth (Devin Townsend song)
02. Deathray
03. Namaste (Devin Townsend song)
04. Night (Devin Townsend song)
05. Storm (The Devin Townsend Band cover)
06. Hyperdrive (Devin Townsend song)
07. Rejoice
08. Addicted!
09. March of the Poozers
10. A New Reign
11. Lucky Animals
12. Life (Devin Townsend song)
13. Christeen (Devin Townsend song)
14. Ih-Ah!
15. Kingdom (Devin Townsend song)
Rating

Music: 8
Performance: 9
Sound: 7
Light: 8
Total: 8 / 10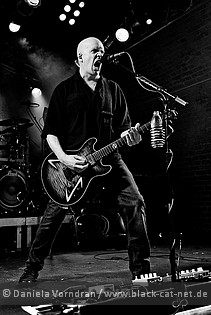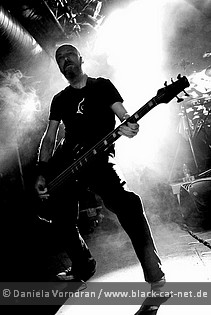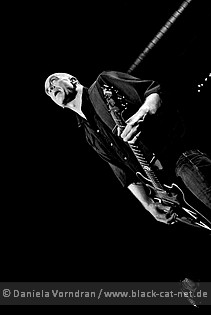 Written by Bert Meierjürgen & Daniela Vorndran, translation by Alex UltraRiot
All pictures by Daniela Vorndran (
http://www.vorndranphotography.com
/
http://www.facebook.com/blackcatnet
)
See also (all categories):