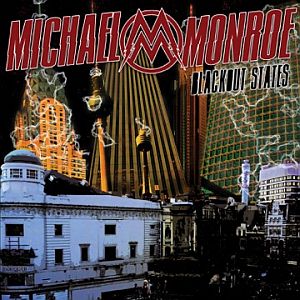 Artist: Michael Monroe
Title: Blackout States
Genre: Rock
Release Date: 9th October 2015
Label: Spinefarm Records
Album Review

After releasing 'Sensory Overdrive' (2011) and 'Horns and Halos' (2013) legendary vocalist Michael Monroe once more gathered a fantastic line-up to create a new album. "I'm extremely excited about our new album, 'Blackout States'. It has all the ingredients of a perfect Rock'n'Roll record - strong melodic songs with great meaningful lyrics that defy all clichés, delivered with a punky, ballsy attitude by a killer band. I highly recommend 'Blackout States' to anyone who's even a little bit interested in what real, authentic, high energy rock 'n' roll at its best sounds like today." he comments on the album. While its predecessors were critically acclaimed, this release shows the progress of the band and brings back happy memories of the old times.
The album starts with 'This Ain't No Love Song' and you know that this is gonna be a strong album. 'Old King's Road' somehow takes you back to the old HANOI ROCKS time, to be followed by 'Going Down With The Ship' that has a fantastic chorus and a lighter mood and is a perfect Rock-hymn. 'Keep Your Eye On You' is a fantastic ballad with fantastic guitar work. Talking about guitar work 'The Bastard's Bash' has a very interesting riff and this directs the song to a lighter touch and some fun and if you listen close you will hear some really cool tunes that sound like a harp and the chorus is definitely a highlight. The drum intro of 'Good Old Bad Days' directs you back to the good old times of HANOI ROCKS as it resembles the one of 'Motorvatin' and Michael Monroe's saxophone parts make this song a real standout on this album.
You asked for some Punk? 'R.L.F.' will serve you at neck-breaking speed while 'Blackout States' will slow you down, ranging somewhere between Pop and Rock. The acoustic guitar that introduces 'Under The Northern Lights' show that the guitar players know their business and 'Permanent Youth' has a fantastic melody, that support the lyrics perfectly. 'Dead Hearts On Denmark Street' kicks and punches around, while 'Six Feet In The Ground' has those unique feel-good riffs. The chorus is very intriguing and makes it my favourite song on the album. 'Walk Away' a perfect Rock'n'Roll song with a perfect Punk touch sees you off and it makes sure, you'll push the repeat-button immediately.
'Blackout State' is the perfect Rock'n'Roll album with some cool Punk touch that perfectly merges with the music. It shows all the aspects of the genre and Michael Monroe knows how to make you jump up and around, having a good time.
Tracklist

01. This Ain't No Love Song
02. Old King's Road
03. Goin' Down With The Ship
04. Keep Your Eye On You
05. The Bastard's Bash
06. Good Old Bad Days
07. R.L.F.
08. Blackout States
09. Under The Northern Lights
10. Permanent Youth
11. Dead Hearts On Denmark Street
12. Six Feet In The Ground
13. Walk Away
14. Break The Noose (vinyl LP bonus track)
Line-up

Michael Monroe – Vocals
Sami Yaffa – Bass
Steve Conte – Guitar
Rich Jones – Guitar
Karl Rockfist – Drums
Website

www.michaelmonroe.com / facebook.com/michaelmonroeofficial
Cover Picture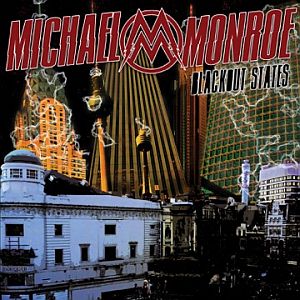 Rating

Music: 10
Sound: 10
Total: 10 / 10
See also (all categories):