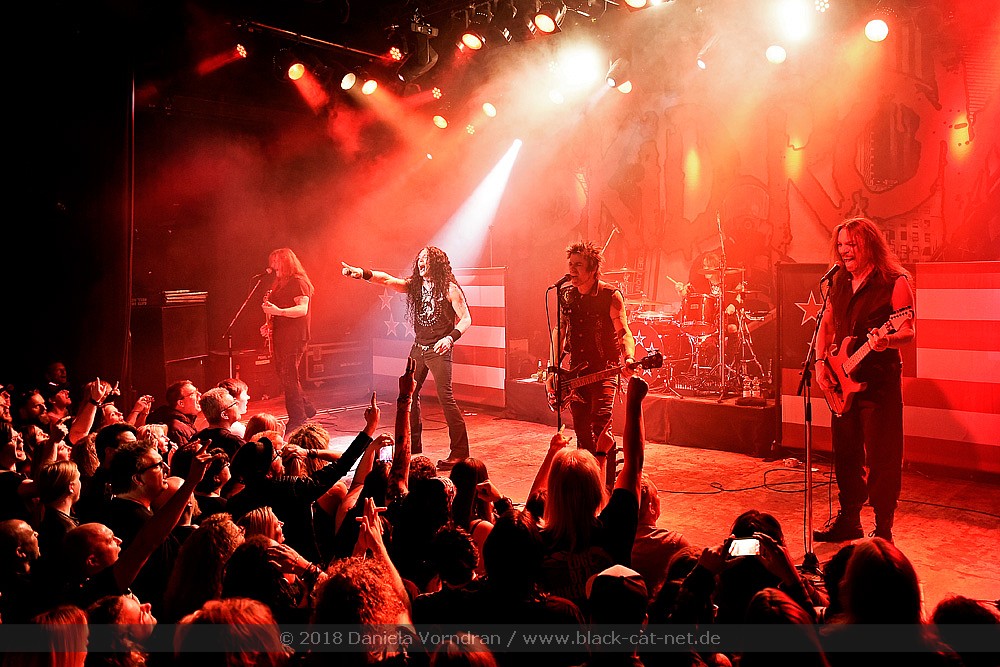 Zeche, Bochum, Germany
1st May 2018
Skid Row, Double Crush Syndrome & Dirty Thrills

The rebellion started in 1986. New Jersey's SKID ROW were ready to conquer the world. The battlefield was the stage, their songs the ammunition of a musical revolution. Ten top ten singles (including '18 And Life', 'I Remember You')! Numerous gold and platinum awards for the debut album 'Skid Row' (1989) and 'Slave to the Grind' (1991)! The world belonged to them, the rebellion was successful and when there was nothing to fight anymore, the break of the band followed in 1996.
But in 1999, Skid Row returned with a slightly changed line-up. Since reuniting, SKID ROW has released the studio albums 'Thick Skin' (2003) and 'Revolutions per Minute' (2006). The sound of the band can now be described as more punky. In the spring of 2018 SKID ROW finally came back to Germany for live shows. So the rebellion continues! On 1st May, the band around new singer ZP Theart (known i.e. as former singer of DRAGNFORCE) played in Bochum, supported by local matadors DOUBLE CRUSH SYNDROME around singer Andy Brings – who is according to his own words a huge SKID ROW fan – and DIRTY THRILLS from London.
Dirty Thrills
http://www.dirty-thrills.com / https://www.facebook.com/DirtyThrills
Double Crush Syndrome
http://www.doublecrushsyndrome.de / https://www.facebook.com/doublecrushsyndrome
Setlist

01. She's a Pistol
02. Yeah! Pain!
03. On Top of Mount Whatevererst
04. Blood on My Shirt
05. Can't You Be Like Everyone Else
06. Die for Rock N' Roll
07. Gimme Everything
Skid Row
https://www.skidrow.com / https://www.facebook.com/OfficialSkidRow
Setlist

00. Intro: Blitzkrieg Bop (Ramones song)
01. Slave to the Grind
02. Sweet Little Sister
03. Piece of Me
04. Livin' on a Chain Gang
05. Big Guns
06. 18 and Life
07. Makin' a Mess
08. Rattlesnake Shake
09. Psycho Therapy (Ramones cover)
10. Quicksand Jesus
11. Monkey Business (with Guitar Battle)
---
12. I Remember You
13. We Are the Damned
14. Youth Gone Wild
More on
Skid Row
All pictures by Daniela Vorndran (
http://www.vorndranphotography.com
/
http://www.facebook.com/blackcatnet
)
See also (all categories):