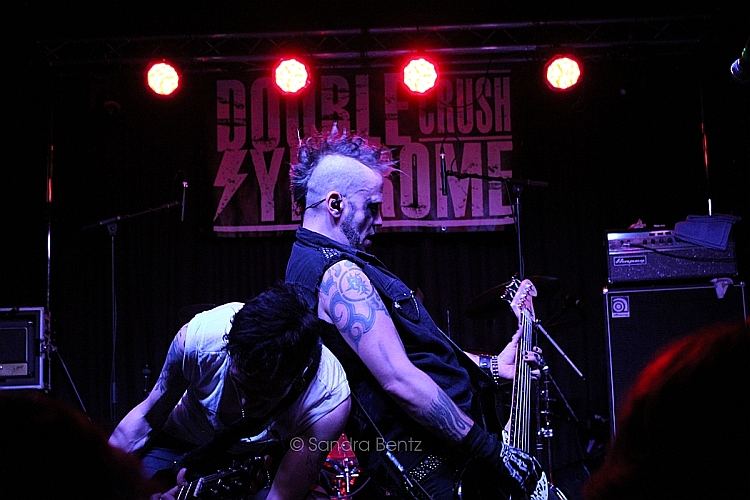 Haus der Jugend, Pforzheim, Germany
5th March 2016
Double Crush Syndrome Supporters Festival with: AlleHackbar, In Haze, Sara Sucks, Sticky Boys and Double Crush Syndrome

Not too long ago, we've had a short talk about the DCS SUPPORTERS FESTIVAL 2 with the event's host Matthias Häcker, cf.
here
, and on March 5th, it finally took place in Pforzheim, Germany – "Fotzheim", if you want to use the words of DOUBLE CRUSH SYNDROME's fronter Andy Brings. Being solely organized by fans one could've expected a lack of professionalism, but as a very pleasant surprise that was not the case at all. The five bands playing that evening - ALLEHACKBAR, IN HAZE, SARA SUCKS, STICKY BOYS and of course DOUBLE CRUSH SYNDROME - got the audience rocking, and the atmosphere was amazing even though there were less visitors than expected.
https://www.facebook.com/DCSsupporters
ALLEHACKBAR from Besenfeld were opening that night, as a replacement for SKIP TRACK that had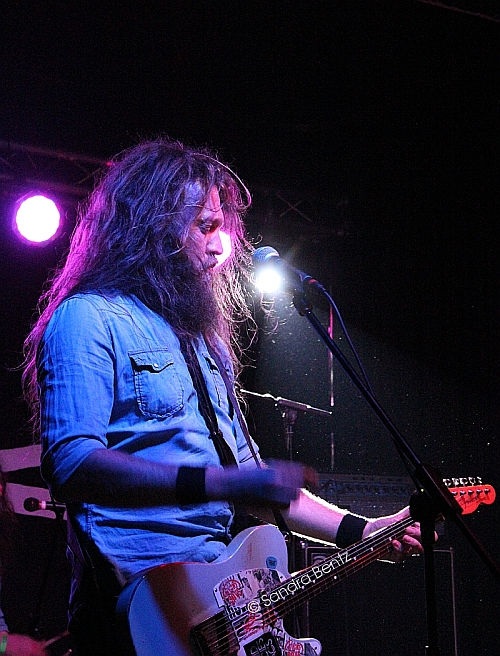 to cancel due to health reasons. Heavy Punk Rock got the crowd ready to kick some ass, and if you can say one thing about the three guys it's definitely that they know how to lift the party spirits. Also a very sympathetic characteristic to them - the heavy Swabian accent! The second band, IN HAZE from Karlsruhe, were surprisingly heavy in their sound - the saying to not ever judge a book by its cover applies here quite good. Their mixture of hard rock and metal teased out the inner head banger of the crowd and without a doubt the band knows their craft. After the more party-esque punk sound of ALLEHACKBAR an interesting variety!
SARA SUCKS - who will support DOUBLE CRUSH SYNDROME on their headlining tour this summer - were my personal big, pleasant surprise this evening. For whatever reason I was expecting girls on stage, but instead I got three aging rockers that sure had a lot of experience and also a really great sound. One could compare it with OHRENFEINDT - last year on a tour with DOUBLE CRUSH SYNDROME as support - just in English. They even played some covers to get the crowd wild, and hands down, they managed to do that with ease. The STICKY BOYS, three wild looking Parisians, were the last ones to play before the stars of the evening had their turn. There were even French fans present that night who had solely come to Germany to see the band live. Their sound reminds a lot of MOTÖRHEAD and they were good fun - not least because they were trying most interaction with the crowd in more or less broken German what lead to a lot of laughter.
And finally DOUBLE CRUSH SYNDROME entered the stage, as usual not stingy with cocky and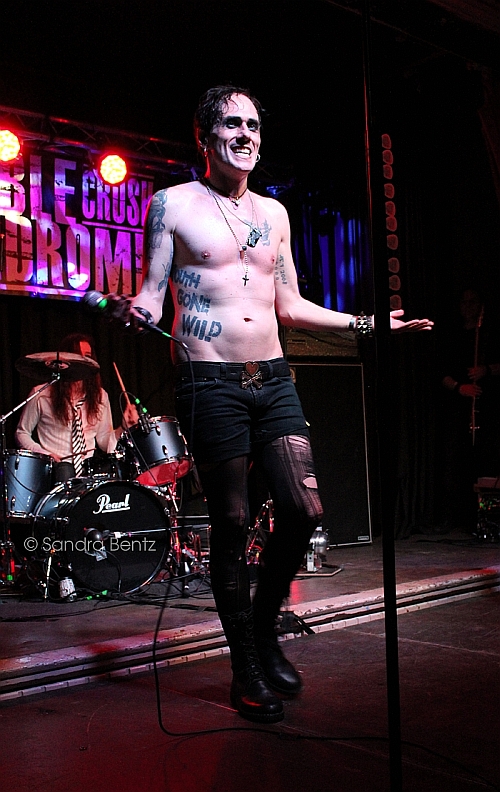 snarky remarks by fronter and bundle of energy Andy Brings. Playing a mixture of well-known songs from their in 2013 released album 'The You Filter' and also some new ones from their upcoming record 'Still No Future', they made sure no one stood still anymore. Brings even took his well-known walk through the room to greet the people back at the bar and spread some love in the crowd, while bass player Slick Prolidol and drummer Julian Fischer kept the background music up. For their encore 'Tonight', host Michaela Häcker was promoted to DOUBLE CRUSH SYNDROME's singer on the spot and gave her everything while the band was playing along. But DCS wouldn't be DCS if they had stopped after that encore. Asking what song they should play, they let the festival's organizer and host Matthias Häcker choose, and so the venue 'died for Rock'n'Roll' once again before Andy Brings and his boys left the stage.
Conclusion: The DOUBLE CRUSH SYNDROME supporters did a great job on organizing this evening with a lot of good music and talented bands, and even though being smaller than expected, the crowd had a lot of fun and the atmosphere was really good. Kudos to Matthias and Michaela Häcker for putting this event from scratch and being this professional - not everyone could do that, that's for sure.
All pictures by Sandra Bentz
See also (all categories):