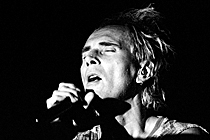 Universum, Stuttgart, Germany
August 24th 2006
Front Line Assembly, Stromkern

The 'Universum' is a nice, small venue on the campus of the University of Stuttgart; during the last years, mainly Punk concerts have taken place in this location, and on the weekends different club nights with varying music are organized. This Thursday evening the presenters had something special and quite unusual to offer: The well-known Canadian EBM/Industrial project 'Front Line Assembly' supported by the good-humoured guys from STROMKERN. When the latter started playing at about half past eight, the 'Universum' was nearly half-filled, and it should remain like that till the end of the whole concert night. www.universum-stuttgart.de



Stromkern [USA]

In the early 1990s, J. Ned Kirby has brought into being the project STROMKERN. In the early days, STROMKERN's music showed a clear influence by the European Electro sounds of that time - as is audible on the debut "Flicker Like A Candle"(Kodex/Sushia Light) from 1997, but Ned's fondness of Hip-Hop and Noise and his classical background soon led him to different regions. In the following, Ned gathered a live line-up around him, and the band acquired the reputation of being an excellent live act. To the present day, the band has released four full-length albums, the last of which is the 2005 output "Light It Up"(WTII/Dependent). STROMKERN are J. Ned Kirby (lead vocals, keyboards, guitar), Rob Wentz (keyboards), Dan Clark (guitar, backing vocals), Matt Berger and Vince Grech (drums). http://www.stromkern.com/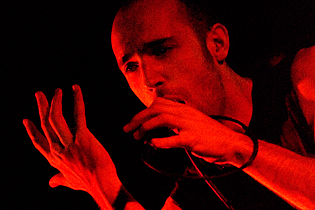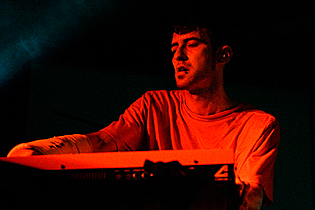 Music
STROMKERN play a melange of modern (post-) Industrial Rock and classical music with Hip-Hop vocals and rhythms. Rather unusual, and when first reading about them, I could not really imagine their sound, in fact I was quite doubtful about what to expect. But they managed to carry me away with ease. Their music is incredibly energetic - you just get to feel like dancing around wildly. All in all, their songs are unfortunately not very diversified, and after listening to them for a while, you get the impression they are repeating themselves. Nevertheless they are very entertaining and you can really have fun on their concerts.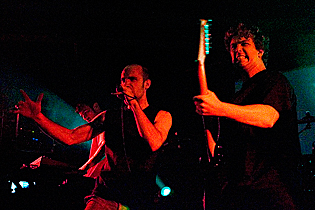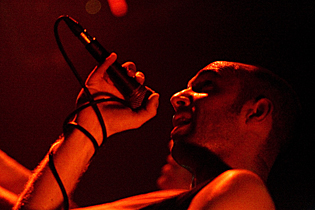 Performance
The tiny stage in the 'Universum' was brimming with the bands' equipment for this concert night, and so STROMKERN's vocalist Ned Kirby was a little limited in his movements, but nevertheless the three guys made the best out of the situation. The scenery was plunged in red light most of the time, not the best conditions for getting some good pictures. Much like their sound, the band's acting on stage was very enthusiastic, and more and more people crowded in front of them, starting to dance and cheer the guys' effort.

Rating
Music: 7
Performance: 8
Light: 4
Sound: 7
Total: 7 (6.9)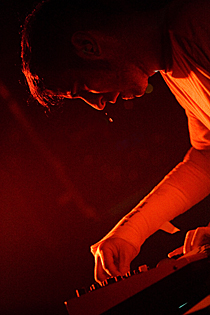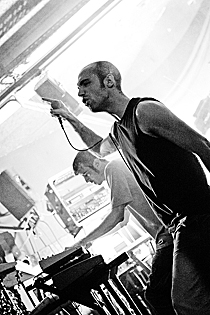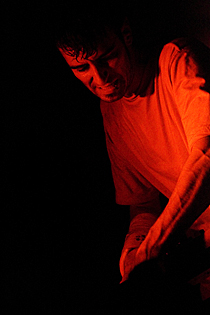 Front Line Assembly [CAN]

In 1984, Bill Leeb decided to leave the Canadian Industrial legend SKINNY PUPPY and attend to his own projects, among others DELIRIUM and FRONT LINE ASSEMBLY. After two self-released demos FLA's first album "The Initial Command" appeared in 1987, already featuring Rhys Fulber and setting the cornerstone for the band's typical sound. Becoming more and more successful, they managed to create a milestone of electronic music in 1992 - the full length album "Tactical Neural Implant". The following years saw a label change from Third Mind to Roadrunner Records and more album releases. Due to internal problems during the disastrous tour from 2001 the end of 'Front Line Assembly seemed to have come. But Bill and Rhys, who had temporarily left the project, and joined it again in 2003, proved all the pessimists wrong. Their 2006 album "Artificial Soldier" shows that they still know how to enthral their fans. FRONT LINE ASSEMBLY are Bill Leeb (vocals, synths, programming) Rhys Fulber (synths, programming), Chris Peterson (synths, programming) plus guest musicians live on stage. http://www.mindphaser.com/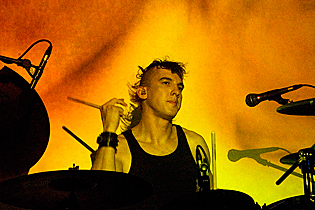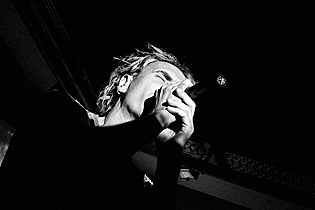 Music

The sound of FRONT LINE ASSEMBLY - the band's name is allegedly inspired by the EBM pioneers 'FRONT 242' - is a mixture of Industrial and EBM/Electro. During the group's history it underwent a few changes. From their early days on, the project focused on heavy bass lines, energetic beats and massive application of synthesizers. The musical influences and experiments on the different albums varied from late 80s European EBM to Rock - like Devin Townsend's harsh guitar sounds on "Millenium"(Roadrunner, 1994) – and Drum'n'Bass ("FLAvour of the Weak", 1997). FLA's music is diversified, energetic and loud, it drags you away to new sound experiences.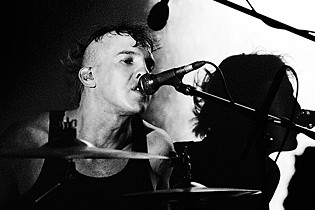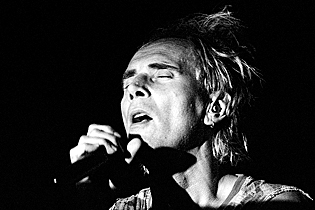 Performance

During FLA's performance, the back of the little stage was enlightened by constantly changing projections of different photographs. Apart from Bill, who variantly addressed the audience and ran the synths in the background, and the band's live drummer, the rest of the guys on stage was hidden in darkness most of the time. But this scarce illumination created a special atmosphere fitting the music. The place in front of the stage was crowded by enthusiastically dancing fans, obviously enjoying the show.
Rating

Music: 8
Performance: 6
Light: 5
Sound: 7
Total: 7 (6.8)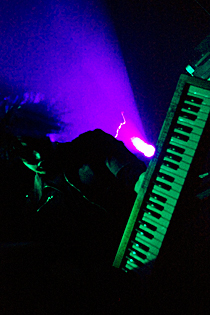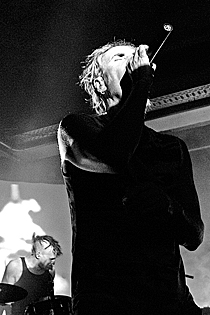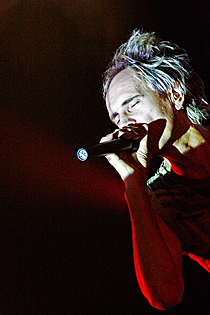 {jos_sb_discuss:17}
See also (all categories):