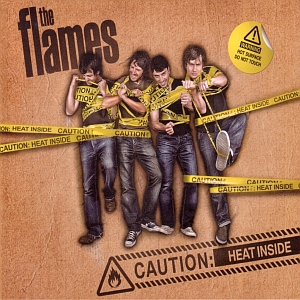 Title: Caution: Heat Inside
Artist: The Flames

Genre: Rock / Pop
Release Date: 3rd April 2009
Label: Revolver Distribution Service
Album Review

THE FLAMES were founded by Oliver Heydenreich at the age of 16. In the following years the line-up experiences a lot of changes. In 2000, the band released their debut album 'Slicker' but the big breakthrough came two years later with the single 'Everytime'. Until the end of 2004 they're touring their asses off. The following year saw the release of their second album 'Strike a Light' and now in 2009 it's time for their third coup carrying the name 'Caution: Heat Inside'.
From the cacophony of noisy guitars and samples at the beginning of 'Don't wanna Leave' arises a vibrant rock track with equal drumming and short guitar riffs bleeding little drops of darkness. The sound of the guitars starting 'Lunatic Dreams' resemble the ones a little you can hear in shoe-gaze tracks with their somewhat broader sound they'll showcase on several occasions during the song reaching a manic quality 2:45 minutes into the song. The mood building up right at the beginning of 'Beautiful Nowhere' all in all being a calmer song floats within the forlorn realms of melancholy and sadness. Feelings you have after breaking up with your former lover "There are no more birds singing in the sky". The band's bringing in heavier guns, that is, heavier and deeper sounding guitars for the next track titled 'I Quit' where for a few moments in the chorus reverberating wide guitars stretch out like an additional atmospheric layer. With 'Where you go' it gets very melancholic again with ephemeral synth layers hovering above piano chords and very restrained guitar lines and drums. The murmuring of the waves welcomes us to the concluding album track 'Cape Tribulation 'and from one second to another the track gains momentum incorporating fast drums and guitar parts to break away into sullen, atmospheric realms returning with its rocking face some time later.
'Caution: Heat Inside' mingles several varieties of the rock and pop genre to one cohesive whole that will appeal to fans of both of the respective genres for sure.
Tracklist
01. Don't wanna leave - 2:58
02. Lunatic Dreams - 4:29
03. You hate me - 2:42
04. Shake me - 3:01
05. Beautiful Nowhere - 3:44
06. On my Way - 3:26
07. The things you do - 3:27
08. Still waiting - 3:19
09. I quit - 3:54
10. Where you go - 3:07
11. Let's get wild - 2:57
12. Cape Tribulation - 3:10
Line-up

Oliver Heydenreich
Martin Maurer
Andrés Bertomeu
Phillip Rehm
Website

http://www.theflames.de/
/
http://www.myspace.com/theflamesde
Cover Picture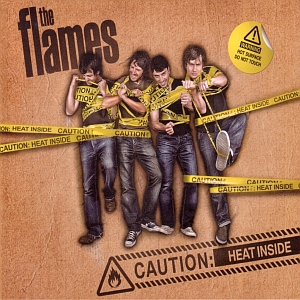 Rating

Music: 7
Sound: 7
Extras: -
Total: 7 / 10
See also (all categories):