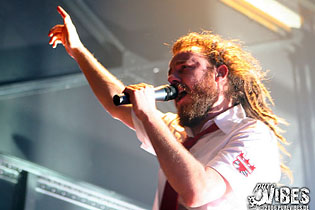 Interview with
Anders Fridén (vocalist) In Flames
The biggest metal band in Sweden and famous in the rest of Europe for their dynamic sound. Their last album ' A Sense Of Purpose' (2008) is again a step forward, to make the world aware of their typical metal sound. They are the pioneers of the Gothenburg metal, started in the early '90.


The band hits the stage on the Sweden Rock festival, an easy game to win besides the other wellknown bands this day. Due to rehabilitation, guitarist Jesper Strömblad is being replaced by former In Flames guitar player Niclas Engelin for the tour. Sadly there was not much time, hence the conference turned out to be a little short. IN FLAMES is known as a melodic death metal band from Gothenburg, founded in 1990. Along with DARK TRANQUILLITY and AT THE GATES, they pioneered what is now known as melodic death metal. Recently the band has more mainstream fans with elements from the nu-metal sound.

press: Will you have fireworks and pyro effects for the show?
Anders Fridén: We'll set the stage on fire, wait and see, we have a huge show and we spent a lot of money just because we can afford it.
press
: When will you start to tour again?
Anders
:
We'll start touring in Europe and America will come in September.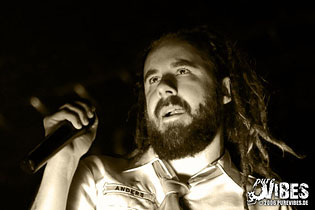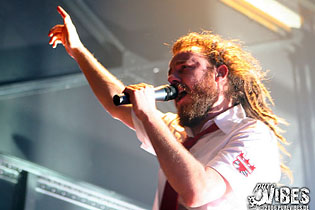 press: What's the set list for tonight? Any surprises?
Anders Fridén: Quite a few surprises. Stuff you just have to play or you want to play, some old stuff, some we never played before...
press: How does your voice feel after a show?
Anders: I don't have problems after a show, it's quite alright as long as I stay healthy. It's homemade health.
press
: When will Jesper come back?
Anders
:
He will come back to the band but we can't say anything about it. It will happen when we and he feel ready. And for now it seems to work out pretty good with Niclas. He's a good friend, helps out and he's pretty close to Jesper. Also the band is bigger than just one person and health is more important than anything else.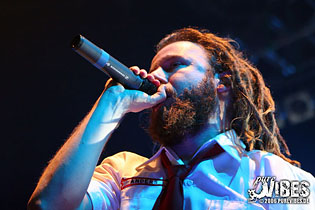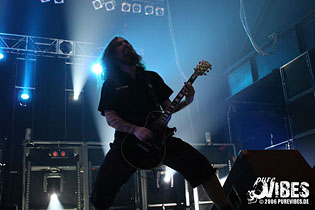 press
: How do you feel about Sweden Rock?
Anders
:
It's an honor to be here and it's awesome, we try to do our best.
press: What do you think about illegal downloading?
Anders: It was more fun before, we are the youngest band headlining and already we seem old. When I was at school I had to work for money so I could buy albums and it felt great. Also it sucks that someone just takes your work, but that's how it is these days.


press: Will you play 10 years from now?
Anders Fridén: We're not AC/DC but we will see. We get new inspirations and we still have the best feeling for the music that defines In Flames.

{jos_sb_discuss:21}
See also (all categories):