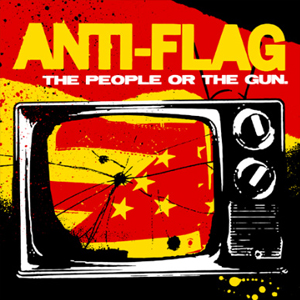 Title: The People or the Gun
Artist: Anti-Flag

Genre: Punk/Rock
Release Date: 9th June 2009
Label: SideOneDummy Records
Album review

"Welcome to the first night of the rest of our lives" is the chorus rhythm brought on to you by the punk rockers known to Pittsburg, Pennsylvania as ANTI-FLAG and is entitled 'This Is The First Night' off their ninth album 'The People Or the Gun'. This album being more hardcore and true-core to ANTI-FLAG's musical roots than their previous accomplishments 'The Bright Lights of America'. This album is the band's first release on the independent label SideOneDummy Records, after their two-record contract had ended with RCA Records.
But when you break everything down it pretty much adds up to becoming a plain old but decent punk rock album, dishing out 11-tracks of pure angry that never gets old. But what makes punk rock, such as ANTI-FLAG a punk rock act? Well punk rock alone has the purest form of music and is always of joy and politics. No you'd say punk isn't joyful, it's angry and makes you want to break things! That is indeed true, it is about anger, but it's more than that, it is about catharsis, and about expressing that rage and the satisfaction that comes in meeting that same emotion from someone else. The magic that lies within punk is recorded in expression of unity and in outrage, and of knowing in those moments of shout-out-loud choruses, you can see the whole band look up from their instruments after shouting out in what they truly believe and makes you look back and say "We are one".
That you and they are pissed off about the same things, so it's alright to expose your anger and stress in the form of music. But of equal importance is the politics expressed and acknowledged throughout this album and Anti-Flag's latest avoids the treacle music-released in 2009, a cliché of "seeming more optimistic in a post Obama world". This is because, unlike some of their popper punk brethren, who have lost the way and become liberals, ANTI-FLAG are still socialists at best, anarchists at worse. They know that the economy is still epically affected and that the mealy-mouthed, milquetoast reforms offered by even the most radical of bureaucrats are still just bureaucratic changes that can't actually fix a fundamentally broken system.
'No War Without Warriors (How Do You Sleep?)' sends off that hype of energy that explodes with such adrenaline you got to think twice on whether this really is ANTI-FLAG or not. But when the closure 'The Old Guard' begins to play you know for a fact that this is ANTI-FLAG they just so happen to be playing at their very best and it shows well. You will without a doubt not be bored at all by 'The People or the Gun' it is a punk album for the recession. Staunchly refusing to be comforted or coddled, the boys in ANTI-FLAG sneeringly acknowledge the world is falling apart at the seams, and dare to flip the bird at those clumsily attempting to patch it up. It maintains that urge to want to press the "repeat" button again and again.
Tracklist

01. Sodom, Gomorrah, Washington D.C. (Sheep in Shepherds Clothing) - 2:50
02. The Economy Is Suffering... Let It Die - 3:36
03. The Gre(A)T Depression - 3:08
04. We Are the One - 3:07
05. You Are Fired (Take This Job, Ah, Fuck It) - 1:00
06. This Is the First Night - 3:33
07. No War without Warriors (How Do You Sleep?) - 2:28
08. When All the Lights Go Out - 3:08
09. On Independence Day - 2:51
10. The Old Guard - 4:17
11. Hidden Track - 1:06
Line-up

Justin Sane
Chris #2
Chris Head
Pat Thetic
Website

http://www.anti-flag.com/
/
http://www.myspace.com/antiflag
Cover Picture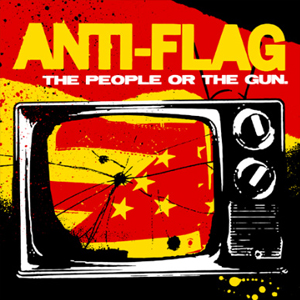 Rating

Music: 8
Sound: 8
Extras: -
Total: 8 / 10
{jos_sb_discuss:19}
See also (all categories):